Los Angeles Lakers:

Chick Hearn
May, 20, 2014
May 20
9:48
AM PT

By Dave McMenamin
ESPNLosAngeles.com
Archive
NEW YORK -- His No. 42 is hanging up in the rafters at Staples Center, but James Worthy will be rooting for 21.5 on Tuesday at the NBA draft lottery in Times Square.


As in, the Lakers have a 21.5 percent chance of vaulting up to one of the top three spots in next month's draft, and Worthy -- the franchise's last No. 1 overall pick back in 1982 -- will be representing the team when they find out their fate at the lottery.

The Lakers finished with the sixth-worst record in the league last season at 27-55. They have a 43.99 percent chance of ending up with the No. 6 pick and a 30.44 percent chance of getting No. 7. The more remote possibilities are moving up (6.3 percent chance at No. 1, 7.1 percent at No. 2, 8.1 percent at No. 3) or dropping even further (3.96 percent chance at No. 8, 0.1 percent at No. 9).

Worthy caught up with ESPNLosAngeles.com to discuss luck and the state of the franchise, while also offering his endorsement on whom should be the next coach of the Lakers:
What was the genesis behind you being the representative for the team? You were the last No. 1 draft pick by the Lakers, and that is an obvious part of your story, but maybe it could have been Jeanie Buss in that role. Maybe it could have been Jim Buss. How did it come about?
"Well, I got a call. I got a call from [Lakers general manager] Mitch Kupchak and [Lakers vice president of public relations] John Black, and I'm not sure what the process was before that. I don't know whether Jeanie just didn't feel like going, or Jim, or one of the Buss children. I don't even know if they asked
Kobe [Bryant]
. I don't know that.
"But, when I got the call, Mitch kind of joked around and said he had heard me on a telecast saying we were overdue for a really high pick and he asked me if I would represent the Lakers at the lottery. So I felt honored, being an old-time Laker from that '80s era. Hopefully we'll bring some of that magical, mystical luck and get us to a good pick. I'm feeling good about it."
[+] Enlarge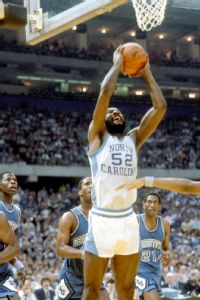 Malcolm Emmons/USA TODAY SportsJames Worthy was the last No. 1 draft pick by the Lakers back in 1982.
I saw on social media that you have a Chick Hearn bobblehead doll with you for the trip. Are there any other knickknacks or lucky items you brought along with you?
"Well, the piece I'm still looking for is Bill Sharman. Bill Sharman was very instrumental in making the trade that brought me to Los Angeles, so I'm looking for [a bobblehead doll of] him. And Chick Hearn was at the draft in 1982 when I was drafted. Chick Hearn was there representing the Lakers. So I'd like to have three bobbleheads up there –- Chick Hearn, if I can get Bill Sharman and then Dr. [Jerry] Buss. Hopefully that will be enough to get us a top-3 pick."
What's your opinion on how important this draft is going to be or how important this pick is going to be for the Lakers, considering where the franchise stands right now?
"I don't think they're looking for a quick fix. I don't think that's what they're looking for. I think most teams kind of look at new-coming rookies as a projection. Something they can grow in the future, two to three years. I think that's what they'll be looking for. There used to be a time when you looked for a certain position, or centers were available back then –- the Ralph Sampson days, those kind of things –- but I think the way the game is evolved is talented players are [defined by] talent, athleticism.
"I haven't talked to Mitch about anything about what they're going to pick, but based on what I've seen in the league the last 10 years, I think that's what they're looking for: The best pick that's going to fit their unit."
Another Laker legend, Jerry West, who we know for his irascible-type personality, once told me at the 2006 draft lottery that he doesn't really like the event because it's a "celebration of losers." Is there any sense of this being below the Lakers' standard to be involved in this?
"[Laughing] You know, I'm certainly not going to argue with Jerry West. He's the king of lottery drafts and precision. But, yeah, it's unfortunate. The Lakers don't like to be in this situation. We'd like to be where we used to be in the past and being a top team, or one of the top three teams. So, it's unfortunate that we've found ourselves here. It's not something we're used to. But I look back over the last three to four years. We thought we had
Chris Paul
and didn't get him. That was very unfortunate. We get
Dwight Howard
and
Steve Nash
, and we only have a plethora of injuries. Then we lose Dwight Howard, when we were thinking of him as the future-of-the-franchise type of player. And now we have only three players coming back under contract [for next season].
"So, it's unfortunate, but this is where we are. There's really no shame. We just have to deal with it and get back the brand that we're accustomed to, and this is part of the process. It's unfortunate, but I think we're happy to be where we are. I don't think we're
happy
to be where we are, but we'll utilize the situation the best we can to get us back where we want to be."
What's your opinion on the various reports out there that the Lakers would be open to trading the pick? Should you bring them luck, you move up into the top 3 and suddenly you could maybe deal it for an established veteran. For instance, Kevin Love. What do you think about going that route?
"For all of my NBA career and for what I've seen since then, that's an option. That's an option that's very feasible, and if you can get the right pick, you can use it for your team or you can use it to get some players or trade that. Knowing Mitch, he's extremely methodical and he's going to weigh all the scenarios and I'm sure if it makes sense to trade the pick, I'm sure that's one of the plays in his playbook. Like I said, I haven't had any conversation with him about it, but just from my experience in what I've seen, it's possible."
December, 28, 2012
12/28/12
10:58
PM PT

By Dave McMenamin
ESPNLosAngeles.com
Archive
LOS ANGELES -- Jamaal Wilkes will be remembered as a part of Laker lore forevermore thanks to the team raising his No. 52 to the rafters Friday night at halftime of their game against the Portland Trail Blazers. But for those who saw "Silk" play, there's one part of his game he'll always be remembered for first: that funky jumpshot that was as deadly accurate as it was awkward to look at.
[+] Enlarge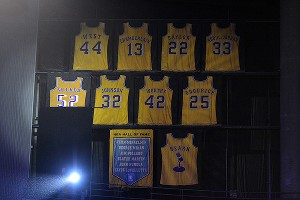 Harry How/Getty ImagesJamaal Wilkes' No. 52 was raised to the rafters Friday night by the Lakers. Wilkes, who retired after the 1985-86 season, jokingly said "I'm glad it happened while I'm still alive."
"It came straight from the playgrounds," Wilkes said Friday before his jersey became the eighth number honored by the franchise. "When I was 11-12, I was a pretty good basketball player in a little town, Ventura, north of here which was real basketball crazy and I began playing with older guys. I was going from the nine-foot to the 10-foot hoops, and of course they wanted to play on the 10-foot hoops and they would block my shot every single time. So, most kids start with that side-winder, I just learned to hold it back there until the last minute and I never realized I was doing anything different until I got to UCLA. Even then, I wasn't sure I was doing anything different."
Wilkes went on to share the story of his second year at UCLA, back when he was still known by his birth name of Jackson Keith Wilkes, when legendary coach John Wooden tested his shot.
"Coach Wooden called me over one day after practice early my sophomore season and said, 'Come here, Keith. Let me see how you shoot that ball. I want you to shoot some shots around key.' I was really confused by that and also terrified because you didn't want the man calling you out about anything, especially around the other guys. So, I did what he said and he said he would rebound for me.
"Well, that really confused me. I thought he was going to call one of the other players to rebound for me. What I remember about that, every pass was just perfect. I said (to myself), I could get used to playing with this guy. And I was drilling it, because you know, my manhood, my credibility, everything was on the line I felt at that moment.
"So he called me back and said, 'OK, how did you shoot that again?' And I was really (thinking) like, 'You just saw me shoot 40-50 shots, right?' So I said, 'OK, I go like this (Wilkes pulled his arms behind his head), I go like that (Wilkes moved his arms in a shooting motion).' Then he said, 'Well, does it leave your finger tips with (backspin)?' And I thought about it and I said, 'Well, yeah, coach.' And he said, 'OK, you're dismissed.'
"Years later we laughed about it. He said he thought about changing it but my setup and my finish, he thought, was textbook and whatever happened in between he decided to leave it alone, and I'm so glad he did."
That funny-looking shot of his led to two NCAA championships with the Bruins, four more titles in the NBA (one with the Golden State Warriors, three with the Lakers), a Hall of Fame induction in 2012 and
an upcoming jersey retirement
at UCLA in January.
Here are a sampling of other quotes from Wilkes on the occasion of the ceremony in his honor:
On what it means to him:
"They're saying no one will ever wear No. 52 again, and not only that, it will be in some lofty company."
On the timing of it, 26 years after he retired from the NBA following the 1985-86 season:
"I'm glad it happened while I'm still alive."
ESPNLA has launched a Sweet 16, Los Angeles-style. The most beloved figures in L.A. sports history. As you can imagine, there are one or six Lakers in the bracket. Make sure you drop by and vote.
Vote here:
The Most Beloved.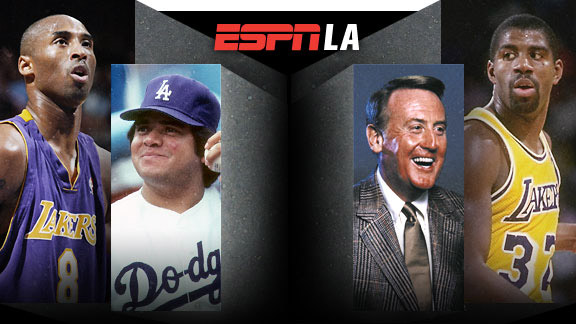 ESPN.com Illustration
August, 8, 2011
8/08/11
5:23
PM PT

By Brian Kamenetzky
ESPNLosAngeles.com
Archive
Looking for a way to suck the remaining productivity from your Monday workday?
I present you this list of 20 nominees for the inaugural ESPNLA Hall of Fame
. Choose five.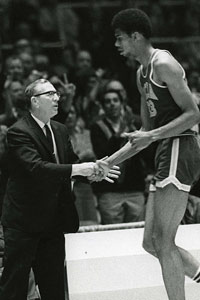 Malcolm Emmons/US Presswire
Two of your five ESPNLA Hall of Fame votes are pictured here. How many on your list should be Lakers?
Four, really, because only a loon would leave
John Wooden
, who delivered 10 titles to UCLA's basketball program while shaping countless people in and out of sports with his
Pyramid of Success
as well as the honor and integrity with which he lived his life, off the list. Wooden is quite possibly the most respected coach in any sport, anywhere, ever. He's in.
Score one for the Bruins. From there, though, the Lakers make a hard charge.
Kareem Abdul-Jabbar
won five titles and three MVP awards with the Lakers -- not bad -- but on top of that went 88-2 with the Bruins in three seasons at UCLA, each bringing a title (for which he was named the tournament's Most Outstanding Player), and was so dominant the NCAA outlawed the dunk just to slow him down. Call him a split vote between golds purple and blue if you'd like but by any definition no player had a better basketball career in Los Angeles, college and pro, than Kareem.
That said, when it comes to a sustained run as the iconic face for sports in this city, no athlete tops
Magic Johnson
. Flash his picture across a television screen, and people don't just think Lakers, they think
Los Angeles
. Add in a couple trifles -- five titles and status as the greatest point guard in NBA history -- and his place in the five-person class is also a lock.
Now it gets tricky. With a Bruin and two Lakers (or 1 1/2 of each, if you prefer) in the books, only two spots remain ... with
Jerry West
still on the ballot. And
Chick Hearn
. And
Pat Riley
,
Elgin Baylor
and
Phil Jackson
, along with every Dodger, Trojan, Ram, Raider, King and Olympian.
May, 24, 2010
5/24/10
10:43
AM PT

By Brian Kamenetzky
ESPNLosAngeles.com
Archive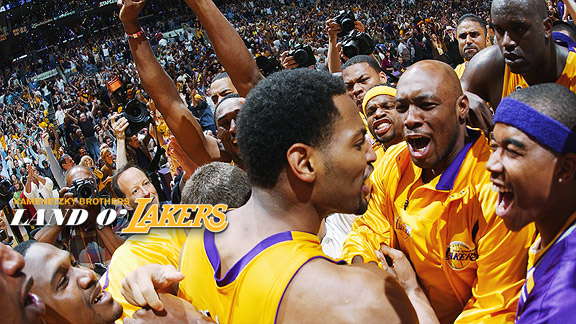 Catherine Steenkeste
Man of the Hour: Robert Horry saved the day for the Lakers in Game 4 of the Western Conference Finals against the Kings with a buzzer-beating triple. The Lakers would win the series in seven. May 26, 2002.
Rick Fox
stood on the right sideline, waiting to be handed the ball by the official. The Lakers were 11.8 seconds away from falling down three-games-to-one in the Western Conference finals against the Sacramento Kings.
Fox inbounded to
Shaq
near the right wing. O'Neal dished left to
Robert Horry
, who quickly gave it up to
Kobe Bryant
with about nine seconds remaining. Bryant faced up on Sacto's
Doug Christie
, then put the ball on the floor, beating him off the dribble with the right hand. He missed a floater in the paint. Shaq, coming off the weak side, grabbed the rebound, but missed what seemed like a near-gimmie at the rim. With time melting away, former Laker
Vlade Divac
slapped the rock out of the paint.
"I thought the time was going to run out," Divac would later explain.
It didn't.
Instead, Divac unwittingly executed a perfect bounce pass to Horry, who was hanging out at the top of the arc. With a lack of hurry perhaps drawn from his roots in molasses-paced Alabama, Horry reached for the ball, stepped into the shot, rose and launched. "It'll count if it goes,"
Chick Hearn
said over the radio. The roar from the Staples Center crowd left no doubt.
"I wanted the three all the way," Horry, who scored 18 points and added 14 rebounds and five assists, said later. "I stayed right where I could get it. When it came rolling out, it was like, "Oh, look what I got."
Indeed. And look what the Lakers got, too.When Horry's shot fell, it preserved any realistic chance the Lakers had to beat the Kings and advance to the Finals. If he misses, the Lakers face three elimination games. They almost assuredly lose one, and Sacramento advances. The purple and gold never steamroll New Jersey one round later, and the historic, dynastic Threepeat is an impressive- but not iconic- back-to-back.
So indelible was the shot, it was recently
voted the top moment in Staples Center history
.
"Thank God for Robert Horry," Shaq said. "And thank God his father met his mother, too."
ESPNLA.com and Land O' Lakers are counting down the ten greatest playoff moments in Laker history. Upon completion, fans will be asked to vote on the single greatest moment of all.
Previous moments include:
-Shaquille O'Neal's near quadruple-double in the 2001 NBA Finals, Game 2
-The Logo's steal in 1962

-Elgin goes for 61 in '62

-Worthy's Game 7 Trip-Dub in 1988
-Kareem's sky hook marks the end of Boston's dominance over L.A.