That Steve Blake's inaugural season in L.A. hasn't been a smashing success is hardly a government secret. The reserve point guard hasn't been bad, but rather lacking the impact most folks (particularly yours truly) expected. He hasn't been the shooter -- for percentage or volume -- expected. He hasn't been the play-maker expected. He hasn't been the "dude who severely eats into Derek Fisher's minutes" expected. Commendable ability to keep the second unit organized notwithstanding, Blake's individual and overall presence has been too spotty all season.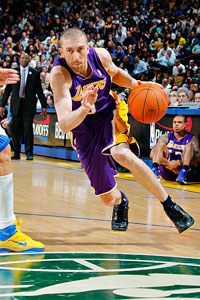 Rocky Widner/NBAE/Getty Images
Steve Blake hasn't been killing it this season, but the Lakers missed him in Game 1.
Still, it's interesting how the absence of a player, even one often underwhelming, creates a butterfly effect. On several tangible and spiritual fronts, Blake at home "speckled" was problematic for the Lakers.
From an offensive standpoint, running without Blake severely limits the bench's effectiveness, particularly with Matt Barnes hobbled. You're now hugely dependent on just Shannon Brown and Lamar Odom for production, the latter of whom picked an awful time not to pick up his game. Blake may not be terribly prolific hoisting shots, much less as a points machine, but he often helps manufacture easier looks. In the first half especially, second unit possessions were tentative and disorganized, typified by the very first series of the second quarter.
Eight seconds evaporated before the Lakers even got into their set, then after swinging the ball indecisively around the arc for another nine, Trey Johnson forced the ball inside to Andrew Bynum with the clock at five. Bynum missed a forced shot after working hard to just collect the ball and prevent a turnover.
Over three minutes passed before the Lakers scored (a Johnson free throw) and it was fitting the reserves didn't actually sink a basket (an 18-footer from Johnson) until Kobe Bryant replaced Barnes. All in all, the four reserves who played 5+ minutes combined for just 21 points, six of which came from Odom in the last minute of the fourth quarter with New Orleans running out the clock.
Brown talked after the game about the way Blake's ability to organize was missed.
"As far as that ball handler, that gritty guy that gets after it. Just frustrating their defense and just getting us into offense, man. Knowing a little bit more of the offense."
The way Chris Paul and even Jarrett Jack carved up the Lakers makes me think Blake was missed on the defensive side as well. Blake may not be a lockdown defender, but he's among the better options the Lakers have for slowing an opposing lead guard. Without Blake, Phil Jackson wasn't able to mix, match and experiment as much as he would have liked on the defensive end.
As every Laker said afterward, the team broke down defensively guarding Paul as a team, so it's not purely a matter of individual matchups. Still, the absence of a familiar defender messes with the chemistry, which in turn creates a less cohesive unit. Besides, I think Blake's specific style might have been handy during Sunday's loss.
He's a pesky irritant, and his relentless desire to disrupt was exactly what was needed against Paul and Jack, who were operating with far too much freedom. I'm not saying Blake would have "shut down" CP3, but even making the All-Star work a little harder could have paid dividends. If nothing else, the two seasons spent in Portland as Jack's teammate familiarized Blake with the Hornet reserve. Had Blake prevented JJ from carving up the Lakers, New Orleans' second unit would have been less effective.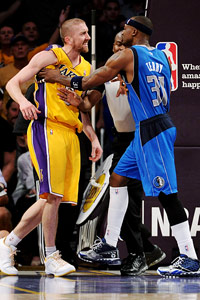 Harry How/Getty Images
The Lakers could have used a little more of this on Sunday.
Finally, a common complaint among players afterward was the lack of energy, grit and passion on display. Shannon went so far as to call it "the reason we lost." There were exceptions (Kobe and Ron Artest most notably and effectively), but the team was severely lacking in edge. Ironically, Blake's biggest issue all season has been a passivity with the ball in his hands, but the guy is pure scrap. He'll get in anybody's face, sometimes with very little provocation, and this quality would have been a welcome sight on Sunday.
I asked Kobe where Blake was missed most: "Well, his tenacity. He's tough, man. He gets after you on both ends of the floor. He gets after you and he plays with an aggression that I think the second unit needs."
On the positive front, Steve's wife Kristen tweeted this morning that he's "officially not contagious and will be joining the team at practice this morning!" Great news, and it couldn't come any sooner. Blake may not make or break the chances at a Three-peat, but as yesterday demonstrated, he's needed on the court. There's no guarantee the Lakers would have taken Game 1 with Blake in uniform, but they almost certainly would have looked better.