Los Angeles Lakers:

chicken pox
April, 18, 2011
4/18/11
10:37
AM PT

By Andy Kamenetzky
ESPNLosAngeles.com
Archive
That
Steve Blake's
inaugural season in L.A. hasn't been a smashing success is hardly a government secret. The reserve point guard hasn't been bad, but rather lacking the impact most folks (particularly yours truly) expected. He hasn't been the shooter -- for percentage or volume -- expected. He hasn't been the play-maker expected. He hasn't been the "dude who severely eats into
Derek Fisher's
minutes" expected. Commendable ability to keep the second unit organized notwithstanding, Blake's individual and overall presence has been too spotty all season.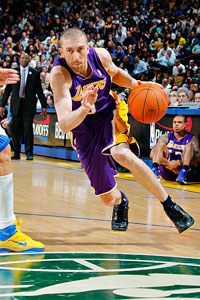 Rocky Widner/NBAE/Getty Images
Steve Blake hasn't been killing it this season, but the Lakers missed him in Game 1.
Still, it's interesting how the absence of a player, even one often underwhelming, creates a butterfly effect. On several tangible and spiritual fronts,
Blake at home "speckled"
was problematic for the Lakers.
From an offensive standpoint, running without Blake severely limits the bench's effectiveness, particularly with
Matt Barnes
hobbled. You're now hugely dependent on just
Shannon Brown
and
Lamar Odom
for production, the latter of whom picked an awful time not to pick up his game. Blake may not be terribly prolific hoisting shots, much less as a points machine, but he often helps manufacture easier looks. In the first half especially, second unit possessions were tentative and disorganized, typified by the very first series of the second quarter.
Eight seconds evaporated before the Lakers even got into their set, then after swinging the ball indecisively around the arc for another nine,
Trey Johnson
forced the ball inside to
Andrew Bynum
with the clock at five. Bynum missed a forced shot after working hard to just collect the ball and prevent a turnover.
Over three minutes passed before the Lakers scored (a Johnson free throw) and it was fitting the reserves didn't actually sink a basket (an 18-footer from Johnson) until
Kobe Bryant
replaced Barnes. All in all, the four reserves who played 5+ minutes combined for just 21 points, six of which came from Odom in the last minute of the fourth quarter with New Orleans running out the clock.
Brown talked after the game about the way Blake's ability to organize was missed.
"As far as that ball handler, that gritty guy that gets after it. Just frustrating their defense and just getting us into offense, man. Knowing a little bit more of the offense."
April, 12, 2011
4/12/11
2:43
PM PT

By Andy Kamenetzky
ESPNLosAngeles.com
Archive
Per our man Dave McMenamin
...
When looking ahead to Tuesday night's game against the San Antonio Spurs, Los Angeles Lakers head coach Phil Jackson said that the Spurs have a much deeper team than the Lakers.
The bench disparity could be even bleaker for the Lakers after Steve Blake did not make it to shoot-around on Tuesday because of an illness.
The team announced later Tuesday afternoon that Blake has chicken pox and would not play Tuesday; beyond that, he is out indefinitely.
As someone who got a "Gentleman's D+" in A.P. biology during my senior year of high school, I'm hardly the world's foremost authority on chicken pox, but the safe money appears to be on counting out Blake for a while and hoping for a pleasant surprise when it comes to the recovery.
In the meantime, how best to pick up Blake's slack?
Shannon Brown
could see more possessions running the offense, but given his recent tendency to over-dribble and make bad decisions, the ball in his hands more often feels like a dicey approach.
Luke Walton's
triangular acumen may translate into some burn at the guard spot on offense while taking defensive assignments at the three, with
Matt Barnes
checking shooting guards. (Assuming Barnes is healthy, that is. His right knee is acting up again, and he's listed as a game-time decision.) D-League guard/scoring machine
Trey Johnson
-- among the final two cut at training camp -- just got called up, but it remains up in the air whether he'll be a part of the action moving forward.
Or, the rotation may just tighten with Barnes presumably available, which means increased minutes for
Kobe Bryant
,
Derek Fisher
and
Lamar Odom,
all capable of playing Blake's role. It's not the ideal scenario, particularly considering the odometers of Bryant and Fish. Then again, neither is a key member of the rotation getting the chicken pox right before the playoffs. Like many situations in life, just gotta roll with it.