July, 10, 2014
7/10/14
7:15
PM PT

By Dave McMenamin
ESPNLosAngeles.com
Archive
It's no secret that the
Los Angeles Lakers
' primary plan in free agency was to bring the top two prizes available on the market in
LeBron James
and
Carmelo Anthony
into their possession. By bagging one of the top 10 players ever to play the game in James and arguably one of the top 10 most gifted scorers ever to lace them up in Anthony, combining them with
Kobe Bryant
in the twilight of his career (someone who fits on both of those top 10 lists), the Lakers felt as if they would automatically reboot their team back on a championship trajectory.
It was a solid Plan A. Or it technically still
is
a solid Plan A until James and Anthony officially inform the Lakers they have plans to the contrary. And even if James should choose to head back to Cleveland or stay in Miami or go elsewhere, and even if Anthony opts to stay in New York or entertain one of the other offers out there from Chicago, Houston or Dallas instead, it's a strategy that Bryant fully supports.
[+] Enlarge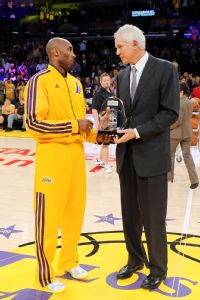 Noah Graham/NBAE/Getty ImagesKobe Bryant says GM Mitch Kupchak and Lakers management are doing everything they can to make the moves necessary to turn the team around.
"They're going for it," Bryant said Wednesday of Lakers management. "There's no ifs, ands or buts about it. They're being extremely aggressive and they have solid concepts and plans to be able to get it done. They're pulling out all the stops to ensure that we put a contender on the floor next year. That's all you can ask for. Same thing that they ask of me: When I step out on the court, they expect me to play my heart out. Right? To prepare and to give it my best shot. Sometimes it doesn't always work out the way you want it to, but at least the intention and the commitment was there."
Of course, if the Lakers don't land their top targets this summer, they have a contingency plan in place.
The philosophy behind the Lakers' Plan B is twofold: find a way to be competitive next season to get back on track after a disastrous 27-55 campaign in 2013-14 yet at the same time, protect their cap space flexibility to be able to pursue the biggest names in the summers of 2015 (
Kevin Love
), 2016 (
Kevin Durant
) and 2017 (
Russell Westbrook
).
"It's a good class, but in terms of today who might be at the very top, maybe it's not as large as it might be next year or the year after," Lakers general manager Mitch Kupchak said on draft night when asked about the free-agency market this summer. "And keeping that in mind, we structured our salary knowing that, hey, you might not get two or three guys, but we have enough room to get at least one. And if we don't have one and we choose to, we can go down the road and have flexibility next year and the year after that."
The Lakers' desire to maintain a star-based system is pretty understandable. When you are in one of the media capitals of the world and are charging $3,000 per courtside seat, there needs to be a draw on the court to expect those prices. When you are being paid upward of $200 million per season from your regional sports network television partner, Time Warner Cable SportsNet, there's a certain obligation to have not only a competitive team, but compelling characters to get people to want to tune in and watch.
The specific machinations of the Lakers' Plan B remain a mystery, however. There are many different directions in which they can head, depending on how other pieces fall into place around the league.
"We have several options," Bryant said. "Obviously depending on the timing of this process, it affects some of those. You have a plan that's flexible, but you have a Plan A and a Plan B. But some of the Plan B is affected by the timing of Plan A. So, you just kind of plan it out and wait and see what happens and respond from there."
Here's a look at several ways L.A. could end up responding if it loses out on its top choice:

1. Sign Pau Gasol
The way Gasol's season came to a premature end thanks to a bizarre bout of vertigo, it seemed as if his time in L.A. would finish with a whimper after 7½ seasons. Gasol posted on his personal website in February that, "My decision will be based purely on sporting considerations." Meaning, he wants to win. But how much money is he willing to sacrifice to do so? If the Lakers don't end up using max money on Anthony, they could try offering Gasol a big-money, short-term, two-year deal that coincides with the end of Bryant's contract. Think $10 million-$12 million range and even give Gasol a player option for the second year allowing him to skip town for greener pastures should he not feel as if the Lakers were heading in the right direction.
Not only would this allow Gasol to stay in the city he loves for its culture and community -- he has several charities in Los Angeles with which he is very involved -- but it would also keep him from having to suddenly uproot his life at 34 and settle someplace else. Not to mention, just like Gasol is being used as a potential selling point to try to bring in Anthony this summer, he'd be an intriguing potential teammate for the other big names that the Lakers go after in the coming years.
Yes, Oklahoma City and San Antonio -- two of the handful of teams vying for Gasol -- are much more equipped to win right now, but they can offer him far less money. Same goes for Phil Jackson and the
New York Knicks
. Putting Gasol alongside a healthy Bryant and a promising rookie in
Julius Randle
next season would not only get the Lakers back on track in the short term, but could help them get one of those other stars they covet in the future.