Los Angeles Lakers:

Christmas
December, 21, 2010
12/21/10
2:28
PM PT
Kobe Bryant talks about what motivates him,
Heat-Lakers Christmas Day matchup
, history of the game and his future. Including this little gem regarding the end of his career: "It's not around the corner, but it's down the street."
December, 29, 2009
12/29/09
10:34
AM PT
Christian Petersen/Getty Images
These are the sorts of high percentage looks from the opposition that can hurt a team.

Ain't no real way to sugar coat things: The Lakers looked awful for the majority of this very one-sided defeat in the desert. Horrible. "
Who are you and what have you done with the Lakers
?" bad.
Any momentum potentially built from Saturday's double OT win in Sacramento went straight out the window, as
a Suns team rolled twice by the purple and gold earlier this season at Staples returned that favor on their home floor. In spades.
To be kind, the Lakers delivered an across-the-board failure, in which even the positives weren't enjoyed with a clear conscience. Take, for example,
Kobe Bryant's
34 points, notched on an efficient 14-26 clip from the field. In and of itself, nothing wrong with that.
Just a sign of Bryant rising to the challenge of carrying his team
, right? But a gander at
the box score
reveals how Mamba doubled the shot attempts of next closest Laker (
Lamar Odom,
13). Generally speaking, this team is deadliest when the offense is balanced. Scales tipped so heavily in one direction reflects an effort where weakness was displayed by the bushel. To wit:
December, 26, 2009
12/26/09
5:20
PM PT
Entering last night's loss to Cleveland, the knock on the Lakers was how few tests they'd encountered while forging a 23-4 record.
Only nine games on the road.
Only ten games (at the time) against teams above .500 and as ESPN Los Angeles'
Dave McMenamin
points out,
the Lakers are now barely above .500 themselves in those matches
. Sure, the opening 11 games featured no
Pau Gasol,
and
Luke Walton's
absence definitely has impacted the second unit, who aren't playing up to snuff. But all in all, those crying a river for the Lakers were a decided minority. It's hard to argue the waters have been particularly choppy.
Perhaps that changes a bit tonight, and I wonder if that's necessarily a bad thing.
It's been a pretty whirlwind 24 hours for the purple and gold. The fall to the Cavs was absolutely embarrassing. Embarrassing because it was on national TV. Embarrassing because the Lakers were clearly outworked, outsmarted and out-executed by Cleveland. Embarrassing because of the histrionic-heavy reactions to the way the game was being called and their own ineptitude, lowlighted by
Lamar Odom
getting tossed for two technicals. Embarrassing because the Staples patrons behaved in equally unflattering fashion, littering the court with foam fingers and the occasional stray water bottle in response to lackluster play or refereeing (or both). As if that's not enough,
Ron Artest
reportedly took a tumble down a flight of stairs and
definitely suffered a concussion
. He's definitely out for tonight's game against Sacto, and day-to-day from there. And lest we forget, there's the actual game itself. The back end of a back-to-back, and the Kings are performing well beyond expectations (especially without K
evin Martin and Francisco Garcia
) and particularly at home, where they're 10-4.
Am I the only person curious to see how the Lakers come out?
December, 26, 2009
12/26/09
11:45
AM PT
I can easily imagine what y'all thought in reaction to the 102-87 loss to the Cleveland Cavaliers -- but probably can't print it. But here are some reactions that are "safe for work," as the parlance goes.
As I noted
in my postgame analysis
, the bad qualities exhibited during this loss were of a "laundry list" variety, but the one that grabbed my attention most was the Lakers' inability to remain composed as things went sideways. It reminded me of the 2008 version of the Lakers, a very good team nonetheless vulnerable to letting the refs get inside their melons. This observation
wasn't lost on the O.C. Register's Kevin Ding, either:
.
On the holiday road, at least, the Cavaliers had far greater maturity than the champs, who we should remember also had an annoying habit two years ago of whining to the refs instead of making their own justice. "You make your own way in this game, usually," Phil Jackson said after this loss. How is that way made? "Determined play and outright work," Jackson said, "and things start changing in your favor."The Lakers on Christmas instead took the viewpoint that the refs were being Scrooges. And so before anyone could yell, "Bah! Humbug!" there were Kobe foam puppet-finger souvenirs falling to the court in protest (Kobe said at least it was good that the giveaways were foam and wouldn't hurt upon landing on anyone) and the Lakers had been humbled. And it's important that they are humbled instead of strutting past this defeat, which brought them back to a 2007-08 place they should be vowing never to revisit.

December, 25, 2009
12/25/09
1:51
PM PT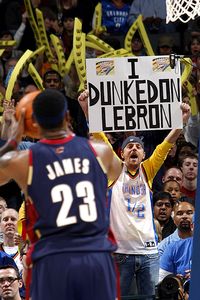 Layne Murdoch/NBAE via Getty Images
There's more than one way to give LeBron the business this Christmas Day.
Call them "Cavaliers." Seriously.
"Cavalier."
PODCAST
Andy and Brian discuss the X-Mas Day showdown with the Cleveland Plain Dealer's Brian Windhorst, who offers thoughts on Shaq, LeBron vs. Ron Ron and the puppets. Plus, we discover a subtle way for Lakers fans to heckle LeBron!

" Podcast

And there you have it. A way to not only razz the visitors at Staples, but in way that'll go completely over their heads. I'm picturing it now:
Lakers Fan:
"Hey, LeBron! You're playing like a Cavalier out there!"
LeBron James (after a confused pause):
Um, yeah... I know. (points to his jersey) That's the team I play for, dude.
Another Lakers fan:
"Shaq, I've seen Cavaliers box out harder than that!"
Shaquille O'Neal (totally lost):
You mean
Daugherty
?
And so on and so forth. The only thing better than getting in the Cavs' heads is getting in their heads and they don't even understand why. Have fun.
December, 25, 2009
12/25/09
10:34
AM PT
The marquee reads
Bryant vs. James.
Reality paints a different picture. Kobe and LBJ may be the two best players on God's green, but with
Ron Artest
in purple and gold, the pair are likely to spend only minimal time actually versus-ing each other. However, there are key matchups o'plenty between the rest of the participants, any one of which could tip the game.
Here are five to watch:
1) Shaquille O'Neal vs. Andrew Bynum:
Shaq is 38 years old and a shell (shell-adjacent at best) of his former Diesel self. Or even the Diesel that PER-ed his way to a 22.3 rating last year in Phoenix (through Wednesday, it was 15.2). He's struggled to fit in with the Cavs on both sides of the floor. Via
82Games.com
, Cavs are 9.4 points
worse
with Shaq on the floor. That doesn't mean O'Neal doesn't have value. In some ways, he's the NBA version now of a lefty sinkerball specialist, one of those guys who plays until the age of 47 throwing 14 innings a year, all in thirds. Shaq wasn't brought in to beat the Indiana's and Toronto's of the world, but for specific situations- to limit
Dwight Howard
in Orlando and to counteract LA's size in the paint.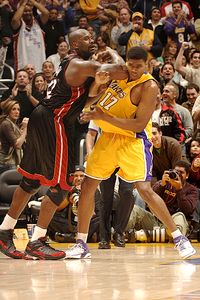 Andrew D. Bernstein/NBAE via Getty Images
Remember when these two squared off during Bynum's rookie year?
For Bynum, it's a high profile (to say the least) chance to apply the ol' shock paddles to a flagging December, revive an All-Star bid, and silence some critical voices... at least until tomorrow's game in Sacramento. We should know early how things will play out. Bynum told me after
Tuesday's win
he feels a game's first six minutes are crucial for him to find his rhythm and energy. I anticipate a lot of early contact and aggressive offensive play as both pivots jostle for advantage (and to create early foul trouble for the other).
Bottom line, O'Neal was
effective against Howard last month,
but if Bynum beats him up here, it'll cast more doubt on
Danny Ferry's
master plan.
December, 24, 2009
12/24/09
5:34
PM PT
Because you can never look at a game from too many angles, I tracked down some insight from
Cavs Blog
scribe
John Krolik
of the True Hoop network. Kid's still in college and something of a genius, and BK and I like to think we discovered him back in the day when we were running a now-defunct local sports site. We really didn't, but it's a great story that makes us come off like seers. Anyway, I threw five questions his way regarding the Cavs and the holiday matchup. Give what he's saying a whirl and see what you think.
1) You were on record as critical of the Shaq deal when it happened, if memory serves. As we speak, how do you think Shaq's fitting in? Has Mike Brown discovered more ways of using him or do you picture his minutes/ production continuing to drop and Brown mixing and matching front court lineup?
John Krolik: I'm not sure if my initial reaction to the Shaq deal could be called "critical," but I'd say I was skeptical from the beginning of how he'd fit in with the existing pieces on the team, especially Anderson Varejao and Zydrunas Ilgauskas. Since the Cavs gave up almost nothing for him (or so it appeared at the time, as most assumed Ben Wallace would never come all the way back from the injury he sustained mid-season), and had the core of a 66-win team still intact, my assumption was that Shaq was a guy who could potentially make the team better and be safely discarded if he didn't work out. You can judge for yourself what my reactions were to Shaq before the season (why pretend I have secrets?), but here's me being (I think) cautiously optimistic about the acquisition when it happened and cautiously pessimistic about the prospect of Shaq starting about a month later.
(AK's note: After reading John's original thoughts on the Shaq trade, he's right, not nearly as pessimistic as I recall. I guess I was mixing up Krolik with someone different who thought that deal didn't really help short or long-term. Me.)
December, 24, 2009
12/24/09
12:41
PM PT
Interesting phrasing by Derek Fisher, since there's always the temptation when contending teams meet to define "bigger picture" as "what does it all mean?" What "significance" to we lend it? What "have we learned?" Maybe it's because his resume features an impressive amount of "been there, done that," but when asked after Tuesday's win about the Christmas Day extravaganza, Fish kept insisting that it's primarily about "the showcase for the fans and the matchup" (big names on a big stage), as opposed to "this big preview of what's to come." When BK about how the team's "soft" tag was shed upon beating the physical Clevelands and Bostons of the world, Fisher said that might be true in terms of how other people saw them. But when it comes to their own self worth, it's pointless to dwell on one regular season matchup in particular. "For us, the season's too long to put your hopes into a particular matchup to put your hopes into a matchup during the regular season," explained Fisher. "We lost both our regular season matchup against Orlando and won in the Finals. I'm sure Orlando would want that reversed the other way."

Not that Fish is blind to the game's other purpose. "It gives you guys a lot of stuff to do and talk about," nodded Fisher. "You guys" being the media, often accused of trying milk blood from a stone when it comes to finding every shred of relevance to a high profile game. Personally, I've noticed nothing of the sort in this era of 24-hour news coverage where the Internet and zillions of stations compete against each other for eyeballs, ear drums and attention spans, but maybe that's just me. Either way, Fish didn't offer the observation grudgingly. Like he said, reporters, like everyone else, "gotta eat." But he still remained insistent, no matter how many different ways the question was phrased or switched with context, that it's really about giving fans the holiday gift of a showdown between two very good teams. Rather generous of all parties involved, if you ask me.




December, 23, 2009
12/23/09
1:38
PM PT
PODCAST
Andy and Brian discuss the X-Mas Day showdown with the Cleveland Plain Dealer's Brian Windhorst, who offers thoughts on Shaq, LeBron vs. Ron Ron and the puppets. Plus, we discover a subtle way for Lakers fans to heckle LeBron!.

" Podcast

The name of the show just rolls off your tongue, huh? It's times like these where we're glad our parents decided not to hyphenate names upon getting married.
Anyway, as some of you may know Brian and I have been
part of ESPN's podcasting roster
(or as we do it, "podKasting," with a "K") for quite some time. The launch of ESPN Los Angeles and the Land O' Lakers blog, won't change things one bit, except we'll be doing so more frequently. So we're excited about that and hope the Laker Nation feels the same. And with that, I present the first show in the new ESPN Los Angeles era!!!
The show focuses mostly around a discussion with the Cleveland Plain Dealer's
Brian Windhorst
,
Cavs' beat writer
and interview subject extraordinaire. With the Christmas game less than 48 hours in the distance, we break down some important matchups, talk about the
Kobe Bryant-LeBron James
"rivalry," and why the team hasn't gotten off to the same dominant start as last season. One reason? To be honest, the problem lies at least partially with
Shaquille O'Neal,
and as a few excerpts below demonstrate,
Windhorst is equally honest in evaluating this stage of the big fella's career: