Los Angeles Lakers:

Christopher Nolan
February, 8, 2012
2/08/12
10:26
AM PT

By Andy Kamenetzky
ESPNLosAngeles.com
Archive
A stunning 1986 performance as
Sid Vicious
announced a largely unknown
Gary Oldman
as an actor to watch. He made good on that promise with indelible, often volcanic work in movies like "Prick up your Ears," "State of Grace," "JFK," "Dracula," "True Romance," "The Professional," "Immortal Beloved" and "The Contender." In recent years, he became part of the "Harry Potter" and "Batman" series, reintroducing himself to audiences in sympathetic, likable parts.
In 2011, Oldman solidified his status of one of Hollywood's premiere chameleons with his portrayal of George Smiley in "Tinker Tailor Soldier Spy." Reprising a role made famous by
Sir Alec Guinness
in a 1979 BBC production of the spy novel, Oldman remains understated and quiet, but powerful nonetheless. The performance earned him a well-deserved Academy Award nomination.
We were thrilled to get Oldman in studio for nearly an hour to talk about "TTSS," his career and even a little sports.
THE ENTIRE SHOW CAN BE HEARD HERE
, and a breakdown is below with links to specific sections:
-
(4:27): Oldman explains his initial terror at following in Guinness' footsteps for "TTSS."
A week before shooting began, he debated backing out, but ultimately geared himself up to meet the challenge.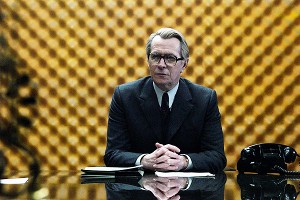 Win McNamee/Getty Images
Oldman's "Tinker Tailor Soldier Spy" performance is a remarkable achievement.
"I viewed it as a classical role that had been played before," Oldman said. "I imagined what it would be like to play Lear or Hamlet and then be measured against all those wonderful actors that had played the role before and that the comparisons would be inevitable... I sort of played a trick on my head.
It's all in my head
. Yes, Guinness gave this incredible performance. But the dragon, like all dragons, they're in your head and you have to slay them. So I kind of played a trick on myself to get me to walk through the fire."
- (5:30):
Oldman explains the differences between playing a iconic character and a real-life icon like
Sid Vicious
,
Beethoven
or
Joe Orton
.
- (14:28):
Oldman's "TTSS" role is
the polar opposite of what he's spent the majority of a career playing. And that's not by accident. Over the last several years, Oldman's moved away from the eccentric, over-the-top parts that once defined him. In part, because he was concerned about increasingly limited options as a typecast actor. But also because he grew to find these characters dissatisfying on an artistic level, which killed his passion for the craft.
"I was bored," Oldman says. "I was just going through the motions and it just didn't interest me and I lost my love for it. I sort of lost my way a little. I lost my love for acting and did not look forward to it and that was the rut I was in. You deal with sports. There are great players and they're just pitching well or they're not hitting well. ... I found it quite debilitating and boring. I started to sort of hate the job. And I've never really felt [that]. I feel very privileged and very lucky that I do what I do, and it's never, ever really felt like I go into work. Let's face it. And so I went through a patch there."