Los Angeles Lakers:

coach
November, 12, 2012
11/12/12
11:06
AM PT

By Dave McMenamin
ESPNLosAngeles.com
Archive
There is still a bit of shock making its way throughout Southern California as Lakers fans learn that Mike D'Antoni, not Phil Jackson, has been hired as the team's new coach.
There's plenty of intrigue surrounding the decision -- the circumstances that led to Jackson's deal falling through, the impetus for the Lakers making a swift decision late Sunday night to hire D'Antoni without ever even having an in-person interview with him, the details of the state of Jackson's relationship with the Buss family these days -- but what really matters is how D'Antoni will affect the team on the floor.
Here's a quick take on the upside and some potential problems with the move:
PROS
1. Familiarity with Steve Nash and Kobe Bryant
You could say that if it wasn't for D'Antoni, we'd think of the Lakers' point guard as former All-Star Steve Nash, rather than future Hall of Famer Steve Nash. From 2004 to 2008, Nash and D'Antoni flourished together in Phoenix. There is a deep connection between the two and certainly D'Antoni should be able to set Nash free from the "hummingbird in a sandwich bag" that Mike Brown's system trapped him in. As an assistant coach for the USA Basketball teams that won Olympic gold in 2008 and 2012, D'Antoni also built a strong relationship with Kobe Bryant. Both Nash and Bryant used the word "love" to describe their feelings for D'Antoni prior to the hiring. They will play hard for D'Antoni and with enthusiasm for what he is trying to achieve on the court. Plus, you have to figure that D'Antoni and Nash's shared desire to capture ring No. 1 for one another will help fuel Bryant's chances of ring No. 6 and the Lakers' chances of ring No. 17.
2. The offense should improve
If there's one thing D'Antoni has proved he can do it is make a high-octane offense work. This won't be a repeat of his "seven seconds or less" glory days with the Suns, but it shouldn't be the plodding ball that plagued Brown's tenure at the helm in Los Angeles, either. The Lakers looked stifled with the steep learning curve associated with Brown's Princeton-style experiment. D'Antoni will let Nash follow his instincts and also encourage the rest of the guys to shoot when they're open. Basic basketball and a free flow could pay big dividends with this talented roster.
3. It was done quickly
Less than 72 hours after getting rid of Brown, the Lakers found their new man. And they managed to go 2-0 with Bernie Bickerstaff during the interim. If the coaching search dragged on and on, there was potential for the team to fall into a tailspin with all the questions piling up and causing distractions. This move was executed as quickly as possible, allowing the Lakers to get back to the business of playing games.
CONS
1. Nash is 38 and has a fractured fibula
Nash is not the same player he was with D'Antoni in Phoenix. He can still play at a high level, of course, as he was second in the league in assists last season (his 16th year in the league), but there has been some decline in his game. The league's crop of elite point guards, from Chris Paul to Russell Westbrook, is as strong as it's ever been and Nash's defensive shortcomings will be put on display on a near nightly basis against them. Nash also looked a step slower on offense in the preseason. Whether that was a symptom of Brown's system or a sign of deterioration in his game remains to be seen. Regardless, relying so heavily on Nash, especially as he's dealing with a fractured fibula that is keeping him out indefinitely, is risky. And even if Nash is healthy, does he have the shooters surrounding him to look as good as he did in Phoenix? Outside of Kobe and Nash himself, the Lakers haven't proven reliable on open-shot opportunities. If Nash keeps creating them, and the jumpers continue to be off the mark, then a key element of Nash's value is undercut.
2. The devaluation of Dwight Howard and Pau Gasol
Part of the Lakers' mission this season, in addition to winning a championship, is to make sure Dwight Howard wants to stay with the team long term. Will D'Antoni's system feature Howard enough? Yes, he will be a beast in the pick-and-roll, but what about straight-up post touches? Will he get enough of them? And will D'Antoni be able to push Howard to improve his paint game when he had mixed results in that area with Amar'e Stoudemire in Phoenix and New York? Then there's Gasol. Will he be regulated to a Boris Diaw-like facilitator role or is there more for him to do? One of the key questions coming into D'Antoni's regime will be how much he is able to, and chooses to, exploit the Lakers' significant size advantage over most teams they face.
3. What about the defense?
D'Antoni's offensive track record is nearly unparalleled but defensively his teams have usually been in the middle of the pack in terms of efficiency. There was marked defensive improvement on the part of the Knicks in D'Antoni's last season in New York, but much of the credit for that improvement was given to current Knicks coach, and former D'Antoni assistant, Mike Woodson. The old adage "defense wins championships" isn't just a saying for these Lakers players, it's a belief -- especially for Bryant, who has repeated the mantra "defense and rebounding" as the keys to winning ever since the Lakers were suffocated by the Boston Celtics' D in the 2008 Finals. If D'Antoni's offense can generate enough possessions and points to counter-balance an average defense, things will go smoothly. If the offense struggles, either on the perimeter or down low, the pressure will be on the team's defense.
Dave McMenamin covers the Lakers for ESPNLosAngeles.com. Follow him on Twitter.
July, 18, 2012
7/18/12
7:59
PM PT
There's no question the circumstances
Mike Brown
encountered during his first season in L.A. weren't easy. No offseason communication with players. A shortened, chaotic training camp filled with drama surrounding
Chris Paul,
Pau Gasol
and
Lamar Odom
. Precious little practice to install and teach a new system. An imperfect roster of players slow to warm to his game plan and presence. Being charged with implementing
Ramon Sessions
halfway through the season. Even as someone who has questioned whether Brown possesses the offensive creativity and natural gravitas to coach the Lakers,
I've never denied the hand he got dealt was pretty lousy.
(Having said that, I also thought Brown made life tougher for himself than need be at times -- particularly when it came to solidifying his rotation -- and needed to assert more authority, even as "the new guy.")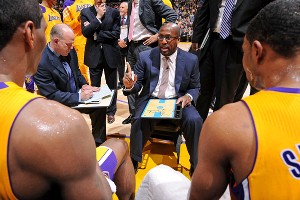 Andrew D. Bernstein/NBAE/Getty Images
Brown's job should be easier the second time around.
But that's now history in the rear-view mirror. The 2012-2013 season will be conducted under normal circumstances, and with a pretty solid new point guard to boot. While appearing today on ESPNLA 710's Max and Marcellus --
the entire interview can be heard here
-- Brown was asked what he expected to see during a calmer setting:
"I think the one thing you will see is a little bit more consistency than what we had last year. Everything was kind of done on the fly and for us, I thought the biggest adjustment was losing Lamar. You come into the season and you know you have three veteran bigs that you can rotate. And when Lamar's not there, now you've got to try to figure out how to fit a younger guy into his spot, that was a blow for us that obviously with the lockout and everything that was happening, we weren't really expecting.
"But our guys did a great job of coming together at the right time and finding ways to get wins. You know, we had a chance against Oklahoma City a couple of times down the stretch of a couple of games, and we blew it. But we can sit here and say, 'Could have, should have, would have, things might have been different.' But Oklahoma City is a very good team. You've got to give them credit and I think we'll be ready this coming year."
March, 24, 2012
3/24/12
4:29
PM PT
Sessions
-mania is in full effect, even before his triumphant debut as a starter Friday against the Blazers! Ramon is officially the man of the hour, and we decided to get some thoughts on new point guard from our man
Darius Soriano
, head honcho of
Forum Blue and Gold
. From there, we hit on a few more topics. The show can be heard by clicking on the module, and there's a breakdown of talking points below.



(2:00): Soriano expresses thoughts on how Sessions fits in with the Lakers, the adjustments necessary on behalf of both Kobe Bryant and his new backcourt mate to truly flourish together, and whether his presence could fuel a deep playoff run.
(16:00): With Soriano gone, we discuss a little further how much Sessions improve the team, and how he'll allow Kobe to play off ball more often, which will make games so much easier for The Mamba. For that matter, life should become less labored for Andrew Bynum and Pau Gasol as well.
(17:50): What, if any impact, could come during the playoffs from Derek Fisher joining the Oklahoma City Thunder? BK and I debate how often Fish will be on the floor during the fourth quarter moments where he's become a postseason killer. (For what it's worth, Scott Brooks went out of his way to play the veteran in crunch-time during a double overtime win over the Wolves, despite Fisher missing nine of eleven shots.)
(26:30): The Clippers have hit the skids and reports are swirling about Vinny Del Negro having lost the team. Would it make sense to fire him now? On one hand, it could be very disruptive this late in the season. On the other, he's unlikely to return next season either way, so what do they have to lose?
January, 17, 2012
1/17/12
11:08
PM PT
No doubt, Thursday's and Friday's back-to-back games against the Heat and Magic represent the biggest test for the Lakers this young season. Between the quality of competition (even if
Dwyane Wade's
leg issues shelve him, Miami remains a formidable opponent), the recurring issue of fatigue and the Lakers' issues while battling outside Staples, a split would be a quality showing, and an undefeated clip in Florida would be quite the reason for cheers. And among the players made available made available Tuesday in El Segundo (an admittedly small sample size), this road trip serves as a legitimate gauge for where the Lakers currently stand at the moment, even for a veteran team with 17 rings between them.
"It's been one of those tough back-to-backs that I think multiple teams have faced throughout the years," said
Derek Fisher
. "It's similar to, over the years, you have a Dallas-San Antonio back-to-back. You have to play those back-to-backs within regions. They're just tough. They're two of the better teams, not just in the Eastern Conference, but in the NBA as a whole. And when you combine that with our struggles on the road, it presents two good tests for us."
No argument from
Andrew Bynum
, who labeled the games "good measuring tools for us."
"We can definitely see where we're at," added the center. "Hopefully, we can get two wins ... We need to get at least one.
Interestingly, when I asked
Mike Brown
about the measuring stick potential for this Floridian jaunt, he downplayed the possibility.
"I don't know. No matter who we play, I'm always gonna try to use that game to determine where we are. So, yeah, we're playing Miami and then Orlando, but we played Dallas [Monday], but because we beat them that doesn't mean we're the best team in the West or anything. I think we did some good things and it shows we have a chance to be real good because we were able to execute and do some things positively against the NBA champions. But we still have a ways to go.
"We could lose and do a lot of things right and play well but it just wasn't our night or something like that. We could win and we could get lucky winning. We could hit shots out of our behind all over the place the whole time, and they could just be off. And I'd be just as hard on our guys if we win a game like that and we didn't do things the right way on both ends of the floor. I'd be just as tough on them as if we lost."
Truth be told, Brown's exactly right. The way the team plays is much more important than the actual score in either direction. This squad being a work in progress, progress is in fact the most critical element moving forward, and that's the bottom line, win or lose. Still, it would feel nice to touch down in L.A. with another W or two in the ol' back pocket.
October, 20, 2011
10/20/11
8:59
PM PT
Assuming there's ever a 2012 season for
Mike Brown
to make his debut, it will by definition be compressed. Everything from the games played to the time for getting everyone on the same page will be served by way of a bullet train. Factor in how Brown had barely over a month to communicate with players before the July 1 lockout and the goal of cohesion becomes even more difficult.
For the time being, the process of meshing his new players to a championship level has been left entirely to Brown's imagination.
Thankfully, it's been in overdrive for quite some time.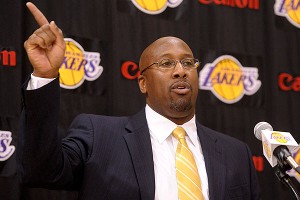 Kirby Lee/Image of Sport/US Presswire
Even before he was introduced by the Lakers as head coach, Brown thought about the job.
Brown actually began picturing himself as the Lakers head coach shortly after
July 2, 2010, the day Phil Jackson announced he was embarking on his "last stand
." Brown, newly unemployed after getting fired by the Cleveland Cavaliers, knew he didn't want to remain out of coaching very long. And as he shared over a Thursday afternoon lunch at the Lakers' facility in El Segundo with a handful of media members, the Lakers were the team heaviest on his radar.
"I was intrigued with this job," noted Brown. "And you know, I'm not one to talk about [or] look at jobs that are already filled and so it was common knowledge that Phil was going to step down. Early on. Even if a job is filled, you may watch teams and say, 'I would do this, I would do that.'
"But this one in particular, because you knew Phil was going to walk away at the end of the year. I really watched it and studied it and you're excited about the team because of the different players and so on and so forth... I knew I wanted to coach this year and if I had an opportunity, which I felt that I would have during the year, that I was going to take what I felt was the best opportunity."
How vivid was this fantasy of succeeding The Zen Master? The devil may be in the semantics. When I asked if he was "studying" the Lakers from a distance, Brown balked, but conceded he was "watching them closer than any other team." He also didn't agree with my framing of the situation as "coaching the Lakers in his mind," but he nonetheless often pondered how he would have handled certain on-court situations during the failed three-peat bid. If even Brown hadn't pictured himself giving halftime talks inside the Lakers locker room, visions of holding a white board on the Staples Center bench don't feel like a stretch.
Of course, it's also indicative of a coach's mind, which typically can't be turned off. If fans with no chance whatsoever of coaching the Lakers play armchair coach 82+ games each year, can any less be expected from a man with a reasonable shot?
September, 7, 2011
9/07/11
4:58
PM PT
By The Kamenetzky brothers
ESPNLosAngeles.com
Archive
May, 31, 2011
5/31/11
6:43
PM PT
During
Matt Barnes
' exit interview, the small forward all but said he planned to exercise the player option in his contract and remain a Laker. By showing up to
a press conference formally announcing new head coach Mike Brown
, Barnes made his plans even more evident, since nobody attends an event like this while uncommitted to his current team. (For that matter, Barnes was actually the only Laker on hand.) Thus, it was only fitting he finally went whole hog and vocalized what everyone already knew.
Barnes will be in purple and gold next season.
"I'm gonna pick up my option. I'm gonna be a Laker next year," smiled Barnes. "I wanted to be back. I still feel, granted what happened in that Dallas series, we have a very talented and very good team and I want to continue to try and get that ring."
As I noted in Barnes' report card, this wholly expected outcome is a good thing for the Lakers
. Before injuring his right knee, Barnes was enjoying a surprisingly strong inaugural season in L.A. He meshed well with a roster I don't expect to radically change next season, and increased time with his teammates should only create more fluidity and comfort.
Even more encouraging is the medical update on his knee. "It doesn't hurt no more, which is a good thing," nodded Barnes. There's swelling still, but it doesn't hurt, which is my main thing. I'm still like a month out from being able to run and jump. But slowly but surely, it's starting to feel like my left knee now."
Among other points raised by Barnes:
- Don't read negatively into the small forward providing the lone presence among players. For starters, a lot of guys are out of town and as much as Matt was there to a show of support for Brown, he also happened to be in the neighborhood after a rehab session. "L.A. traffic, you gotta have good timing," Barnes joked.
- Barnes got to know Mike Brown a bit last summer while making a decision about which team to join.
Cleveland was among the potential destinations
, and at the time, Brown was still the coach. Barnes obviously ended up with the Lakers, but still gained a good impression of his new coach:
"We spoke on the phone a few times. I got a chance to know him, he seemed like a really good guy. With that being said, he's our coach now. What he does and what he's going to do, that's yet to be determined. I just wanted to let him know he has my support. I'm sure he has the rest of the guys' support."
Barnes also offered some quality advice for creating as smooth a transition as possible for Brown:
"Just buy in. Even though we have the greatest player in the world, the coach is the leader. You know what I mean? Like he said, we need to buy into what he's bringing to the table. If we do that, we should have a really good team."
- If you happen to miss a game during the NBA Finals and want the skinny on what happened, Matt Barnes is the wrong guy to ask. The sour taste of getting swept by Dallas still lingers heavily in his mouth, and as a result, he's
way
out of the NBA loop. "I haven't watched a second of basketball," admitted Barnes. I ain't watched no SportsCenter, because I know basketball will on there. I'm still hurt thinking about it. One, the way we exited, and two, be not being able to help."
May, 28, 2011
5/28/11
6:19
PM PT
The only thing better than ear candy is holiday weekend ear candy. And with ESPNLA.com Lakers beat writer
Dave McMenamin
, no less. The degree of awesomeness can't be quantified without the use of science. Here were the talking points for the conversation:
-
Mike Brown
is the Lakers' new coach, a hire which has sparked fan and media reaction ranging from surprised to skeptical to outraged. Dave offers tidbits on how Brown ended up in the fold, plus a nickname we dare not call the coach in front of Dr. Buss!
PODCAST
Andy and Brian talk with ESPNLA.com's Dave McMenamin about new coach Mike Brown, Jim Buss' statement in hiring Brown and what the future holds for the Lakers. Plus, Dave's plans for a new lockout lifestyle.

Podcast

- With so many variables still unknown -- in particular, who Brown's new offensive coordinator will be -- it's difficult to predict how the team will operate. There has been speculation Brown might look to replicate San Antonio's schemes from when he was an assistant, with
Pau Gasol
and
Andrew Bynum
playing the roles of
Tim Duncan
and
David Robinson
, but nothing is set in stone.
Dave also elaborates on
some potential names to fill chairs as Brown's assistants
, a crew that will be exceptionally important in the coming years.
- No matter who the Lakers hired, roster upgrades would still be in order. We discuss positions and skill sets in need of bolstering, which naturally led to point guard talk. If new blood can't be acquired, the next best solution might be flipping
Derek Fisher
and
Steve Blake
in the starting lineup. At the very least, consideration must be given to this approach, which might not sit well with Fish.
Brian and I covered the Dodgers when
Luis Gonzalez
, who arrived from Arizona with an impeccable "clubhouse" rep, became a poisonous presence after his role was reduced. It's premature to assume Fisher might act out, but concern is reasonable, especially considering the veteran's sway in the locker room.
- Was Brown hired by
Jim Buss
first and foremost as a basketball decision or as a means of announcing who's now running the show? Unfortunately, there are plenty of reasons -- the whirlwind nature of the process, hiring against the grain, the distance created from the
Phil Jackson
era, not keeping
Kobe Bryant
in the loop
at all
-- to feel like the latter was a driving element, which gives us all pause.
- We share quick thoughts and predictions for the Finals.
- With an NBA work stoppage looming, we pitch a new show: "Lockout McMenamin." Fans get an inside look at the life of a beat writer in career-flux as a camera is fixed on Dave 24/7,
Truman Show
-style. Watch Dave as he grows his hair and beard super-long, then finds romance with the lady ostensibly hired to Feng Shui his apartment.
July, 2, 2010
7/02/10
3:38
PM PT
This morning, after the media was introduced to second round picks Devin Ebanks and Derrick Caracter, Mitch Kupchak spoke about Phil Jackson's return, ongoing negotiations with Derek Fisher and free agency in general. Typical to the General Manager's established form, meaningful information about the latter pair of items was sparse. And by "sparse," I mean "Mitch was like a C.I.A. operative, but more secretive." But his thoughts on Phil were interesting, and either way, Kupchak in cryptic mode is amusing.

Below are a pair of videos and choice quote pulls from the meet and greet. We'll also have video of Ebanks and Caracter ASAP.


April, 29, 2010
4/29/10
11:13
PM PT
ESPNLA.com's Ramona Shelburne recently caught up with Lakers Vice President Jeanie Buss
and naturally, conversation turned to
Phil Jackson,
who juggles duties as Lakers head coach and Buss' main squeeze. Jackson's in the final year of his contract and rumors have persisted all season about he and the Lakers parting way after this season. Should this end up the case, Jeanie doesn't paint Phil's next chapter as one entitled "Retirement." As she told Shelburne:
"I know Phil will be coaching next year, somewhere. Whether it's here or someplace else I don't know. There's going to be a lot of good jobs that come up this summer."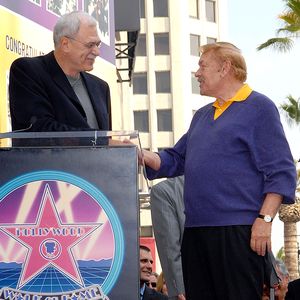 Andrew D. Bernstein/NBAE via Getty Images
Can these fellas shake hands on a salary?
Everything from family divides over Jackson's performance to money (PJ currently makes $12 million) has been bandied about as a possible cause for defection.
Jeanie disputed the former issue to Brian and me on our PodKast
, but took a considerably different tact with the latter while talking with Shelburne. No bones were made about this being a point of contention:
"Plus, my dad has made it very clear he doesn't want to pay him what he's been paying him. So that's kind of hard, too. You could kind of say, in some jobs, well, I'm cutting back your hours. But can you see him cutting back his hours?"
And therein lies what I consider a pretty interesting rub.
March, 26, 2010
3/26/10
5:26
PM PT
Mind you,
Phil Jackson never told NBA.com he will return
. Nothing has been decided, nor will it be until after the season ends. But with
the speculation game in overdrive of late
, it will undoubtedly reassure many to hear a statement congruent with
Jerry Buss' to
Steve Springer,
along with
Jeannie Buss' statements to Brian and me
.
Silence often breeds imaginations running wild, whether you're talking about a media member reading between perceived lines or a Lakers fan adopting a diet of fingernails.
Jackson's comments should go a long way toward calming the nerves of either party, but in my long-standing opinion, there never was much reason for worrying to begin with. Not that PJ calling it a career after this season is entirely out of the question, but the"warning signs" have often been sweated absent of logic and careful thought.