Los Angeles Lakers:

coaching
July, 27, 2012
7/27/12
10:25
AM PT
By The Kamenetzky Brothers
ESPNLosAngeles.com
Archive
This season, Mike Brown gets to coach a better roster under better circumstances. How, if at all, will this change the way he's evaluated as a coach? Is Brown the right person to lead the Lakers? We discuss both questions.
October, 8, 2010
10/08/10
10:26
AM PT
As Brian recently noted, an NBA.com survey conducted among General Managers
revealed oodles of front office confidence (or resigned acceptance) in the Lakers' ability to Three-peat
. 63 percent are predicting another championship, to be exact. And as one would reasonably suspect,
other aspects polled in the extensive survey
featured even more props for the Laker weaponry.
It would be too lengthy a process to analyze quite literally every mention of a Laker, but I wanted to at least address a fair share of the high points.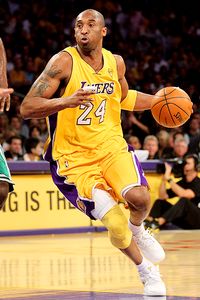 Ronald Martinez/Getty Images
Kobe Bryant was a staple in this poll.
Who will win the 2011 MVP?
Kevin Durant
, Oklahoma City (66.7 percent),
Kobe Bryant
, L.A. Lakers (25.9 percent)
Also receiving votes:
Dwight Howard
, Orlando;
LeBron James
, Miami
Last year:
LeBron James 69 percent
These numbers somewhat reflect my MVP voting prediction from
our panel back in September
. There are differences, to be sure. In particular, my opinion Kobe will edge out Durant by a nose. But General Managers are picturing the same front-running pair, as well as a precipitous fall for the two-time reigning hardware owner. It'll take at least one title to quash the backlash currently dogging The King, which I'm predicting won't happen come this particular June. Certainly not before the MVP votes are counted in April, at any rate. I still think it's a two-man race between Kobe and Durant.
If you were starting a franchise today and could sign any player in the NBA, who would it be?
Kevin Durant (55.6 percent), LeBron James (25.9 percent), Kobe Bryant/Dwight Howard (7.4 percent)
Dwyane Wade
, Miami (3.7 percent)
Last year:
LeBron James 78.6 percent
Of any place Bryant was cited, you could argue this represents the greatest display of respect. Put aside any "Who's the best player in the league?" arguments, and simply take the question at its most literal. A franchise is being started from scratch, meaning it might take time to become good. Practically speaking, this means you'd prefer a superstar in his prime (if even that old), which makes a 32-year old Mamba less than ideal. Even taking into account the high level Kobe's still playing at, the shelf life is relatively pronounced. That Bryant sparks even this much anti-conventional wisdom speaks to how valued he is around the league.
June, 25, 2010
6/25/10
4:03
PM PT
The plot thickens.
PODCAST
Andy and Brian discuss the surprise possibility of Phil Jackson's retirement. Will he go? If so, who should replace him? Could the Lakers win without PJ? All that, plus mockery towards nerds camping out three days to watch the red carpet event for the new Twilight flick. Seriously, who does that?
Podcast

Just days after Phil Jackson made known his possible intention to retire, Lakers Assistant Coach
Brian Shaw
has been
granted a thumbs up to meet with the Cavaliers about their coaching vacancy
. Lakers spokesman
John Black
confirmed a meeting in the works, but wasn't sure when it would take place.
Obviously, this adds a wrinkle to an already intriguing story. Shaw is one among precisely two people (the other being
Byron Scott
) considered a legit candidate to take over should PJ decide to step down. It's no surprise to hear of the Cavs' interest, between the championship pedigree of Shaw's resume and his reputation for being able to communicate with strong personalities. Ever since his playing days, the guy has felt like a head coach in the making. Thus,
Shaw's name tends to swirl around the rumor mill every summer whenever gigs are being filled.
Given the strong signs Shaw's been groomed to eventually becomes the Lakers' head coach, I would be very surprised if he committed to the Cavs before Phil makes up his mind (unless he was told of contingency plans privately by the brass as a courtesy or just subscribes heavily to the "bird in the hand" philosophy). Still, I'll be keeping my eyes out for developments and putting out feelers.
Never a dull day in Laker Land.
March, 14, 2010
3/14/10
8:58
PM PT
Derek Fisher
and
2001-2002 Sixth Man of the Year Corliss Williamson
are Arkansas natives and longtime friends. Thus, upon reading about
Big Nasty taking over Central Arkansas's basketball program
, we decided to get Fish's thoughts after Sunday's practice on his buddy's good fortunes and
the possibility of coaching after his playing career eventually winds down
. Given that Fisher plans to continue playing after this season ends (and he becomes free agent), such decisions are hardly pressing, but nonetheless intriguing.
As always, Fish provided some interesting perspective.
Andrew Kamenetzky:
What was your reaction when you heard about Corliss getting hired?
Derek Fisher
(smiles): I just told him to leave a seat open for me, just in case things don't go well for me in July (when free agency talks begin). Nah, I just congratulated him basically. I knew he was serious about coaching but when you take a head coaching at just about any NCAA institution now, that's a 24/7 commitment.
AK:
Whenever GM's or players are polled about current players who'd make the best coaches,
your name is always among the leading vote-getters.
I know you're not close to calling it a career, but is that something you've thought about?
DF:
Yeah, I think about a number of different things that I feel like I enjoy doing and could be committed to and passionate about doing. That's probably what would be the most important thing in terms of the impact of my decision regarding what I do after I'm done. Yeah, those are the things that cross my mind.