Los Angeles Lakers:

contract
October, 13, 2012
10/13/12
1:49
PM PT
In recent weeks, Kobe Bryant has not only talked a fair amount about potentially retiring after the next two seasons, but discussed the matter with comfort and ease. Why would a highly competitive player still playing at a high level be at peace with this scenario? We discuss.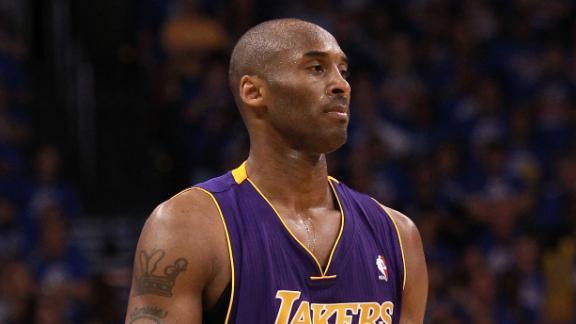 August, 27, 2012
8/27/12
9:13
AM PT
Hey Dwight:
How's it going? We haven't formally met, yet, but I'm Andy Kamenetzky. You'll be seeing a lot of me, as I cover the Lakers for ESPN LA and 710 ESPN. And I'm looking forward to you being part of the Lakers. Not only will your presence improve the defense, offense and collective psyche of a fan base newly electrified at the legitimate prospect of a title next season, but you also can improve the long-term health of the franchise as the guy slated to receive the baton from Kobe Bryant as the franchise's next face.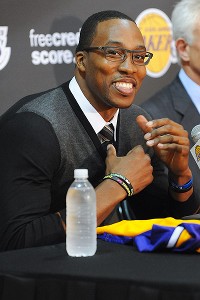 Noah Graham/NBAE/Getty Images
Nip it in the bud, Dwight.
Of course, "slated" isn't the same thing as "set," and therein lies the sum of all fears for Lakers fans. Let's be blunt, Dwight. Your exit from Orlando was steeped in chaos and drama, in no small part because Superman handled the situation rather poorly. Let's be honest, you waffled like a politician trying to win re-election, and the general consensus is you warmed to the prospect of purple and gold only after other options (namely playing alongside Deron Williams in Brooklyn) dried up. That's
not to say you didn't seem genuinely happy
at your introductory press conference, nor do I have any doubts about you remaining a Laker. Frankly, I'd be pretty surprised if you left.
However, the possibility of an exit will linger until an extension is signed, and it seems unlikely that you'll sign early, for a variety of reasons. Thus, we're left with fans not just worried about the possibility of you bolting, but also with the possibility of a three-ring circus in the process. You deflected this topic during that presser, but it will undoubtedly resurface the next time you step in front of a microphone. And then the next time. And the time after that. No doubt, this could become a tedious, consuming, never-ending storyline, unless you take control of the situation. And this is where I'd like to help!
Below is a prepared statement I've created for the first moment when one of us in the media asks about your future. These thoughts will help calm fans' nerves and diffuse a potentially messy situation. (And a word of advice: This may be a prepared statement, but the trick is making the words feel like they're coming naturally from the gut and heart. Therefore, you'll need to not only practice reciting the statement, but I'd even recommend memorization. It'll require extra work but will be worth the time.)
At any rate, here's what you'd say:
I'm actually glad you asked that question about my contract, because it allows me to address a big concern of mine heading into this season. I'm well aware my situation could easily take on a life bigger than the Lakers' season itself, and that's something I'd like to prevent. Therefore, I'd like to make the following point crystal clear, without any hesitation or qualifiers.
From this point forward until the end of this season, I will not answer any questions about my future with the Lakers. I will not answer any questions about free agency. I will not answer any questions about a contract extension. When we're on the road, I will not answer any questions about whether I could picture myself playing for "Team X" hosting the Lakers that particular night.
In a nutshell, I will not answer any questions even tangentially related to my future as a Laker.
Why? Because I don't want to say anything that might contribute to a season-long distraction as we make a serious run at a title.
August, 14, 2012
8/14/12
1:20
PM PT
Before a "big three" became a requisite for NBA teams establishing credentials as serious contenders, it wasn't too long ago that a splashy big four graced the Association. It was assembled during the summer of 2003, when
Kobe Bryant
and
Shaquille O'Neal
were joined by free agents
Karl Malone
and
Gary Payton
to create a genuine super-team. And ever since
Dwight Howard
's arrival in Los Angeles last Friday, I've heard fans and media likening Kobe-
Pau Gasol
-
Steve Nash
-Howard to the 2004 Lakers, and more often than not, that's a negative. That 2004 foursome is remembered as the last hurrah for the Kobe-Shaq-
Phil Jackson
three-peat era, a modern-day dynasty that nonetheless left potential on the table because of in-fighting. Those Lakers, beaten by the Detroit Pistons in five games during the Finals, are remembered as a failed experiment, the cautionary tale for front offices utilizing the formula of "instant championship: just add superstars."
With the Lakers now boasting among the splashiest starting fives in league history, naysayers are quick to cite the 2004 Lakers as a worst-case scenario.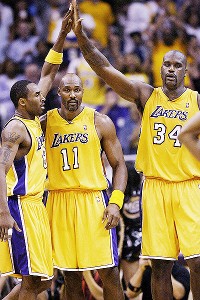 AP Photo/Kevork Djansezian
Three members of the last big four in L.A.
The comparison is inevitable, but also lazy. Yes, there are commonalities. Both teams featured four big names, each of which is a lock or near-lock for the Hall of Fame. Both teams were built by
Mitch Kupchak
and the
Buss
family with the blueprint of "championship or bust." But a deeper look makes it pretty obvious that there are massive differences. Most negatives surrounding the 2004 squad were part of a specific backstory, one not shared by the 2012 team. Below are four huge factors favoring the 2012 big four.
1. The coach and players are on better terms.
The discord between Kobe and Phil has been documented to death by now, most famously in "The Last Season," Jackson's diary of the tumultuous 2004 season. (Ironically, Phil was prompted to return in part to amend his largely negative portrayal of Kobe.) But the Mamba wasn't the only player failing to see eye to eye with The Zen Master. Payton sulked over his role in the triangle, and The Glove was often a tough customer when happy as a clam, never mind when he was surly. Those misgivings spilled onto the court and resulted in a watered-down version of Payton.
This year's incarnation, however, features no such conflicts. That's not to say everyone has bought into
Mike Brown
, no questions asked. Some prominent holdovers, notably Kobe, Gasol and
Metta World Peace
, expressed skepticism about their new coach throughout 2012, and I imagine Brown still hasn't truly
proven
himself. However, there's a difference between disenchantment and defiance, and the player who openly chafed most at Brown's authority -- Andrew Bynum -- is now the starting center in Philadelphia. Players and coach may still be feeling each other out, but outright hostility doesn't appear to be looming.
July, 18, 2012
7/18/12
11:43
AM PT
By The Kamenetzky brothers
ESPNLosAngeles.com
Archive