Los Angeles Lakers:

Countdown to Christmas
December, 20, 2011
12/20/11
9:13
AM PT

By Brian Kamenetzky
ESPNLosAngeles.com
Archive
We'll never know if the marriage of Chris Paul to the Lakers would have ultimately panned out, but in the hour or two Los Angeles thought he was joining the purple and gold, it seemed there were two clear winners:

1. Kobe Bryant. Playing next to Paul could have extended his career by a year or two, as Paul not only would have assumed most of the heavy lifting from a ball handling and facilitating standpoint, but created a heap of clean looks for Bryant. Concierge service would have joined his backcourt.

2. Andrew Bynum. If Paul thought playing with Tyson Chandler was the bee's knees, wait until he got a load of Drew, a superior offensive talent in every meaningful way. With probably the softest hands of any seven footer in the league, excellent mobility in space, and a quickly improving mid-range game, Bynum would have represented the best big man with whom Paul had ever teamed. Pairing Paul with Bryant would have garnered the headlines, but the CP3/Bynum combination would have had electric potential.

The move could have been transformative. With Lamar Odom and Pau Gasol gone, Bynum would have naturally assumed a greater role in the offense, and with someone like Paul feeding him, could have truly starred. The sense of ownership for which he's increasingly striving, but has been limited by L.A.'s natural pecking order, likely would have been more a reality. With the Lakers balancing rampant trade specutlation involving Bynum with a $16 million option on him for next season and the question of a long term extension thereafter, the entire context of Bynum's present and future in Los Angeles could have changed.

The possibilities tickled many an imagination. Just not his.

"I didn't put much thought into it," he says. "Really, my brother put a lot more into it. He was happy about it. I stand by my position: I don't think you trade the size for the guard, even though Chris Paul is a great player. He's probably the best point guard in the league right now. That was our uniqueness, our advantage, was the size. Winning these championships. I don't think you give that away."


December, 13, 2011
12/13/11
9:24
AM PT

By Brian Kamenetzky
ESPNLosAngeles.com
Archive
This season will, if nothing else, bring no shortage of track metaphors.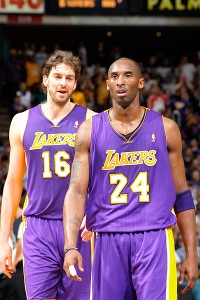 Rocky Widner/Getty Images
As of Tuesday, the Lakers are led by Kobe Bryant and Pau Gasol. Can they lead L.A. through a tough schedule?
So as someone who never ran a day of track and these days only runs when chased, allow me to try my hand.
Down from 82 to 66 games, the 2011-12 season will indeed be more a sprint than a marathon for every team across the league. Not just any straightforward footrace, though, like the 100 meters, or even the 200 with a tight left turn. No, I'm thinking it'll be more like the 400-meter hurdles, requiring the same full-out sprint while clearing seemingly endless obstacles along the way.
Someone will finish first, but a bunch of bodies will be strewn about the track along the way.
Among the challenges facing the Lakers:
17 back-to-backs, of which only three have two games in L.A. and eight are entirely on the road, plus a back-to-back-to-back opening the season.
Older legs (at least for now). Every starter (see previous parenthetical) save Andrew Bynum, missing the first five games because of suspension, is over 30.
A new coaching staff led by Mike Brown installing fresh systems on both sides of the floor and selling itself to a championship group, but hamstrung by a jam-packed travel and game schedule, limiting practice time.
Rampant roster confusion. Some other teams are struggling because they don't have enough guys under contract to run their practices. The Lakers have enough bodies, but nobody outside Kobe Bryant and the recently signed Jason Kapono knows for sure where he'll be playing this season. Meanwhile, holes still exist behind Kobe at the 2 and in the frontcourt behind Gasol and Bynum, so new bodies are likely to arrive, even in the absence of a blockbuster deal. In the presence of one? Sew a "Hello, My Name Is ______" patch on the practice jerseys.
Returning to the track meme, in theory every team begins at the starting line. In reality, certain things put some behind others, far more than in a normal season. Some teams don't have a full complement of players available, while others are seemingly not allowed to make trades. L.A.'s age and potentially weary legs have garnered most of the "Whoa, look at that schedule!" attention and could be issues going forward, but for the Lakers it's the other stuff adding extra meters and hurdles to issues already potentially problematic.