Los Angeles Lakers:

D.J. Mbenga
April, 15, 2011
4/15/11
8:57
PM PT
The only thing better than regular-season ear candy? Playoff edition ear candy!
It's the first podkast of 2011 focusing on the NBA's second season. For a look at the New Orleans Hornets, the Lakers' first-round opponent, we spent some time talking with
Michael McNamara
of Hornets247.com (True Hoop network). Among the talking points:
PODCAST
In anticipation of the first round series against New Orleans, Andy and Brian talk with Michael McNamara from Hornets247.com.

Podcast

- The
overwhelming majority
of pundits
aren't giving
New Orleans a snowball's chance in hell of winning this series. Ditto the Laker Nation, from the feedback I'm seeing. And as we learn later in our conversation, even Hornets fans aren't especially optimistic about their odds against the two-time defending champs. But as far as making a legit series out of an inevitable first-round exit, McNamara said the naysayers may help:
"I think they can make games (of it), partly because they're gonna be fired up. The Hornets have played their best when they've had a chip on their shoulder all year. ... You see the way the Hornets started out 8-0. They were the last undefeated team in the NBA. And then once they started getting some national attention, they fell off."
McNamara predicts coach
Monty Williams
, a fiery "nobody believes in us" type himself, will show the Hornets every dismissive article he can find to pour gasoline on a prideful fire. Could this approach lead to the world shocked? Not likely, but it could create the surprisingly challenging series McNamara personally expects.
- By
Chris Paul
standards, he's having a down season and entered the playoffs looking mortal. McNamara considers the issues twofold. The Hornets' roster has been seriously overhauled, and new faces always make a point guard's organizational responsibilities that much tougher. Plus, without the jettisoned
Tyson Chandler
and the recently injured
David West
, the picks set for CP3 haven't been as strong, which doesn't allow him the same ability to operate.
- McNamara talks about the impact ex-Laker
Trevor Ariza
could have making
Kobe Bryant
work for points. Or, more succinctly, Ariza's impact if allowed leeway from the refs.
- McNamara says he thinks
Jarrett Jack
will be paired often with Paul, and the more burn JJ gets, the better he tends to perform. Jack, one of my favorite role players, has enjoyed success against the Lakers, so it's worth keeping an eye on him as a potential "X-factor."
- Brian and I are relieved to learn
DJ Mbenga
is still a fan of the automatic heat check whenever he happens to hit a basket beyond point-blank range. "He'll make a four-foot hook in the lane and he just thinks it's on. He thinks it's
game over
. He's got the hot hand.
...
I think he thinks he's playing a game of
NBA Jam
," jokes McNamara.
- How is the situation with the Sacramento Kings affecting Hornets fans, they of the mutual relocation concerns?
July, 22, 2010
7/22/10
9:24
PM PT
The Laker roster may be officially set, for all intents and purposes.
On a busy Thursday, the team added two new bodies to the mix.
The bigger name is small forward Matt Barnes
, a Cali kid and UCLA product now making $3.6 mil over two seasons. The
smaller (though, ironically, taller) player is veteran's minimum-priced center Theo Ratliff
, who first began blocking NBA shots in the late '70s. (Okay, 1995.) Two veterans who appear pretty stoked at a shot to ride the O'Brien train. Barnes is the flashier signing, between his profile, flirtation with seemingly every team under the sun, and
prematurely announced
sign-and-trade to the Raptors. Of the two newbies, he is the one figuring to become a rotation mainstay.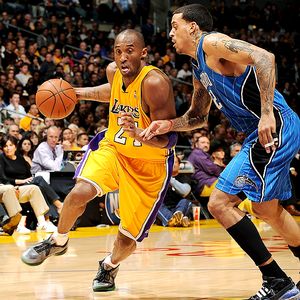 Noah Graham/NBAE/Getty Images
This season, Kobe Bryant and Matt Barnes will only be scrapping during practice.
He is also the one in my mind producing more question marks.
No doubt, there is a legit need for a backup for
Ron Artest
.
Mitch Kupchak conceded at his exit interview how Luke Walton's back remains at risk to flare up
, making him unreliable to pencil in for duty. Presumed Laker
Devin Ebanks
is too inexperienced, and while Kobe is without question the best backup three in the league, the goal looking forward is to reduce his minutes when possible.
Barnes is a legit option, even borderline overqualified for the gig.
Over 48 minutes,
Barnes ranked third among small forwards on the glass last season
, and if we learned nothing else during the NBA Finals, it was the importance of rebounding. This trait is indicative of the way Barnes plays: Dude hustles and is willing to do the dirty work. I could also see his ability to move without the ball --
broken down in fine fashion by Ben Q Rock at Orlando Pinstriped
-- fitting in well with a team at its best when players remain in motion. And despite it being impossible to pin the "soft" tag on the Lakers anymore, Barnes' toughness nonetheless remains a nice asset.
That said, I do have some trepidation about the deal.
March, 19, 2010
3/19/10
10:02
PM PT

By Brian Kamenetzky
ESPNLosAngeles.com
Archive
February, 12, 2010
2/12/10
2:23
PM PT