Los Angeles Lakers:

Danilo Gallinari
August, 19, 2012
8/19/12
11:35
AM PT
This series examines how the presumably now-elite Lakers stack up against their fellow brethren, and the Nuggets would largely be considered one tier lower. Thus, their inclusion here could feel strange. It shouldn't. As last season's first round, seven-game series demonstrated, Denver features a roster stuffed with rising talent tailor-made for a quick pace that tests the Lakers. And in
Andre Iguodala
, they've acquired an All-Star and Olympian who's both a great fit and addresses the team's biggest weakness (defense). The Nuggets would never be favored in a series against the Lakers, but still could provide one of the trickiest rounds possible.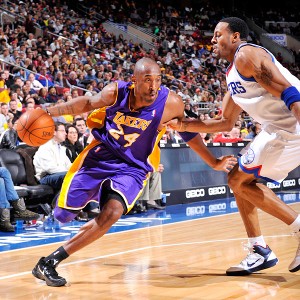 David Dow/NBAE via Getty Images
Iggy should help Denver on both sides of the ball.

For some local knowledge on the Nuggets, we spoke with
Jeremy Wagner
from the True Hoop network's
Roundball Mining Company
.
Andy Kamenetzky:
What was the general reaction in the Roundball Mining community when word hit the street about
Dwight Howard
joining the Lakers?
Jeremy Wagner:
The real story revolving around the Howard trade for Denver was obviously the acquisition of Iguodala. There was a angry subdivision of fans who were very upset that the Nuggets took part in ushering Howard to the Lakers. After the loss in the playoffs to LA and the addition of
Steve Nash
, most fans viewed the Lakers superior to Denver anyway. The addition of Howard only increased the gulf. Any hope of catching them this season is gone.
AK:
Well, even if they can't catch the Lakers, how capable is Denver of pushing them with Iggy on board?
JW:
The addition of Igoudala is a tremendous one for Denver.
Arron Afflalo's
defense had really fallen off from where it was a couple of seasons ago and Igoudala will certainly help in that area. Plus, Igoudala is a much better passer, fits better into Denver's drive-and-kick offense, and should flourish in the open floor. I believe a healthy Nuggets team will be the third best team in the West, barely ahead of the Clippers.
Is there any concern that with such a small window, based on the ages of Kobe and Nash, this team cannot afford taking a year to jell?
Brian Kamenetzky:
No question. There are definitely moving parts to integrate. In theory, Howard doesn't demand a massive adjustment -- it's not like the Lakers aren't accustomed to a high end center -- but in a lot of ways he's a very different player than
Andrew Bynum
. More mobile, more effective in the pick-and-roll. Plus, he's been "the guy" since entering the league. With the Lakers, he will, at least to some degree, have to give a little. And Nash is a huge change, a point guard capable of putting a game on a string, the type of player
Kobe Bryant
has never teamed with. Defensively, I think they'll be okay, since Howard makes things easier for everyone else. But this is at best a two-year experiment thanks to age and finances, and if it doesn't yield at least one title, people will be upset.
May, 10, 2012
5/10/12
8:13
AM PT
That the Lakers failed to close out Denver on Tuesday wasn't horrible in and of itself, but the reason for failure certainly was. It's one thing to get outplayed, especially by a quality team desperate to stay alive. Getting outworked, however, is another story. The Lakers' inability to match the Nuggets' energy, intensity and desire was inexcusable, and
as Brian noted, costly on a practical level
. Still, what's done is done, and now is the time to make lemonade from lemons. The Lakers get two more cracks to wrap this up, but success on the first try equals that much less energy expended before battling the Thunder. The task won't be easy, especially in Denver. But it's doable, assuming the Lakers are willing to focus, execute and work enough.
For more thoughts on Game 6 (Thursday, 7:30 p.m. PT), I had an IM exchange with
Kalen Deremo
from the True Hoop network's
Roundball Mining Company
. Below is the transcript.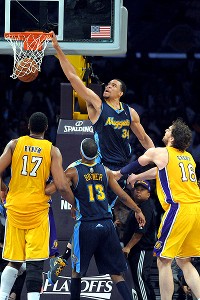 Kirby Lee/US Presswire
Please, Javale! Don't hurt 'em!
Andy Kamenetzky:
Heading into Game 5,
you weren't sure how this inconsistent Nuggets team would react to an elimination scenario
. What did you make of the way they played?
Kalen Deremo
: Shocked. Well, maybe not shocked, but thoroughly (and pleasantly!) surprised. For years, this team has exited the playoffs in embarrassing fashion. Tuesday, they played with heart, soul and passion. For once it looked like they actually cared about showing pride in the playoffs. What was your reaction?
AK:
In the meantime, Denver continues to improve as the series progresses, certainly more than the Lakers.
KD:
That performance was probably the Nuggets' best in the playoffs since 2009, when they reached the Western Conference finals. I think no matter what team they were playing, the Nuggets were gonna give it their all. What I want to know is what happened to
Pau Gasol
?
Andrew Bynum
and
Kobe Bryant
have showed up for the most part, but Pau just seems invisible.
AK:
In fairness to Pau, he's been asked to facilitate more than score, and his passing has been very effective. Nuggets coach
George Karl
has even cited Gasol as a weapon hurting them in this respect. However, his rebounding numbers are down a bit from the regular season, problematic in a series where Denver's control of the glass makes or breaks L.A. His defense around the rim has also been erratic. And like Bynum, he was pretty MIA for most of Game 5.
In the meantime,
JaVale McGee
! Have you ever seen a player improve more over a series?
Kalen:
McGee, man, I don't even know what to say. Seeing a 7-footer operate like a champ in the post, seeing his pure physical attributes dominate his counterpart, is a sight to behold. The Nuggets haven't had that type of center since
Dikembe Mutombo
, although
Marcus Camby
was nice defensively. Wow, I'm just getting way ahead of myself. Yeah, McGee was just unreal. It's so nice to see his maturation with the Nuggets. The guy has so much talent and potential. Seeing him discover it during a time like this is beautiful for Nuggets fans.
Do you think he could even end up outplaying Bynum two games in a row?
May, 8, 2012
5/08/12
7:41
AM PT
"Closeout games are actually kinda easy. Teams tend to fold if you come out and play hard in the beginning. So we wanna come out and establish an early lead and protect it."
This was
Andrew Bynum's
response when asked about the inherent difficulty of closeout game
s. And to some degree, Drew's correct. I've seen many a team on the ropes fall behind in an elimination game, then exhibit body language that reeks of fate acknowledged and summer plans being imagined. On the other hand, if an opponent starts out hot or at least able to trade blows, they may become less amenable to the notion of fading quietly into the night. The Lakers would be best served to treat Denver as a squad desperate to remain alive, then upon tangible signs of the towel being thrown in, continue pummeling them in case an elaborate game of possum is being played.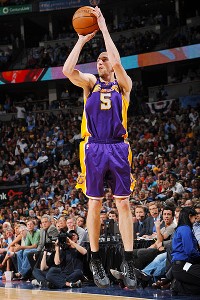 Garrett W. Ellwood/NBAE/Getty Images
The Lakers hung tough, and guys like Blake helped seal the deal.
For thoughts on what could be the final game of this series, I had an IM conversation with
Kalen Deremo
of the True Hoop network's
Roundball Mining Company
. Below is the transcript.
Andy Kamenetzky:
Well, that was a very strange Game 3. No flow. No consistency from the refs. The refs at times let fouls go that would be called inside Rikers Island, then whistled the tickiest of tack.
Andrew Bynum
called for traveling with
JaVale McGee
over his back was...
interesting
. Plus, stalkers on the court! An entertaining game, but odd nonetheless. And I actually thought Denver would win for much of it.
KD:
They led for the first three quarters, but it was so obvious L.A. had them trapped from the get go. That pace proved deadly. Nuggets played with fire... and got burned... bad. They've known from the very start they had to speed up the game to win. In Game 3 they finally managed to get out on the break more, and as a result they won in convincing fashion. The Nuggets thrive off energy. On Sunday, the Lakers looked like they were sleepwalking for much of the game and instead of countering with energy, the nuggets emulated the Lakers, and paid the price.
As we saw on Sunday, even if the Lakers aren't playing up to their potential they'll still win as long as they can entice the Nuggets to play a slow, half-court game. Give the Lakers credit for good defense, too.
AK:
Yeah, they clamped down when it mattered most, and managed to keep Denver off the offensive glass in the second half. That's been a huge weapon for the Nuggets all series.
May, 6, 2012
5/06/12
9:37
PM PT
It wasn't pretty, but the lack of style points will easily be forgotten in the Los Angeles Lakers' 92-88 victory over the Denver Nuggets in Game 4 of their Western Conference first-round series. Probably the time this piece has been read. Ain't nobody complaining about a 3-1 series advantage heading back to L.A. Here are three takeaways from the game.

1. The Lakers did a nice job riding out chaos
To say the least, this wasn't the smoothest of games. Denver's altitude often brings out the worst in teams to begin with, but various elements combined to turn matters even more haywire. For starters, the referees fluctuated between allowing contact that would be drawn a foul in prison-ball and whistling fairly incidental stuff. (Nothing may have embodied this maddening inconsistency more than a sequence when Andrew Bynum was called for what might have been, technically speaking, a travel, but the foot shuffle was caused by JaVale McGee literally tumbling over Drew's shoulder on a flyby.) Because the refs often "let guys play," the Lakers' concerted effort to attack the basket resulted in a lot of misses unrewarded by free throws. The inability to earn charity stripe visits became even more problematic due to the Lakers' jumpers generally refusing to cooperate.

Adding to the madness, a woman randomly wandered onto the court, which meant stopping a possession as security handed matters.

The court adopted a circus atmosphere, and for the Lakers, it was much less amusing than one of those cars stuffed with 30 clowns.

However, I thought the Lakers did a nice job keeping their heads down, grinding away, and not letting the chaos get the best of them. That's not to say adversity was conquered through perfection. The offense grew periodically iso-centric and stagnant, with ball movement sometimes hitting a screeching halt. Dribbling took precedence over ball reversals or the extra pass, which led to costly turnovers converted into points by Denver. Kobe Bryant once again found easy shots difficult to come by, as his sub-.500 shooting in Denver this season continued. On a possession to possession basis, the Lakers just had a hard time manufacturing what they wanted.

Still, the Lakers didn't allow frustration to break their will, which can go a long way toward covering mistakes. They remained in relentless pursuit of a win, doing what they could to offset the ball not bouncing their way. The Lakers finally remembered to crash the defensive glass, limiting the Nuggets to 13 offensive boards, their lowest tally of the series. They kept attacking the rim even while receiving no fruits for their labor. The defense cranked up down the stretch, limiting Denver to just 17 points in the fourth quarter. And key passes late in the final frame from Kobe and Pau Gasol set up critical buckets from Steve Blake and Ramon Sessions.

The Lakers didn't make it look easy, but then again, the playoffs are supposed to be hard. That they didn't seem overly bothered by the difficulty was all the difference this evening.


May, 5, 2012
5/05/12
8:26
PM PT
On one hand, nobody with grounded expectations should have expected the Lakers to sweep their way into the second round of the playoffs. In that respect, seeing them drop Game 3 to the Nuggets isn't necessarily alarming. On the other hand, the Nuggets have steadily improved with each game, while the Lakers have moved in the opposite direction since an absolutely devastating Game 1 victory. I wouldn't say the scales of control have tipped in Denver's favor, and the purple and gold remain the better team in my estimation. But the Nuggets are absolutely capable of forcing a tough series, which means the Lakers need to step their collective effort and efficiency back up a notch.
For more perspective on the first three games and what may lie ahead for Sunday, I conducted my IM exchange with
Kalen Deremo
of the TrueHoop network's
Roundball Mining Company
. Below is the transcript.
Andy Kamenetzky:
The Nuggets have gotten steadily better in each game. Why is this happening and how sustainable is it?
Kalen Deremo:
It's probably just experience and their comfort level adjusting. For many Nuggets, this is their first playoff experience. The more time goes by, the more relaxed they will likely become. And going back home to Denver definitely helped as well.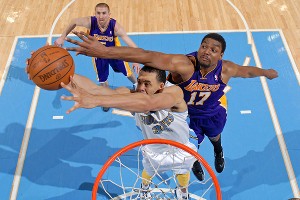 Garrett W. Ellwood/NBAE/Getty Images
Andrew Bynum may be the better player, but JaVale McGee was able to cause fits for the All-Star.
AK:
In particular, Denver has controlled the offensive glass to create second-chance points. Is that a staple of their game?
KD:
Not really.
Kenneth Faried
is an excellent offensive rebounder.
JaVale McGee
certainly helps out, too. When he's rebounding, the Nuggets just become a more dominant team on the glass in general. But outside of them, the Nuggets aren't particularly strong in this sense and I don't know if they can contend with the Lakers' bigs for an entire series.
AK:
Maybe they can if
Andrew Bynum
isn't "ready" for any of Games 4-7,
as was the case in Game 3
.
KD:
Yeah, that's interesting. The Lakers' bigs, like all superheros, have their Kryptonite as well. Bynum just seems like a guy who's easily irritated and not always 100 percent prepared mentally. Is this true, and how much could you see it affecting the outcome of this series?
AK
: It's an absolutely accurate assessment, and the potential effect is devastating. No Laker controls this team's prospects for a deep playoff run more than Bynum. His ability to change games defensively, on the glass and (to a lesser but still sizable degree) as a low-post scoring threat is the difference between the Lakers controlling games and merely surviving/actually losing them. Unfortunately, the mental lapses and admittedly inconsistent engagement are recurrent issues. Drew must force himself to be dialed in from start to finish.
KD:
What about McGee, though? I could see him perhaps giving Bynum problems. He's a superior athlete and could prevent Bynum from doing whatever he pleases offensively.
AK:
There's no question McGee's presence has increasingly become a factor. Even before blowing up statistically in Game 3 (16 points, 15 rebounds), his wingspan has been problematic. He's blocking shots and altering others. Players think twice with him in proximity. Whatever McGee can add offensively is gravy. I don't know how much scoring he can reliably provide, but it's sure fun to watch him try. Dude's got some of the weirdest physicality I've ever seen around the rim. He'll attempt that scoop shot -- apparently his one "move" besides a dunk -- from mindbogglingly bizarre angles.
May, 4, 2012
5/04/12
10:38
PM PT
Put away the brooms, Lakers fans! Visions of a sweep are officially dead.
The Nuggets got out to an early lead Friday night in Denver, and
parlayed that hot start into a 99-84 win
. As has been the case in all three games, Denver crushed on the offensive glass, and rebounding was probably the single biggest reason the hosts controlled the game from nearly start to finish. That, and defense. The Nuggets played some, while the Lakers only periodically bothered, especially in the first quarter, and especially when it came to protecting the rim. Thus,
Ty Lawson
did his thing, and
JaVale McGee
suddenly became a factor.
On tonight's show, we detail the ginormous hole the Lakers put themselves in thanks to a lackluster start, as well as...
A tale of two halves for Andrew Bynum. Scoreless in the first, dominant in the third, worn out by the end.
Tough sledding for Kobe Bryant, who continues to struggle offensively at the Pepsi Center. Was his 7-of-23 a blip in the series, or the start of a trend?
Limited help from the supporting cast. There were no "wild cards," as George Karl put it before Game 1.
Questions about the limited burn for Devin Ebanks. Would it have hurt to have him on the floor more than 16 minutes?
That, plus some funky, funky timpani!
May, 4, 2012
5/04/12
6:37
AM PT
With a 2-0 series lead, the Lakers couldn't ask for a better position as their opening round moves to Denver. On the other hand, while the Nuggets never controlled Game 2, they were able to make it far more competitive, and more importantly, they often dictated the style of basketball played. Can this development, along with a home crowd's energy, be converted into the first win of the series, or are the Nuggets simply overmatched against the Lakers' size and a certain 2-guard?
To preview what Game 3 may have in store, I had an IM exchange with
Jeremy Wagner
of the True Hoop Network's
Roundball Mining Company
. Below is the transcript.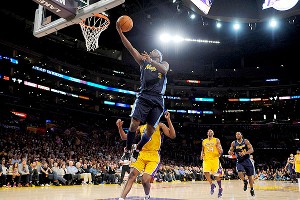 Noah Graham/Getty Images
The Nuggets got to the rim in Game 2, but their outside shooting was ice cold.
Andy Kamenetzky:
Denver lost Game 2, but how much encouragement did you take from the way the Nuggets managed to push pace, attack the paint and generally play their game?
Jeremy Wagner:
The Nuggets can bring some confidence into Game 3. They always knew they could run on the Lakers, but running alone does not equal winning. It just means they have a chance to keep the game close in the final few minutes. Their ability to continually fight back and control certain portions of the game is encouraging, but that feeling only goes so far.
But I do think Game 3 will be very competitive. Denver knows a loss will be the final nail in the coffin. If Denver wins Game 3, Game 4 should be a fantastic battle. If they lose, Game 4 might be much like Game 6 in 2009.
AK:
Beyond continuing to run the break, what can Denver realistically do to finish Friday at 2-1?
JW:
Denver must hit some 3s. The Nuggets are a very poor 3-point shooting team, but they do have capable 3-point shooters. If they had made a couple more in Game 2, things would have been interesting. The Nuggets are doing a great job on the offensive boards and running. If they can add one other positive characteristic, they will be in good shape.
The big discussion among Nuggets fans is whether to go with bigger lineups to try to beat L.A. at their own game, or go even smaller and risk completely sacrificing the paint? From a Lakers perspective, what lineup would be more concerning?
Ty Lawson
,
Arron Afflalo
,
Corey Brewer
,
Danilo Gallinari
and
Al Harrington
(small and fast), or Lawson, Gallo,
Kenneth Faried
,
JaVale McGee
and
Timofey Mozgov
(big and still fast)?
AK:
It depends on how successfully the Nuggets pushed tempo, whether by getting the Lakers to take the bait or just fall apart defending in transition. Were that the case, I'd probably use the smaller lineup, since that feels like the group best at forcing the issue. But if the Lakers stay disciplined, you might need to hedge your bets with the bigger group to avoid being comically overwhelmed. However, I'd be concerned about how little McGee (lobs aside) and Moz would force the Lakers' bigs to defend. That's not exactly a frontcourt you run an offense through.
May, 1, 2012
5/01/12
10:52
PM PT
The Lakers remain undefeated in the Mike Brown postseason era, despite the Nuggets' pesky refusal to wave the white flag. The showing in Game 2 on Tuesday wasn't nearly as dominant as in Game 1, and I imagine Brown will point out more mistakes in Wednesday's film session. But the bottom line is the Lakers are up 2-0, and you can't ask for anything better. Here are four takeaways from the game.

1) When Kobe gets rolling, it's just ridiculous.
Heading into this series, Kobe Bryant hadn't shot the ball well against Denver this season. Thus, after his slow first half in Game 1, 14 fourth-quarter points and a steadily increasing efficiency felt like a nice omen of his having figured out Denver's scheme against him. Then again, Tuesday night didn't necessarily present a big mystery to unravel. George Karl opted largely to guard Kobe in single coverage with either Arron Afflalo or Corey Brewer, the first among the better wing defenders in the NBA, and the second certainly credible. And in both cases, they were rendered pretty helpless. Bryant's first basket was a rather emphatic dunk off a cross-court baseline feed from Matt Barnes, quite the announcement of his intentions to own this game. From there, the reins were never relinquished en route to 38 points on 15-for-29 shooting.

Shots were drained from inside, outside and all points in between. Whether attacking the rim, working in isolation, spinning baseline, fading away, jab-stepping, head-faking, pulling up or using his super status to get away with the mother of all push-offs, Bryant emptied his proverbial bag. And as we've learned over the years, it holds an awful lot of tricks. The second half probably featured a little too much one-on-one for the good of the overall offense. But at the same time, his night was pretty efficient and often spellbinding.

The timeliness of his makes also was key. With just more than four minutes in the game and Denver starting to gain momentum, Kobe found himself faced up against Afflalo yet again. This was a possession on which the Lakers really needed a basket, a moment their leader always knows. A few jab steps later, a 3-ball dropped, and the Lakers were back up by eight. He also drained a pair of free throws with 9.4 seconds on the clock, keeping the lead at five and essentially ending Denver's quest to push overtime.

Although really, Bryant's best plays of the night might have come on the defensive end. In the second half, after Steve Blake missed a 3-pointer, Denver was off to the races yet again, with Al Harrington on the receiving end of a home run pass from Andre Miller. Kobe, 33 years old and hopped up on German medicine, chased down Big Al from behind and blocked what should have been a flush. Then, with 2:21 left to play, Kenneth Faried couldn't hang on to a home run pass from Ty Lawson, and a scrum ensued for the loose ball. Kobe came up with the rock, sped down court, absorbed contact from one defender, and wrapped a pass around Danilo Gallinari to Andrew Bynum for a dunk and a six-point lead.

In a game in which Denver continued to claw for survival, Kobe made sure to cut off the oxygen supply whenever possible.


May, 1, 2012
5/01/12
7:30
AM PT
The Lakers' postseason got off to as incredible a start as even those with wildly active imaginations could envision. Suffocating defense, spearheaded by
Andrew Bynum in a performance that literally made NBA history
. Balanced offense with
six players in double figures
and
Steve Blake
just behind them at nine. And as I wrote yesterday,
the collective focus was off the charts
. In the meantime, Denver made a few pushes, but largely found itself increasingly overwhelmed.
A sign of things to come for the entire series, or just one game in which both teams played at the opposite ends of the spectrum? To get to the bottom of matters, we had an IM conversation with
Roundball Mining Company's
Jeremy Wagner.
Below is a transcript of the exchange.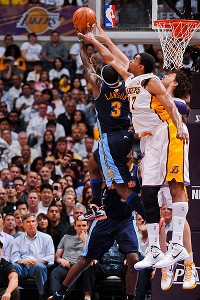 Andrew D. Bernstein/Getty Images
Goliath won.
Brian Kamenetzky
: We focused so much on how L.A.'s size would help on the offensive side of ball, but it was really the defensive end -- led by Bynum but supplemented by
Pau Gasol
and
Jordan Hill
-- that changed the game. How much did that surprise Denver, and how do they address it?
Jeremy Wagner
: It was obvious the Nuggets were not prepared for shot-blocking Bynum. They never adjusted and kept throwing up weak attempts. One key is Denver will to have to move much more on offense. I think it was six of Bynum's blocks came on an iso set when four Nuggets stood and watched. Denver also must look to pass when it doesn't have a shot at the rim. The corner was open on nearly all of Bynum's blocks and Denver must take advantage of that.
Do you think Bynum will be content to play
Dikembe Mutombo,
or will he demand more shots? We know he likes shots.
Andy Kamenetzky:
I'd like to think this mindset will be maintained. It's important to note, Drew actually got the ball, but constant multiple defenders forced him to pass out. Even more important, Drew was aware of this, which makes me think pouting isn't imminent. However, I'm not necessarily confident he'll be as successful passing out from double/triple teams. Sunday's one turnover is the exception, not the rule, and that could give Denver more chances to run, which creates problems for the Lakers' D. Not to mention frustration for Bynum.
BK:
You'll hear "tempo" come up about 700 times in a day's worth of interviews with Lakers players and coaches. Jeremy, what are you expecting from Denver in terms of changes to either the game plan or approach?
JW:
I do not honestly know what to expect, because I do not think
George Karl
even has a solid plan of attack. Denver must respond better to the Lakers' length by showing better interior passing and look for more drive-and-kick options. The lack of movement on offense caused them to constantly attack a defense set and ready to respond to any penetration. You can tell by Karl's rotations he does not know what combination of players to put on the court, another major issue. Denver has lived playing small, especially in crunch time, but with the Lakers' length, that is suicidal. On the other hand, players like
JaVale McGee
did nothing to show they belong on the court. Denver is in a very tough place and I am not sure there is a clear solution.
April, 26, 2012
4/26/12
10:11
PM PT
There will be very little review of Thursday's loss to Sacramento. Instead, we'll be looking at the first round of the playoffs. The Lakers open Sunday against Denver (12:30 pm PT, ABC), in a matchup both of us think will pose some legitimate challenges to the purple and gold.
Among the topics covered in this playoff preview edition of Lakers Late Night:
Where the Nuggets pose problems for the Lakers. Start with the ability to push pace. Denver is a top notch team in transition. From there, you look at depth, and the prospect of Danilo Gallinari finding space to operate offensively thanks to the absence of Metta World Peace.
On the other hand, L.A. counters with size the Nuggets can't really handle, and a robust Kobe Bryant.
We make our picks for the four opening round series in the West, including the Clippers vs. Memphis. Which Los Angeles teams will advance?
April, 26, 2012
4/26/12
10:02
PM PT

By Brian Kamenetzky
ESPNLosAngeles.com
Archive
Not so suck the wind out of
Christian Eyenga's
Lakers debut, but the
Bold Play of Thursday's Game
came before it started, when
Kobe Bryant
decided to sit it out, passing on a chance to beat out
Kevin Durant
for this year's scoring title.
Nor is a lot of analysis from
Thursday's 113-96 loss
required. With Bryant,
Pau Gasol
,
Andrew Bynum
,
Metta World Peace
, and
Matt Barnes
in street clothes, the Lakers aren't very good. Not exactly a shock.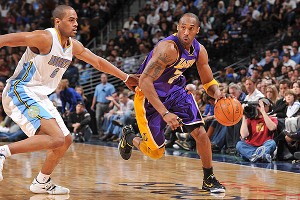 Garrett W. Ellwood/Getty Images
Arron Afflalo's ability to contain Kobe Bryant will be a major factor in the first round.
So instead of breaking down a meaningless loss in a meaningless game, let's look ahead to L.A.'s
first round opponent, the Denver Nuggets
.
George Karl's
crew comes into Sunday's Game 1 (12:30 pm PT, ABC) as one of the West's hottest teams, going 11-4 over their last 15, including four straight victories to end the season. At 18-15, they sport the NBA's fifth best road record, and at +2.9 have a better average point differential than the Lakers. In short, they're a sturdy first round matchup for a shorthanded Lakers squad, one with no stars but scads of B-level talent.
Denver started 14-5 before injuries took them off the rails, and while not completely healthy -- forward
Wilson Chandler
is done for the year, as is guard
Rudy Fernandez
-- they should not be taken lightly.
Here's a primer on the Lakers' opening round matchup ...
SEASON SERIES - Lakers 3-1.
1. Lakers 92, Denver 89
(Dec. 31, Staples Center): In Bynum's first game of the season, the Lakers squeak out a win. Drew pops off for 30, while Bryant and Gasol each score 17.
2. Denver 99, Lakers 90
(Jan. 1, Pepsi Center): Kobe goes 6-of-28 from the floor, while six Nuggets score in double figures as Denver takes their half of the home-and-home.
3. Lakers 93, Denver 89
(Feb. 3, Pepsi Center): Bryant was only 7-for-23, but spread around nine assists. Bynum hit 10 of his 13 FGA's, as the Lakers held on to the ball (11 turnovers) and won the glass battle, 47-40.
4. Lakers 103, Denver 97
(April 13, Staples Center): Bynum went for 30/8 with three blocks as the Lakers raced to an early 11-point lead, beating Denver without Bryant in the lineup.
SEASON STATS (through Wednesday's games)-
Offensive Efficiency
- Lakers 103.4 (10th), Nuggets 106.1 (3rd)
Defensive Efficiency
- Lakers 101.4 (12th), Nuggets 103.4 (20th)
Pace (possessions per game)
- Lakers 92.9 (20th), Nuggets 96.6 (2nd)
Rebound Rate (percentage of shots a team rebounds)
- Lakers 53.1 (2nd), Nuggets 51.5 (4th)
Turnover Percentage (turnovers per 100 plays)
- Lakers 14.2 (19th), Nuggets 14.1 (18th)
5 REASONS THE NUGGETS POSE A PROBLEM FOR THE LAKERS
1. Transition offense.
Via Synergy, in transition possessions Denver is the NBA's third best team measured by points per play, at 1.205. Moreover, they push relentlessly. No team in the league has had more transition opportunities than the Nuggets, by a healthy margin of over 100 possessions. While Denver isn't a strong defensive squad, they do force turnovers (7th in defensive TOV%) and are solid on their own glass (9th in DRB%, only .08 percent behind L.A.), two keys in fueling an effective running game. The Lakers, meanwhile, grade out as the 25th ranked team defensively in transition, at 1.171 points per play.
You can see where this could be problematic.