Los Angeles Lakers:

Danny Granger
May, 10, 2013
5/10/13
10:25
AM PT
By Mark Willard
ESPNLosAngeles.com
Archive
At a certain point, a Band Aid is not sufficient. Sometimes surgery is required in order to fix the bigger problem. The Lakers have applied a series of Band Aids since their title run in 2010.
In 2013-14, they can only do more of the same. But 2014-15 is different.
Most Lakers fans are thinking in terms of bouncing back from this season and its disappointments next year. But they should be thinking about the promise of the year-after-next.
The word patience doesn't usually go over well in LA. and the Lakers will never ask for it publicly, but that doesn't mean they don't need it from their fans right now.
Consider what's inside the free agent store in the summer of 2014. And begin with
LeBron James
. I don't know if he would consider Los Angeles, but the Lakers certainly want to be ready in case he does. And all is not lost if the Lakers have that flexibility in 2014 and don't land the King. Also likely to be available would be
Chris Bosh
,
Carmelo Anthony
,
Danny Granger
, and
Luol Deng
. Possibly available would be
Paul George
,
DeMarcus Cousins
,
John Wall
,
Tony Parker
and
Zach Randolph
.
If the organization were to cave to public pressure and press to make big changes during the current offseason, they would risk compromising next summer. It's not worth it. Mitch Kupchak is certainly capable. Even with the current financial restrictions the Lakers face, Kupchak has pulled off some impressive deals. He did it last year with
Dwight Howard
and
Steve Nash
. But just because you can do something doesn't mean you should.
Outside of Howard & Nash, the acquisitions the Lakers have given their fans since their last title include names like
Theo Ratliff
,
Josh McRoberts
, Troy Murphy and
Jason Kapono
. That excites no one, but maybe this year it should. If the Lakers pull off a deal for
Francisco Garcia
or Marquise Daniels this summer, that could mean that Kuphcak is protecting 2014.
And that's exciting.
If the Lakers try to make real moves this offseason . . . and I mean REAL moves, geared toward trying to get back in title contention right away, they risk missing out on the potential of 2014.
And with
Kobe Bryant
coming off a major injury, there's little reason to sell out this summer. Their best move might be to bring the same gang back and trim a little salary.
Bryant said in his exit interview that he wants the same group back: "If we can gain something positive from this season it's bringing most of the guys back. (We were) 5 games out of the playoffs and all of the sudden have this incredible run. It does something to the character of the group. To allow that to dissipate, it's a headache."
He seems to think the same group, if healthy, can win it all. But here's the thing: it doesn't matter if he's right.
What matters is what comes after.
Mark Willard is the host of "ESPNLA Now" on ESPNLA 710 in Los Angeles.
November, 27, 2012
11/27/12
8:53
AM PT
The Lakers aren't the only team with high expectations that has struggled out of the gate.
After providing the Miami Heat with a credible 2012 Eastern Conference semifinals challenge, the Indiana Pacers were expected to be one of the most dangerous teams in the East. Instead, their follow-up campaign has thus far been brutal. All-Star swingman Danny Granger has yet to suit up because of a knee injury, and the squad has regressed while he's been in street clothes. Things have picked up a bit of late, with three wins in their last five games. But the bottom line is that
the Pacers (6-8) have yet to beat an above-.500 team at the time of their meeting
-- two victories came against the winless Wizards -- and the Lakers should rise above .500 at Indiana's expense.
For more insight on the Pacers, I conducted an IM conversation with Jared Wade of the True Hoop network's
Eight Points, Nine Seconds blog
. Below is the transcript.
Andy Kamenetzky:
Things clearly haven't progressed as expected for the Pacers. What's gone wrong, beyond Granger's absence?
Jared Wade:
That's a big part of it. The team relied a lot more on Granger offensively than I think anyone realized. We've really seen the lack of movement, spacing and reliable individual play with him out. But it also goes deeper. Roy Hibbert and Paul George were disastrous early in the season; they were turnover machines and ball-stoppers who sucked much of the fluidity out of the offense. Things are improving with both, however, and the team has looked at least passable while trying to score, a huge improvement from the first six or seven games.
AK:
Why do you think Hibbert has struggled?
JW:
Some of it was pressure put on himself. He is a legitimately nice, responsible guy who feels a burden to live up to his new, $58 million contract. He has also simply struggled in areas that have long been a problem: establishing and holding low position, finishing with power, footwork in the paint, not making his moves quick enough. And the Pacers don't have many players who are good at feeding the post. Granger isn't exactly John Stockton, but he just has a higher basketball IQ than some others mopping up minutes (Gerald Green, Sam Young), so he has a better understanding of when to get Roy the ball and how to get out of his way to give him space.
Why are Dwight Howard and Pau Gasol struggling? I imagine it has little to do with confidence or being melancholy that they aren't "earning" their money.
AK:
Like everyone, they've been hurt by a chaotic training camp and early season. There have been signs of stability, but they come in fits, and nothing comes easier with Nash on the shelf.
For Dwight specifically, conditioning is a factor. He was expected by most to return in January, which means he's ahead of schedule, but not truly up to speed. His timing and lift aren't quite there yet, but I think the issues will work themselves out in time.
Pau's problems are a little trickier. His conditioning also isn't up to snuff, and
he recently revealed a monthlong battle with tendinitis
, which compounds the problem. Plus, like last season, he's in the high post more than he'd like or what's truly ideal. But some blame also lies with Pau. He's often too willing to settle for an elbow jumper -- which hasn't been falling with regularity -- rather than put the ball on the floor, attack and force a defender to actually guard him. Even with tendinitis, he needs to pick more spots to take a defender off the dribble. Ultimately, I think coach Mike D'Antoni will find a way to maximize his versatility, but it'll take some tweaking.
Has David West asserted himself as the Pacers' primary scorer?
January, 22, 2012
1/22/12
10:05
AM PT
After several seasons spent rebuilding from the Palace Brawl aftermath, the Indiana Pacers are a team I think many NBA fans still reflexively regard as mediocre. Well, they shouldn't.
Frank Vogel's
appointment as head coach in February 2011 coincided with immediate, drastic improvement. The Pacers became a tougher, more focused team,
pushing the Chicago Bulls in a first-round playoff series harder than a 4-1 result would indicate
. This season, they've picked up where they left off, with a couple of new faces (
David West
,
George Hill)
making contributions.
For the inside dope on the Pacers, we tracked down
Jared Wade
, who hosts the outstanding
Eight Points, Nine Seconds blog
for True Hoop. Here are some thoughts on four questions, plus an additional one of my own.
Land O' Lakers: The Pacers are holding teams to 89.3 points per game, down dramatically from last season's 100.9. Even taking into account Indiana's pace and the fact that scoring is down across the board in a compressed season, that's a pretty remarkable uptick. What's accounted for this improvement?
Jared Wade:
Most importantly, there is for the first time a consistent rotation of players with clearly defined roles who play in a cohesive system the team has bought into. And the addition of Hill's long arms, quick feet and well-drilled habits are a part of an overall improvement to the perimeter: the first line of defense, if you will.
Paul George
didn't see big minutes until the twilight of last season, and he is an excellent defender who, at 6-foot-9, can envelop most guards with his length and stay in front of them with his agility. He gained a lot of confidence after checking
Derrick Rose
so well in last year's playoffs and it shows; he is now the rare player whose offensive game starts flowing after he makes a good defensive play instead of vice versa.
Darren Collison
is much improved. He was lost in the pick-and-roll last year and just got beat a ton. He isn't perfect now, but there are way fewer possessions that leave you shaking your head at his defensive technique and effort. And
Danny Granger
, who has always had the tools to be a better defender, has gotten back to being more of a two-way player. Perhaps it's because he's struggling to score and he feels he has to, but he is clearly not taking as many plays off on the other side of the ball as he has in recent years.
December, 22, 2010
12/22/10
3:10
PM PT
I wanted to share
my feature for ESPNLA.com about Ron Artest and the changes made in his life.
The transformation of Ron's image never ceases to amaze me, and it's testament to the power of soul searching.
We talked for a while about what caused the mistakes in his past: Ego. Bad lifestyle choices. Selfishness. Immaturity. A desire to cling to his roots at all costs. Admitting the need for help and sticking with therapy has changed Artest's life, which is why he's become so involved with the mental health industry. Having lived through the struggle, he knows firsthand the importance of creating avenues for assistance, especially for young people. There is also perspective from
Lamar Odom, Chuck Person, Danny Granger
and
David Stern
.
Artest still views himself as an incomplete project, a man in "transition." The direction at the moment, however, couldn't be better.
Below is an excerpt:
"Just being able to see every situation clearly," says Artest of the benefits of therapy. "I'm not as quick to judge somebody. I'm not always as quick to say I'm right about something. I criticize myself a lot or just look at things from all angles. If something's going wrong or something I can't deal with, I'm trying to figure out a way where I can deal with it relaxed."
"The most stable person in the world needs someone to talk to," Odom says. "It's really happens a lot more than what people think, probably, as far as someone needing someone to talk to. It's very normal. The everyday person sometimes is not willing to admit it. It was good that he got some help. We all need to know what makes us tick."
That doesn't necessarily make going public any easier.
"I talked about it three years ago," Artest says. "I told people I was going through therapy and some people was like, 'What?' I was weird. It caught people off-guard. But I kinda knew, like, I knew people were gonna call me crazy, but I kind of thought that if I tell people about this, it can have an impact on certain people."
Last season, when he admitted to drinking Hennessy at halftime during his days as a Chicago Bull, most people treated it like another outrageous tale from Ron-Ron and missed his intention, which was to bring his mistake to light.
"I was very upset about that," Artest says. But he kept talking, thanking his therapist during the postgame news conference after the Lakers won the title, and appearing alongside Rep. Grace Napolitano to advocate for H.R. 2531, a measure to "provide access to school-based comprehensive mental health programs."
The more he speaks out for those without a voice, the more people can put a face to their own issues. The solidarity works in reverse, too. The more Artest talks about his own issues, the less self-conscious he becomes about having them.
In his own words, it makes him feel "normal."
"Because I'm not the only one," Artest explains. "The same way I don't want that kid [helped through his advocacy] to feel lonely, I know I'm not lonely in this problem. [Before] I felt like I was the only one going through what I was going through, but I'm not. It's like all those groups, those movements, and they feel like they're not alone. Whether it's race, or whether it's gender, or whether it's sexuality, everybody doesn't want to feel alone, you know?"
December, 15, 2010
12/15/10
8:48
AM PT

By Brian Kamenetzky
ESPNLosAngeles.com
Archive
When they arrived at Staples Center on Nov. 28th, the Indiana Pacers didn't seem like much at 7-7. But they'd won five of nine, and among the losses were extremely competitive games against Orlando and Oklahoma City. By the time they left,
95-92 win in hand
, the Pacers had opened some eyes.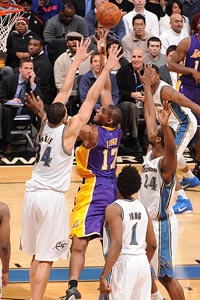 Andrew D. Bernstein/NBAE/Getty Images
Andrew Bynum is likely to draw a crowd again Wednesday night in Indiana.
Kobe Bryant
, for example, said after they were "no question" a playoff team in the Eastern Conference. Faint praise, perhaps, considering the
eight seed in the E.C. is currently three games under .500
, but it's fair to say the Pacers are a lot more competitive than many figured they'd be when the season started.
Then again, maybe not. Indiana seemed poised for a run after knocking off the Lakers, but after following their win in L.A. with another in Sacramento (join the club),
Jim O'Brien's
gang has lost five of seven. All told, the picture for tonight's game is a little muddy. While the Lakers earned themselves plenty of rest in Tuesday's win over Washington, they're still on the wrong side of a back to back and had to fly the wrong direction out of D.C. given they'll be in Philly Friday. Indiana has proven they can beat the Lakers, but is hardly on a roll.
Here's what to watch...
1. Andrew Bynum, back to back!
Tuesday,
Bynum made his season debut in Washington
, scoring seven points in about 17 minutes of burn. He grabbed four rebounds and blocked two shots. After, Bynum said he felt fine and didn't expect to be restricted against the Pacers.
Phil Jackson
indicated that would be the case, as well.
Washington, though, isn't a strong team up front and was thinned out by the absence of
Andray Blatche
and (for all intents and purposes)
Yi Jianlian
. In that sense it was a nice game for Bynum to get his sea legs. The Pacers aren't necessarily dominant near the basket, either, but present a better challenge. Bynum is likely to get at least some minutes matched up against the much improved
(until recently, at least-- see below)
Roy Hibbert
, and Indiana also has attacking players like
Danny Granger
and
Darren Collison
who can break down a defense and force bigs to rotate in support.
With
John Wall
on the sidelines Tuesday, Washington was short a penetrating guard.
How many minutes he logs while any of those guys are on the floor is an open question, but to the extent he does they'll be a challenge.
To expect Bynum to dominate immediately isn't fair, or even necessary. He doesn't have to be awesome, just effective (and more than anything, available). If Bynum responds well physically to Tuesday's debut and builds on it Wednesday, it'll be a strong positive sign for the Lakers.
November, 27, 2010
11/27/10
10:52
PM PT

By Brian Kamenetzky
ESPNLosAngeles.com
Archive
First things first: The Pacers were supposed to be pretty bad, but aren't cooperating with preseason predictions. They'll enter Sunday's game at Staples with a ho-hum but very deceptive 7-7 record. Indiana has five wins in its last nine games, but those losses aren't exactly steeped in shame: by three in Houston, four in Orlando, four in an overtime loss to the Thunder in Oklahoma City, to name a few.
In short, the Pacers have shown plenty of mettle away from Conseco Fieldhouse, and are best not trifled with. Based solely on their production, the computers would expect them to be 9-5. If a team with that sort of record rolled into town, we'd call it a test game. Treat this as such.
Here's what to watch:
1. Roy Hibbert.
Lakers fans have, with good cause, been pumping up the early candidacy of
Shannon Brown
for the league's Most Improved Player award. Pacers fans have been doing the same for Hibbert. In his third season, the Georgetown product has blown up, averaging 15.6 points, 9.5 rebounds, and 2.3 blocks, fairly prodigious totals for a modest 30 minutes of burn a night. These, needless to say, are all career highs. Importantly, though, Hibbert is also averaging 3.2 fouls a game versus 3.5 last season, despite spending more time on the floor. Not exactly blemish-free, but a big step for a guy who was extremely foul prone for the first two years of his career.
Clearly his presence has a major impact on Indiana's fortunes. By leaps and bounds,
Hibbert has the team's highest plus-minus rating.
The matchup in the middle with
Pau Gasol
will be interesting. Hibbert is long and a load, and has a rapidly developing game. Still, he
does most of his damage with jumpers
, so Pau will need to respect his midrange game. On the other end, Hibbert is a great shot-blocker, but doesn't move well in space. How he covers Gasol out at the elbow or in the pick and roll (or doesn't do those things) will be a major key in determining L.A.'s success offensively. Off-ball movement from the whole team, limiting Hibbert's ability to roam freely for blocks, will also be a factor.
November, 22, 2010
11/22/10
12:48
PM PT
After last week's relative ease, things could turn mite trickier for the Lakers. Nothing they can't necessarily handle, but definitely more complicated than a string against Milwaukee, Detroit, Minnesota and Golden State minus
David Lee
. The Lakers won games they're supposed to by all rights. This week may require a little more earning.
Game of the Week
Friday @ Utah Jazz, 6 p.m. PT
The Jazz have garnered much buzz these days for a string of come-from-behind wins. Five in succession, the final four on the road, battling double digit deficits at some point in every case. There was even an OT win in South Beach with
Deron Williams
fouled out. Clearly, this showing is proof of their resiliency and mental toughness. And as someone who's always questioned
Carlos Boozer's
heart but never his desire to build stats and get paid, I find the timing anything but coincidental.
No doubt the now-Bull is talented (on one side of the ball, if nothing else), but he's never struck as a player I'd want on my side with the chips down.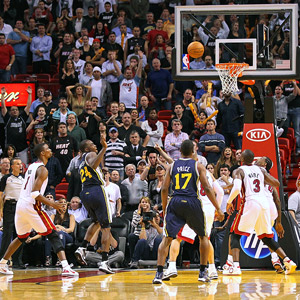 Mike Ehrmann/Getty Images
Paul Millsap came up huge against Miami, and has always challenged the Lakers.
Conversely, I think
Paul Millsap
taking over for Boozer makes gritty success this season no accident. Beyond his 20 points and nine rebounds per game, and beyond specifically his crunch time heroics during the Miami win, I think there's something infectious about an All-Star caliber player with a lunch-pail attitude. It reminds me of Kobe's effect on the Lakers, in that nobody lower in the food chain can lay claim to outworking him.
There's a reason the Jazz never appeared threatened by Boozer's last few seasons with one foot out the door, and paid a pretty penny to retain Millsap's services off the bench. On a few levels, the latter is an upgrade, and
Phil Jackson
recently noted how Millsap used to provide more fits than Boozer. If anything, they wish he stayed in Utah.
Interestingly though, the Jazz's typical mark while playing at the Energy Solutions Center hasn't been as strong. Admittedly, the season is young,
but they're only 3-3 at home
. Granted, losses against Phoenix, Oklahoma City and San Antonio aren't disgraceful, but nonetheless games you expect this home court advantage to carry. (Oddly enough, the Jazz have traditionally struggled on the road, but are 6-2 as we speak. Go figure.) The Salt Lake crowd is loud and nasty, and gets particularly fired up when the purple and gold (
and Derek Fisher, unfortunately
) come to town. It wouldn't surprise me if this energy goosed a strong home performance from the Jazz, so the Lakers better be on their toes.
March, 3, 2010
3/03/10
5:56
PM PT
Corey Maggette
.
Rudy Gay.
Paul Pierce.
Andre Iguodala.
Carmelo Anthony
.
Danny Granger
. What do they all have in common?
They're all prolific small forwards. And they've all encountered recent difficulties matched up against
Ron Artest.
The last couple of weeks have witnessed defense from Artest greater than many a wild dream would allow. His relentless pursuit and fast hands have garnered much of the attention, but the key to this success may be some pounds recently shed.
Just your everyday average 280 lb. small forward earlier this year
, Artest decided masquerading as an NFL defensive end was murder on his feet and a death knell to his mobility. Thus, he began an intense quest to lose weight, even hitting the gym after games during the long roadie .
"I sensed that everybody was making so many trades. We didn't make no trades, so I figured everyone was trying to gear up for the Lakers. I'm not sure. So I wanted to make sure I kind of could be like a whole new person. Kind of like a new trade."
In other words, the Lakers have gotten in "the Ron Artest business" twice since last July, and for the price of just one player at the mid-level exception. Shrewd G.M., that
Mitch Kupchak
.
March, 2, 2010
3/02/10
9:59
PM PT
By Andy and Brian Kamenetzky
ESPNLosAngeles.com
Archive
We're media talking heads. Literally.



Same as it ever was...

The breakdown is below the jump.


January, 28, 2010
1/28/10
10:29
AM PT
Before
last night's 118-96 win over the Indiana Pacers
, I appeared on the
710 ESPN's
Kia Motors Lakers Shootaround Show with
Steve Mason
. One of our guests was
Dan Dakich, who covers the Pacers for 1070 The Fan.
Dakich wasn't sure if Coach
Jim O'Brien
would opt to go small with
Troy Murphy
at center (the way the Pacers play most effectively) or outside their comfort zone with
Roy Hibbert
at center to match the Lakers size. That indecision struck me as indicative of the Pacers' central problem against the Lakers: Playing either dwarfed or uncomfortably. As it turned out, the answer to "WWJO'BD" was "a fair amount of both." As it also turned out, neither approach was "the answer."
Ron Hoskins/Getty Images
A lot of this happened while the Lakers beat Indiana.
With Murphy kicking off at the five, the Lakers wasted no time shuttling the rock to
Andrew Bynum
and working the size/"Murphy can't defend a stationary bike" advantage. Drew's first five shots were good and even with Hibbert eventually inserted to check him, didn't really matter much. 12-14 shooting for 27 points (
although Hibbert wasn't exactly stymied in the reverse matchup
).
Phil Jackson
admitted afterward to being
surprised by the call to go small
, but like I said earlier, "damned if you do, damned if you don't" for O'Brien. Eight points, Nine Seconds provides
a terrific breakdown of why the Pacers coach faces a classic "no win" situation.
Kinda like the poor souls dispatched with the task of guarding
Kobe Bryant
.
January, 27, 2010
1/27/10
3:15
PM PT