Los Angeles Lakers:

Danny Green
November, 13, 2012
11/13/12
10:58
AM PT
Well,
the Lakers have a new coach in place
, but the Bernie Bickerstaff era will not yet go quietly into the night. Happily for those (like me) who enjoy pressers with a hilariously grumpy coach who doesn't hide any disdain for the comical situation he's been put in, Bickerstaff will remain the interim coach for this contest. And while life under Bickerstaff has been fruitful, his double-digit wins have come against the Warriors and Kings, mediocre teams missing several notable names (Andrew Bogut, Brandon Rush, DeMarcus Cousins). The Spurs are far more talented and their roster is fully loaded, which poses a threat to Staples Center's sudden party atmosphere.
For more insight on the Spurs, I conducted an IM conversation with Andrew McNeill from the True Hoop network's
48 Minutes of Hell blog
. Below is the transcript.
Andy Kamenetzky:
So far, the Spurs have remained, like the Terminator and cockroaches, impossible to kill. How are they making it happen this time around?
Andrew McNeill:
A number of things. Good health (so far, fingers crossed). They've got a deep roster that has a number of players who can step up any night. Gary Neal had a career high in scoring against the Blazers on Saturday night, for example. Also, magic.
AK:
Just like Gob in "
Arrested Development
," which reminds me of
a brilliant Photoshop sight gag involving Tim Duncan
! Speaking of The Big Fundamental,
he's putting up some of his best numbers in recent years
, and without much of an uptick in minutes. Could this be shaping into a memorable season for Timmy?
AM:
It could. I believe pretty strongly his numbers are going to drop off soon, closer to those of last season, mainly because his minutes should drop. But his per-36 minute numbers never change because of Duncan's consistency (and the aforementioned magic). Some have suggested that instead of playing Duncan fewer minutes per game, Gregg Popovich should instead play Duncan heavier minutes and sit him out of more games completely. It's definitely more extreme, but the biggest problem against the Thunder last season was that Duncan couldn't play 40-plus minutes on defense. Once Duncan was out of the game, the Spurs lost their best interior defender.
AK:
How do you expect San Antonio's front line to deal with Pau Gasol and Dwight Howard?
AM:
There's no question the Spurs have had trouble with Andrew Bynum in the past, and now Howard. Amazingly, though, I think they're a little better equipped with Boris Diaw alongside Duncan. Matt Bonner and DeJuan Blair really struggle with bigger players, but Diaw uses his -- ahem --
frame
well. The more minutes Duncan, Diaw and Tiago Splitter occupy at the two big positions, the better the Spurs will be. Pop has played Duncan and Splitter together some in this early season, which isn't something he's done a lot of the past two seasons. He'll never admit it, but it could be with the idea of playing them together against bigger front lines like the Lakers.
So the Lakers now have Mike D'Antoni. Are they really equipped to be playing his style of ball, outside of Steve Nash?
August, 16, 2012
8/16/12
11:23
AM PT
For the past several seasons, the San Antonio Spurs have served as basketball's version of
Jason Voorhees
: They cannot be killed. Since about 2008, fans and media (I've been as guilty as anybody) have cited their long teeth, declining athleticism and rising competition as reasons to declare the end of an era. But the Spurs refused to fade into the sunset, having finished consecutive regular seasons with the West's best record. Yes, the ensuing postseasons were anti-climactic, but either way, the message was made clear: The Spurs are still formidable. The Lakers learned that lesson as well as any team last season, losing twice to San Antonio -- home and away, with and without
Kobe Bryant
-- by 20+ points.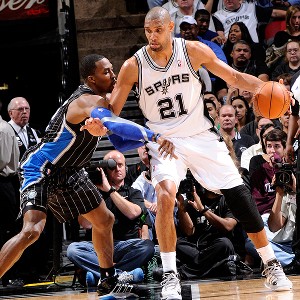 D. Clarke Evans/NBAE/Getty Images
With Howard in L.A., the game just changed between the Lakers and Spurs.

But this off-season it appears the scales have been tilted towards Los Angeles. For some perspective on how the new-look Lakers appear from San Antonio, we talked via email with
Tim Varner
from the True Hoop network's
48 Minutes of Hell
blog.
Land O' Lakers:
What was the general reaction in the 48 Minutes of Hell-osphere when word broke that Howard was heading to the Lakers?
Timothy Varner:
In general, we recognize that it puts the Spurs behind the Thunder and the Lakers in the West. Even worse, the Nuggets improved themselves as well. The Spurs could be fourth in the West.
LOL:
But aside from that, Mrs. Lincoln . . .
TV:
The worst part about the Howard trade is the Spurs' weaknesses along the front line. The Lakers not only improved themselves, they did so in a way that exploits one of San Antonio's roster deficiencies.
LOL:
How much can someone like a (theoretically) improved
Tiago Splitter
help? And I guess this might actually keep
DeJuan Blair
in town.
TV:
I don't think either player helps, unfortunately. Splitter does not do well against Howard, and Blair will be traded as soon as the Spurs find a good partner. He's an especially awful matchup against Howard and Gasol. Splitter, I should also note, is an expiring contract with good value whom San Antonio may not be able to afford next season. So, somewhat counter-intuitively, Howard could force the Spurs to move Splitter for a roster upgrade at another position.
LOL:
On the plus side, nobody will mind if
Boris Diaw
packs those pounds back on. It might be necessary.
TV:
True, but within the Spurs' offense, Diaw is more of a passer for the p-and-r than a post player. So even his re-signing tilts away from bolstering the frontcourt in the sense of matching bodies with bodies.
LOL:
That's too bad, because there's always a 50/50 chance Diaw will be
wearing a "bro" to begin the season
. The weight might as well provide some utility.
TV:
I suspect the Spurs understand they can't match Howard and Gasol, so they will look to beat the Lakers in other ways.
LOL:
Run them off the court, I assume? Or pick-and-roll them to death? Last season,
Manu Ginobli
and especially
Tony Parker
dizzied the Lakers with multiple pick-and-roll sets, often within the same possession.
TV:
That's right. Pace and p-and-r are better options for San Antonio than adding more (seemingly useless) bodies to the front court. Look at what the Spurs have done this off-season. They added
Nado De Colo
, re-signed
Patty Mills
(high pace point with range) re-signed
Danny Green,
and concentrated on the development of
Kawhi Leonard
and
Cory Joseph
. Those are all moves with San Antonio's offensive attack in mind, especially as it originates from the back court.
April, 11, 2012
4/11/12
12:15
PM PT