Los Angeles Lakers:

Darren Collison
October, 30, 2012
10/30/12
10:50
AM PT
With an 0-8 preseason in the books,
Kobe Bryant nursing a foot injury
and training camp a bust as a platform for building chemistry, it would be difficult to claim the new-look Lakers are kicking off the games that count on a high note. Fortunately, the scheduling gods decided to hook them up. The Dallas Mavericks' radical offseason facelift required players to wear name tags during training camp, so they're negotiating continuity issues of their own. In the meantime, two starters -- Dirk Nowitzki and Chris Kaman -- are out with respective knee and calf injuries. Throw in the uncertain vibes following their exceptionally uninspiring defense, and the Mavs enter Staples Center with plenty of questions swirling about.
For some local knowledge about the Mavericks, I conducted an IM conversation with Tim MacMahon, who covers the squad for ESPN Dallas. Below is the transcript.
Andy Kamenetzky:
What's been your impression of the new-look Mavs, injuries and new faces acknowledged?
Tim MacMahon:
It's been an absolute mess. Dirk's knee scope isn't even the biggest concern. Nor is Chris Kaman's strained calf. This could be a chemistry experiment that completely blows up in the Mavs' face. They've already suspended Delonte West twice, and there was a heated argument between two other teammates after a preseason loss last week. It's a volatile mix of potluck players in contract years.
(Editor's note: The Mavs waived West after this conversation concluded.)
The only real bright spot is it looks like the Mavs got a steal in second-round pick Jae Crowder. But it's far from a good thing that he's probably starting Tuesday night.
AK:
Doesn't sound like a fun locker room, but has it been just as bad on the court?
TM
: Well, it's been entertaining. It's not like the Mavs have a bunch of bad guys. It's just an awkward situation. On the floor, the Mavs in their current state are short, can't shoot and commit turnovers by the bunches. Other than that, they look great.
By the way, are the loaded Lakers ever gonna win a game?
AK:
Tuesday, apparently.
TM:
I dunno about that. Eddy Curry is coming for Dwight Howard.
AK:
That is a game-changer. All kidding aside, these guys should be fine once they get all the core players on the floor for an extended period to get in sync. They've added a bunch of new players, a new offense, and the preseason has featured six games missed by Dwight Howard, five by Jordan Hill, three by Kobe and one by Pau Gasol. It's hampered Mike Brown's ability to decide on a rotation, and put the team-wide learning curve behind the 8 ball. However, the actual starting five looked unguardable in the one game they played together.
July, 19, 2012
7/19/12
4:21
PM PT
The more things change, the more they stay the same. Last week, "
Dwight Howard
Watch" remained in full effect, while the Kamenetzky Brothers hit the studio
for a PodKast
. (
Two of them
, for those keeping score.) One week later... lather, rinse, repeat. Among the talking points:



- (2:00):
As
Tom Petty supplies a fitting soundtrack
, we ponder the likelihood of Howard actually ending up a Laker. (Bear in mind, we recorded before the plot was thickened by reports of Dwight's
willingness to sign an extension with the Lakers
.) We agree it's about 50/50, and maybe even higher when you factor in how much easier playing in L.A. makes an appearance in "
Just Wright 2: Even More Wright
?"
*
- (6:50):
It goes without saying, but we'll say it anyway. If the Lakers can actually get Howard, by all means, do so.
Andrew Bynum
may be very good, but Howard is better. Period. Our only concern is Howard's back, but assuming the doctor likes what he sees, we're willing to bet on the 7-footer's track record of incredible health.
- (10:10):
Unless something unforeseen happens,
Antawn Jamison will soon officially join the Lakers
as the sixth man and primary big off the bench. Between the desperate need for bench scoring, the depth provided at two forward spots and the veteran's minimum money in play, this is a terrific pickup, inevitable defensive lapses acknowledged.
- (17:40):
Mavericks point guard
Darren Collison
joins us, and we discuss the new-look Mavericks, the adjustments for any point guard (whether he or
Steve Nash
) playing with new teammates and the differences in attacking a paint patrolled by Howard vs. Bynum.
-
(24:40): When we spoke last year for the "L.A. In My Game" series
, Collison shared the pride felt for his native Rancho Cucamonga and the Inland Empire. Thus, it's no surprise his basketball camp for grades 6-8 will take place on July 23-25 at his Alma Mater Etiwanda High School.
- (27:55):
We say goodbye to Collison and circle back to Howard, and whether the wait for Superman could delay further roster construction.
*
- Fictitious working title.
January, 22, 2012
1/22/12
10:05
AM PT
After several seasons spent rebuilding from the Palace Brawl aftermath, the Indiana Pacers are a team I think many NBA fans still reflexively regard as mediocre. Well, they shouldn't.
Frank Vogel's
appointment as head coach in February 2011 coincided with immediate, drastic improvement. The Pacers became a tougher, more focused team,
pushing the Chicago Bulls in a first-round playoff series harder than a 4-1 result would indicate
. This season, they've picked up where they left off, with a couple of new faces (
David West
,
George Hill)
making contributions.
For the inside dope on the Pacers, we tracked down
Jared Wade
, who hosts the outstanding
Eight Points, Nine Seconds blog
for True Hoop. Here are some thoughts on four questions, plus an additional one of my own.
Land O' Lakers: The Pacers are holding teams to 89.3 points per game, down dramatically from last season's 100.9. Even taking into account Indiana's pace and the fact that scoring is down across the board in a compressed season, that's a pretty remarkable uptick. What's accounted for this improvement?
Jared Wade:
Most importantly, there is for the first time a consistent rotation of players with clearly defined roles who play in a cohesive system the team has bought into. And the addition of Hill's long arms, quick feet and well-drilled habits are a part of an overall improvement to the perimeter: the first line of defense, if you will.
Paul George
didn't see big minutes until the twilight of last season, and he is an excellent defender who, at 6-foot-9, can envelop most guards with his length and stay in front of them with his agility. He gained a lot of confidence after checking
Derrick Rose
so well in last year's playoffs and it shows; he is now the rare player whose offensive game starts flowing after he makes a good defensive play instead of vice versa.
Darren Collison
is much improved. He was lost in the pick-and-roll last year and just got beat a ton. He isn't perfect now, but there are way fewer possessions that leave you shaking your head at his defensive technique and effort. And
Danny Granger
, who has always had the tools to be a better defender, has gotten back to being more of a two-way player. Perhaps it's because he's struggling to score and he feels he has to, but he is clearly not taking as many plays off on the other side of the ball as he has in recent years.
October, 30, 2011
10/30/11
10:22
AM PT
As part of a continuing series, NBA players share how growing up in L.A. shaped their games.
For
Arron Afflalo
, competition is second nature. It's been on display ever since he was 8 years old, fighting on the court with everyone from opponents to teammates. This spirit was born in Compton. Afflalo moved there from Inglewood to live with his dad at age 11 and the experience shaped him as a player and a person. That he's been more successful at the NBA level than many expected is the result of a hard-nosed attitude developed right here in Los Angeles.
Andy Kamenetzky:
Which parks were you a regular at when you first began playing?
Arron Afflalo
: I played at Jesse Owens Park when I was about 6 years old. That's when I had my first Little League game. I would [also] play in the Compton area. I would play at
Campanella Park
. I would have games at Compton High and Centennial High and Dominguez.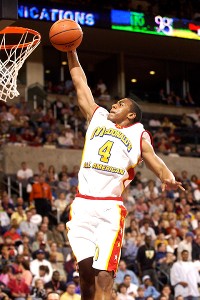 Larry W. Smith/Icon SMI
A fantastic career at Centennial High led to a McDonalds All-American berth for Afflalo.
And
Victoria Park in Carson off Avalon
. That's where I started playing with Slam N Jam, a familiar AAU program that was really big growing up. That's [also] where my father used to play at night in a men's league. I would go up there and play on the side courts as he played with the older guys. I would have my own little games there on the weekend.
AK:
What was the atmosphere like?
Afflalo:
I was young, so I was just competitive and energetic for the game of basketball. I didn't know how how much influence the environment itself was having on me or my game. But once I did get to the national AAU atmosphere, I realized playing in my neighborhood gave me a certain edge or way of playing and looking at the game. I started playing in Vegas and other areas in which the kids were just different.
AK:
What kind of edge?
Afflalo:
Just that competitive edge. I guess kids from that area were shaped different because of their upbringing, rather [than] kids from the Carson area, or the Compton area, or the L.A. area, or Inglewood area. I think the combination of my love for basketball combined with having to put forth that competitive spirit at such a young age shaped who I am and how I continue to progress to this day. I would say 8 years old is when I remember becoming that ultra-competitive and really striving to win.
AK:
In Compton, you first lived at Rosecrans Blvd. and Central,
and then
Richland Farms, which is more, relatively speaking, rural
.
What were those experiences like?
Affalo:
My initial move there was different, because even though I was [from] Inglewood, I was still very young, so I hadn't really been exposed to having to be on the streets or anything some kids deal with. When I moved to Compton, it was a humbling experience, but it kind of heightened my awareness of who I was as a person and how to function. I thought that was good for me going to Centennial, because some kids there don't have a choice but to grow up in the projects or be out on the streets and develop a certain toughness about them to survive.
That wasn't the case for me. Both my parents were around. I just so happened to grow up in that city. In respect to them, I had to adjust my ways of living life. Not being so competitive and fighting everybody I see. Becoming more of a humble person.
AK:
I had no idea Richland Farms even existed until reading about your background.
Afflalo:
Richland Farms is nothing out of the ordinary. It's just an area where there's more land to the houses. You have your inner-city area in Compton, where the houses are stacked. It's more of a city-type feel. You have your project areas. And you also have certain areas where the homes, maybe back in the 50's and the 60's, had ample land in the back. My dad bought a home over there. You'll see horses and chickens and things that you wouldn't expect. That you hear in rap videos. (laughs)
You literally go one block and you're back in the city. Literally. It's not like it's an isolated area. It's just a function of the land that comes with some of the houses over there. It's a lot of older people that have gardens and horses and things like that in the back yard. But you literally cross the street, you're in an area that's nothing like it. I used to run up and down my street dribbling the ball and a horse would come trotting by. Obviously, people were allowed to have chickens over there, so you'll see chickens just crossing the street. And it's only in that area.
AK:
You and your dad were extremely close growing up. How did that relationship shape you as a player?
Afflalo:
My dad has always been around. As has my mom, but especially my dad in terms of me enjoying the game of basketball and growing as a man. I don't believe raising me was a job at all. He loved basketball as much as I did, and because of that, it was easy to take me to practice. Watch games with me. He can kind of enjoy basketball and live it through me just as I would learn about life from him. It was just a good partnership.
AK:
How good a player was he?
Afflalo:
He was good. I mean, he didn't go to any D-I school or anything like that. He had a different type of upbringing. But he was good. He could shoot. He could jump. He was competitive and a lot of things [about my game], I get from him. Definitely my shot. He taught me how to shoot. I used to shoot with my elbow out, cocked it from the side when I was little. I was 11 or 12 when I got old enough to starting shooting above my head. He changed my form, so I feel like I have a pretty nice shooting stroke and touch. That definitely came from him.
July, 8, 2011
7/08/11
10:39
AM PT
As part of a continuing series, NBA players share the various ways growing up in L.A. shaped their games.
Darren Collison
grew up in Rancho Cucamonga, a suburb of the Inland Empire, which is about 35-40 miles from Los Angeles. However, it might as well have been 140 miles, considering the difference between these worlds. Whether socioeconomically or in the quality of basketball, Collison witnessed firsthand the dichotomy while regularly commuting to inner-city games. Nonetheless, he stepped up his game to match the competition and helped elevate
Etiwanda High Schoo
l and the entire Inland Empire as a legitimate roundball force. Collison eventually hit the larger stage of UCLA and Los Angeles in general, but at heart, remains a kid from the I.E. When deciding the location for
his first camp,
he naturally chose Etiwanda, his "basketball birthplace."
Andy Kamenetzky:
Where did you grow up playing?
Darren Collison:
Actually, when I started playing basketball, it was in the inner-city L.A. My mom used to drive me down to the L.A. inner-city to play with some of the guys in travel ball. So that's when my game first started to grow. I don't know specifically [where we played]. But all around Los Angeles. From Hawthorne to Leuzinger [High School] to Inglewood. Little kid tournaments. That came to seem like the place where I started playing because the competition at Rancho wasn't as good.
I remember meeting the coach at Rancho. He had a travel ball team and he would always take his kids down to L.A. to play in tournaments every weekend. And I mean,
every weekend
from Friday to Sunday, playing like, three games a day. We'd go down there to L.A. and showcase our skills against other kids in the inner city.
AK:
I guess that's when you realized Rancho is a different world than L.A.
DC:
Yeah, it was a completely different world. You're playing with kids that didn't necessarily have things you had. All they had was basketball. They would do whatever it takes to be successful on the court. Some of them didn't have good grades. Some of them was just playing to stay out of trouble. But for the most part, that competition helped me as a basketball player to get better.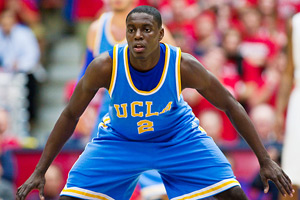 Chris Morrison/US Presswire
The "LA" in "UCLA" stands for Los Angeles, but Collison always reps the Inland Empire first.
AK:
Did it take a while to adjust to those differences and become comfortable?
DC:
I wouldn't say [I was]
uncomfortable
, because growing up playing and the reason my mom would take so much time for me to play down there, I knew how important it was. And it was fun. So it wasn't uncomfortable. It was fun playing down there. But it took a long time to adjust to the skill level. The guys from the inner-city were way better than the guys that weren't in the inner-city. I knew I had to work on my game to get better if I wanted to compete with guys like that.
AK:
Was there an adjustment to physicality or anything?
DC:
Part of it was physicality. The other part was just playing
that hard
. There's a difference between kids where everything is given to them and you don't really have to work hard and kids that have to work hard while they're young because nothing is given to them. When it comes to on the court, there's a big difference between that. I think a lot of those kids in the inner-city, they had a lot of family issues and the basketball was their way of getting away from all that. They had an extra motivation of playing hard and actually being better.
AK:
Was there a specific moment when you realized you had to step up your game to compete?
DC:
The thing about inner-city basketball, even when we were young kids, the gym would be packed like you were at the top high school games. There were tournaments and games where we'd play against inner-city teams. They'll score on these fancy moves and you got the crowd in the stands
going crazy
. We're like nine, 10 years old, little kids just trying to play the game. That's when I realized it's real up there. The competition is totally different. The atmosphere is totally different.
That's just how L.A. is. They enjoy watching basketball. No matter what the age is, they have respect for it. But I knew I had to get better at my game if I wanted to compete at that level and so to speak, not get dogged.
AK:
On top of trying to make it in a place like Rancho, were there obstacles inherent with your size?
DC:
The main obstacle was knowing the inner-city kids were the ones being looked at. Kids from my area, it wasn't known as a good basketball city. It just didn't have that recognition. They never had the opportunity, so once a couple of kids got put on the map as far as the Inland, more and more college coaches were going out there to do scouting. Now there's a lot [of players] from the Inland Empire. So I think that was the biggest obstacle right there.
March, 29, 2010
3/29/10
1:58
PM PT

By Brian Kamenetzky
ESPNLosAngeles.com
Archive
It has not been a banner year for the New Orleans Hornets. A slow start ended
Byron Scott's
tenure, then just as it seemed GM-turned-coach
Jeff Bower
put the playoffs back on the radar,
Chris Paul
went down with an injury to his left knee, forcing surgery and leaving him in street clothes for the next 25 games.
The silver lining has come in the form of former UCLA point guard
Darren Collison
, who in relief of Paul averaged 21.3 points and 8.3 assists in February, then came back with 17.1/10 the following month.
Combined with the team's struggles, general lack of profitability down in the delta, and relative frugality, Collison's play has point-guard-seeking, purple-and-gold-loving buzzards circling over the New Orleans Arena, hoping to pick off any excess the Hornets might be willing to deal. Our
Land O'Lakers mailbag
has seen a major uptick in, "Hey, can we get Collison?/How about swinging a trade for CP3 now that Collison has played so well?" letters.
The quick answers: No, and no.