Los Angeles Lakers:

David Lee
June, 4, 2013
6/04/13
11:16
AM PT

By Dave McMenamin
ESPNLosAngeles.com
Archive
Kobe Bryant shuffled into a conference room on the second floor of the Los Angeles Lakers' practice facility Monday with crutches under his arm and special
Nike "Medical Mambas"
on his feet and sat down for a near 30-minute interview with ESPNLosAngeles.com.
The discussion included a wide range of topics, including Bryant's thoughts on his rehab, Dwight Howard and Phil Jackson comparing him to Michael Jordan that
have already been covered
on the site.
Here's the best of the rest:
On tearing his Achilles tendon against Golden State ...
"I haven't watched it, but just being in the moment, I knew what happened. I knew that was it. I was done. Walking back to the bench, I tried to figure out where I could put pressure on my foot to try to minimize the pain and just try to get through the these last two minutes of the game. I tried walking on my heel and I felt like that was going to work, believe it or not, for a little bit and then it kind of just feels like the tendon in your Achilles is just rolling up your calf and I thought, 'You know what? Probably not a good idea, but I got to shoot these two free throws.' These last two minutes, whatever it is left, all this work that we've done to get to this point, I got to step up and knock these down."
On where those free throws rank with the best shots of his career ...
"I'd say in terms of a moment, it's right up there at the top because of what we went through as a team -- all the injuries we went through as a team. For me, I just felt like, just go up there and make them. You can't let your team down. If you're going to shoot them, you better make sure you make them. That's where my focus was. And my teammates, I don't think any of them really knew how severe it was. I looked at Steve. I think Steve was the one who committed the foul and I just looked at him like, 'Dude, that's it. I'm done.'"
On the size of his hands compared to Jordan's ...
"Michael was blessed with massive hands and Dr. J (Julius Erving) as well and some of these other players. I wasn't. I have big hands, but (Jordan and Erving) can literally pick up the ball like an orange, so I've had to do things to strengthen my hands, strengthen my forearms to make sure I have that grip to be able to do it. They obviously had the natural capabilities to do it. I had to work to get that strength to be able to do it."
On which young players he appreciates ...
"There's a few of them. I really like KD (Kevin Durant) quite a lot and what he does and how he plays and how he works. There are several other young players I really enjoy, (Russell) Westbrook being another one and they just both happen to be on the same team. James Harden, who is now in Houston and Carmelo Anthony, obviously, we've had a long relationship. But, just as a whole, players who get injured and go down: David Lee -- I felt it was my responsibility to reach out to him and make sure that he was alright. Harrison Barnes, he's like a little brother to me. There's guys in the league that I definitely look out for and try to steer them in the right direction."
On Tim Duncan ...
"There's all this competition about who does this generation belong to, in terms of Tim and myself, and I enjoy hearing those conversations. I think what he's done, I think he's a great example for kids who grow up playing the game and understanding and learning the fundamentals and the work ethic.
"This last summer he's done things with his body in terms of monitoring his diet and changing up some of his training and he's come back in phenomenal shape at a lower weight and you can see the results. As a competitor, that's what you want to see. People get caught up a lot in the results and this, that and the other, but I really can appreciate from afar what players do to get to that level."
On his level of admiration for Gregg Popovich ...
"Huge. I don't understand how he does it. Just year after year, getting guys to buy into the system and plugging in the supporting cast around Manu (Ginobili), Tony (Parker) and Tim just year after year after year. We've been saying the Spurs have been done for how long now? As a Laker fan, we thought we put the nail in the coffin back in '08. Like, that was it, and they just keep coming back."
November, 9, 2012
11/09/12
1:27
PM PT
After the
early upheaval today
, there's still a game to be played tonight.
For more insight on the Warriors, I sent some questions to J.M. Poulard, who covers the team for the True Hoop network's
Warrior's World
. Below are his responses.
Andy Kamenetzky:
Five games into the season, how would you describe the Warriors' style of play? What type of matchup do you think they present for the Lakers?
J.M. Poulard:
The 20-minute cap on Andrew Bogut's minutes coupled with Stephen Curry's struggles to effectively run the offense make it as such that the Warriors have a small identity crisis. They have been surprisingly good with Jarrett Jack on the court -- even when paired with Curry in the backcourt -- which would have you think that they are a good small-ball team. But they actually stick to traditional positions for the most part. That's essentially a long-winded way of saying they are a selective, fast-breaking team that tries to masquerade itself as a good half-court team … for now.
As for the matchup, it stands to reason the Warriors will attack the trapping Pau Gasol in the pick-and-roll, then try to generate shots from 3-point range as a result of the action. They'll also progressively attack the interior to take advantage of a backpedaling Dwight Howard.
July, 25, 2012
7/25/12
8:17
PM PT
After providing fans and media with the momentary distraction of
Antawn Jamison's introduction to the city
, Lakers general manager
Mitch Kupchak
once again fielded questions about the possibilities of a
Dwight Howard
deal, the status of extension talks with
Andrew Bynum
, and where else the team might try to improve before the start of the season.
The big takeaways:
While Kupchak didn't specifically address Howard (he can't talk about players on other teams, and wouldn't even if he could), asked if the door was closed now on an impact trade, he replied, "Typically [action] slows down in August, but the brakes are never on."


He has spoken to Bynum's agent David Lee, conversations he categorized as "positive and productive" but said no extension for Bynum was imminent. Lee told ESPNLA's Ramona Shelburne he and the team haven't discussed "anything of substance" regarding his client. Ultimately, it's more likely Bynum enters free agency next summer because he can get a longer, more lucrative deal by doing so. Yes, there's a risk of injury, but I think even if he gets hurt and misses games this year, he's still a max player on the market.
The Lakers are still poking around for more help, probably on the wing or another backcourt player, but aren't likely to use their mini-mid level exception unless they see a true value on the market. Based on the names still out there, I suspect there's a good chance nobody meets that standard. At least not at a full MML. Then again, publicly Kupchak always says "probably not" when it comes to signings and trades, and then stuff happens, so you never know.
He called Jamison's decision to join the Lakers "unusual," in that he passed up multiple offers for more money to do it. "We didn't recruit him all that much because I didn't think it was a possibility he'd come for the minimum, but after several conversations with his representative I started to say to myself, "I think this guy will do it" and from there it happened quickly," Kupchak said.
July, 20, 2012
7/20/12
10:52
AM PT
Any team interested in acquiring
Andrew Bynum
as part of a
Dwight Howard
deal shouldn't make any assumptions about their ability to keep L.A.'s young 7-footer around long term, says Bynum's agent
David Lee
.
ESPNLA's Ramona Shelburne has the details:
The agent for Los Angeles Lakers center Andrew Bynum says it would be "foolish" for any team to trade for his client without first speaking to Bynum to gauge his interest in signing an extension or long-term contract with them.

The Lakers so far have not granted the Cleveland Cavaliers, Houston Rockets, Orlando Magic or any team permission to speak directly with Bynum or his representatives. Bynum has been the subject of trade talks involving the Magic's Dwight Howard.

"I can't imagine any team foolish enough to do the deal without asking permission to speak to Andrew," Bynum's agent David Lee told ESPNLosAngeles.com on Thursday. "That's beyond belief, but strange things happen."

However Lee denied that Bynum had a list of preferred destinations, saying he and Bynum chuckled when they read reports while on vacation in Alaska last week indicating he had already made such decisions ...

... Lee denied that Bynum had a list of teams he would ultimately sign an extension with, saying he and Bynum chuckled when they read reports while on vacation indicating he had preferred destinations.

"I looked at it and he looked it and we both wondered where it came from," Lee said."
I've long felt Bynum would be willing to play in a lot of different NBA cities, so long as he could get the max contract for which he's in line, continue his ascension as a frontline NBA player, and then be competitive as well. Still, "a lot" is not "anywhere." (For example, last year he
expressed how "terrible" it is DeMarcus Cousins has to languish in Sacramento
. Fair to say Drew isn't likely joining the Kings.) Yesterday,
I mentioned the leverage Bynum has in this process
, and Lee's comments only reinforce the idea.
If the Lakers line up a trade but Bynum signals he won't stick around in his new town after this season, that deal won't happen.
In other news,
as reported by ESPN The Magazine's Ric Bucher
, Howard's agent
Dan Fegan
-- it's been a big day for agents -- says his client won't sign an extension with whatever team trades acquires him and will explore free agency next summer. On the surface, this might appear to undercut yesterday's report Howard would be willing to re-sign with the Lakers if traded here, but really doesn't. First, Camp Howard gains nothing by making promises now, before Howard is even traded. Second, that he wouldn't extend before his contract expires was a foregone conclusion and is a matter of finances, not city preference.
If Howard signs a "fresh" deal with a new team after the '12-'13 season, it can be worth up to $117 million over five seasons. Extending before that costs him at least two years, and tens of millions in the process.
The Lakers would be willing to acquire Howard with or without assurances he'd stay long term, confident a combination of team culture, the perks of L.A. life, and the extra year/money they'd offer as the holder of his Bird rights would be enough to keep Howard in purple and gold long term. Learning now he'd be willing to stay in theory removes some of the risk, but since Howard wouldn't be signing until after the season, it's hardly something the Lakers could truly bank on.
Really, all that's happening there is a little message control from Fegan.
April, 1, 2012
4/01/12
9:15
AM PT
A reasonable argument can be made that
Tuesday's win in Oakland
against the Warriors was just as frustrating and infuriating as Thursday's loss to the Thunder (don't get me started
on Saturday's game
, either). Both highlighted shortcomings on the team, but at least Oklahoma City is arguably the league's best squad. The Thunder, Golden State is not. Instead, the Warriors are a bad, woefully undersized group that entered Tuesday's game having lost six of eight (and now nine of 11, for those keeping score).
Their season-long road issues notwithstanding, with a little discipline, the Lakers should and would have won Tuesday's tilt going away.
Fair to say discipline was in short supply. The shenanigans surrounding
Andrew Bynum's
3-pointer/benching and fourth-quarter loafing/benching distracts from the myriad other ways the Lakers nearly mucked up that game, blowing 11-point leads in each of the first two quarters, then a 14-point lead in the third. A game in which the Lakers win the rebounding battle by 17 and take nearly twice as many free throws (34 versus 18) shouldn't require a pair of baseline jumpers from
Kobe Bryant
to secure the victory. Only their own sloppiness in execution and lack of consistent focus explains the final score.
Sunday night, the Lakers have an opportunity to right a wrong, and restore a little faith in their ability to handle the business that should be handled. The sort of thing they didn't do Saturday against the Hornets. Here are five things to watch ...
1. Put a body on David Lee defensively.
The Warriors didn't do much damage on the offensive glass, grabbing only eight boards despite missing 52 shots. Lee, though, had four, helping fuel a 23-point effort. With
Steph Curry
on the shelf,
Monta Ellis
in Milwaukee, and
Andrew Bogut
still not suiting up for Golden State, Lee is easily the Warriors' most reliable offensive weapon. He had a manageable 23 points on 21 shots Tuesday, but anything the Lakers can do to limit easy opportunities helps. The Warriors are still among the league's more efficient offenses, and rank fourth in Synergy's points per play measurements in the half court.
What they aren't is a strong offensive rebounding team, as only Boston grabs a lower percentage of their own misses. L.A. can't afford to give them an unexpected source of points.
2. Attack Lee offensively.
He can't score if he's in foul trouble. Early in Tuesday's game, the Lakers took advantage of Lee's defensive shortcomings early and often, whether one-on-one in the post with
Pau Gasol
, or with dribble penetration/good interior passing forcing Lee to rotate and help. No matter the method, it's important to make Lee play defense. For that matter, the Lakers can test Golden State's frontcourt as a whole. It can't guard
Andrew Bynum
, either. Really, it can't guard anyone, which is why it's among the NBA's worst defensive teams.
A nice segue to ...
January, 6, 2012
1/06/12
10:04
AM PT
There are things to like about the Golden State Warriors. Their uniform redesign, for example, produced some of the slickest togs the NBA has to offer. Go get yourself a
logo patch
, and maybe a t-shirt or
replica jersey
. The Warriors also have dedicated fans, an association with
Jerry West
(always nice, particularly
when it comes to thinking big
), and a very young, appealing franchise player in
Steph Curry
.
Plus,
David Lee
is from St. Louis, always good for cheap points on this site.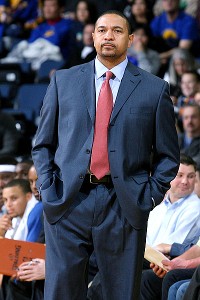 Jack Arent/Getty Images
I'm sure Mark Jackson will look a little more excited once the Warriors are playing better.

What they don't have these days is a culture of consistent winning.
Since 1994-95, Golden State has
won more than 38 games in a season twice, 26 or fewer seven times
, and have made the playoffs once. That ain't good. For a long time the Warriors were saddled with brutally bad ownership under
Chris Cohan
. Now new rich guys are in charge, led by
Joe Lacob
and
Peter Guber
, so there's hope the Warriors might turn a corner. Still, it won't happen quickly. New coach
Mark Jackson
has tried to instil a defensive mindset, and with the understanding all things are relative, in the early going has had some success. Through TK games, Golden State has shaved about four points off opponent's scoring per 100 possessions. Still only good for 22nd in the league, but better than the three previous seasons (26th, 29th, 28th).
Unfortunately, that defensive improvement has come at the expense of Golden State's offense. Once a juggernaut putting ball through hoop, the Warriors have thus far been among the league's most anemic teams, 25th in scoring (90.3 ppg) and efficiency (98.9 points per 100 trips), a huge drop from previous seasons. Blame some of that on Curry's recurring ankle problems, but it still amounts to trouble for Golden State folks may not have expected.
To get a little more insight into tonight's opponent, I sent some questions to Ethan Sherwood Strauss of
WarriorsWorld.net
, your GSW stop on the TrueHoop track.
1. Not to get all judgmental, but things seemed to go off the rails up there as the Don Nelson era wound down, and didn't improve under Keith Smart. How has Mark Jackson impacted the Warriors culture?
Ya, it did get pretty dark and weird back there with Nellie, huh? The best was when he
slurrily called a sports radio show from an Indianapolis bar
, made loud mention of his scotch in hand, and lamented
Stephen Jackson's
terrible trade value. The culture has calmed down since then, but in the wake of cultural chaos we're left with mediocre talent. Perhaps Mark Jackson can motivate athletes, but this team might have no way to pair with a will.
2. What are the prospects for Year 2 of the Monta Ellis/Curry/Lee core? Can it become a playoff contender, or do more changes have to be made?
The prospects are bleak, the team must decide on Monta vs. Steph. It feels as if the catharsis of making the decision matters more than making the right decision. Lee has immense defensive flaws, but I'm enjoying his progress as a pick-and-pop big.
June, 23, 2011
6/23/11
8:43
AM PT
The 2011 NBA Draft is Thursday afternoon (4 p.m. PT, ESPN). We've spent scads of time taking stock of where the Lakers stand heading into draft day, and now aim to catch up on the rest of the Western Conference.
Today, the Pacific Division...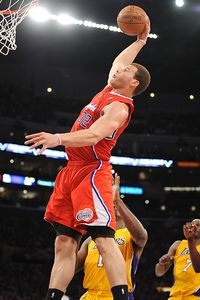 Noah Graham/NBAE/Getty Images
Building around Blake Griffin, a shrewd move or two makes the Clips a challenge for the Lakers in the Pacific.

Los Angeles Lakers
2010-11:
57-25, lost in second round 4-0 (on the odd chance you forgot) to Dallas.
Picks:
41, 46, 56, 58 (Round 2).
Where They Stand:
Uncharacteristically uncertain. The Lakers certainly have more questions this offseason than anything faced in the last two. With four second round picks, making significant additions through the draft to a roster still designed to win now is, to say the least, unrealistic. G.M.
Mitch Kupchak
has said he just hopes to find a player able to stick on the roster. An admirable goal.
As a team, though, the Lakers have plenty of needs, including
outside shooting
,
point guard production
,
center depth
,
speed/athleticism
, and another
shot creator
.
Projections (Round 2):
Chad Ford, ESPN.com (Insider required)
-
Nolan Smith
(SG, Duke),
Malcolm Thomas
(PF, San Diego State),
DeAndre Liggins
(SG, Kentucky),
Julyan Stone
(SG, UTEP).
DraftExpress
-
Shelvin Mack
(PG, Butler),
Jordan Williams
(C, Maryland),
Jereme Richmond
(SF, Illinois),
Greg Smith
(C, Fresno State).
Phoenix Suns
2011-12:
40-42, missed playoffs
Picks:
13 (Round 1).
PODCAST
Andy and Brian talk with David Thorpe (ESPN.com's Scout's Inc.) about what the Lakers can do in the second round of the draft. Plus, a look at the hot rumor (Pau for Kevin Love/#2 pick) and the vocal stylings of Dirk Nowitzki


Podcast

Where They Stand:
Limbo. A surprising run to the Western Conference Finals two seasons ago faded from memory this year, as the Suns finished below .500 and in the lottery.
Steve Nash
is entering the final year of his contract, while
Grant Hill
is a free agent. At 34 years old,
Vince Carter
, acquired in December's big deal with Orlando, is a shell of the shell of himself, and
reportedly will be bought out
.
The supporting cast has some quality in it.
Marcin Gortat
was a major score in the Orlando trade, quickly overtaking
Robin Lopez
in the starting lineup and becoming one of the most productive centers in the NBA.
Channing Frye
didn't quite meet his lofty shooting stats of 2009-10, but still hit nearly 40 percent of his triples. Plenty of teams would love to have a guy like
Jared Dudley
.
Role players, though, won't be enough to again lift the Suns to the elite. They need serious help on the glass, landing near the bottom of the league in rebounding on both sides of the floor. Where in previous seasons the Suns were bad more by reputation than actual output defensively, this season they were genuinely lacking, finishing 25th in efficiency. Contrary to their reputation, with a hole at shooting guard and a decision to make on
Aaron Brooks
, the Suns could find themselves in need of scoring, as well. Certainly an upgrade at the two is required.
Projections:
Ford-
Tristan Thompson
(PF, Texas). DraftExpress- Thompson.
April, 6, 2011
4/06/11
11:24
AM PT
In 2008, the Golden State Warriors won 48 games, finishing only two games on the wrong side of a very competitive Western Conference playoff race. This, coming one season after notching 42 victories and scoring one of the greatest playoff upsets in NBA history, knocking out a top-seeded, 67-win Dallas Mavericks squad in the first round.
So it wasn't that long ago Golden State was competitive. It just seems like a _illion years ago, right? (Fill in the blank yourself. Suggestions include m, b, z, t, or gaj. I don't want to put words in your mouth.)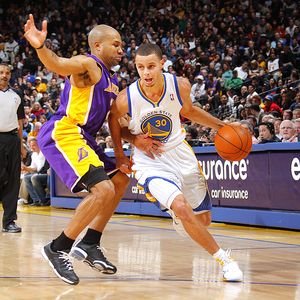 Rocky Widner/NBAE via Getty Images
Steph Curry and the Warriors are 0-3 against the Lakers this season. L.A. hopes to make it a clean sweep Wednesday night.

This year, after reaching a high-water mark of 26-29, the Warriors have lost 15 of 23, which seemingly makes them ripe for the picking, right? Maybe not. Four of those eight wins have come in Golden State's past six games, including a blowout victory over the
Portland Blazers on Tuesday night in Portland
. They've also won three straight at home, the last being a seven-point defeat of Dallas on Saturday. So while the Warriors aren't good, they're on a relative hot streak these days.
In consecutive losses
Sunday
and
Tuesday
, the Lakers turned the ball over a fairly appalling 39 times. Given how important component pace is to any game at Oracle Arena, a matchup against the run-and-gun Golden Staters provides a prime opportunity for the Lakers to reinject a little more discipline into their collective game. Run the offense. Take good shots. Limit mistakes. Keep the Warriors in half-court sets.
Any and all of those things would likely put L.A. back on the winning path.
Or, they could just stay careless with the ball and see what happens. After all, the recipe Tuesday night against the Jazz was similarly simple, and look how that went.
Now, those who frequent this space know we'll typically call on bloggers from other cities to help us learn more about a given night's opponent. This game is no exception. But where normally our respondents at least feign some optimism, today things are a little different. Consecutive losses got you down? Particularly Tuesday's game, one
Lamar Odom
called "the worst loss of the year" in a year with plenty of strong candidates? Try using up your hoops energy on the Warriors, as our man
Ethan Sherwood Strauss of WarriorsWorld.net
does 82 times a year.
Judging by his responses, it's not a happy thing, despite the recent (again, it's all relative) success:
November, 21, 2010
11/21/10
1:08
PM PT
They're baaa-aaack! After a brief tour of the northern Midwest, the Lakers have touched down in L.A. and will host the Golden State Warriors. It's a date against first- and second-place holders in the Pacific, but with all respect to the Warriors' surprisingly strong start, the Pacific remains the Lakers and four teams taking up space. Here are a few items to be mindful of after the ball is jumped:
Monta Ellis
What a difference a year makes. Around this time in 2009,
Monta Ellis
was angry about
Stephen Jackson's departure
, skeptical about
Steph Curry's presence
and rumored to be on the block if a taker was willing to bid. About 365 days later, Ellis is content, gets along with Curry and is embarking on the best campaign of his career.
His scoring prowess (27.7 ppg)
isn't impressive simply for ranking second in the league, but rather its efficiency. Ellis is shooting 52 percent from the field overall with a career-best 37 percent clip from behind the arc. In particular, Ellis is
killing it at the rim, converting almost 72 percent of shots from point blank
.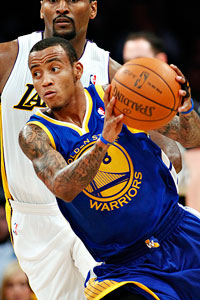 AP Photo/Lori Shepler
This man can do serious damage filling up a bucket.
During the preseason, Ellis
ran roughshod all over the Lakers for 41 points
. A Halloween regular-season match, however, was a different story. The speedy guard was
"limited" to 20 points
on 9-of-20 shooting and, equally crucial, offered just a pair of trips to the line. (
Ellis averages 6.9 freebies a night, 13th-highest in the league.
) Of course, a bad ankle shelved Curry, making it easier to key on Ellis and spread the labor defending him. With the baby-faced point guard -- no slouch in the scoring department himself -- on hand, Ellis instantly becomes a tougher cover.
Who'll take the assignment is an interesting question. Ellis is much too fast for
Derek Fisher
.
Ron Artest
has been up to the challenge in the past, but
a nerve issue in his back -- according to Phil Jackson, if nothing else
-- might leave him staring too often at the back of Ellis' jersey. Thus, it wouldn't surprise me to see Kobe spend a large amount of time checking the Warriors' leading scorer.
Ideally, the Lakers would avoid burdening Bryant with this type of defensive assignment on top of his scoring responsibilities, but he's probably the best option. If I may be so bold to offer a tip, forcing Ellis into 2-pointers from 16-23 feet out (his worst spot on the floor) would be a sound strategy. Or the Mamba could just turn the tables by aggressively attacking Ellis and exploiting a size advantage. That ability to score, impressive as it is, drops dramatically while he's pinned to the bench with foul trouble.
October, 31, 2010
10/31/10
1:05
PM PT
The currently undefeated Lakers face the also-unbeaten Golden State Warriors tonight. The last time the Warriors began a season at 2-0,
Latrell Sprewell
was the leading scorer,
Chris Gattling
was still on his first NBA team and
Don Nelson
was about to get fired for the first time by the franchise.
Yes, 1994 was a long time ago
.
Of course, unblemished starts don't guarantee quality finishes, as that 26-56 season proved. It would be premature to treat one good October week as a sign Golden State is emerging a dark horse playoff contender. (I'd actually be stunned if they finished in the Western Conference top 10.) But they are playing well at the moment, so it would be equally presumptuous for the Lakers to treat them like a joke. As the Lakers look to maintain an 82-0 pace, here are a few items to keep an eye on:
No Steph Curry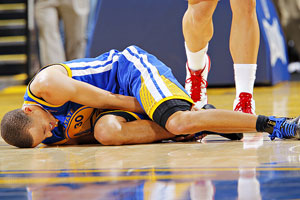 Rocky Widner/NBAE/Getty Images
Steph Curry aggravated a preseason injury Friday.
The Warriors' budding star turned an ankle during Friday's win over the Clippers, an aggravation of an injury sustained during preseason action. (As I've often said, the ultimate goal of exhibition roundball is getting out of it in one piece.) He won't make the trip to L.A., which (I'm guessing) thrusts
Reggie Williams
into the starting lineup. While not quite the scoring threat of Curry,
his 2010 stats
confirm the ability to fill a bucket if needed. The undrafted, second-year player may not even be a household name in Bay Area homes, but there's always a danger of turning him into one. Any Laker assigned to shadow him needs to pretend there's already a robust Q-rating at play.
In the meantime,
Monta Ellis'
role becomes even more intriguing.
Dude is on a scoring tear to open the season (30.5 ppg)
. He also torched the Lakers for 41 in the preseason finale. In theory, making up for Curry's absence could equal a mind-set to go ballistic. Of course, no Curry also makes Ellis the best play maker on the court. If he's not creating for his teammates, it becomes that much more difficult for anyone else to find a flow, and a one-man show is typically easier for NBA teams to overcome. Thus, it may become necessary to dial back the scoring for the sake of the bigger picture.
What approach will the mercurial combo guard take? We shall see.
January, 22, 2010
1/22/10
9:10
PM PT
Al Bello/Getty Images
Better late than never, Pau finally showed up to the party.
Or rather, one big moment I feared might not happen at all. The moment
Pau Gasol
decided to announce his presence.
Last night's loss to the Cavs f
eatured Pau in one of his worst games of the season. Tentative. Settling for jumpers and flipped shots --mostly missed--instead of driving on slower, bigger defenders like
Shaquille O'Neal and Zydrunas Ilgauskas
and making them work. Equally ineffective while bodying (sort of) Shaq on the other side of the ball. Crunch time collapses. Getting blocked at the rim twice distracted him enough to miss a key pair at the stripe. I don't travel with the team, so I couldn't verify if that debacle also sparked a failure to box out
Anderson Varejao
for a crucial rebound of missed second freebie by
LeBron James
(which trigger-effected
Ron Artest
into a loose ball foul), but Gasol admitted being displeased with himself.
In theory, the beauty of a back-to-back is the redemptive shot is presented that much sooner (in an earlier time zone to boot). But for much of this game, Pau didn't appear particularly geeked to cash in.