Los Angeles Lakers:

David West
November, 27, 2012
11/27/12
8:53
AM PT
The Lakers aren't the only team with high expectations that has struggled out of the gate.
After providing the Miami Heat with a credible 2012 Eastern Conference semifinals challenge, the Indiana Pacers were expected to be one of the most dangerous teams in the East. Instead, their follow-up campaign has thus far been brutal. All-Star swingman Danny Granger has yet to suit up because of a knee injury, and the squad has regressed while he's been in street clothes. Things have picked up a bit of late, with three wins in their last five games. But the bottom line is that
the Pacers (6-8) have yet to beat an above-.500 team at the time of their meeting
-- two victories came against the winless Wizards -- and the Lakers should rise above .500 at Indiana's expense.
For more insight on the Pacers, I conducted an IM conversation with Jared Wade of the True Hoop network's
Eight Points, Nine Seconds blog
. Below is the transcript.
Andy Kamenetzky:
Things clearly haven't progressed as expected for the Pacers. What's gone wrong, beyond Granger's absence?
Jared Wade:
That's a big part of it. The team relied a lot more on Granger offensively than I think anyone realized. We've really seen the lack of movement, spacing and reliable individual play with him out. But it also goes deeper. Roy Hibbert and Paul George were disastrous early in the season; they were turnover machines and ball-stoppers who sucked much of the fluidity out of the offense. Things are improving with both, however, and the team has looked at least passable while trying to score, a huge improvement from the first six or seven games.
AK:
Why do you think Hibbert has struggled?
JW:
Some of it was pressure put on himself. He is a legitimately nice, responsible guy who feels a burden to live up to his new, $58 million contract. He has also simply struggled in areas that have long been a problem: establishing and holding low position, finishing with power, footwork in the paint, not making his moves quick enough. And the Pacers don't have many players who are good at feeding the post. Granger isn't exactly John Stockton, but he just has a higher basketball IQ than some others mopping up minutes (Gerald Green, Sam Young), so he has a better understanding of when to get Roy the ball and how to get out of his way to give him space.
Why are Dwight Howard and Pau Gasol struggling? I imagine it has little to do with confidence or being melancholy that they aren't "earning" their money.
AK:
Like everyone, they've been hurt by a chaotic training camp and early season. There have been signs of stability, but they come in fits, and nothing comes easier with Nash on the shelf.
For Dwight specifically, conditioning is a factor. He was expected by most to return in January, which means he's ahead of schedule, but not truly up to speed. His timing and lift aren't quite there yet, but I think the issues will work themselves out in time.
Pau's problems are a little trickier. His conditioning also isn't up to snuff, and
he recently revealed a monthlong battle with tendinitis
, which compounds the problem. Plus, like last season, he's in the high post more than he'd like or what's truly ideal. But some blame also lies with Pau. He's often too willing to settle for an elbow jumper -- which hasn't been falling with regularity -- rather than put the ball on the floor, attack and force a defender to actually guard him. Even with tendinitis, he needs to pick more spots to take a defender off the dribble. Ultimately, I think coach Mike D'Antoni will find a way to maximize his versatility, but it'll take some tweaking.
Has David West asserted himself as the Pacers' primary scorer?
January, 22, 2012
1/22/12
10:05
AM PT
After several seasons spent rebuilding from the Palace Brawl aftermath, the Indiana Pacers are a team I think many NBA fans still reflexively regard as mediocre. Well, they shouldn't.
Frank Vogel's
appointment as head coach in February 2011 coincided with immediate, drastic improvement. The Pacers became a tougher, more focused team,
pushing the Chicago Bulls in a first-round playoff series harder than a 4-1 result would indicate
. This season, they've picked up where they left off, with a couple of new faces (
David West
,
George Hill)
making contributions.
For the inside dope on the Pacers, we tracked down
Jared Wade
, who hosts the outstanding
Eight Points, Nine Seconds blog
for True Hoop. Here are some thoughts on four questions, plus an additional one of my own.
Land O' Lakers: The Pacers are holding teams to 89.3 points per game, down dramatically from last season's 100.9. Even taking into account Indiana's pace and the fact that scoring is down across the board in a compressed season, that's a pretty remarkable uptick. What's accounted for this improvement?
Jared Wade:
Most importantly, there is for the first time a consistent rotation of players with clearly defined roles who play in a cohesive system the team has bought into. And the addition of Hill's long arms, quick feet and well-drilled habits are a part of an overall improvement to the perimeter: the first line of defense, if you will.
Paul George
didn't see big minutes until the twilight of last season, and he is an excellent defender who, at 6-foot-9, can envelop most guards with his length and stay in front of them with his agility. He gained a lot of confidence after checking
Derrick Rose
so well in last year's playoffs and it shows; he is now the rare player whose offensive game starts flowing after he makes a good defensive play instead of vice versa.
Darren Collison
is much improved. He was lost in the pick-and-roll last year and just got beat a ton. He isn't perfect now, but there are way fewer possessions that leave you shaking your head at his defensive technique and effort. And
Danny Granger
, who has always had the tools to be a better defender, has gotten back to being more of a two-way player. Perhaps it's because he's struggling to score and he feels he has to, but he is clearly not taking as many plays off on the other side of the ball as he has in recent years.
July, 26, 2011
7/26/11
11:30
AM PT

By Brian Kamenetzky
ESPNLosAngeles.com
Archive
If there's a position on the floor where the Lakers have quality depth, it's power forward. When reigning Sixth Man of the Year
Lamar Odom
is the backup, clearly things are going well. Between L.O. and
Pau Gasol
, L.A. likely sports the league's best two-man rotation at the 4. Still, it wouldn't hurt for them to find a viable third PF for the roster, not so much to bolster the Gasol/Odom combo -- though someone to lighten the load is always welcome -- but as a hedge against injury, whether at the 4 or the 5.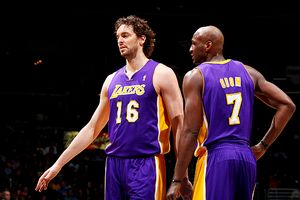 Ned Dishman/NBAE/Getty Images
It's hard to do much better at power forward than a rotation of Pau Gasol and Lamar Odom, but more depth can't hurt.
The time
Andrew Bynum
spent sidelined last season proved pivotal, sucking heaps of energy from Gasol's legs and setting the table for what would eventually become a physical and mental meltdown in the postseason. While he has a chance to start next season healthier than virtually any in his career, Bynum still can't be counted on to stay that way. The Lakers have to assume he'll miss some games, meaning they clearly need a backup center more viable than
Theo Ratliff
proved last season. It also means a little more support at PF could constitute a reasonable use of roster space and resources, even while representing a lower rung on the priority ladder.
We've touched on the
point guards
,
shooting guards
and
small forwards
. As is always the case, it will be virtually impossible for the Lakers to land any of the pricier names available without a major discount or a sign-and-trade. Unlike other areas of need, though, attracting higher end talent, even players starving for rings, will be tougher because available playing time at power forward is so limited. A little positional flexibility-- meaning a guy who can shift between either the 4/5 or 4/3 -- would be a nice touch, helping open some options. Still, without serious structural changes to the current core, it's a tough sell.
So without further ado...
HEY, THESE GUYS ARE GOOD AND/OR WANT/DESERVE BIG ROLES! MEANING THEY WON'T BE IN L.A. NEXT SEASON, UNLESS THE LAKERS MAKE MAJOR CHANGES!
David West (Unrestricted Free Agent, New Orleans)
Carl Landry (UFA, New Orleans)
Jeff Green (Restricted Free Agent, Boston)
Glen Davis (UFA, Boston)
Kenyon Martin (UFA, Denver)
Kris Humphries (UFA, New Jersey)
Chuck Hayes (UFA, Houston)
West is coming off serious knee surgery, but is a former All-Star and when healthy is clearly the best player on this list. Landry would never give up the opportunity to continue his habit of eviscerating the Lakers by actually signing with them. Davis isn't a starter, but remains a very valuable role player who is too good for the role the Lakers can offer. Green has been extended a $5.9 million qualifying offer by the Celtics, meaning he's already been priced out of L.A., not that he's an overwhelmingly attractive option, anyway. Martin is not a guy you want sitting on the bench, potentially becoming unsatisfied with his role. He played center in Houston because the Rockets didn't have any other options, but his size makes PF Hayes' natural spot. Either way, he was among the more underrated players in the NBA last season. Again, too good for what L.A. can give.
June, 21, 2011
6/21/11
8:33
AM PT
By the Kamenetzky Brothers
ESPNLosAngeles.com
Archive
The 2011 NBA Draft is Thursday afternoon (4 p.m. PT, ESPN). We've spent scads of time taking stock of where the Lakers stand heading into draft day, and now aim to catch up on the rest of the Western Conference.
Today, the Southwest Division...
San Antonio Spurs
2010-2011:
61-21, lost in the first round to the Memphis Grizzlies 4-2
Picks:
29, Round 1. 59, Round 2.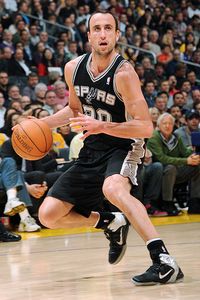 Andrew D. Bernstein/Getty Images
Manu Ginobili will once again lead the Manu/Timmeh/(probably) Parker core, but to say the clock is ticking is an understatement.
Where They Stand:
At the tail end of an era. It was a strange year for the Spurs, who remained remarkably healthy for most of the season, earned the best record in the Western Conference, then saw
Manu Ginobili
hurt himself at the worst possible time and lost in the first round to a Memphis team showing oodles of potential. Now the Spurs have one more year with
Tim Duncan
under contract and two more seasons with Ginobili to go with
Tony Parker
for their Big Three. I suspect the trio will make at least one more run together, and as the 61 wins from this season attest, it's still a very competitive core. Add in solid role players like
Gary Neal
,
George Hill
,
DeJuan Blair
and
Tiago Splitter
, and the Spurs have every reason to give it one more go.
In terms of significant pieces likely gone for next season, the only big name is
Antonio McDyess
, likely retiring after a distinguished 16-year career. Whether he shelves the sneaks or not, the Spurs need some size to bolster the frontcourt and prevent Duncan from being overtaxed. Explosiveness on the wings wouldn't hurt, either, because
Richard Jefferson
essentially became a spot-up shooter last year, with nearly half of his shots coming from beyond the arc. Parker and Ginobili still attack the rack, but one more guy would take a lot of pressure off a core needing every break it can get.
A little defensive help would be a nice touch, too.
Projections (Round 1):
Chad Ford, ESPN.com (Insider Required)
-
Davis Bertans
(SF, Latvia).
DraftExpress
-
Nikola Mirotic
(PF, Montenegro)
--Brian Kamenetzky
Dallas Mavericks
2010-2011:
57-25, won the 2011 NBA championship
Picks:
26, Round 1. 57, Round 2.
Where they stand:
With bigger fish to fry than the draft.
Tyson Chandler
,
J.J. Barea,
and
DeShawn Stevenson
all could depart after playing critical roles in capturing the franchise's first title, and
Caron Butler
, their second best player before a season ending injury, is a free agent as well. The Mavs outlasted the field in part because of their superior depth, thus their bid to repeat depends in large part on retaining as many useful players as possible to surround their lone superstar (
Dirk Nowitzki
, for the benefit of the thick).
PODCAST
Andy and Brian talk with David Thorpe (ESPN.com's Scout's Inc.) about what the Lakers can do in the second round of the draft. Plus, a look at the hot rumor (Pau for Kevin Love/#2 pick) and the vocal stylings of Dirk Nowitzki
Podcast

Still, there are needs beyond maintaining continuity. With
Roddy Beaubois
an unproven commodity, covering their bases with another point guard wouldn't be the worst idea.
Shawn Marion
will need a backup if Butler isn't re-signed. And while
Jason Kidd
isn't quite ready yet to drive
a Rascal
, every year spent counting on a player pushing 40 carries inherent risk. Equally risky is penciling in a shrimp like Barea as a 30-40 mpg lead guard of the future. Again, factors pointing to bolstering the backcourt.
But really, given the team's collective age, prospects at any position are justifiable, particularly since the likelihood of finding a player able to help immediately from their draft position is unlikely.
Projections:
Chad Ford
-
Josh Selby
(PG, Kansas),
Draft Express
-
Justin Harper
(PF, Richmond)
--Andy Kamenetzky
April, 17, 2011
4/17/11
9:13
AM PT
By The Kamenetzky brothers
ESPNLosAngeles.com
Archive
The playoffs are inching closer and closer, which means the analysis grows deeper and deeper. We exchanged emails back and forth with
Michael McNamara
of
Hornets247.com
(TrueHoop network). Tons of issues examined, so kick back and drink it all in.
Brian Kamenetzky:
Michael, is everyone in New Orleans as pessimistic as Lakers fans are optimistic?
Michael McNamara
: Basically, most fans believe two wins would be considered a victory. There is no realistic Hornets fan who believes that New Orleans can win this series, but there are moral victories to be had.
Trevor Ariza
has been a disappointment for most of the season, but a good showing on both ends of the court might give fans hope he could turn that corner next year.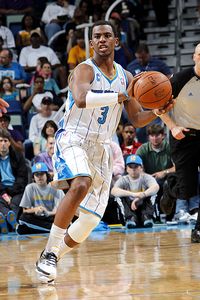 Layne Murdoch/NBAE via Getty Images
Hornets fans are hoping to see "Chris," not "Christopher" in this series
What fans want to see more than anything, however, is the return of
Chris Paul.
We have jokingly referred to him as "Christopher Paul" for much of the season because he simply is not the same guy we recognize as CP3. If he can have a series like
Deron Williams
had against the Lakers last year, and the Hornets can steal a game or two, I think that Hornets fans will be happy.
My question is whether or not you think that an easy first-round matchup might be the worst-case scenario for the Lakers? We see how they tend to get bored when they are not challenged, so is it possible that a tough first-round series would have been better in the long run?
Andy Kamenetzky:
I understand the thought process, but I'd like to think that's overthinking matters. Even acknowledging the Lakers' willingness to, shall we say,
cruise
, they're decidedly built for the postseason. It's what they live for and all they've been thinking about since roughly December. The playoffs finally arriving should kick them into high gear and the 2009 semifinals against Houston aside, there's never been a glaring example of the Lakers sleepwalking through a series.
Besides, the Lakers haven't been good enough lately to poo poo anybody.
As Kobe mentioned Wednesday on Mason and Ireland
, "The way we're playing right now ... if we saw [the Timberwolves] in Round 1, they'd be a tough one."
Michael, how have the Hornets looked since
David West
's injury and how has
Carl Landry
-- who's been known to provide the Lakers fits -- done filling in?
March, 29, 2010
3/29/10
9:38
PM PT
With 8:42 remaining in the fourth quarter and the Lakers down by 87-72, KCAL sideline reporter/710 ESPN's
John Ireland
busted out a surprising sideline interview:
Bruce Willis!
That's right. John McClane himself, in the Big Easy
to film a movie
. Willis was enjoying courtside seats via the generosity of Hornets owner
George Shinn
. And judging by the easy-breezy vibe, he also seemed to be enjoying everything N'Awlins has to offer.
I'm not saying the man
definitely
indulged in a few
Seagram's Golden Wine Coolers
. I'm just not entirely comfortable proclaiming he hadn't.
At any rate, the chat initially felt like little more than than a random oddity involving a celebrity at a Lakers game outside the confines of Staples Center. A new twist on a familiar sight. Good for a few "Hey, it's a loopy Bruce Willis!" tweets from Lakers fans and basketball scribes, but nothing of actual consequence.
Then came a reverse layup by
D.J. Mbenga
off a gorgeous feed from
Jordan Farmar
. Two possessions later,
Ron Artest
cans a J. A little more than a minute passes and
Lamar Odom
hits one of two free throws after
David West
fouls him upon corralling an offensive board. A few more minutes, Farmar takes a rebound coast-to-coast and gets sent to the line by West while sinking a layup. The freebie is no good, but
Kobe Bryant
is there for the putback.
9-0 run for the Lakers
, now back in the contest with 5:42 to go, and the Internet going bonkers about the power of a festive Bruce Willis.
Darius Songaila
snaps the purple and gold run with a 22-foot jumper, but it's quickly met with a three-ball from Farmar. I sent a Tweet about
Willis getting the game ball if the Lakers somehow prevailed
. And for one brief, delusional second, it felt like Demi's ex might walk away with a Spalding.
Unfortunately, a tough, twisting fadeaway from West, two dry Laker chances, then Songaila's putback of a West miss (no box out whatsoever) brought everything back to Earth in a hurry. The seemingly inevitable wasn't about to reverse course.
Nor should anybody really have expected it to, least of all the Lakers.
March, 29, 2010
3/29/10
3:14
PM PT
Ain't gonna lie. These days, the best thing offered by a date with the Hornets in New Orleans is The Big Easy's grub. As a media member that only travels during the postseason, I don't even get to enjoy it.
Just two seasons ago, Lakers-Hornets represented a showdown with
enough 'zazz for some scribes to use the outcome as their final criteria for an MVP vote
. (That it's asinine to boil down a vote to
one
game where
Kobe Bryant
and
Chris Paul
don't even guard each other
was apparently beside the point.) Now, it's a showdown between
the Western Conference's likely champ and the 11th place residents
. Yikes!
Still, the Hornets may not be great, but they aren't wretched, particularly at home (22-14). Thus, I thought it was worth sharing five thoughts on the upcoming showdown:
1)
At a respectable 39.4% (T-26th, NBA)
, rookie
Marcus Thornton
trails only Paul in
three-point percentage for the Hornets
. Among those in the rotation,
his 4.1 attempts per game makes Thornton the NOH leader
, and he's actually been
hoisting 5.5 times from behind the arc throughout March.
In other words, dude's likely to spend some time downtown and needs to be accorded a certain amount of respect. Not to pick on anybody, but I'm specifically thinking Kobe and his tendency to give C-Listers leeway even as they put points on the board. Most recently, this habit reared an ugly head against Miami with
Dorrell Wright
and (especially)
Quentin Richardson
.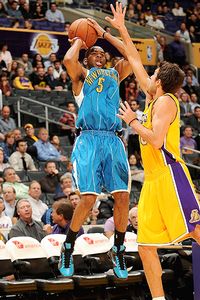 Andrew D. Bernstein/NBAE via Getty Images
Mind the rookie, Kobe!.
I understand the temptation to stray, particularly against a team with a guard (
guard

s
, in the Hornets' case) capable of serious penetration while paired with a less explosive backcourt mate. But honestly, I think the "center field" style is usually the result of Kobe being just plain bored while assigned to these relative nobodies. He needs to mind the store, or at the very least, ignore it while making purposeful double teams, as opposed to just wandering no man's land.
If it helps stir Mamba's competitive juices,
Thornton put up 37
-off the
bench, no less
- against Cleveland earlier this season. Thus, he is capable of putting up numbers and should be treated as such.