Los Angeles Lakers:

Delonte West
April, 14, 2012
4/14/12
8:10
PM PT
I've said it many times. In a season in which consistency has been as rare as a four-leaf clover discovered on top of a
copy of Superman No. 1
, there's been one solid trend for the Lakers. Opponents regarded with contempt on a personal level receive their best efforts, as evidenced by a 3-0 clip against the defending champs. The players on hand, whether
Derek Fisher
,
Ramon Sessions
,
Brendan Haywood
or
Delonte West
, have changed, but the Lakers' vibe has been metronome-steady.
Kobe Bryant
might not be available Sunday, and
Lamar Odom
absolutely won't, but I expect that intensity to be maintained. Particularly in light of
Friday's rather promising win over the Nuggets
.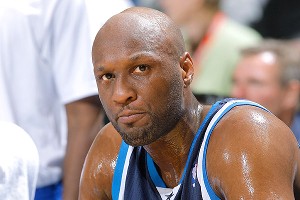 Rocky Widner/Getty Images
This glum face won't be seen on the Mavericks' sideline anymore.
To discuss the matchup, I had an IM conversation with
Jeff Caplan
, who covers the Mavs for ESPN Dallas. Below is the transcript.
Andy Kamenetzky:
From a psychological standpoint, what does Odom's departure do for Dallas?
Jeff Caplan:
The first thing is it removes daily frustration and exasperation from the locker room. His behavior was such that I believe players questioned his commitment, and have for some time.
Mark Cuban
and
Rick Carlisle
were as patient as possible, believing at some point he would turn things around and contribute. Finally, Cuban saw zero desire emanating from Odom and pulled the plug. The Mavs thrived with an all-for-one mentality last season and now can get back to that.
AK:
Even acknowledging Odom's disengagement and poor play, has he been a convenient scapegoat at all for Dallas' underwhelming season?
JC:
Absolutely. For evidence that it wasn't just Lamar, just
look at Thursday night at Golden State
. The Mavs were up 19 in the first half, then allowed the Warriors to cut it to three early in the fourth before turning it on again. That's a staple of this team this year: No lead is safe. That's mostly due to an offense ranking around 20th all year in scoring average and field goal percentage. But I don't think anyone within the organization has said, "It's all Lamar's fault" or "Now that he's gone, we're about to roll." I think there's now just more of a workmanlike mentality, with players going about their business. This is mostly a drama-free locker room led by
Dirk Nowitzki
, who is unlike any superstar I've ever been around.
The big question is will
Shawn Marion
have anyone to defend? What's Kobe's status with the shin and is anybody getting worried?
January, 16, 2012
1/16/12
10:41
AM PT
Not quite a true return to the scene of the crime, since the Lakers officially surrendered their reign as back-to-back champions after a blowout loss in Dallas. But it's nonetheless a rematch and, for the Lakers, one with bitter feelings attached. Bowing out of the postseason is one thing. Getting swept is quite another. I don't imagine any Laker would even bother claiming this game is just another among 66 this season, if for no other reason than his nose would grow at least one foot.
For perspective on the defending champs, I recorded a podKast with
Tim MacMahon
, who covers the team for ESPN Dallas. The topics discussed included the presence of
Delonte West
, the absence of
Tyson Chandler
and the team's prospect for repeating as champs.
You can hear the entire show by clicking here.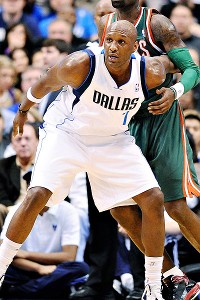 Jerome Miron/US Presswire
It has not been easy for Odom in Dallas so far.
But of course, from a Lakers fan's perspective, there's no talking point more intriguing than
Lamar Odom
now in Dallas. His exit was abrupt and controversial, and since arriving in Big D, LO's adjustment on and off the court has been a work in slow progress. Considering the incredible 2010-11 campaign, numbers like
6.8 ppg, 5 rebounds and a PER of 7.44 are pretty shocking
. Below are some excerpts from MacMahon about Odom's transition.
MacMahon, on why Odom has struggled in Dallas:
"He's out of shape. He's out of sorts. And he's completely out of sync with what's going on here. He came in in poor conditioning. The primary goal is to get him in shape. He's not playing many minutes because he's not in good enough shape to do so, and the minutes he is playing, he's usually not playing very well. They've got to get him up to speed in the Mavericks' system and then a lot of this, mentally, he just has to come join the party here in Dallas. He obviously took it extremely hard that the Lakers wanted to trade him in the Chris Paul deal, and [when] that fell apart, he pretty much demanded to be traded. Now that that happened, he has to deal with it.
He also had an extremely difficult offseason from a personal perspective. He had a cousin that was murdered. He was in a car where there was an accident. He wasn't driving, but a young man was killed, who wasn't in that car, but was killed in that accident. So he's dealing with a lot of very difficult off-the-floor emotional baggage. He hasn't fit in with his new team and a lot of that is his own fault and some of it's situations that are out of his control."
MacMahon, on Odom's comments to Sports Illustrated's Chris Mannix that he's not "prepared to play" and that his game isn't adapting the way he thought it would:
"Really, I think he has to accept the fact that it's a new situation and he has to completely invest himself emotionally. That and his conditioning are the two main things. They don't want to run a bunch of set plays. They want to play a flow type of offense that he theoretically should fit in very well, but he doesn't know what he's doing on the defensive end of the floor. If you're not getting stops, it's hard to get into a flow type of offense, and that's part of the problem.
But what I really think, for the most part, he has to get into shape, and deal with the fact that he's in Dallas now. This is a team that obviously has a chance to contend. It won the championship last year. Stop moping around, start focusing on not what happened in the past, and the opportunity he has in front of him. I think he'd be surprised at how well he might fit in."
MacMahon, on whether there have been signs of that happening
"The one thing you hear is that he has a good attitude in terms of he's on his own conditioning program. They've got him running extra sprints, doing extra conditioning after practices, after shootarounds. ... But his body language on the floor is just awful. He looks like a guy who doesn't want to be here, who doesn't want much part of what's going on. They like the work ethic, but everything else really needs to improve and improve quickly."
September, 10, 2010
9/10/10
3:53
PM PT
As far as keynote addresses go, it was 100 percent Artestian, strewn with diversions, tangents, and stories including an eclectic array of characters from his extended network of family and childhood friends.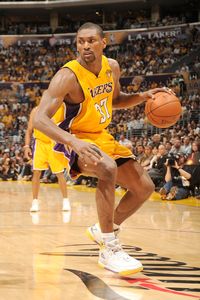 Andrew D. Bernstein/NBAE/Getty Images
To the long list of things Ron Artest has been called through the years, it may be time to add another: Mental health advocate.
But Thursday, speaking to a crammed auditorium at Eastmont Intermediate School in Montebello,
Ron Artest
wasn't graded on the elegance of his delivery, just his willingness to speak openly about a subject so many, adults and children alike, are uncomfortable addressing: mental health. Yes, Artest is aware of the irony: "I know no parent wants their kid to be hearing from the guy who was
on the Jimmy Kimmel Show in his boxers
," he joked from the podium, after admitting to concerns he wasn't exactly the expected source for an important message.
Artest was there in support of Rep.
Grace Napolitano
(D- Norwalk), author of a bill which would provide additional funding for mental health services in schools across the country. And he was not simply lending his name. While details are still to be ironed out, Artest said Thursday he's investigating ways to put the championship ring he chased for over a decade
up for auction to help raise funds
for more psychologists and services for students. Calling him a policy wonk is a strech, but Artest's belief in the value of counseling is real, reflected in a consistent refrain to the students: Nothing is weak or weird about seeking help if you need it. Talk to someone. Anyone.
"I don't think you have to be afraid," he told them.
Artest spoke openly about seeing his school counselor, his experience in marriage counseling, and how a sports psychologist helped him focus his anger and aggression more constructively on and off the court. He was plain about his shortcomings. "As a kid, I had a temper," he said. "As an adult, I was a bad father."
September, 2, 2010
9/02/10
5:18
PM PT
It's time again to empty out the
Land O'Lakers mailbag
. Just because we're in the dry, forbidding summer months doesn't mean there are no issues to kick around. After all, training camp is just around the corner.
So without further ado, let's get going.
Q:
Yo Kamenetzky Bros! I'm splitting season seats for Lakers/Clippers/Kings this year, and I have to go to this draft next week to select my games. Its a snake draft but I wanted to have my picks ready to go. So for time's sake, can you at least give me your guys top 10 games of the season, in order from best to worst? Also I really don't want to pick any Clipper games in the top 10, but do you think I need to select Clippers/Heat that early?
--Danny, Earth
A:
Clearly Danny doesn't want to be tracked down.
Without knowing exactly where you draft, here are the 10 games/opponents I'd target (keeping in mind that if you decide you want to go to a Clippers game... let's be honest, you'll be able to find tickets) in some sort of vague, totally debatable order:
1) Oct. 26 vs. Houston:
Opening night/ring night. I realize there are higher profile opponents on the way, and it's by definition early in the year, but the spectacle and energy of ring night is a must for fans. High profile games don't always meet the hype, but watching a banner go up will never disappoint.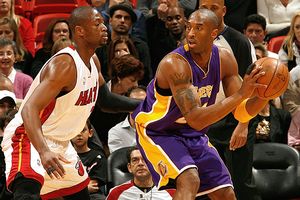 Issac Baldizon/Getty Images
Kobe vs. Wade (and LeBron and Bosh) on Christmas is the Glistening Shiny Jewel of the '10-'11 schedule, but there are 41 other home games to think about. Which are the best?
2) Dec. 25 vs. Miami:
If I need to explain this to you, why are you in the draft?
3) Jan. 30 vs. Boston:
The rivalry, the addition of
Shaq
, two Finals meetings in three years, and a very underrated chance at a third, despite all the Miami hoopla.
4) March 20 vs. Portland:
If healthy, the Blazers represent a major challenge to the Lakers in the Western Conference. This is their last visit before the postseason.
5) March 14 vs. Orlando:
The forgotten team in the Eastern Conference, the Magic (rightly) think they're being unfairly discounted. Howard and Co. will show up motivated to beat the west's best.
January, 21, 2010
1/21/10
3:39
PM PT
We already got some thoughts on tonight's extravaganza
from TNT analyst Mike Fratello.
I've added two more cents. Five more, really.
Without further ado...
1) The X-Mas Day game saw the Lakers struggle with the Cavs' length and size inside, which led to inevitable talk about the purple and gold not being "able to handle" physical teams. Such jabber strikes me as a mite reactionary, but it's true the
Shaq-Big Z-Andy Varejao
combination provided fits. If you think back to last season's wins over Cleveland and Boston, victories against the league's vaunted bullies on the block (metaphorically and on the actual low block), the Lakers didn't just take every blow administered. They delivered hits, and in particular, the first punches. If you know a rough and tumble match awaits, you might as well set the tone from the outset. The Lakers are undoubtedly a finesse team by nature and style, but are perfectly capable of getting down and dirty. Let the Cavs react to your punishment, not the other way around.
January, 21, 2010
1/21/10
8:57
AM PT
Just got word via Dave McMenamin of ESPN Los Angeles, who is
in Cleveland for tonight's big game.
Mo Williams
, starting PG for the
LeBrons
, won't suit up in the X-Mas day rematch thanks to a right shoulder sprain suffered in
Cleveland's win over Toronto Tuesday night
.
It's a major loss for the Cavs, since Williams takes pressure off James in any number of ways, from scoring (almost 17 points a game) to distributing (5.1 apg). He's a 43% three point shooter, as well. Without Williams available to help handle the ball, expect to see extended PT for
Delonte West
and
Boobie Gibson
, as well as James with the rock in his hands more than his normal "lots."
December, 26, 2009
12/26/09
11:45
AM PT
I can easily imagine what y'all thought in reaction to the 102-87 loss to the Cleveland Cavaliers -- but probably can't print it. But here are some reactions that are "safe for work," as the parlance goes.
As I noted
in my postgame analysis
, the bad qualities exhibited during this loss were of a "laundry list" variety, but the one that grabbed my attention most was the Lakers' inability to remain composed as things went sideways. It reminded me of the 2008 version of the Lakers, a very good team nonetheless vulnerable to letting the refs get inside their melons. This observation
wasn't lost on the O.C. Register's Kevin Ding, either:
.
On the holiday road, at least, the Cavaliers had far greater maturity than the champs, who we should remember also had an annoying habit two years ago of whining to the refs instead of making their own justice. "You make your own way in this game, usually," Phil Jackson said after this loss. How is that way made? "Determined play and outright work," Jackson said, "and things start changing in your favor."The Lakers on Christmas instead took the viewpoint that the refs were being Scrooges. And so before anyone could yell, "Bah! Humbug!" there were Kobe foam puppet-finger souvenirs falling to the court in protest (Kobe said at least it was good that the giveaways were foam and wouldn't hurt upon landing on anyone) and the Lakers had been humbled. And it's important that they are humbled instead of strutting past this defeat, which brought them back to a 2007-08 place they should be vowing never to revisit.

December, 25, 2009
12/25/09
10:34
AM PT
The marquee reads
Bryant vs. James.
Reality paints a different picture. Kobe and LBJ may be the two best players on God's green, but with
Ron Artest
in purple and gold, the pair are likely to spend only minimal time actually versus-ing each other. However, there are key matchups o'plenty between the rest of the participants, any one of which could tip the game.
Here are five to watch:
1) Shaquille O'Neal vs. Andrew Bynum:
Shaq is 38 years old and a shell (shell-adjacent at best) of his former Diesel self. Or even the Diesel that PER-ed his way to a 22.3 rating last year in Phoenix (through Wednesday, it was 15.2). He's struggled to fit in with the Cavs on both sides of the floor. Via
82Games.com
, Cavs are 9.4 points
worse
with Shaq on the floor. That doesn't mean O'Neal doesn't have value. In some ways, he's the NBA version now of a lefty sinkerball specialist, one of those guys who plays until the age of 47 throwing 14 innings a year, all in thirds. Shaq wasn't brought in to beat the Indiana's and Toronto's of the world, but for specific situations- to limit
Dwight Howard
in Orlando and to counteract LA's size in the paint.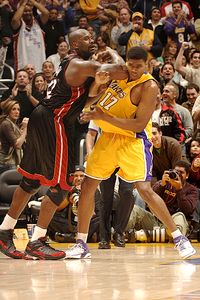 Andrew D. Bernstein/NBAE via Getty Images
Remember when these two squared off during Bynum's rookie year?
For Bynum, it's a high profile (to say the least) chance to apply the ol' shock paddles to a flagging December, revive an All-Star bid, and silence some critical voices... at least until tomorrow's game in Sacramento. We should know early how things will play out. Bynum told me after
Tuesday's win
he feels a game's first six minutes are crucial for him to find his rhythm and energy. I anticipate a lot of early contact and aggressive offensive play as both pivots jostle for advantage (and to create early foul trouble for the other).
Bottom line, O'Neal was
effective against Howard last month,
but if Bynum beats him up here, it'll cast more doubt on
Danny Ferry's
master plan.
December, 24, 2009
12/24/09
10:00
PM PT
By Andy and Brian Kamenetzky
ESPNLosAngeles.com
Archive
By now, most Christmas gifts are safely packed in the sleigh, Santa having received his requests and acted accordingly. But for some girls and boys, they can't find out if ol' Kris Kringle will truly deliver their goodies until the Lakers and Cavs tip off Christmas Day. A well placed elf from the workshop's Department of Correspondence, speaking on the condition of anonymity because he is not authorized to comment on such matters, says this year his office was flooded with roundball related pleas.
"HQ was busting with letters, quite frankly," he said. "The outcome of Friday's game could very well depend on which of these rugrats was naughty or nice."
The following is a sampling of letters sent to Santa regarding the game.
(Note: ESPN North Pole contributed to this report)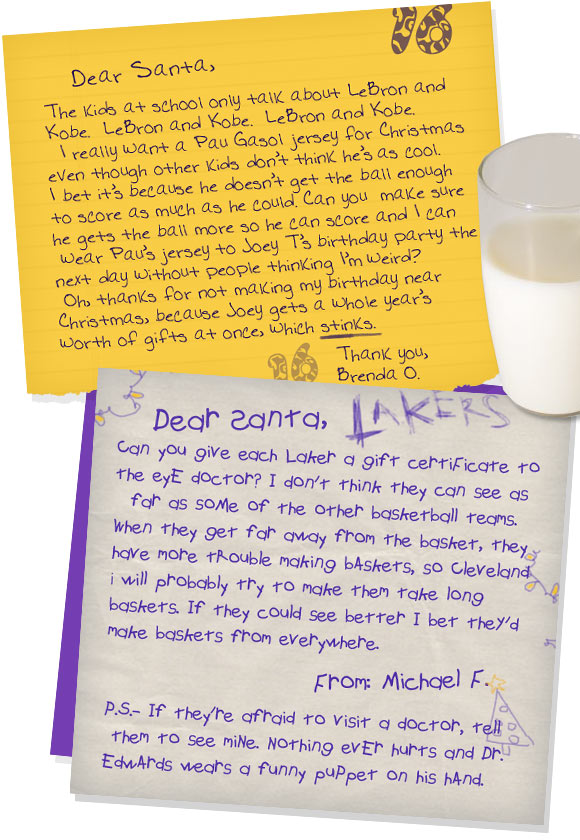 December, 24, 2009
12/24/09
5:34
PM PT
Because you can never look at a game from too many angles, I tracked down some insight from
Cavs Blog
scribe
John Krolik
of the True Hoop network. Kid's still in college and something of a genius, and BK and I like to think we discovered him back in the day when we were running a now-defunct local sports site. We really didn't, but it's a great story that makes us come off like seers. Anyway, I threw five questions his way regarding the Cavs and the holiday matchup. Give what he's saying a whirl and see what you think.
1) You were on record as critical of the Shaq deal when it happened, if memory serves. As we speak, how do you think Shaq's fitting in? Has Mike Brown discovered more ways of using him or do you picture his minutes/ production continuing to drop and Brown mixing and matching front court lineup?
John Krolik: I'm not sure if my initial reaction to the Shaq deal could be called "critical," but I'd say I was skeptical from the beginning of how he'd fit in with the existing pieces on the team, especially Anderson Varejao and Zydrunas Ilgauskas. Since the Cavs gave up almost nothing for him (or so it appeared at the time, as most assumed Ben Wallace would never come all the way back from the injury he sustained mid-season), and had the core of a 66-win team still intact, my assumption was that Shaq was a guy who could potentially make the team better and be safely discarded if he didn't work out. You can judge for yourself what my reactions were to Shaq before the season (why pretend I have secrets?), but here's me being (I think) cautiously optimistic about the acquisition when it happened and cautiously pessimistic about the prospect of Shaq starting about a month later.
(AK's note: After reading John's original thoughts on the Shaq trade, he's right, not nearly as pessimistic as I recall. I guess I was mixing up Krolik with someone different who thought that deal didn't really help short or long-term. Me.)