Los Angeles Lakers:

Dennis Rodman
December, 26, 2011
12/26/11
9:58
AM PT

By Arash Markazi
ESPNLosAngeles.com
Archive
LOS ANGELES -- When Kobe Bryant's last-second, game-winning jumper in the paint was blocked by
Luol Deng
, there was no flailing, no complaining and no blank stares at his bare hands.
As soon as the buzzer sounded, Bryant looked at
Derek Fisher
then quietly walked off the court.
This will be a different season that will require different responses to heartbreaking losses, and no one knows that better than Bryant and Fisher.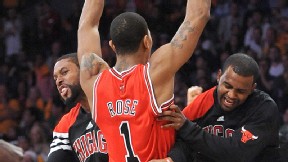 Jayne Kamin-Oncea/US PresswireThe Bulls and Derrick Rose snatched a victory right out of the Lakers' palms.
The only players on the
Los Angeles Lakers
who have played in a lockout-shortened season are Bryant and Fisher, and they are the only ones who know what the team's dreaded back-to-back-to-back games to start the season will feel like.
Four hours after Bryant's missed shot gave the
Chicago Bulls
an 88-87 win to start the season on Christmas Day, the Lakers were scheduled to board a chartered flight to Sacramento to play the Kings on Monday night. Immediately after that game, they will board a chartered flight back to Los Angeles to play the
Utah Jazz
on Tuesday night.
If the Lakers' players missed basketball during the lockout, they will certainly get their fill over the first 72 hours of the season.
When the Lakers left the locker room after the loss, there were no messages about the game or words of advice for tomorrow, just a travel reminder.
"9:00 FLT"
Bryant had to pause when he was asked to recall the last time he played a back-to-back-to-back series.
"I really don't remember much," he said. "I was like 19 so I don't even know if I was tired or not. We had one in Vancouver and the next day Kurt [Rambis] lost his job. It was a mess. It was a mess. That's all I remember."
Actually, Bryant was 20, and it was Del Harris who lost his job. It was Rambis who replaced Harris after the Lakers started the season 6-6.
"Whoever," Bryant said. "One of them."
August, 12, 2011
8/12/11
10:22
AM PT

By Andy Kamenetzky
ESPNLosAngeles.com
Archive
On Friday, the Basketball Hall of Fame will induct its 2011 class.
Among those honored will be
Tex Winter,
best known as the longtime assistant coach to
Phil Jackson
, and
the architect of what became known as the triangle offense
. In addition to shaping a system at the center of 11 championships for the Bulls and Lakers, Winter also enjoyed success as a head coach
in the college ranks, most notably with Kansas State University
. (Similar to coaches in the era of PJ's Bulls and Lakers, Winter had the unfortunate luck of running into
Wilt Chamberlain
at Kansas and the
John Wooden
dynasties.)
PODCAST
Andy talks with basketball historian Roland Lazenby about newly inducted Hall of Fame member Tex Winter, his relationship with Phil Jackson, Kobe Bryant and Dennis Rodman, and the current state of the Lakers.

Podcast

In the eyes of seemingly everyone -- save the HOF voters, of course -- a spot in Springfield has been a given for
the former USC player
. Nonetheless, Winter has endured a painfully long wait. Thankfully, the honor has arrived in time for Tex, in poor health, to enjoy the ceremony in person.
For more perspective on Winter's career, I spoke with
basketball historian and author Roland Lazenby
. A longtime friend of Winter's, Lazenby shared thoughts on Tex's innovative nature, his relationships with Jackson,
Kobe Bryant
, and fellow 2011 class member
Dennis Rodman
, plus his take on the current state of the Lakers.
The entire interview can be heard by clicking the box to the right, but here are some choice quotes:
On the roots of Tex's and Phil's relationship and why it flourished
:
"It was a series of things. First of all, Phil's great mind. The fact that Tex is everybody's uncle. That he has a tremendous enthusiasm for the game. It's boundless. That may be his greatest gift. And then the third thing, they were brought together to coach the Bulls summer league team. Tex had first become alerted to Phil even before they coached that team when Phil came in as this guy who'd been an NBA player. He'd been in the CBA. Phil had to do the advanced scouting. Tex was blown away and this takes a lot, because Tex is really hard to impress. Phil would come back with these
incredibly
detailed scouting reports. They were immaculate.
"And then as Tex got to know him, they coached together, he began to see that Phil possessed this total recall. I mean, the guy could remember all kinds of things. It was just unbelievable. Tex told me that Phil had total recall virtually on every moment of his career. Playing and coaching.
"They had this symbiotic relationship. Their personalities are very different. Tex is this very willful, excitable person who is just so obsessed with his offense. And Phil was just this very bright guy who could process everything. Tex, having had years in college coaching, had this ability to jump in and confront players and say, 'No, you're not doing this right!' L.A. fans are very aware of Tex's clashes with
Shaq
because Tex wanted everything so precise and that just wasn't Shaq's nature. So they formed this relationship where Tex was the teacher. For years together, Tex was teaching Phil. Breaking down game film for him. Organizing his practices for him. Doing all these things. And then confronting the players when they needed to be corrected. He did a lot of that. More of that in the early years than in the later years, of course."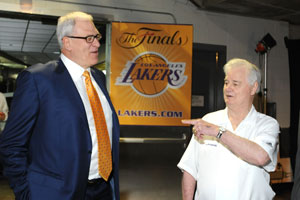 Andrew D. Bernstein/NBAE/Getty Images
No, you da man, Tex.
On the sometimes complicated nature of the relationship
:
"It grew more complicated once Phil got to Los Angeles. He really became a popular culture figure in Los Angeles and a lot of people worshiped him. And Phil changed a bit . . . I think Tex for a while was worried that Phil was trying to sort of mute the influence Tex had on him. I think Phil has been very generous in a lot of ways, but there's no question. It's not like it's all about Tex or it's all about Phil. It was just a perfect meeting of some very special minds and some very special people. This is just about all of them getting their due."
On Kobe Bryant's longstanding admiration for Winter
:
"I was rebounding some free throws for Kobe. He was there with those Lakers teams with
Del Harris
. He was a lost and lonely puppy and he told me he'd always dreamed of having Tex Winter as his coach. Not Phil Jackson. Kobe told me Tex Winter. He knew that he was bound for greatness. As he told me, he didn't know how he was gonna get there, but he knew that having Tex as his Yoda, as Kobe likes to call him, was the key. He wanted Tex's phone number. Tex was an assistant coach for the Bulls.
Tex called Kobe and he said, 'You know, all of your concern about the lack of organization with the Lakers is dead on. Yes, everybody is giving you this grief and you're impulsive, you're a young guy. But you really do have to have a system of play to sort out this modern NBA environment where the defenses are so physical. The defenses clearly for a number of years got the upper hand in the NBA."