Los Angeles Lakers:

depth
October, 23, 2013
10/23/13
12:02
AM PT

By Dave McMenamin
ESPNLosAngeles.com
Archive
LOS ANGELES --
Kobe Bryant
's absence from the court is immeasurable when it comes to the total package of the will and mental toughness he brings to the equation, but two tangible statistics help tell the story of his void that the
Los Angeles Lakers
are trying to fill: 38.6 minutes and 20.4 shot attempts per game. Those were Bryant's averages last season.
Nick Young
has had no problem volunteering for the extra shot attempts, leading the Lakers with 80 shots through their first seven preseason games (18 more than the next closest Laker in
Pau Gasol
), but he also has spent most of his time playing small forward. And that's still only 11.4 shots per game for Young, about half of Bryant's total.
[+] Enlarge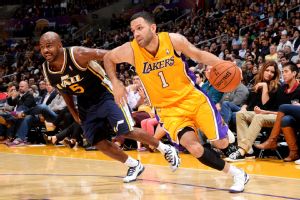 Andrew D. Bernstein/NBAE/Getty ImagesJordan Farmar says of the Lakers' deep roster and player rotation: "Everybody here is on the same page."
As for Bryant's minutes, will Lakers coach Mike D'Antoni simply spread them out to the rest of the roster?
"Yeah," D'Antoni said after L.A.'s 108-94 win over the
Utah Jazz
on Tuesday night at Staples Center, their best showing of the preseason. "Unless somebody grabs it. That could happen. We'll just keep monitoring things. There's a lot of guys that deserve to play."
Just how many guys will actually play consistently is up in the air, but even when Bryant returns -- and especially when Bryant is out -- the Lakers look to be playing with a deep, deep bench.
How deep? D'Antoni said over the summer he would try to employ an 11-man rotation. When reminded of that statement this week, he said that 10 is more likely, although when Bryant is back in the mix there would be 11 players deserving once again.
D'Antoni also has unexpectedly had to dole out about 15 minutes per game from
Steve Nash
's minutes, as the 39-year-old point guard has been limited by injuries all preseason, the latest being discomfort in his neck keeping him out of the second half.
On Tuesday, D'Antoni gave 10 players 15 minutes or more of playing time and it paid off, as L.A.'s bench produced 74 points, including four players in double digits in
Jordan Farmar
(20 points),
Jodie Meeks
(15),
Wesley Johnson
(14) and
Jordan Hill
(10).
D'Antoni is going out of his comfort zone a bit as he has kept a short bench in the past (the Lakers basically played only eight guys as they made their playoff push a season ago), but the coach has his reasons. He said that the dropoff between the eighth guy and the ninth guy on those previous teams was precipitous, whereas on this season's Lakers, he has legitimate horses in his stable.
January, 9, 2012
1/09/12
9:32
AM PT

By Brian Kamenetzky
ESPNLosAngeles.com
Archive
First things first: It's pronounced Gowd-lock.
"Goude" (rhymes with loud) "lock" (as pad, combination, or stone cold). It's really not that hard, and even understanding he's a rookie second-rounder from a little school, it's still a little mystifying nobody can get it right.
Mike Brown
tends toward Goo-dlock, but fluctuates among about 13 different pronunciations. I've heard it six ways to Sunday on television and radio, and even
Lawrence Tanter,
the NBA's best P.A. guy by leaps and bounds, can't quite settle on a delivery.
But according to a source close to the situation authorized to speak on the record (
Andrew Goudelock
), the correct one is described above.
It's worth committing to memory, because Goudelock, who saw a few minutes at the top of the season, might be getting a little more floor time over the next few games. The departure of
Shannon Brown
to Phoenix left the Lakers without any true backup to
Kobe Bryant
at the 2-guard spot. During camp, Mike Brown
expressed confidence it could be filled with the guys on the roster
(what else would he say?), and started veteran small forward
Jason Kapono
in the second preseason game while Kobe nursed his wrist injury. I was skeptical then, and with cause. It hasn't worked. The bench, inconsistent in most games and only more so with the diminished play of
Metta World Peace
, has suffered without the expected skill set a real guard brings.
"Offensively with the second unit, we haven't been able to play the way the way that I thought we would," Brown said. "I just felt the last couple of games I just wanted a guy that could go do something off the dribble."
Someone, anyone.