Los Angeles Lakers:

Derrick Rose
January, 20, 2014
Jan 20
7:32
PM PT

By Nick Friedell
ESPNLosAngeles.com
Archive
CHICAGO --
Kobe Bryant
is hoping to speak with
Derrick Rose
on Monday night as both former MVPs make their way back from knee injuries. The
Los Angeles Lakers
star made that clear before Monday's game against the
Chicago Bulls
.
"I haven't had a chance to talk [to him]," Bryant said of Rose. "I don't know if he's going to be here tonight or not. If he is I'm sure I'll catch up with him at some point. But there's really nothing much you can do about it. It is what it is. It's unfortunate, but you have two options: One is to lay down and not do anything about it and the second is to get up and get to work. I think the second one is more appealing to him for sure."
Aside from the two players' shared pain of dealing with injuries, Bryant's other tie to the Bulls is that he worked out with Bulls coach Tom Thibodeau back when he was in high school in the Philadelphia area and Thibodeau was an assistant with the
Philadelphia 76ers
. He isn't sure how much Thibodeau has changed over the years.
"I don't know if he's changed much," Bryant said. "I haven't been in a locker room with or been on the practice floor to see him. I can only remember what he was like when he was working me out and I was at the practices and stuff like that. He was really, really intense. I don't know if he's scaled back much at all."
For Thibodeau, the respect for Bryant is still evident each time he speaks about their shared past.
"Just his drive, the way he studied the game," Thibodeau said of his time with a young Bryant. "You could see the talent. It was a high school guy playing -- he'd play with the college players then he'd play with the pros. He was in the gym all day. I think because of his dad having been a pro, he was exposed to the pro game from a very early age. But his will and determination to be great and never satisfied, he had that in him from the beginning.
"Even now you still see the way he approaches things. He's gone through the early years in his career and wasn't satisfied. And then the middle and now he's getting towards the end, and just great will to win. Very intelligent, very driven, and those type of guys, they're always going to be great. I'm sure this is a challenge for him to overcome, but everything he's faced he's always had the ability to get past it."
Bryant still cherishes the time he spent with Thibodeau as he was growing up.
"Just wanting to get better," Bryant said. "I had a good time. It was fun. He put me through way more defensive drills than he did offensive drills. It was fun, though."
April, 30, 2012
4/30/12
5:09
PM PT

By Dave McMenamin
ESPNLosAngeles.com
Archive


The opening weekend of the 2012 NBA playoffs featured two games with dramatic fourth quarter results that got the rest of league's attention.

On Saturday, Chicago Bulls guard Derrick Rose tore the ACL in his left knee when he was still on the court in the fourth quarter even though the Bulls led the Philadelphia 76ers by 12 with just 1:22 remaining.

On Sunday, the Los Angeles Clippers trailed by as many as 27 points in the second half and came back to beat the Memphis Grizzlies with a furious rally in the fourth quarter.

Chicago coach Tom Thibodeau, the NBA's reigning Coach of the Year, was left to defend his decision to keep Rose and the rest of his starters in the game. Just a day later, Clippers coach Vinny Del Negro continued to play his best players late in the game even though his team entered the fourth quarter down by 21 points.


December, 25, 2011
12/25/11
6:30
PM PT
Today's show, which picks up after the camera accidentally fell off a stand, and before that a weird stretch where people could hear me, but not see me. But that back story aside, it theoretically provides some decent information. Plus, me in a suit, which is always visually pleasing. (#EyeCandy)
I'll be adding postgame videos as soon they're ready, but for the time being, enjoy this show!
December, 25, 2011
12/25/11
5:32
PM PT
The Los Angeles Lakers have filled their fair share of Christmas stockings with grimy lumps of coal over the past few seasons, but Sunday's loss might have been the most painful. With their star nursing a significant injury and one member of their big three at home thanks to suspension, the Lakers put in a gritty, determined effort against the Chicago Bulls and the reigning MVP,
Derrick Rose
.
They looked awfully nice before things turned naughty at the end. Here are five takeaways. ...
1. The Lakers shot themselves in the foot, then shot themselves in the other foot, then grew two more feet and shot themselves in those, too.
This was a game the Lakers should have won. They had it won. They deserved to win it, playing without
Andrew Bynum
and putting on a generally brilliant defensive performance in the second half, including a third quarter in which they held Chicago to 5-of-24 from the floor and only 12 points. The Bulls scored only 32 points over the final 24 minutes, and finished the game at a hair over 40 percent shooting after going into the break at 58.5. The Lakers led by nine with four minutes to play, and six with 54 seconds remaining after
Kobe Bryant
hit a brilliant, spinning, driving jumper just off the left side of the lane.
But refusing to bow to victory, the Lakers also:
Missed four key free throws down the stretch (two from Pau Gasol, two from Josh McRoberts).
Saw Gasol commit a very bad and-one on Luol Deng inside, giving the Bulls an old fashioned 3-point play.
Suffered a bad foul from Kobe in the Bulls' backcourt, allowing Deng to shave two more points off L.A.'s lead without running any clock or having to take a shot.
Turned the ball over with a one-point lead, giving the Bulls a chance to win. (Kobe threw it away, but didn't get much help from his mates in the face of heavy pressure.)
Couldn't get a shot off in the final seconds, as Kobe dribbled into three Bulls, and saw his shot blocked.
These are mistakes that can't happen, particularly when two of the offending parties are the team's stars, and as a result what looked like a day of optimism turned sour. It also completely changed the complexion of a game otherwise showing a lot to like.
Such as ...
2. The Lakers have young players with poise.
On a Christmas Day game featured for a national audience, at small forward the Lakers gave a second-year player who averaged less than six minutes a game last season his first career start (
Devin Ebanks
), and used the 46th pick in last year's draft as Kobe Bryant's backup (
Andrew Goudelock
). This is some serious responsibility, and to their credit, neither did what
many of you thought they were going to do, which is to flip out
. Instead, they showed some serious poise, and made important contributions.
December, 25, 2011
12/25/11
12:59
AM PT
Christmas Day fast approaches, along with a regular-season opener against the Chicago Bulls. It's a challenging way for the Lakers to tip off the 2011-12 campaign, as the visitors offer a plethora of questions. How will the Lakers slow down reigning MVP
Derrick Rose
? Will
Joakim Noah
be able to annoy
Pau Gasol
out of rhythm? Can
Devin Ebanks
, in his first career start, hang with the multiskilled
Luol Deng
? Will
Tom Thibodeau's
defensive schemes bottle up
Kobe Bryant
? Will
Carlos Boozer
actually
play defense
?
With so much wonder in the air, it felt like high time to hit up our buddy
Nick Friedell
from ESPN Chicago for some thoughts on the Bulls. And since Nick has incredible taste, he naturally wanted my insight on the Lakers. Blog exchange time! First, Nick supplies responses to my question about the Bulls, then the process is reversed.
Andy Kamenetzky: What steps does Rose need to take, on the court and mentally, for the Bulls to reach the Finals or beyond? Is he ready? And how much do you expect the new contract, playing as more of a marked man, etc., to affect him?
Nick Friedell:
Rose is ready to lead the Bulls to a championship. He's learned from his mistakes against the Miami Heat in the Eastern Conference finals last season, and he badly wants to lead his hometown team to its seventh title. He spent a lot of time watching tape of what happened against Miami, and turned all the disappointment and frustration from that loss into fuel to work even harder in the summer.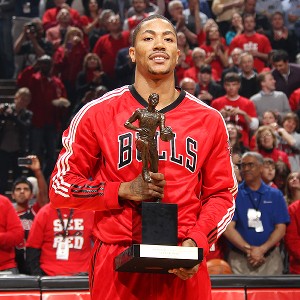 Nathaniel S. Butler/NBAE via Getty Images
Even with an MVP trophy to his name, Rose is ready to discover another level.
As far as the contract goes, I don't think it will affect him much at all. I don't completely believe him when he says he feels zero pressure because of the new deal, but I understand what he's saying in this sense -- nobody puts more pressure on himself to win than Rose. Nobody wants to win more than he does in Chicago. His pressure comes from within. I think he embraces the status that comes with being a "marked man" in the league.
AK: What does Richard Hamilton bring for this team, and how well do you see him fitting? How big an acquisition could he potentially be?
NF: It could be huge. Hamilton gives the Bulls a championship-caliber shooting guard, something they didn't have last season. After all, Keith Bogans started and played 15 to 20 minutes per game for the Bulls in 2010-11. Hamilton seems to have fit in with his new teammates quickly and undoubtedly will take some pressure off Rose. The issue, as it is for everybody, is whether at 33 (going on 34 in February) he can stay healthy and produce all season. If he can, and he plays solid defense, he could be the missing piece.


AK: Where are the Bulls most vulnerable as team, particularly against the Lakers? And "nowhere," by the way, is an acceptable answer.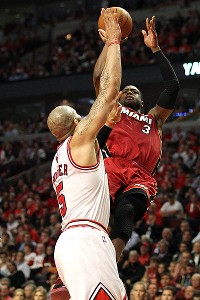 Jonathan Daniel/Getty Images
A betting man would wager money on "Flash" getting the better end of this sequence.
NF:
It would be easy, especially without
Andrew Bynum
on the floor Sunday, to say nowhere. But the Bulls still have Boozer on the floor, and Boozer is still a bad defender. Thibodeau always says the Bulls play a team defense, and that's true to a certain extent, but Boozer is the weak link. The Lakers should look to exploit him at that end any way they can.
AK: Which matchup are you most curious to see Sunday?
NF:
I want to see how Noah performs without Bynum down low. Will the Bulls try to feed him the ball even more because of that absence? How much time will Gasol get on him? What about
Troy Murphy
? Either way, that should give Boozer more freedom to operate as well. Noah needs to show some improvement in his offensive game, and this would be the perfect opportunity for him to do it.
AK: Who wins and why?
NF:
The Bulls. Rose and Noah have been looking forward to this game all summer. They want to win this game on a national stage and show everyone they weren't a fluke last season. Plus, without Bynum, it's going to be tough for the Lakers to score.
And now, the Lakers-centric section ...
September, 5, 2011
9/05/11
2:00
PM PT
By The Kamenetzky Brothers
ESPNLosAngeles.com
Archive
July, 5, 2011
7/05/11
5:44
PM PT
Tuesday morning on ESPN's First Take, one topic debated by
Skip Bayless
and
Jemele Hill
was
the barnstorming tour potentially spearheaded by Kobe Bryant and his agent Rob Pelinka
. The plan, as
first reported by the L.A. Times
, would involve The Mamba and several other Pelinka clients playing a few exhibition games in China, presumably inside the Mercedes-Benz Arena in Shanghai. (A
double marketing
opportunity
for L.A.'s
favorite art thief crime-buster
!)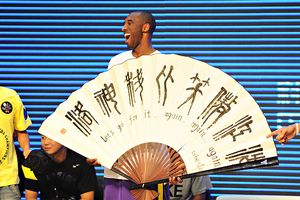 China Photos/Getty Images
Kobe has big fans in China, literally and figuratively.
Hill and Bayless both took issue with this plan for reasons ranging from the consideration owed to each player's NBA team to the "money grab" element to, very specifically to Kobe, the physical risks. On all counts, I think the panelists are overreacting.
Beyond rookies like
Derrick Williams
who've yet to get paid, I don't think this tour is as much about players making a buck as reminding owners of alternate sources for coin. Whether this truly puts pressure on
Jerry Buss
and his brethren is debatable -- the money involved can't possibly compete with an NBA paycheck -- but a point of sorts is being made. I understand where people might deem this behavior (at best) greedy or (at worst) irresponsible, but it's no worse than owners essentially asking players to offset entirely the damage from their own poor decisions and a recession. Neither party is above criticism in this CBA battle.
As for (in my mind) the bigger issue, I understand concerns about Kobe's health, given he's got enough preexisting conditions to get denied health care in the "Obamacare" age. We're talking bad knee, bad ankle, bad hand, and the mileage equivalent of nearly 19 NBA campaigns when you combine the regular and postseason. I've been screaming for Kobe to err on the side of caution when it comes to playing through regular season injuries. I've also expressed
doubts about the likelihood of Bryant remaining healthy or quite as effective a player moving forward.
He undoubtedly needs an offseason to recharge the batteries, and hardcore basketball theoretically runs counter to this goal.
On the other hand, does anybody really expect these barnstorming sessions to be particularly taxing? It would be one thing if Bryant was reenlisting for another Team USA stint. That's serious basketball, more rigorous than he needs right now, particularly with a gold medal already in hand. However, these are exhibition matches, as in "pure entertainment with no real stakes attached." The roundball equivalent of
what Apollo Creed's camp envisioned when they arranged to box Ivan Drago
. (Yes, that dog and pony show went horribly wrong, but only because the Russian had an agenda.)
Basically, I'm picturing a series of All-Star games, which are hardly a source of blood, sweat and tears. Occasionally guys get competitive during the last five minutes of a close game when pride sets in. But over the preceding 43, it's all about irresponsible shots, non-existent defense and half-speed showboating. Obviously, there have been exceptions, like when Kobe played what was likely his last All-Star game in L.A dead set on snagging MVP honors (
not that there's anything wrong with that.
) But even acknowledging the mutual love between Kobe and China -- he's referred to the country as "a home away from home" -- I can't imagine the feeling is so strong he'd go bananas in a venue that does nothing tangible for his legacy.
At the end of the day, these "games," staged in a controlled atmosphere, are similar to what Bryant would have likely participated in at some point anyway. An offseason of rest, no matter how concerted, typically involves some form of basketball. Bryant isn't going to ride a stationary bike or put up jumpers for an hour each day, then lay around on the couch "resting." It's important he maintains some semblance of rhythm, particularly if the offseason grows unfortunately stretched out. Assuming he handles the situation responsibly, a caveat applicable to any exercise this summer, I think this tour qualifies as "no harm, no foul."
December, 10, 2010
12/10/10
7:40
PM PT
Of the six games on their 10 day jaunt across America, Friday's visit to Chicago was easily the most difficult, at least on paper. The Bulls are an upper level team now finally at full strength, tough defensively, and sport a potential MVP candidate in Derrick Rose.

It would have been nice to see the Lakers step up and take care of a quality opponent on the road, something they haven't done much of this year.

Here's how it broke down.

Three Up:

1. Pau Gasol. In my game preview, I noted the difficulty Gasol had against Joakim Noah, Taj Gibson, and the rest of Chicago's frontcourt when the Bulls visited Staples in November, and wondered if something similar was in store tonight. Especially since it seemed unlikely he'd get any relief from what has become an all-too-typical heavy workload. Instead, Gasol played like the All Star he is, making six of his first nine shots during the first quarter, and finishing with 21, along with eight boards, four assists, and, importantly, four blocks.

All of this in 45:03 of playing time against the hyperactive Noah, a strong defender and relentless rebounder. Too often the Lakers got away from him, but as it is on most nights, that wasn't entirely his fault.

2. Kobe Bryant. There were moments he allowed Tom Thibodeau's defense to load up against him, too quickly settling for an isolation on the wing, or even in the post instead of allowing the play to develop, forcing the Bulls to rotate with the ball. The efficiency wasn't anything to write home about (23 points on 23 shots) but he did a good job moving the ball (seven assists) and didn't force too many shots. I just wish, given how effective he was later in trips after cycling through the offense and catching off screens and good ball movement, he didn't burn so many trips on isos, even when he made the right read (which was most of the time) and got the rock where it needed to be.

3. Defense. The 30 point third quarter Chicago posted stings a little, but over the three remaining periods the Bulls managed only 58 points, including 12 in the first and 22 in the fourth. The Lakers held Chicago to 41 percent from the floor, had 13 steals among the 20 turnovers they forced, and blocked 10 shots. They ended scads of the home team's trips before giving up a shot, and gave themselves plenty of opportunities to capitalize on the other end, generating 20 points off Chicago's giveaways. They kept Chicago out of the paint for the most part (30 points, vs. 52 inside for L.A.), and while some of Chicago's stars had good nights- Rose finished with 29 points, nine assists, and Luol Deng had a very efficient 14 on six-for-eight shooting- the Lakers didn't lose the game on that side of the floor.

When the Lakers hold the opposition to 88 points, they should win.

Honorable Mention: Matt Barnes. 10 points, seven boards, a pair of steals, and a block in over 24 minutes of burn. Barnes showed his value in any number of ways for the Lakers, but on a night where the Lakers had trouble generating any flow, his ability to crash the glass and create chances for "cheap" points was invaluable. Barnes clearly made an impact on the proceedings, even if ultimately it didn't earn the Lakers a win. Lamar Odom was also solid over his 35 minutes, hitting seven of 12 for 18 points, adding eight rebounds, three assists, and two blocks. Four turnovers hurt, but at the end of the night the production was solid.


November, 23, 2010
11/23/10
11:14
PM PT
By The Kamenetzky Brothers
ESPNLosAngeles.com
Archive
In our humble opinions, the most entertaining game of the season for the Lakers. Tough opponent, tight game, plenty of interesting subplots and storylines.
In the end, the Lakers win 98-91
, thanks to a strong fourth quarter, very solid defense, and three players (Kobe Bryant, Shannon Brown, and Lamar Odom) cracking the 20 point barrier.
Among the topics for tonight's show:
A discussion on whether or not the moments Derrick Rose dominated play are a function of his skill, deficiencies in L.A.'s defense, or a combination of the two.
On a night he posted numbers very modest by his standards, Bryant was a dominant figure Tuesday night, particularly in the second half.
Brown. Stop us if you've heard this before... but the guy is having a great year and definitely turning heads.
Once again, the quality of the bench influences how Phil Jackson can deploy his players throughout a game, a luxury only growing larger once Andrew Bynum returns.
By the way, it looks like we're about to bore a hole through your skull with our focus, right? Those are some piercing stares.
More video below, including Kobe, Phil Jackson, and Pau Gasol.
November, 23, 2010
11/23/10
11:09
PM PT
A hot bed of action at Staples Center, as the Lakers survived a serious challenge from the up-and-coming Chicago Bulls. 98-91 when the smoke cleared, allowing Laker fans to exhale and drink in what was probably the most entertaining game of the young season. Seriously fun times, especially with the "W" included.
Three good

Kobe Bryant
Throughout my time covering the Lakers, I've made clear my pet peeve about how the word "aggressive" is applied to
Kobe Bryant's
play. Typically, "aggressive" is code for "taking over as a pure scorer come hell or high water with no exceptions," which drives me insane. It's such a narrow way to define putting a stamp on a game, as if setting up teammates and controlling the action on a string is somehow "passive." (When's the last time
Steve Nash
was referred to that way?) Tonight was a perfect example of how Kobe can match any on-court "assassin" step for step without putting up shots like a 21-year old kid at his first open bar.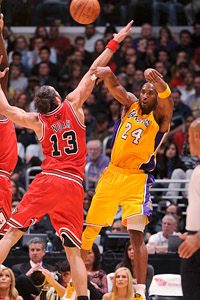 Andrew D. Bernstein/NBAE/Getty Images
Despite often working as a "facilitator," Kobe kept much of this game on a string.
20 points (12 in the first half) were notched a reasonable eighteen attempts. More often than not, he was backing various defenders down in the mid-post area, then turning around for the jumpers he makes look so easy. In the meantime, everyone else's offense was often orchestrated with Bryant as a starting point. Particularly during the second half, when he worked out of the high and mid-post and made a slew of fantastic reads when help defenders arrived. Five dimes won't turn heads, but that's only half the story. The NBA doesn't formally log hockey assists, but a few key baskets came as the result of Bryant making the initial pass, and everyone reacting from there. These extra passes became contagious, as
Matt Barnes, Steve Blake
and
Shannon Brow
n all took turns swinging the rock around.
If Kobe playing puppet-master like this qualifies as "unaggressive," sign me up for a sedated Mamba every day of the week. Dude was like an orchestra conductor, and it was a pleasure to watch.
The bench
During the first half, starters not named "Kobe" or "Bryant" struggled mightily from the field, combining to miss 15 of 19 shots. Still, intermission Gatorade and orange slices were enjoyed while nursing a two point lead. How did that happen? Because Brown went absolutely bananas. Six-of-nine from the field for 18 points, including four from downtown. His decision-making was also on point, highlighted best on a sequence where Blake nearly turned the ball over, but Shannon's head up awareness led to the ball scooped up, then taken it all the way to the rim with the clock running down.
Last year, he might have rushed the sequence, but this basket came under perfect control. As each game progresses, Shannon's evolving into a more complete player, his stated goal at the end of last season.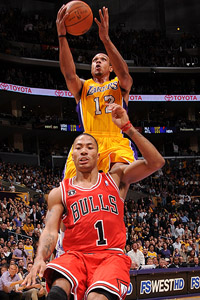 Andrew D. Bernstein/NBAE/Getty Images
Shannon elevated his game, literally and figuratively.
Brown's performance set a tone for a night owned by the "Killer B's," "Renegades" or whatever your preferred jargon for the second unit. Barnes entered the first half early after
Ron Artest
picked up two quick fouls and was all over the court, making good things happen on both sides of the ball. Blake was very quiet before halftime, but turned it on strong during the second half. A pair of critical treys were drained in the fourth quarter, and like his fellow reserves, the point guard did a terrific job moving the ball to the right spot on the floor.
It dawned on me just how well the bench was performing after I suddenly noticed in the closing minutes
Lamar Odom
had been sitting since the 8:48 mark. It certainly wasn't a punishment, because LO played quite well. 21 points and eight rebounds, plus a put back dunk over Turkish rookie
Omer Asik
so violent, I was worried about an impending international incident. LO is typically a key part of crunch time, and on any other night, floor time would be a given. But he was a spectator just like you and me, because the second unit was simply that good.
Fourth quarter D
The Lakers found a way to clamp down when it counted the most. The Bulls shot just 31 percent over the final 12 minutes, and
Derrick Rose
missed all four of his tries. Yes, Chicago got to the line 13 times, but the Lakers still did a considerably better job challenging shots throughout the final frame. Plus, the Bulls didn't convert, missing five of their freebies. You'll take that over easy buckets any day of the week.
November, 23, 2010
11/23/10
8:19
AM PT
The re-made Chicago Bulls have won four of their last five games after a sluggish start, led by high level play from
Derrick Rose
and
Joakim Noah
. For a Lakers team in need of a challenge, the Bulls are just that- strong defensively on the offensive glass, and featuring a red hot, top flight point guard able to both score and distribute.
PODCAST
ESPN Chicago's Nick Friedell breaks down this year's Chicago Bulls ahead of Tuesday's game" Podcast

Add in the natural ties between the two teams (
Phil Jackson's
history, the unavoidable
Jordan/Kobe
comparisons) and it should be a fun game. To get you ready, we spoke at length with
Bulls beat writer Nick Friedell of ESPN Chicago
.
PART I: Previewing the Bulls
We pepper Friedell with questions about Tuesday's opponent for the Lakers. Highlights include...
-
An overview of the Bulls as they come in
, fresh off a road win in Dallas Friday night. "The Bulls are feeling great right now. A lot of people weren't sure how they were going to perform without
Carlos Boozer
... but the Bulls are playing great, led by Rose."
-
Luol Deng
: "So many people can't separate the [big] contract from his [performance], but right now, he's playing fairly well. I can't underscore what a difference it has made being in Tom Thibodeau's system for Luol Deng... He's running the floor and cutting across screens more than I've ever seen him. A little like Rip Hamilton."
-
Keys to Rose's high performance.
Health is a major factor, as is natural improvement. Another factor- he has faith in Thibodeau, as do the rest of his teammates.
-
Turns out we weren't the last people to know
how to say Thibodeau. It's not "Tib-o-dow," but "Thib-o-dow." Even the Bulls staff had it wrong, months after they hired him.
-
How Chicagoans view Jackson,
now that he's achieved so much in L.A., as well. "He's the Bulls coach."
-
Worries the return of Boozer
, out all season with a bum hand, may not help all that much. Some even wonder if it'll hurt. Friedell notes, though, how Boozer's interior scoring is something the Bulls haven't seen in eons, and need.
PODCAST
Andy and Brian answer questions about the Lakers from ESPN Chicago's Nick Friedell" Podcast

Part II: Breaking down the Lakers
Friedell hits us with questions of his own...
-How big a threat is boredom
, really? Not much, in our minds, thanks in large part to the arrival of
Matt Barnes
and
Steve Blake
, helping energize the team early in the season.
-
Aside from injuries
, what might allow a Western Conference team to beat them? Obviously no team is unbeatable, but because of the team's versatility there's no team in a seven game series with clear advantages over them.
-
The impact of Barnes
, and how
Lamar Odom
is getting himself into the post far more this year than last, a key to his strong play.
PODCAST
ESPN Chicago's Nick Friedell breaks down this year's Chicago Bulls ahead of Tuesday's game" Podcast

-Nick's impression of the Lakers
, having seen them live for the first time this season on Sunday night. "They look different than anyone else, as far as I'm concerned." Plus, Thibodeau's contention Odom is the most underrated player in the league. High praise, for sure.
Part III: How does Chicago view Kobe Bryant?
-A pretty simple question
: With Kobe holding a legitimate chance to not only equal, but pass Jordan in the championship ring count before it's all over, how do Chicagoans view him?
November, 22, 2010
11/22/10
12:48
PM PT
After last week's relative ease, things could turn mite trickier for the Lakers. Nothing they can't necessarily handle, but definitely more complicated than a string against Milwaukee, Detroit, Minnesota and Golden State minus
David Lee
. The Lakers won games they're supposed to by all rights. This week may require a little more earning.
Game of the Week
Friday @ Utah Jazz, 6 p.m. PT
The Jazz have garnered much buzz these days for a string of come-from-behind wins. Five in succession, the final four on the road, battling double digit deficits at some point in every case. There was even an OT win in South Beach with
Deron Williams
fouled out. Clearly, this showing is proof of their resiliency and mental toughness. And as someone who's always questioned
Carlos Boozer's
heart but never his desire to build stats and get paid, I find the timing anything but coincidental.
No doubt the now-Bull is talented (on one side of the ball, if nothing else), but he's never struck as a player I'd want on my side with the chips down.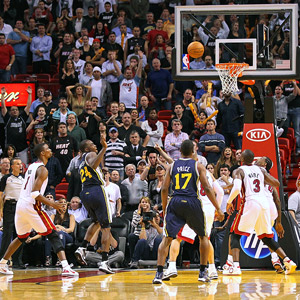 Mike Ehrmann/Getty Images
Paul Millsap came up huge against Miami, and has always challenged the Lakers.
Conversely, I think
Paul Millsap
taking over for Boozer makes gritty success this season no accident. Beyond his 20 points and nine rebounds per game, and beyond specifically his crunch time heroics during the Miami win, I think there's something infectious about an All-Star caliber player with a lunch-pail attitude. It reminds me of Kobe's effect on the Lakers, in that nobody lower in the food chain can lay claim to outworking him.
There's a reason the Jazz never appeared threatened by Boozer's last few seasons with one foot out the door, and paid a pretty penny to retain Millsap's services off the bench. On a few levels, the latter is an upgrade, and
Phil Jackson
recently noted how Millsap used to provide more fits than Boozer. If anything, they wish he stayed in Utah.
Interestingly though, the Jazz's typical mark while playing at the Energy Solutions Center hasn't been as strong. Admittedly, the season is young,
but they're only 3-3 at home
. Granted, losses against Phoenix, Oklahoma City and San Antonio aren't disgraceful, but nonetheless games you expect this home court advantage to carry. (Oddly enough, the Jazz have traditionally struggled on the road, but are 6-2 as we speak. Go figure.) The Salt Lake crowd is loud and nasty, and gets particularly fired up when the purple and gold (
and Derek Fisher, unfortunately
) come to town. It wouldn't surprise me if this energy goosed a strong home performance from the Jazz, so the Lakers better be on their toes.
July, 16, 2010
7/16/10
8:46
AM PT
Go ahead, call the hype surrounding the free agent summer of 2010 oppressive. Insufferable. Unendurable. Or any other appropriate word available at
Thesaurus.com
. Measured by the way it has reshaped the NBA, you'd have to call it monumental as well. The buildup was long, but the payoff has been legit.
Most the high profile action has centered around the Eastern Conference. There have been plenty of teams making moves, some rising (I read an article or two about happenings in south Florida, for example), some not. Of course, only one can ultimately come between the Lakers and a possible third straight title.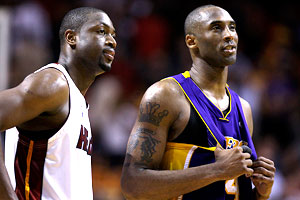 Harry How/Getty Images
For the last two seasons, preseason hype has centered around a potential Kobe/LeBron Finals. Now it's Kobe/Wade... and LeBron.
So which teams currently look dangerous?
The New Elephant in the Room
Miami Heat
LeBron James, Dwayne Wade
, and
Chris Bosh
constituted either an incredible foundation without much built on top or an incredible house without much of a foundation. Pick one. Point being, when it seemed like Miami's new triumvirate would be surrounded by
Mario Chalmers
and a gaggle of minimum wage vets and second rounders, predicting a title for next season was a little tricky. Mega-stars aside, this isn't
Hickory High, where running with four guys is inspirational
. They needed some dudes. But in the last several days, they've added
Mike Miller
and
Zydrunas Ilgauskas
, and re-signed the very valuable
Udonis Haslem
. Frankly, they're miles ahead of where I figured financial constraints would force them to be after inking the South Beach Three.
They'll still need to integrate a shocking amount of "new" into next season, but it's now likely Miami will have the requisite depth to win a title next season to go along with all the top shelf talent. L.A. seems to match up well, but then again, nobody's quite sure what the Heat will look like fully formed, or how they'll play on the floor.
A Finals matchup looks a lot more realistic now than it did the morning following the big TV spectacle. These guys could be scary.