Los Angeles Lakers:

Derrick Williams
February, 20, 2012
2/20/12
2:23
PM PT
Last week, in the wake of that day's rumor-du-jour (to Minnesota for
Derrick Williams
and stuff)
Pau Gasol
told me he'd
like some sort of resolution to the ongoing swap gossip
swirling around him. Following L.A.'s loss to the Suns on Sunday in Phoenix,
Kobe Bryant
laid into management, saying essentially the same thing.
Trade him or don't, but make a decision quickly
. Don't let Gasol, or the team, twist in the wind.
I suspect Kobe's comments won't do much beyond making Gasol's mental state an even bigger focus between now and the deadline.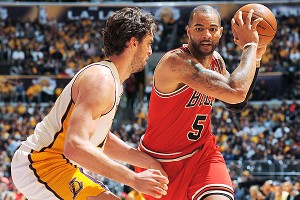 Andrew D. Bernstein/NBAE/Getty Images
Would you want to see these guys switch jerseys?

Pau is a tough guy to trade. On the one hand, even in a "down" year,
Gasol is averaging 16.8 points
, 10.7 rebounds, 3.1 assists and 1.3 blocks a game. Last night, he put up 17/12/6, and after people were concerned about circumstances sending his game downhill. He's very, very good, and has a skill set most teams covet. Far too good to give away for a box of saltines and 15 basketballs.
On the other hand, he's 31, carries a pricey contract and still has a little image rehab to do following the end of last season.
Still, if everyone wants a resolution and the Lakers, as Gasol believes, are simply waiting for the right offer, what could the deals look like? Below are a collection of Trade Machine-approved swaps, many reflecting some of the very rumors causing all this controversy in the first place.
(A couple of notes: First, for simplicity's sake, I stuck to two-team deals with at least some degree of viability. Second, I tried to keep each deal boiled down to the key figures. Again, a nod to simplicity, and the clarity of a deal's essential components. Experiment with them as you please to appease the gods of equity. Finally, inclusion of a scenario is not necessarily an endorsement.)
TRADE 1:
Lakers trade Gasol to Houston for Luis Scola, Kevin Martin and Goran Dragic.
It's the deal everyone made before, right, cutting those pesky league-owned killjoy Hornets out of the loop? No, not really. That swap worked well for L.A. because they got back
Chris Paul
in the process. Houston's package nets them a lesser replacement at power forward whose numbers this year are down, an explosive scorer in Martin who plays the same position as Kobe and a score-first prospect at the point who represents an improvement over what the Lakers have, because almost anyone does.
Maybe the Lakers can flip the components for something else, but unless you think the Lakers win by adding more depth -- I'm a believer that, generally speaking, in the NBA the team getting the best player wins the deal -- I don't think this improves them.
Adding
Kyle Lowry
changes the equation, but Houston isn't doing that.
TRADE 2:
Gasol to Chicago for Carlos Boozer and C.J. Watson
It would be interesting, because as worked up as the fan base can get over Gasol's perceived inadequacies few players have been more roundly mocked locally than Boozer, going back to his Utah days. Just about every criticism has been thrown his way, fairly or not. Offensively, the fit isn't bad. Boozer is skilled, and unlike Gasol doesn't pine for high-quality touches on the block, so he'd open things up for
Andrew Bynum
down low. On the other hand, except for rebounding, Boozer is an awful defender, and his short arms (for a 6-foot-9 guy) and earthbound game mean he alters very little inside (0.5 blocks per game). The Lakers would suffer defensively in the exchange. Plus, Boozer gets hurt all the time. Only three of his past seven seasons could be reasonably considered healthy, and he's owed a lot of money going forward.
The key would be Watson. Is he a starting-caliber PG who simply hasn't had the opportunity, or just a solid backup? I tend to believe the latter. For this trade to work, the Bulls would have to add sweetener. A package centered around
Luol Deng
might have appeal for the Lakers, but the metrics don't work as well for Chicago.
February, 16, 2012
2/16/12
10:01
PM PT
It's been a couple months since the failed mega deal that would have sent Pau Gasol to Houston, bringing
Chris Paul
to L.A. (wearing purple and gold, specifically) in return. But just because
David Stern
put the kibosh on that deal doesn't mean the end of Gasol-related rumors.
The newest point of chatter, via Chris Tomasson of FoxSports.com,
again fires up the Pau-to-The Great White North conversation
.
While he's worked proactively to set the rumors aside, Gasol told me today he
still senses the Lakers are are ready to move him once a good enough deal comes along
. "There's talks and rumors every day. Today I was reading it was Minnesota is really interested in trying to put a good package together," he said. "[Other teams are] calling, and it seems like things are just waiting for the right offer to come along for [the Lakers] to pull the trigger."
As he's done every time he's been asked since the failed CP3 deal, Gasol reiterated a desire to stay in L.A., but acknowledges "It's out of my hands... I'd like to make his team better and get back to a championship level, but it's not up to me." As it was in the immediate aftermath of the December non-deal when it appeared the Paul trade might be revived, Gasol said he just wished he knew one way or the other.
"It would give me some peace, or more peace," he said.
"Every day I tell myself, try to let it go. Don't think about it. Have fun, be the player you are out there. That's all that you can do."
At least as it relates to his on court performance, Gasol is effectively setting aside the off court stuff. While his shooting percentage is down (46.8 percent), over seven February games Gasol has produced 18.6 points, 14 rebounds, 3.0 assists, and 1.7 blocks a night. As for the rumor itself, the latest sends Pau to Minnesota in exchange for anything not named
Kevin Love
or
Ricky Rubio
. Almost certainly any package would be centered around
Derrick Williams
, the second pick in the 2011 NBA Draft, plus whatever else
Mitch Kupchak
and
Jim Buss
might want off
David Kahn's
roster, which while improving still has an Island of Misfit Toys feel after Love and Rubio.
Even if the Lakers managed to acquire a point guard in the process (
Luke Ridnour
?), there's no way this sort of deal actually improves them. It only makes sense (and avoids a totally apoplectic
Kobe Bryant
) if the Lakers believed strongly they could use Williams as a chip in another trade, or as part of a three-team swap. Certainly he'd have some appeal as a young, potential cornerstone. Enough to help swing trades for
Dwight Howard
or
Deron Williams
? Who knows.
On the "Sure, that could happen!" scale, this one rates pretty low. I suspect its roots are somewhere in Minnesota, rather than El Segundo.
January, 29, 2012
1/29/12
10:03
AM PT

By Andy Kamenetzky
ESPNLosAngeles.com
Archive
Should the Lakers drop tonight's contest in Minnesota -- certainly a believable outcome, given
the debacle in Milwaukee
-- it'll be doubly disconcerting because of the story within the story. The Lakers are a team in transition. From
Phil Jackson
to
Mike Brown
. From
Jerry Buss
to
Jim Buss
. Even the transition from
Kobe Bryant
to the next Lakers franchise player is on the minds of many a Lakers fan. This season is about reassuring fans a smooth shift is in the works, as well as (hopefully) re-establishing championship credentials. Thus far, it's been rocky at best.
In the meantime, the direction of the Timberwolves, after several years of floundering and creating "Island of Misfit Toys" rosters, actually contains promise.
Kevin Love
is a legitimate superstar,
Ricky Rubio
looks like he could be as well, and
Derrick Williams
has obvious potential. Yes, there are still questionable contracts (
Darko Milicic
) and draft picks (
Wes Johnson
), but at least a light at the end of the tunnel can be seen. Granted, it could just be the headlights of a train driven recklessly out of control by
David Kahn
, but at least there's light. The first 20 games have represented a lot of darkness for the Lakers, on the court and, for those thinking bigger picture, looking beyond.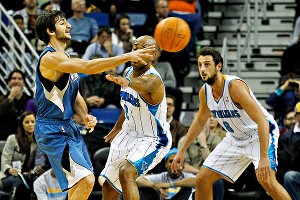 Derick E. Hingle/US Presswire
Doubts about Rubio's NBA-readiness have been quickly silenced.
For the scoop on the Timberwolves, we turned to
Myles Brown
, who runs
A Wolf Among Wolves
for the TrueHoop Network. Below are his responses to four questions about a surprisingly competitive Timberwolves squad. And if you'd be so kind,
check out my responses to his questions about the Lakers
, written
before
the Bucks game.
Land O'Lakers: At this stage of his NBA career, what does Ricky Rubio do especially well, and what still needs work? And along the lines of playmaking, does anyone else on the Wolves contribute regularly? The team ranks rather low in assists.
Myles Brown:
Rubio is obviously an excellent passer. He moves the ball well both in transition and the half court, but not enough attention is devoted to his defense. While there still are lapses in judgment -- he occasionally over-helps and does struggle with quicker guards -- his size has been an advantage. He has exceptionally long arms to contest shots, play passing lanes and recover. Despite a recent cold streak, Ricky's jumper isn't nearly as bad as advertised. It's still essentially a set shot, but he's shooting well from the corners and the elbows and is looking more comfortable pulling up off the dribble.
As for our other playmakers,
Luke Ridnour
has reportedly been revitalized by Rubio's presence, but he's actually just been freed from the constraints of
Kurt Rambis'
triangle. He's been particularly effective in transition since defenses must respect his jumper.
Kevin Love
, who isn't posting impressive assist numbers, is still always capable of creating for others. The Wolves do rank pretty low in team assists, but that could be due to most plays beginning and ending with Rubio.
July, 10, 2011
7/10/11
11:46
PM PT

By Pedro Moura
ESPNLosAngeles.com
Archive

LOS ANGELES -- City legend Nick Young's team was down 30 points with two minutes left in a Drew League Sunday matinee in South Los Angeles, but no fans were leaving their seats -- or their spots, rather.

The ultra-small gymnasium at Colonel Leon H. Washington Park in Florence, near the intersection of Compton and Firestone Boulevards, was still over-filled to the fourth or fifth degree, more people standing than seated and fans literally watching from outside the doors and climbing on top of each other in the corners to get a glimpse of the action.

What happened next was the stuff of inner-city urban myths.

Young's cousin, Adrian Pascascio, measuring in at no more than 5-6 and no less than 250 pounds, was brought into the game, much to the boisterous crowd's consent.

He proceeded to knock down back-to-back long-range shots, nearly falling into his own bench on one of them. The second shot he made, a 3-pointer with just seconds to go, sparked the crowd into a louder frenzy than other player or celebrity's on-court actions would on this day, even though NBA'ers Derrick Williams, DeMar DeRozan, Baron Davis and Matt Barnes all showed up, as well as local rapper The Game.

"That's what this is all about," said the opposing coach, Rodrick Shannon. "That's the Drew League right there."


June, 22, 2011
6/22/11
10:06
PM PT
When teams make trades, they can usually be divided into three basic categories:
1) Designed to improve the team now.
2) Designed to improve the team in the future.
3) Made to facilitate a different trade.
(A fourth, "Creating a living monument to stupidity/Because someone made a horrible mistake," also exists, but hopefully isn't a goal from the outset.)
What's fun about this time of year is deciphering where each prospective deal flying around the web fits for the teams involved. Wednesday, the
L.A. Times reported the Lakers offered Lamar Odom to the Minnesota Timberwolves in exchange for the second pick in Thursday's draft
, according to a pair of sources. The Lakers would have selected Arizona's
Derrick Williams
. "Would have" being the operative words, since the Wolves, says the report, said no thanks.
June, 18, 2011
6/18/11
3:24
PM PT

By Andy Kamenetzky
ESPNLosAngeles.com
Archive
The Ear Candy Express chugs along. With the draft approaching, we tracked down
David Thorpe
(ESPN.com Scouts Inc.) for insight. Among the talking points:
PODCAST
Andy and Brian talk with David Thorpe (ESPN.com's Scout's Inc.) about what the Lakers can do in the second round of the draft. Plus, a look at the hot rumor (Pau for Kevin Love/#2 pick) and the vocal stylings of Dirk Nowitzki
Podcast

- Is this year's draft as weak as it's overwhelming reputation? As Thorpe explains, that depends on a team's shopping list. If you're seeking multiple future All-Stars, then the 2011 class leaves much to be desired. However, there is legitimate value to players capable of solid NBA careers. Along those lines, this class contains many prospects. And as with four second-round picks, Thorpe feels the Lakers could, at the very least, pluck youngsters who'll provide the energy and athleticism the 2010-2011 team lacked.
- I asked about players who could potentially help the Lakers from the second round, whether as a specialist (namely a shooter) or just a mature rookie. Thorpe offers two names: Duke's
Nolan Smith
and UCLA's
Malcolm Lee
.
Jeremy Tyler, a Cali kid whose journey from high school to Israel was littered with issues
, could also be a potential sleeper.
Thorpe also shares thoughts on balancing the common second round approach (take the best player available) vs. the attempt to fill a more pressing need.
- Despite mentioning the possibility packaging picks in an effort to move up, Thorpe explains why it may not necessarily be wise. He feels there's rarely a tangible talent discrepancy between players taken late in the first round vs. the second round. For that matter, he thinks prospects are often easily lumped together past the first six or eight picks.
- Is it worth trading an established player like
Pau Gasol
(more on this later) for a top five pick? Thorpe doesn't see a
Blake Griffin
,
Derrick Rose
or even a
Russell Westbrook
among this year's top picks, but does think a player like
Derek Williams
or
Brandon Knight
could play significant minutes on a contending team right now, and at a considerably cheaper price tag. There are pros and cons on both sides.
- Finally, Thorpe weighs in on the Lakers' unexpectedly early exit from the playoffs:
"I think that what we saw there likely was the culmination of many, many, many games and many games together. And much of the b.s. that I think is going on with that team, at some point, people have to swallow that
Kobe's
not the best teammate we all think that he should be. I think there are times when he is and I have personal experiences with players that I trained that just love him to death because he was so generous with them, but none of them are named 'Pau Gasol' and none of them are named '
Andrew Bynum
.' I think for different reasons there was a lot of (an) 'I've had enough of this' attitude.
"And Kobe may have had some of it. There's no question Pau pulled a '
LeBron James
' before LeBron James pulled a 'LeBron James.' He went back to three seasons ago in that series. That happens. The dynamic of team chemistry is something that you can never underestimate. I thought that team got beat in Game 1,
Corey Brewer
had a big early part of the game for Dallas that kind of got them going, and the wheels just kind of came off. Guys were just saying, 'I'd rather just be on vacation than playing with these guys anymore.'
"That absolutely can be changed (at the) beginning of next year. It also could be the beginning of a real problem there. Not just with Kobe but just in general with that roster where they've just had enough of each other. I think that was very evident. If you're not willing to do everything you can to help your teammates, you're not gonna win against a team like Dallas."
- With Thorpe gone, we discuss the latest trade rumor involving a Laker:
Gasol to the Timberwolves for (at best) Kevin Love and the #2 pick... or straight up for Love.. or (at worst) the #2 pick, Michael Beasley and role players
. We'd both do the first scenario and consider the third an insult, but the one-for-one deal divided us. I'd pull the trigger. Brian wouldn't. Either way, neither of us gets why
David Kahn
would flip a young All-Star for an older player (albeit a very good one) when the Wolves are nowhere near contention. If the appeal is Pau providing a Spanish-speaking comfort zone for
Ricky Rubio
, it's an even stupider idea.
- Finally,
Freddie Mercury
rolls over in his grave as
Dirk Nowitzki
belts out a classic at the Dallas Mavericks championship parade.