Los Angeles Lakers:

DeShawn Stevenson
November, 30, 2011
11/30/11
6:18
PM PT
By the Kamenetzky Brothers
ESPNLosAngeles.com
Archive
***CLICK HERE TO LISTEN***
Did you hear? The lockout, she's over!
And with her demise, none too soon for support staff, fans, media, and players alike, comes the opportunity for analysis about real stuff that will have real impact on the team going forward. Things like...
To this light reading we add our first post-labor strife Land O'Lakers PodKast!
We start
(3:00)
with a little lockout postmortem. Who were the big winners and losers? Was it worth it for the players to hold out the way they did? From there
(9:30)
we ask if the core of the team -- meaning Kobe, Gasol,
Lamar Odom
, and
Andrew Bynum
-- is still good enough to win. We agree the answer is yes, but the margins are pretty thin as things stand right now. The Lakers need help. What should their priorities be, given how few tools they have available to add players to the roster
(15:00).
Finally, we debate what to do with
Shannon Brown
(18:30).
November, 29, 2011
11/29/11
10:50
AM PT

By Brian Kamenetzky
ESPNLosAngeles.com
Archive
Mitch Kupchak
is facing some tricky questions.
Without a lot of money to work with, the Lakers have
critical holes to fill around a championship caliber core
. Point guard gets most of the focus, though prospects for quick improvement are slim thanks to a lack of solid free agent options or suitable trade chips. They need a shooter, and must get a viable backup to
Andrew Bynum
at center. A little speed would be nice, as would a dose of athleticism.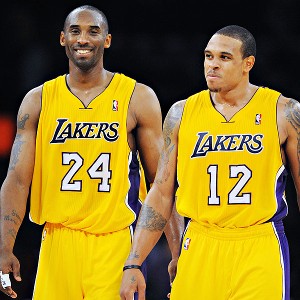 Kelvin Kuo/US Presswire
Last year, Shannon Brown was Kobe's wingman at shooting guard. Will he return this year, or will the Lakers find another backup for 24?
If there's one more open question perhaps not getting enough attention, it's this: Who exactly is going to back up
Kobe Bryant
?
The significance is obvious. Extended lockout related rest and
space age knee treatments
notwithstanding, nobody in his right mind would want Bryant to build on the 33.9 minutes a game he played last season,
his lowest mpg average since his second year in the league
. Particularly given the
potential stresses of a compressed schedule
, and the desire to have Kobe on the floor during practice more than he's been in the last few seasons. On a per-minute basis, Bryant
was more productive last year than the season before
, and the way L.A. tempered his workload seems a likely contributing factor.
Last season,
Shannon Brown
was Bryant's primary relief. After opting out of his two-year contract, Brown is now a free agent, one the Lakers can re-sign despite being over the cap via Bird rights. There are many things to like about him. His athletic ability is almost freakish, no small consideration on a team lacking big time athletes. He's a tough kid who has played all 82 games in each of the last two seasons, is a willing defender, plays hard, works hard, and wants to get better. He's a guy most fans would like to see succeed.
On the other hand, Brown lacks a consistent handle, struggles getting to the rim to create his own shot, and too often makes curious decisions, whether via the pass or the dribble. Offensively, while he can finish spectacularly on the break, in the half court Brown is essentially a
mid-to-long range jump shooter who doesn't make nearly enough of them
. On the other end of the floor, for all his physical gifts, Brown is inconsistent, particularly as a team defender.
He's flirted with it, but over his last two seasons in Los Angeles, Brown has never quite been able to take that next step.
July, 11, 2011
7/11/11
6:56
PM PT

By Andy Kamenetzky
ESPNLosAngeles.com
Archive
At some point, the owners and players will land on a mutually acceptable Collective Bargaining Agreement and put an end to the lockout. When that happens, teams will begin chasing free agents. Who should the Lakers pursue? Or rather, who can the Lakers pursue, given their salary cap constraints?

The K Bros and 710 ESPN basketball analyst Dave Miller offer suggestions.


December, 19, 2009
12/19/09
10:41
PM PT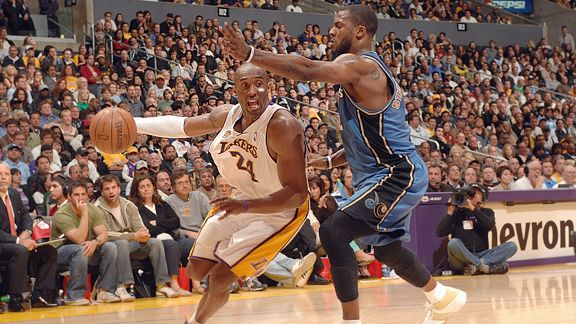 Noah Graham/NBAE via Getty Images
Kobe Bryant drives against DeShawn Stevenson, March 30, 2008.
"I've been watching his footwork. His footwork is great. The way he gets the ball and where he gets the ball with his footwork, it's tremendous. He's already "cheat code," because I think he's the best player in the NBA. But every year, I've never seen an NBA player besides him, every year, he brings something new to his game. One year it was ball handling. Next year, it was the "Michael Jordan" mid-range turn around jump shot. Then he had his knee surgery and he got his dunking back. Every year, he brings something back. It's exciting to see a player like that."
More Evolution of Kobe Bryant:
--DeShawn Stevenson has played in Utah, Orlando, and Washington over his 10 NBA seasons.