Los Angeles Lakers:

Dodgers
October, 7, 2011
10/07/11
2:11
PM PT

By Andy Kamenetzky
ESPNLosAngeles.com
Archive
Ursula Coyote/AMC
Things have gotten pretty messy for Walter White and the Dodgers.
For my money, there's no drama currently on the air better than
AMC's "Breaking Bad."
There also may be no better lead performance than
Bryan Cranston
as "Walter White" on that same show. He won three consecutive Emmy awards from 2008-2010 and his career has exploded as a result of his outstanding portrayal of a high school chemistry teacher turned meth cook. Cranston is also a Canoga Park native and a life-long die hard Dodger fan who's gone through this season's whirlwind like everyone else in L.A.
With "Breaking Bad's" season finale airing this Sunday, we talked with Cranston about the show, the Dodgers and acting in general.
You can hear the entire show by clicking here
, or if you want jump to specific parts in the breakdown below, click on the links:
-
(4:18) Cranston shares how he fell in love with the Dodgers
as a five year old watching
Wally Moon
hit "Moonshots" out of the Colosseum. These days, however, the Blue spark messier, uglier visions as the McCourt saga drags on with no end in sight. However, as Cranston notes, there's reason for optimism in the forms of
Clayton Kershaw
and
Matt Kemp
, his respective picks for the NL Cy Young and MVP. This led to a brief debate over the merits of Tigers pitcher
Justin Verlander
for AL MVP, plus Cranston's suggestions to create "The Kamenetzky Award" for the best performance on a bad team, as well as
Razzie Awards
in baseball.
-
(7:58) Cranston discusses the moment Walter White truly "broke bad,"
and how show creator
Vince Gilligan
created the character with the goal of putting him through a radical transformation. A shift from "
Mister Chips
to Scarface," as Gilligan put it. Cranston's response: "I don't even know if that's possible, but if it is, how magnificent of a ride would that be?"
By leaps and bounds, they've pulled it off.
-
(15:34) Cranston was once quoted as saying,
"Actors basically are the type of person that with three seconds left, we want the ball. Give us the shot to make it or miss it." He describes it as "the actor's arrogance." We discuss the commonality of that mindset for an athlete like
Kobe Bryant.
-
(21:55) In his fantasy world, Cranston would become the next owner of the Dodgers.
Were fantasy to become reality, would he spend money this offseason
Prince Fielder
,
Albert Pujols
or more pitchers?
October, 2, 2011
10/02/11
12:35
PM PT

By Andy Kamenetzky
ESPNLosAngeles.com
Archive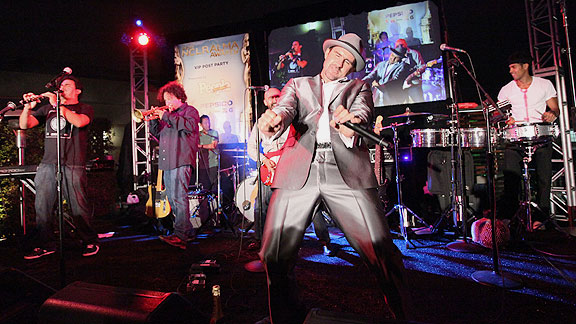 Jesse Grant/Getty Images
Ozomatli has a special place in L.A.'s music, Latino and sports communities.
In 1996, a movement was born at 4th Street and Bixel in Downtown Los Angeles. A community center needed additional funding, and among those on hand to drum up support were several musicians from different areas around L.A. Upon meeting, they decided to form a band called
Ozomatli
. Saxophone player
Uli Bella
describes the early days as "chaotic," joking that "whoever showed up was in the band." But they eventually got organized, then developed a rabid club following.
Cut to 2011. Ozomatli has released six records and played countless shows around the world. But they've never lost touch with their local roots. They remain a decidedly L.A. band and look to provide a voice for the city's Latino community. As sports fans, the majority of the band also bleeds blue, purple and gold. They've long been on our podkast radar, and with ESPNLA celebrating Hispanic Heritage Month, the time was right to finally get that ball rolling. Brian and I were joined in studio by Bella, bass player
"Wil-Dog" Abers
, and drummer
Mario Caliere
and guitarist
Raul Pacheco
.
The lively conversation
can be heard here. Among the talking points:
-
(4:34)
The band's musical influences, which can be traced around the globe. As Wil-Dog describes it, "Ozomatli's sound is the sound of when you're cruising down one of the biggest streets of L.A., and all the music that comes out of everybody else's car, that cacophony in the middle, that's Ozomatli.
"All the sounds and cultures that L.A. represents."
-
(11:18)
Ozomatli considers itself a political band, which by definition risks alienating fans. But despite being generally left-leaning, they're not rigidly partisan. They've played in protest of the Democratic National convention and, despite some outward criticism of the
George W. Bush
administration,
served as cultural ambassadors overseas on its behalf
. And similar to how
Bob Marley's
socially conscious lyrics were balanced by upbeat melodies, Ozo refuses to allow the joy to get sucked out of their music, regardless of subject matter.
-
(13:40)
Ozomatli aren't merely Dodger fans. The band has
actually recorded for the Blue
. (They've also cut one seriously funky version of
"Take Me Out to the Ballgame."
)
Fernando
Mania played a big role in making Uli a Dodger fan, but baseball's worldwide audience has since grown as diverse as the population of Los Angeles. These days, the sport is a worldwide welcome wagon. Like Raul points out, the Dodger "L.A." is this city's unofficial logo.
We also discuss how the
Bryan Stow
beating sparked conversation about the Dodger Stadium demographics and -- fairly or not -- the Latino faces in attendance.
April, 28, 2011
4/28/11
3:41
PM PT

By Brian Kamenetzky
ESPNLosAngeles.com
Archive
Andy and I spent Thursday afternoon filling in for
John Ireland
on
710 ESPN's Mason and Ireland Show
, and no surprise much of the air time was sucked up by the Dodgers.
While Frank McCourt fights back against Major League Baseball, Tom Schieffer, the Blue's new "monitor," was introduced to the media
.
Among the litany of calls on the subject was one from an L.A. sports fan wishing the Buss family would buy into the Dodgers and show McCourt how to run a true winner. To be abundantly clear, it's absolutely not going to happen, but still raises a fun hypothetical for fans of both teams. If it was an option, would you want
Dr. Buss
to branch out into baseball? He's owned teams in other leagues, right? Why not a crown jewel of America's pastime?
Sounds tempting, particularly for Dodgers die hards. The Buss' certainly bring a sense of stability and trust, both of which are in short supply around the Ravine these days. Even better, Dr. Buss is a Dodger fan, and as I understand even toyed with the idea of buying in with them at different points in the past.
Still, it's not a good idea. The Buss family has become incredibly successful with the purple and gold in part because their focus is narrow. The Lakers are a family business- albeit one with incredible amounts of star power and cache, global reach, and sky high value- as opposed to one part of a larger sports empire. Basketball is their gig. It's what they know, and the record Dr. Buss has built as owner is the most impressive in professional sports.
Perhaps there's an alternate universe in which back in '79 Dr. Buss bought the Dodgers and Dodger Stadium instead of the Lakers, Kings, and the Forum. There, the Blue have more than a pair of World Series championships- none since '88- won since. But it's incredibly hard, particularly now, to run one successful franchise, let alone two (whether as a full owner or partner, particularly with someone like the McCourts).
There's a risk of robbing Peter to pay Paul, even if unintentionally.
In terms of delivering for their fans, the Lakers are about as close to the ideal as can be had. Appealing as it might seem to have someone like Dr. Buss take a hand in steering the Dodgers, it's best not to mess with what works.
March, 18, 2010
3/18/10
10:11
AM PT

By Brian Kamenetzky
ESPNLosAngeles.com
Archive
Trolling around for highlights the other day, I came across the clip below, a very funny mock Sunday Conversation featuring Jordan Farmar and Dodgers center fielder Matt Kemp promoting last summer's ESPY awards. Both play along very well, though I'd love to see some of the outtakes. There had to be some laughter.



"What was it like working with Bugs?"