Los Angeles Lakers:

Dominguez Hills
August, 25, 2011
8/25/11
11:20
PM PT
Or more accurately, "the Compton in my game," as it pertains to
Brandon Jennings
. Milwaukee Bucks point guard's So Cal ties are specific to Compton. It's a reminder of his unique path to the NBA, just like hitting the court against real competition at the tender age of five. Or transferring to
Oak Hill Academy in Virginia
, despite already playing at Dominguez High School, a basketball force in its own right. Or bypassing college for a professional stint in Italy,
the first American kid to make such a leap
. Jennings has always been his own person and the foundation of that confidence was built in Compton.
Andy Kamenetzky:
Which parks were you a regular at when you first began playing?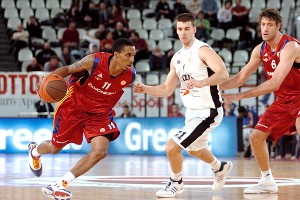 Luca Sgamellotti/Getty Images
Going straight from high school to Italy was another example of Jennings doing things his way.
Brandon Jennings:
Rowley Park in Gardena
. That's where I really started playing. That's where I came back this year during All-Star weekend. I went up there
and [renovated] the basketball court
. There were a lot of great players growing up coming out of there. The atmosphere was crazy. Back then, AAU wasn't really that big yet. Especially for me, because I was younger. So everyone played in the park in the recreation league.
I started when I was about five at the park. I was playing in a seven-and-under [league] and I was five, so I was the youngest on the team. They told me as long as I can get the ball up to the rim, then I could play.
AK:
How intimidating was that at age five?
BJ:
It wasn't intimidating at all. I felt like I could play with the best kids. As long as you put me out on the court, I was gonna play hard.
AK:
How did you manage to hold your own at such a young age?
BJ:
I was faster than all the other kids, and back then, I had a pretty good handle with the left hand.
AK:
Is this one of those things like
Tiger Woods
and his clubs as a little kid? You picked up a basketball and it automatically felt right?
BJ:
Well, I started playing basketball when I was about three years old. After that, everything else just came naturally. I had older cousins that used to let me hang with them, so I got my toughness from them. They said I could play as long as I don't cry. That was their main thing. No whining and no crying. Just go out there. If they knock you down, get back up and keep playing.
AK:
How did starting out so young against bigger guys shape your skill set and development?
BJ:
I was able to pick up a lot of things faster than most kids, because just being around older kids and seeing some of the things they did. Also, just watching some of my favorite players back then. I was a big
Allen Iverson
fan and a big
Kobe Bryant
fan. Kobe Bryant used to have the afro back in the day, so I used to have all his sneakers and AI's shoes.
AK:
The situation with your father's suicide happened
when you were about seven or eight. How did that affect you as a basketball player? Did it change the way you approached the game, in terms of what you wanted from it?
BJ:
I just knew that I would have to be the man of the house. When I was about 12 years old, I knew I had to take the game more seriously if I wanted to be able to provide for my family. I knew this was my way out. It made me realize that if this was something I wanted to do, then I would have to be serious about it and I would have to work hard every day to be able to be one of the best players.
AK:
That's when you really began to take basketball seriously?
BJ:
Yeah. When I was 13, I won the AAU Nationals in Midgets and ever since then, I just took off from there. I never looked back.