Los Angeles Lakers:

Dorrell Wright
January, 12, 2011
1/12/11
1:50
PM PT
Let's get one thing out of the way:
The Lakers will not win this game by 55 points, nor will they hold the Dubs to 57 points
. A spanking like Tuesday's is of the historic variety. If the opening act of this back-to-back serves as the measuring stick, the encore is guaranteed to disappoint. Still, the Lakers arrived in Oakland well rested and the vastly superior team, which means a victory should be the outcome, all things being equal. Here are a few items to watch once the ball is jumped.
Vlad Radmanovic, the leader
No, seriously.
The man of a thousand nicknames
has emerged an unlikely veteran presence in the Bay Area. In December, Radmanovic ripped his teammates for lazy practice habits, playing the role of sage veteran for a team whose young core has very little experience in winning. I'd hold off before pegging Vlad Rad as
Derek Fisher
2.0, as the Dubs remain a squad largely incapable of beating anybody good. But if nothing else, Radmanovic's words seemed to have sparked the best in himself.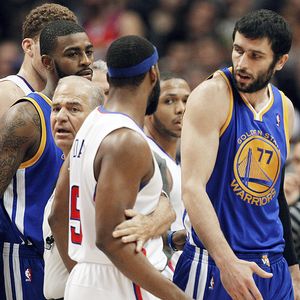 AP Photo/Alex Gallardo
Vlad Rad has been trying to rally Golden State's troops by any means necessary.
For starters, his numbers have improved since the speech
. I also once described Vlad as the league's most "tangible" player, in that you can typically look at a box score and know exactly what he provided. However,
Keith Smart
recently praised Vlad's defense (not a typo) and willingness to do the proverbial "little things." He even got into it with
Baron Davis
during a loss to the Clippers, and
I'm guessing it wasn't actually about beard bragging rights
. The guy seems to be taking a fierce approach to this season.
Could all this amount to an intenser version of the player Lakers fans unhappily watched for 2 1/2 seasons? It's hard to say. On one hand, he may still consider his ex-mates among his buddies. On the other, players often love to bury teams that traded them, and it's believable Vlad remains none too fond of Phil Jackson (who still lives to needle him). Either way, it's probably best to expect the exception from the famously flighty forward, then wait for him to prove the rule.
Having said all that, you can still bet the house on an air ball at some point during the game. And probably one bizarre turnover, too. I don't care how focused Radmanovic is. Some things simply don't change.