Los Angeles Lakers:

Dr. Buss
May, 26, 2011
5/26/11
11:25
AM PT

By Brian Kamenetzky
ESPNLosAngeles.com
Archive
I'll cop to some healthy skepticism about his skills, his overall qualifications and, particularly, his fit with the current roster when
I learned Mike Brown would be the next head coach of the Lakers.
PODCAST
Andy and Brian discuss new Lakers coach Mike Brown with ESPN.com's Brian Windhorst. Windhorst covered the Cavaliers for the Cleveland Plain Dealer while Brown was the coach.

Podcast

Admittedly, it was based on an outsider's viewpoint. I certainly watched a fair share of Cavs games when Brown was the coach, but at no point was I a dedicated follower of the day in, day out, insider business of Cleveland basketball. My knowledge was shallow. Conversations with people who know more about Brown and his tenure there, including these with
TrueHoop's John Krolik
and
ESPN.com's Brian Windhorst
left me feeling better about his qualities as a coach and the results he was able to wring out of his teams. The resume he brings is strong, particularly relative to the field of available candidates.
Still, real questions remain, from how Brown's coaching philosophies mesh with current Lakers personnel to his ability to guide a more-or-less ready-made product filled with strong personalities individually and a long history collectively. (On the flip side, zero questions remain about Brown's ability to knock a job interview out of the park. He should write a book.) I wonder about the process by which he was hired and, even while acknowledging some of the drawbacks of
Brian Shaw
, what seems to be a driving need to sever the Lakers so cleanly from the
Phil Jackson
era.
Jim Buss
clearly
sought to make a statement
. Only time will tell if he did so for sound reasons.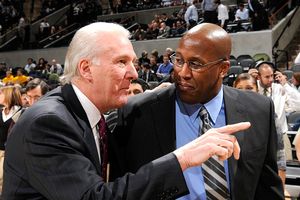 D. Clarke Evans/NBAE/Getty Images
Do you trust the guy on the right? What about the guy on the left? He's one of the guys who taught the guy on the right.
Nonetheless, the days of Mike Brown are here, and with them come a whole host of questions. Here are a few:
1. What will Brown do with the offense?
As Windhorst noted, give the offense to someone else to run. Among the members of his staff will be an "offensive coordinator." The idea the Lakers can't have a productive, high-end attack with Brown at the helm is belied by Brown's last two years in Cleveland, where his teams finished
4th
and
6th
, respectively, in efficiency. While his rep is rightly on the defensive side of the ball, Brown doesn't have a moral opposition to scoring points. The ineptitude of Cleveland's offense in Brown's early years can be attributed in large part to personnel.
Some of those guys just weren't very good. He won't have that problem in L.A..
It's hard to determine exactly what sort of attack Brown and his staff will look to create, but he was with
Gregg Popovich
in San Antonio when the Spurs were a frontcourt-driven team. While the triangle is no more, as Jackson and his staff frequently noted, many of the offense's principles exist in other systems and approaches, including the Spurs'. I'd be surprised if Brown and his staff try to completely reinvent the wheel with the Lakers. Expect an approach taking advantage of the team's strengths -- length, versatile ball movers, intelligence -- in similar ways.
Particularly given the likelihood of a shortened regular season, with compressed practice schedules and abbreviated training camps, teams able to hit the ground running will have an advantage. Again, that puts a premium on continuity and playing to strengths the team already has.
2. How will he get along with Kobe Bryant?
Welcome to the eleventy-billion dollar question.
June, 24, 2010
6/24/10
6:43
PM PT

By Andy Kamenetzky
ESPNLosAngeles.com
Archive
It takes a lot to overshadow the impending free agency of
Adam Morrison
, but
Phil Jackson
"leaning towards retirement"
makes the cut. Without question, news of The Zen Master's possible walk into the sunset is big. Ginormous, even. I don't think it automatically spells doomsday for the Lakers' future -- the roster's talent makes them a contender with
me
holding the whiteboard -- but it would no doubt be a huge adjustment moving forward without Jackson. There's a lot to discuss, so we wasted no time digging in.
PODCAST
Andy and Brian discuss the surprise possibility of Phil Jackson's retirement. Will he go? If so, who should replace him? Could the Lakers win without PJ? All that, plus mockery towards nerds camping out three days to watch the red carpet event for the new Twilight flick. Seriously, who does that?

Podcast

-Actually, I lied. Before breaking down PJ's situation, we took a few minutes to mock the socially awkward geeks camped at L.A. Live since last Monday to get a glimpse of the people walking the red carpet to attend the premiere of the eleventh Twilight movie released in 2010. I don't know if these people are specifically members of "Team Edward" or "Team Jacob." I am positive, however, they joined "Team
Got Mocked Incessantly In High School
."
-(7:04): We get to the meat of the PodKast's matter, Phil Jackson's uncertain future. This development surprised both of us, having said many times throughout the season we expected him to sign a new deal. Hearing PJ elaborate on his mindset, this didn't sound like a matter of waiting upon further medical tests before making up his mind (although that certainly plays a role). These were very introspective words from a guy who's clearly spent a lot of time looking back and projecting forward. He's at an age where soul searching naturally occurs and it's not the first time PJ has looked within during recent years.
-(12:38): I've heard some radio and TV analysts suspect this is nothing but an attempt by Phil to leverage a better contract. If so, I commend Phil for the successful lessons with famed acting coach
Larry Moss,
because among those I asked who were actually in the room when he talked, none doubted Jackson's sincerity. Besides, PJ won whatever money battle may have existed by repeating. At this point, Dr. Buss stands to take a bigger hit allowing his coach to walk over dollars.
-(17:20): If Phil does leave, who would take over? Neither of us have heard talk of any candidates beyond
Byron Scott
or
Brian Shaw
. Both carry potential positives and negatives, but we both lean towards Shaw. Scott obviously has more experience, but has a tendency to wear on players and would require everyone to learn a new system. Shaw's lack of head coaching experience rightfully concerned Brian, but between the continuity Shaw offers, the team's veteran roster and the three-peat stakes, I could actually see this as a fairly ideal setup, despite his green background. It's still a tough call, however, since neither are as an ideal a fit as the coach they'd replace.
-(25:30): We discuss
Kobe Bryant's
comments about misconceptions regarding Phil. Fans often complain about his non-demonstrative approach to coaching. We both see it as a positive trait shared by many great coaches in L.A.'s history.