Los Angeles Lakers:

Earl Boykins
April, 6, 2012
4/06/12
8:49
AM PT

By Andy Kamenetzky
ESPNLosAngeles.com
Archive
After a few weeks of middling and even disinterested looking performances, Wednesday's victory over the Clippers felt like just what the doctor ordered. The Lakers were dialed in for 48 minutes, often executed with precision, and seemed unwilling to accept anything but a win. In theory, that showing should provide fans with a good feeling heading into tonight's contest with the Rockets. In reality, however, it could be meaningless as an indicator of what lies ahead.
As I've maintained all season, the Lakers can only be counted on to perform well against teams they genuinely dislike. In my estimation, those squads are the Clippers, Mavericks, Celtics . . . and disappointingly few else.
Maybe
the Suns qualify, since the Lakers often go as Kobe goes and he admittedly hasn't gotten past Phoenix bouncing his teams in 2006 and 2007. (Or he's just lashing out at anybody who reminds him sharing a backcourt with
Smush Parker
.) And if you're feeling generous,
maybe
a hard-fought win at Staples over the Heat means they've developed a distaste for LeBron and the gang. But to the best of my knowledge, the Lakers have nothing against the Rockets, and without tangible evidence of animosity -- or inherent professionalism -- it remains difficult to bank on the Lakers showing up. However, I'm willing to see my theory disproved, and tonight's as good a time to start as any.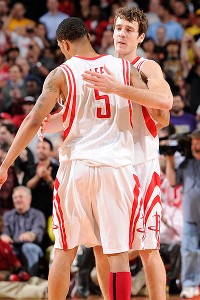 Bill Baptist/NBAE/Getty Images
Dragic and Lee are just two among many keeping the Rox in the playoff hunt.
For more knowledge about the Rockets, we called upon
Rahat Huq
from the True Hoop network's
Red94
blog. Below are his thoughts on four questions about Houston's squad.
LO'L: The Rockets have managed to stay afloat despite prolonged absences from Kyle Lowry and Kevin Martin. Who/what has allowed this to happen?
Rahat Huq:
It's been a collective effort.
Goran Dragic
and
Courtney Lee
have played even better as a duo than the men they replaced.
Chandler Parsons
has evolved into a new-and-improved
Shane Battier
, doing a little bit of everything from defending the opposition's best player to spacing the court on the perimeter.
Luis Scola
has regained his touch and rebounding form.
Chase Budinger
has hit big shots in timely moments.
Marcus Camby
has filled the lineup's previous sole true hole.
Early Boykins
has stood tall. Everyone has chipped in to an outcome in the standings which, from any vantage point, is truly remarkable.
They won't win the title but the fact that the Rockets are alive is a great story.