Los Angeles Lakers:

Eddie Jordan
October, 6, 2012
10/06/12
6:02
PM PT

By Dave McMenamin
ESPNLosAngeles.com
Archive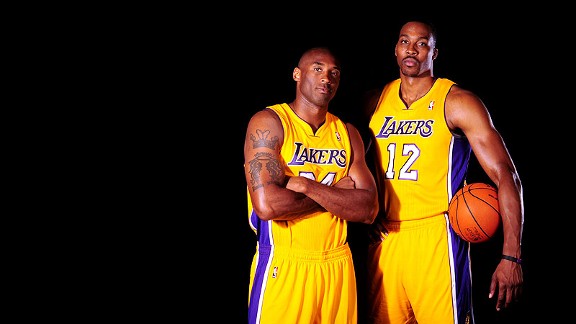 Noah Graham/NBAE via Getty ImagesKobe Bryant and Dwight Howard figure to have their fingerprints all over this coming Lakers season.
Toward the end of a recent practice,
Dwight Howard
hovered over the ball rack in the
Lakers
' facility and idly picked up the basketballs one by one as if he were inspecting grapefruits in the produce aisle.
After palming the regulation-size basketballs with ease, Howard turned his attention to the "Big Ball," an oversized basketball with a 36-inch circumference (opposed to the regulation 29.5-inch). The big man scooped the Big Ball up with no problem, throwing his arm around it every which way as the comically large ball stayed suctioned to his hand.
Soon after the 26-year-old Howard placed the ball down, the 34-year-old
Kobe Bryant
came over and placed his noticeably smaller hand up to Howard's big mitt.
The symbolism was easy to see. You could interpret it as both Kobe and Dwight having their fingerprints all over everything the Lakers do this season. You could also see it as Bryant and Howard already being hand in hand, ensuring team harmony.
Even without any deeper analysis, it's important to note that it happened.
The exchange encapsulated just how different last season's lockout-shortened training camp was compared to the way this year's camp already feels like.
There is room to breathe this time.
[+] Enlarge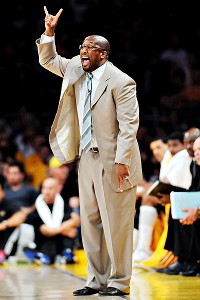 Jayne Kamin-Oncea/US PresswireMike Brown's second year with the Lakers has begun with a less frenetic pace, offering more of a chance to teach and build relationships.
There is space for those natural, hard-to-measure but oh-so-valuable camaraderie-building moments to occur. There is opportunity for the basketball geniuses the Lakers have collected to share their knowledge of the game with one another. There's a palpable, positive vibe surrounding the daily proceedings.
Even before training camp started, there were other Lakers teammates coming together like Bryant and Howard.
Steve Nash
invited
Steve Blake
and
Chris Duhon
to Phoenix for a sort of Point Guard Summit, where the trio not only got to know one another and form a bond off the court, but to also put in what Lakers coach
Mike Brown
likes to call "sweat equity" on the court. It will be their jobs, ultimately, to make the new offense work and so they took it upon themselves to put their heads together and learn it.
It was a far cry from the offseason activity Blake and a teammate were involved with last summer, when he and
Shannon Brown
got into a
public disagreement over which collective bargaining proposal Blake was in favor of
.
The start of last season felt rushed at best, awkward most of the time and downright doomed at worst. The lockout that lasted all the way into December ruined the rhythm an NBA season is supposed to have. The overruled
Chris Paul
deal left
Pau Gasol
exposed as trade bait, led to
Lamar Odom
's ouster to the team that beat the Lakers the year before and was a foreboding sign of the haphazard season the Lakers had ahead of them.
Training camp was microwaved instead of slow-roasted. Rather than a month worth of practices and eight exhibition games to get his team ready for the season, all Brown had was two weeks, two exhibition games and an intrasquad scrimmage.
"This (year) is fun," Brown said. "And it's fun from the standpoint that you can make sure that you're taking this one step at a time, that you're really using this as a process and you're not trying to get to the end of the journey right away."
October, 2, 2012
10/02/12
8:23
AM PT

By Andy Kamenetzky
ESPNLosAngeles.com
Archive
As expected, Lakers Media Day in El Segundo was a morning filled with wall-to-wall excitement. Excitement at the additions of Dwight Howard, Steve Nash and Antawn Jamison. Excitement at the team's legitimate depth. Excitement at the prospects of being among a handful of teams considered serious contenders for the 2013 championship.
But there was also excitement about the implementation of elements from the Princeton offense, a blueprint largely designed by new assistant coach Eddie Jordan. At the risk of stating the painfully obvious, the Lakers' offense left something to be desired last season. Obviously, extenuating circumstances -- the lockout, practices rarer than the sighting of a bald eagle, a lack of perimeter players beyond Kobe Bryant and, for a bit, Ramon Sessions -- accounted for some issues. But the Lakers weren't the only team negotiating those hurdles, so a trip to the drawing board was clearly in order.
The Princeton should simultaneously add elements of structure and freedom, and as Mike Brown explained, it's a system he's always envisioned using under the right circumstances:
"I've always been fascinated with that offense ever since the days I was in Cleveland and it seemed like every year I was there we faced the Washington Wizards and Eddie Jordan in the first round. If you take away everybody's different abilities that they have in the NBA and how good or bad they are in those different aspects of the game offensively, and you turned everybody into robots or equated to being the same player, then I always felt that offense was the hardest to defend. The spacing is tremendous. The ball movement is tremendous. The ability to play a stress-free game was off the charts. So those things have always attracted me to it. I just never really had an understanding or the opportunity to implement it. Not only that, I never felt that Cleveland and I had the teams for it. You know, when you have a guy like LeBron (James), he's a pick and roll player. The same thing that Miami does for him down there, we did for him up in Cleveland. You try to play to your player's strengths.
"Here, after being with this team for a year, this is a very intelligent team, and they play very well when it comes to using a motion offense and using their intelligence."
Brown's right about his team's collective IQ being suitable for running the Princeton. Similarly, the high number of quality passers on this team makes for a nice match. Of course, it's also important to remember the Lakers won't be locked into this system in the strictest sense.
As Brown explained in an August Q & A with BK
and reiterated on Monday, the freedom to initiate pick-and-roll action will be afforded at the top of most possessions. Given the presences of Steve Nash as quarterback, Dwight Howard as a roller extraordinaire, and Kobe and Pau Gasol as excellent P/R weapons, not doing so would be silly. And whatever positive elements from last season's offense will be carried over.
Phil Jackson's Lakers didn't run triangle on every sequence, and it wouldn't surprise me if Brown's Lakers were even looser with the Princeton. But it's always beneficial to have a system in your back pocket to center yourself during rough or sloppy stretches.
September, 19, 2012
9/19/12
5:18
PM PT
By ESPN Los Angeles
ESPNLosAngeles.com
Archive
The
Los Angeles Lakers
used the offseason to overhaul their roster, but for coach Mike Brown little has changed in his mindset.
"Last year I expected us to compete for a championship and obviously we fell short," Brown said Wednesday on the Mason & Ireland Show. "For me nothing has changed. We're going into this season with the same goal in mind."
With the additions of
Steve Nash
and
Dwight Howard
, the Lakers certainly figure to be part of the championship picture. Brown had plenty of good things to say about what Howard brings to the team.
"His athleticism, combined with his power and strength, and his quickness, and energy is phenomenal," Brown said. "I mean defensively here's a guy, that in my opinion, is one of the best pick-and-roll big defenders in the game, to ever play the game. He's one of the best paint protectors to every play the game. You know, just knowing that he's down and around the basket is a deterrent."
(
CLICK HERE TO LISTEN TO THE ENTIRE INTERVIEW
)
Brown also said he was pleased to have added veteran coaches Bernie Bickerstaff and Eddie Jordan to his staff.
"Speaking of Bernie, he's a veteran guy that's been through a lot of experiences whether it's on the gym side or head coaching side, he's been an assistant coach for awhile and i just thought the knowledge and the presence that he can bring to the table for myself, my team and the rest of our coaching staff is much welcomed and needed, especially when you have a group of players like this." Brown said.
On Jordan, Brown said: "The stuff Eddie Jordan ran in Washington and New Jersey was some of the toughest stuff to guard. So, I wanted to implement some of that stuff with what we did last year and came to the conclusion that this could work, he can help out and that's why I hired him."
September, 12, 2012
9/12/12
4:59
PM PT

By Andy Kamenetzky
ESPNLosAngeles.com
Archive
With
Oct. 1, Media Day and the season's official start
inching ever so close, you can begin to smell basketball in the air. (As opposed to
the other scent permeating throughout the Southland
.) The anticipation is building and Lakers fans are excited. But even with roundball existing purely on the horizon, there's still plenty to discuss, because that's how the purple and gold world works.
The show can be heard by clicking on the module, and a list of talking points can be found below:



- (2:00):
We're rooting for second-round pick
Robert Sacre
to make the team not necessarily because of his skill set, but the endless pun-ny possibilities his last name offers.
- (5:00):
While I was on vacation, Brian and Ramona Shelburne tackled
the "who takes the last shot?" question on an edition of The Forum
. Since I'm back in town, we make it a familial discussion. To me, if the situation specifically calls for a 3-pointer, I'd run the entire operation through
Steve Nash
. He's the best option to take the shot, can create his own look and will always find an open shooter for a kick out. If it's an old-fashioned two-pointer, however, Nash,
Kobe Bryant
,
Pau Gasol
,
Dwight Howard
, and
Antawn Jamison
all represent viable options, depending on the situation, given their proven scoring abilities and this team's collective ability to move the ball. And that it doesn't have to be
one guy
is a major plus enjoyed by few teams in the league.
Fans and media will inevitably obsess over who gets the rock in the final seconds, but as long as the players don't, the possibilities are borderline limitless.
- (10:20):
A fun trip down
Ron Artest-Bad-Shot-Memory-Lane
, including
this gem Hardwood Paroxysm's Rob Mahoney set to "Yakety Sax
." (We'd also both forgotten how Kobe bailed out this bizarre possession with a triple from about three feet behind the line. Easy peasy, no worries. In retrospect, Phil Jackson should have run this set more often.)
- (19:00):
In Eddie Jordan, Bernie Bickerstaff, and Steve Clifford, Mike Brown has assembled quite the army of assistant coaches. What effect will these new faces -- along with a new offensive system -- have on the team?
- (25:30):
Apropos to nothing in particular, how have American names changed over the last 100 years? We compare the most popular names of 1911 and 2011.
September, 7, 2012
9/07/12
5:12
PM PT
Mike Brown loves surrounding himself with experienced coaches, and Friday afternoon he got plenty of it as
long rumored additions to his staff were made official.
The
Los Angeles Lakers
announced the signings of former Washington and Philadelphia head coach Eddie Jordan, along with Bernie Bickerstaff, whose NBA coaching career began with the then-Bullets back in 1973 and includes four head gigs, most recently with Charlotte from '04-'07.
Former Orlando assistant Steve Clifford also comes aboard, joining holdovers
Chuck Person
and
Darvin Ham
.
The trio replace Ettore Messina and Quin Snyder, both of whom left for CSKA Moscow, as well as John Kuester, who has been reassigned to the role of advanced scout, based on the east coast.
While Bickerstaff is certainly a well-known name around the league, it's Jordan who will have the most tangible impact, because with him comes the installation of the Princeton offense. The Lakers certainly could use a boost on that end of the floor.
In an August Q&A
, Brown said he started thinking about Jordan at the end of last season before spending about a week with him exploring possibilities.
He explained the appeal of Jordan's favored system:
"I've always been infatuated with what Eddie [Jordan] did when he was in Washington... If you take away the individual players and their strengths and all that and just look at the purity of different offenses and how to defend them on a night in, night out basis, I always felt that the stuff [Jordan] did in Washington was difficult to defend. It was difficult to come up with a game plan because of the spacing and ball movement and stuff like that. It's a stress-free offense because of the counters that are built in and so on and so forth."
Brown also sketched out how he envisions the Lakers operating in the Princeton -- not the heaviest pick-and-roll system -- with
Steve Nash
,
Dwight Howard
,
Kobe Bryant
,
Pau Gasol
, and the team's now devastating p'n'r potential:
August, 3, 2012
8/03/12
9:04
AM PT
Earlier in the week, Kobe Bryant said the Lakers
plan on running the Princeton offense this year
, in an effort to add more structure and better take advantage of their talent on that side of the ball. To that end, the Lakers are reportedly
adding Washington Wizards head coach and Princeton O expert Eddie Jordan to Mike Brown's staff
.



Thursday afternoon, Andy and I welcomed to the show new Lakers forward
Antawn Jamison
, who played for Jordan in D.C. for over four seasons. Among other things, we asked him what the new offense might look like for the Lakers, why it's a good fit, and how running a system helps give a team an identity:
Q: How did you enjoy playing in the offense, and more specifically how do you picture Steve Nash being used in it?
"The thing about [those seasons], we had Gilbert Arenas, Caron Butler, Larry Hughes -- we had guys that are offensive threats that can really put the ball in the basket. I think the notion of the [Princeton] offense is that it slows you down. teams that don't have that much talent use it because they're going against teams with much more talent and you're trying to slow them down, but we were up there in scoring every year.

And the thing I like about it, especially with Steve, you can do so much. Steve is a great player with the ball in his hands, and a great player without the ball in his hands. To have his kind of skill set mixed in with this offense, I think the sky is the limit. You put the defense in a bind. You're reading the defense, and every time the defense makes a mistake, it's layup after layup. Imagine having the talent of Pau Gasol or Andrew Bynum, being able to get to the elbow area and one or two dribbles they're right at the rim. You've got guys like Metta [World] Peace who can fight up and slash to the basket. And we all know what kind of attention Kobe's going to get when he gets the ball.

This offense really puts pressure on the defense, and makes them have to work. It's not you're coming down and one guy has the ball, and he's running down 15-20 seconds out of the clock and you're trying to find something. This sets up your teammates to get open shots. This sets up your teammates to create space on the floor. When you have space on the floor with the group of guys we have on this team, that's dangerous."

How important is it for a team to have a system, whatever that system might be?
"I think it's really important ... You know what teams run. It's the same sets, different terminology, or whatever... but with this offense, it gets everybody involved. That's the thing I like about it. Your center can flash up, he can be making passes. If he turns around and doesn't see anything, he has a one-on-one move. It's hard for the defense to take anything away. If they want to deny the ball, you can back-door cut. We've got a numerous amount of guys who can make those types of passes. It really puts your [opponent], defensively, in a bind because there are so many sets you can run.

There are so many things you can do out of sets, and I think with this team, with Steve Nash anchoring it, offensively guys are going to be willing to pass the ball and get guys involved. That's a formula for success ..."
Among the other topics of conversation:
What factored into Jamison's decision to choose the Lakers. It didn't even require Mitch Kupchak to sing the Carolina fight song. (:45)
How finally getting a chance to play for a title contender has recharged Jamison's batteries heading into his 15th NBA season, and what changes for him. It is, he says, "a different type of pressure." (5:30)
Interesting facts mined from www.antawnjamison.com, and the "About Antawn" essay written by ... his mom. First, was Jamison really a fat baby? And what about the junk food habit she writes about? Jamison says any photographic evidence of the former has been destroyed, but cops to the latter. Yes, he still has a weakness for the sugary stuff, with one major exception. "Oh, I don't mess with honey buns anymore." In eight or so years covering the NBA, that might be my single favorite quote. (14:00)
July, 31, 2012
7/31/12
2:27
PM PT
The Lakers last season were often, put mildly, an inelegant group offensively. No real surprise, given everything they faced. New coach, no training camp, unlearning the triangle offense anchoring most of the group (and particularly
Kobe Bryant
) for years while simultaneously learning what
Mike Brown
wanted them to do in a system more dependent on set play calls.
Change was in order. From a personnel standpoint it certainly came with the acquisitions of
Steve Nash
and
Antawn Jamison
, but also could be more structural. As Adrian Wojnarowski of Yahoo! Sports reports,
according to Bryant the Lakers will in 2012-13 once again become a "system" team, not with Phil Jackson's triangle but Pete Carril's Princeton offense
.
Writes Woj:
"... The prospect of returning to the discipline of an offensive system in the post-Phil Jackson era holds appeal.

"It's a great offense," Bryant told Yahoo! Sports. "It's exactly what we need. It takes us back to being able to play by making reads and reacting to defenses. It takes a great deal of communication, but that's where we're at our best: Reading and reacting as opposed to just coming down and calling sets. Calling sets make you vulnerable.

"There's so many threats, so many options, it's very tough to defend. Against the type of defenses that teams play nowadays, they load up on one side and are constantly coming with help from the weak side. The Princeton offense makes it very, very tough to lock in on one particular player.

"From my experience, those types of principles -- ball movement, changing sides on the floor, everybody being involved -- those are championship principles. That's championship DNA."
The Princeton O isn't the triangle, but shares similar principles: reading defenses instead of simply calling plays, heavy on ball and player movement, an emphasis on skilled passing big men, and so on. In exactly what form the Lakers would implement it is still an open question -- we're not even into August yet -- particularly with Nash (among the greatest high screen-and-roll players in NBA history, and brilliant at probing a defense until a crack appears) in the fold. But if Kobe is talking publicly about it, it's hard to believe the Lakers won't have a strong Ivy League flavor next year. (In that spirit, they are rumored to be bringing in former NBA head coach
Eddie Jordan
, a Carill disciple and expert architect of the offense, to join Brown's staff.)
The Princeton offense plays to many of the team's strengths. As a group, the Lakers are a very high I.Q. bunch, and are accustomed to and comfortable with reading opposing defenses. It also suits individual talent, particularly
Pau Gasol
, because of the premium placed on passing. The Lakers have no shortage of players capable of moving the rock effectively. And for what it's worth, Jamison played well in the system under Jordan while in Washington.
I suspect if they go Princeton, it won't be an every-trip type thing. The Lakers didn't run the triangle on every possession, either. What Jackson's offense delivered, though, and what anchoring this year's offense on Princeton principles would similarly accomplish, was structure.
For a team often looking directionless last year on that end of the floor, a sense of identity starting with an empowering core offensive philosophy like the Princeton could prove very beneficial.