Los Angeles Lakers:

effort
June, 1, 2012
6/01/12
10:22
AM PT

By Andy Kamenetzky
ESPNLosAngeles.com
Archive
As a college sophomore, to fulfill my foreign language requirement and nab an easy A, I took beginner-level German, a language I'd already studied for four years in high school. Predictably, I was ahead of the curriculum, which allowed me to skip classes without falling behind. A
lot
of classes. Basically, unless there was a test, I was absent. I even arrived to my final 30 minutes late because I skipped class the day we were informed that the test was in a different building, and missed the oral section. I still got a B, probably my lowest grade of the semester, and figured I'd get a B-plus for the course.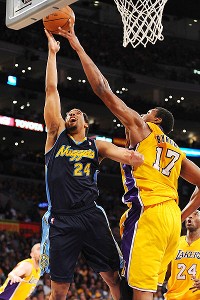 Noah Graham/NBAE via Getty Images
Game 1 against Denver demonstrated how dominant Bynum can be.
I ended up with a C.
When I confronted my teacher, she reminded me that attendance counted toward our grade, and that crushed me. I insisted that shouldn't have mattered, since I still aced the work. As I further explained, I actually did her a favor by ditching classes, since she could focus her attention on kids who needed more help. She then told me to leave her office and never bother her again.
The lesson? In life, you're often held accountable not just for the final result, but for responsibilities accepted or shirked along the way.
Andrew Bynum's
season reminded me of my beginner-level German experience. If you gauge Drew's year purely on the results, it was obviously a fine campaign. Between his stats, his ability to drastically impact games like few players can, and his inherent talent, 2012 was a coming-out party for the emerging star. He firmly established himself as the second-best center in the league behind
Dwight Howard
, and on some days, it felt reasonable to argue that he'd reached Superman's level. There are still problem areas, such as negotiating double-teams and improved pick-and-roll defense, but on the whole, Bynum's talent is the least of his problems. Along with
Kobe Bryant
and
Pau Gasol
, a huge burden of production was placed on Drew's shoulders, and he held up his end of the bargain.

What does raise red flags, however, are the issues born between his ears. A sometimes sour, moody attitude that reeked of entitlement. The inability/unwillingness to consistently engage himself when he didn't get enough touches (or sometimes even when the touches came, but shots refused to fall). The lack of accountability toward the tremendous sway he held over games, and the consequences for not maximizing that effect. Drew often seemed to operate with an egocentric rather than team-centric agenda, and those instances sometimes hurt the Lakers.
Still, in more games than not, Bynum played well. Like the season itself, he's an enigma, which makes everything tricky to evaluate.