Los Angeles Lakers:

elbow
May, 30, 2012
5/30/12
11:51
AM PT

By Andy Kamenetzky
ESPNLosAngeles.com
Archive
It was an interesting season for
Metta World Peace
. (Is there any other kind?) The campaign began with a visibly/admittedly overweight MWP tapped to pick up where his close friend
Lamar Odom
left off: The bench Kahuna. Having watched Metta spend two triangular seasons doing little more than spot up and wait,
I enthusiastically endorsed Mike Brown's plan for more responsibilities
. With the ball in his hands more often, I was reasonably confident Metta would emerge more consistently engaged and perhaps even an effective scoring and play-making source. For a brief period, that vision seemed doable.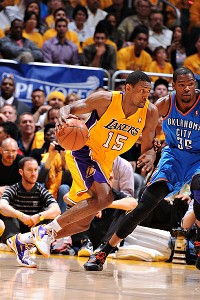 Andrew D. Bernstein/Getty Images
Driving the lane, MWP experienced early success. Further out, not so much.
In his first seven games
, MWP notched 10+ points three times, 3+ assists four times and drew fouls as a point-forward/post-presence. Defensively, he was typically a step (or three) slow and his 3-point shot was staggeringly absent -- through January, 14 percent success,
rounding up
-- but Metta still brought something to the table as an imperfect option. However, as time marched on, so did MWP's distance from the basket. For reasons I never could get explained by Brown or Metta, those post opportunities steadily declined, making MWP once again
a lonely man there on the corner
. Banished from the lane and lagging defensively, MWP's ineffectiveness reached the point where unless a return to the block was orchestrated, I questioned the logic of even playing him.
Shortly after
an unusually strong effort against the Clips
, MWP joined the first five, but consistent production still eluded him. For every game his defense or a timely 3-pointer made a difference, in several others Metta played like a shell of himself. Nobody would reasonably expect a Xerox of "Indiana" Ron-Ron, but something better than this version certainly was fair to request.
Desperately needed signs of life first came in March. Five double-digit showings. His 3-point shot began to fall semi-regularly.
LeBron James
and
Paul Pierce
were forced to work hard for points during Lakers victories. MWP looked more comfortable, and spoke freely about improved health and confidence. Still, his impact wasn't pronounced enough for MWP nor fans to hang their proverbial hat on.

April, however, proved a veritable hat rack.
On both sides of the ball, Metta performed not just like the dude from his debut season in L.A., but better. When a shin injury shelved
Kobe Bryant
for seven games, MWP picked up a big piece of the slack, averaging 16.3 points and reaching double-figures six times. A season-high nine assists against Golden State, was indicative of MWP's hand in shaping wins. Obviously, these numbers were to some degree a byproduct of The Mamba's absence, but 23 points (on a tidy 13 shots) against Houston came with Kobe in uniform. A sustainable high gear had been discovered, and for an underdog team looking to make a deep run, MWP became the roundball equivalent of found money.
Then came bankruptcy in the form of
an elbow to the head of James Harden
.
April, 24, 2012
4/24/12
5:24
PM PT

By Andy Kamenetzky
ESPNLosAngeles.com
Archive
Newton's third law contends that for every action, there is an equal and opposite reaction. Using that principle as a guide, Metta World Peace met the side of James Harden's head on Sunday with a fairly vicious elbow, laying out the likely NBA Sixth Man of the Year and earning himself an ejection. In other words, a powerful force of action. Tuesday, the league office met that action with one of its own, announcing that MWP will be suspended for seven games.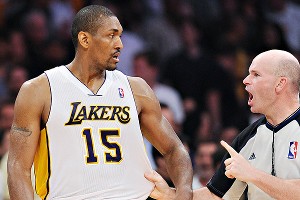 Jayne Kamin-Oncea/US Presswire

Gary Zielinski didn't buy what MWP was selling, and neither did the league.
Does this truly constitute an "equal" reaction? Hard to say, as the science of comparing 'bows and penalties is similarly murky to that of apples and oranges. But the penalty was no joke, which was to be expected. Between the act itself, the way MWP squared off against Serge Ibaka afterward and his long list of previous transgressions (including last season's playoffs against Dallas), a wrist slap felt unlikely. And MWP didn't deserve to be let off easily. This was extremely dangerous, dirty and unwarranted, a sucker punch with an elbow. Harden could have been seriously hurt, and a strong reaction was necessary to create a future deterrent.
Since Sunday's incident, I've heard Los Angeles Lakers fans on the blog, on Twitter and on radio say Harden got what he deserved because he "talks trash to Kobe Bryant" and "was making contact with Metta." Respectfully, either rationale is ridiculous. The "contact" initiated by the Oklahoma City Thunder guard was what I often refer to as "getting in place to receive an inbound pass." Were Harden looking to instigate or irritate, he'd have hit MWP with some actual force, rather than meander into him at a glacial speed. And second, yapping throughout a game isn't grounds for an elbow that could result in having your jaw wired shut. This isn't a street fight. You don't go clocking dudes because they got in your face or talked smack. Everyone in the NBA is a paid professional, and in the case of Metta, a rather handsomely paid one.
There are boundaries, and everybody knows them. Admitting the painfully obvious -- Metta's actions were irrefutably wrong -- doesn't make you any less loyal to the Lakers or even to Metta himself. It just makes you sound like you possess a shred of objectivity.
As for matters concerning basketball, Metta's ban puts the Lakers in a bind. Offensively, he has experienced an April rebirth, particularly during Bryant's absence. Whether as a scorer or facilitator, an outside shot and comfort zone has been discovered after nearly a season's worth of physical and mental struggles. The Lakers may be stockpiling scorers these days, but they can never have enough sources of scoring, especially with Ramon Sessions currently in a funk. Plus, World Peace has a knack for hitting big shots. That Kobe has consistently passed to Metta late in fourth quarters isn't only because the dude's always left open. That ability to come through in crunch time will be missed.