Los Angeles Lakers:

Eric Bledsoe
July, 10, 2014
Jul 10
7:15
PM PT

By Dave McMenamin
ESPNLosAngeles.com
Archive
It's no secret that the
Los Angeles Lakers
' primary plan in free agency was to bring the top two prizes available on the market in
LeBron James
and
Carmelo Anthony
into their possession. By bagging one of the top 10 players ever to play the game in James and arguably one of the top 10 most gifted scorers ever to lace them up in Anthony, combining them with
Kobe Bryant
in the twilight of his career (someone who fits on both of those top 10 lists), the Lakers felt as if they would automatically reboot their team back on a championship trajectory.
It was a solid Plan A. Or it technically still
is
a solid Plan A until James and Anthony officially inform the Lakers they have plans to the contrary. And even if James should choose to head back to Cleveland or stay in Miami or go elsewhere, and even if Anthony opts to stay in New York or entertain one of the other offers out there from Chicago, Houston or Dallas instead, it's a strategy that Bryant fully supports.
[+] Enlarge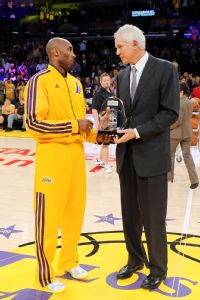 Noah Graham/NBAE/Getty ImagesKobe Bryant says GM Mitch Kupchak and Lakers management are doing everything they can to make the moves necessary to turn the team around.
"They're going for it," Bryant said Wednesday of Lakers management. "There's no ifs, ands or buts about it. They're being extremely aggressive and they have solid concepts and plans to be able to get it done. They're pulling out all the stops to ensure that we put a contender on the floor next year. That's all you can ask for. Same thing that they ask of me: When I step out on the court, they expect me to play my heart out. Right? To prepare and to give it my best shot. Sometimes it doesn't always work out the way you want it to, but at least the intention and the commitment was there."
Of course, if the Lakers don't land their top targets this summer, they have a contingency plan in place.
The philosophy behind the Lakers' Plan B is twofold: find a way to be competitive next season to get back on track after a disastrous 27-55 campaign in 2013-14 yet at the same time, protect their cap space flexibility to be able to pursue the biggest names in the summers of 2015 (
Kevin Love
), 2016 (
Kevin Durant
) and 2017 (
Russell Westbrook
).
"It's a good class, but in terms of today who might be at the very top, maybe it's not as large as it might be next year or the year after," Lakers general manager Mitch Kupchak said on draft night when asked about the free-agency market this summer. "And keeping that in mind, we structured our salary knowing that, hey, you might not get two or three guys, but we have enough room to get at least one. And if we don't have one and we choose to, we can go down the road and have flexibility next year and the year after that."
The Lakers' desire to maintain a star-based system is pretty understandable. When you are in one of the media capitals of the world and are charging $3,000 per courtside seat, there needs to be a draw on the court to expect those prices. When you are being paid upward of $200 million per season from your regional sports network television partner, Time Warner Cable SportsNet, there's a certain obligation to have not only a competitive team, but compelling characters to get people to want to tune in and watch.
The specific machinations of the Lakers' Plan B remain a mystery, however. There are many different directions in which they can head, depending on how other pieces fall into place around the league.
"We have several options," Bryant said. "Obviously depending on the timing of this process, it affects some of those. You have a plan that's flexible, but you have a Plan A and a Plan B. But some of the Plan B is affected by the timing of Plan A. So, you just kind of plan it out and wait and see what happens and respond from there."
Here's a look at several ways L.A. could end up responding if it loses out on its top choice:

1. Sign Pau Gasol
The way Gasol's season came to a premature end thanks to a bizarre bout of vertigo, it seemed as if his time in L.A. would finish with a whimper after 7½ seasons. Gasol posted on his personal website in February that, "My decision will be based purely on sporting considerations." Meaning, he wants to win. But how much money is he willing to sacrifice to do so? If the Lakers don't end up using max money on Anthony, they could try offering Gasol a big-money, short-term, two-year deal that coincides with the end of Bryant's contract. Think $10 million-$12 million range and even give Gasol a player option for the second year allowing him to skip town for greener pastures should he not feel as if the Lakers were heading in the right direction.
Not only would this allow Gasol to stay in the city he loves for its culture and community -- he has several charities in Los Angeles with which he is very involved -- but it would also keep him from having to suddenly uproot his life at 34 and settle someplace else. Not to mention, just like Gasol is being used as a potential selling point to try to bring in Anthony this summer, he'd be an intriguing potential teammate for the other big names that the Lakers go after in the coming years.
Yes, Oklahoma City and San Antonio -- two of the handful of teams vying for Gasol -- are much more equipped to win right now, but they can offer him far less money. Same goes for Phil Jackson and the
New York Knicks
. Putting Gasol alongside a healthy Bryant and a promising rookie in
Julius Randle
next season would not only get the Lakers back on track in the short term, but could help them get one of those other stars they covet in the future.
October, 24, 2012
10/24/12
10:37
PM PT
LOS ANGELES -- No
Kobe Bryant
, no
Dwight Howard
, no
Chris Paul
,
Grant Hill
,
Lamar Odom
, or
Jamal Crawford
.
Fair to say much of the starch in Wednesday's preseason battle between the
Clippers
and
Lakers
was removed long before the tip. Still, as you'd expect in any matchup between L.A.'s teams, it was a spirited 48 minutes. In the end, the Lakers kept their preseason winless streak intact, falling 97-91.
They now have one more shot at avoiding a winless slate of pretend games, Thursday night in San Diego against Sacramento. Here are four takeaways:
1. Jordan Hill makes a big difference.
They might have been down Howard and Kobe, but the Lakers' bench received a badly needed boost with the return of Jordan Hill, who had been out since the preseason opener while rehabbing a herniated disc. He shook off the rust and showed the sort of energy that made him such a key player down the stretch last season, grabbing 5 rebounds (2 offensive) in 13 first-half minutes. He also flashed a little range on the jumper, something he worked on through the summer. It wasn't all MoonPies and cotton candy. There were some questionable choices defensively, wobbly passing (one of which sent the Clips the other way for easy points) and confusion in the offense. All to be expected, though. Overall, it was a solid effort coming off a long layoff. He finished with 12 points and 8 rebounds in 26 minutes.
August, 24, 2012
8/24/12
9:27
PM PT
The Lakers aren't the only team in L.A. that has been busy this summer. The Clippers, despite working without a G.M. in the wake of Neil Olshey's leap to Portland, have also made a ton of moves, adding Lamar Odom, Grant Hill, Jamal Crawford and more. (Granted, only the purple and gold launched themselves into legitmate title contention.)
We've examined how the new-look Lakers match up with
Oklahoma City
,
San Antonio
,
Miami
, and
Denver
. In the latest installment, we bring in TrueHoop and Clipper Podcast co-host Kevin Arnovitz to break down this year's version of the Hallway Series. Video style, because words are old technology and we live on the cutting edge.
No surprise, there is unanimity in our little group that the Lakers are definitely the superior team, but (playoffs being all about matchups, after all) could the LAC give the LAL fits in a seven-game run?
April, 4, 2012
4/04/12
9:32
AM PT

By Andy Kamenetzky
ESPNLosAngeles.com
Archive
It's the rubber match for Pacific Division supremacy, and perhaps even ownership of Los Angeles from San Pedro to the San Fernando Valley! The Lakers and Clippers should be primed for serious battle, between the playoff seeding at stake, the local bragging rights, and quite frankly, because they don't care much for each other. To preview this contest, we called upon
Kevin Arnovitz
and
Jordan Heimer
, host of ESPNLA.com's "The Clipper podcast." You can hear the show by clicking on the module, and a breakdown of talking points is below.



- (1:50):
We examine my theory about how the Lakers only play consistently well against teams they collectively hate (the Clippers, Mavericks and Celtics) or Kobe hates (the Suns, #NeverForget).
- (3:45): Blake Griffin's
annoying on-court behavior (primarily flopping, although some don't dig the post-dunk preening) is compared to
Andrew Bynum's troubling behavior on and away from the hardwood
.
- (11:00):
Arnovitz and Heimer break down how the Clippers' once-sinking fortunes suddenly turned. In particular, the defense has suddenly improved.
- (17:50):
This will be the Lakers' first game against the Clippers with
Ramon Session
s in the fold. How will he fare defending
Chris Paul
? (And if he struggles, who picks up the slack in his place?) Can Sessions place pressure on a team that sometimes struggles in pick-and-roll coverage?
- (26:00):
How do Arnovitz and Heimer expect
Kobe Bryant
to be defended?
- (27:20):
Predictions!
- (30:00):
The Clippers got their act together almost immediately upon the reinstatement of
Clipper Darrell
. Pure coincidence or testament to the power of
a super-fan who now "understands his role?"
And yes, I do find the notion of a meeting to spell out Clipper Darrell's "role" hysterically funny.
December, 9, 2010
12/09/10
2:38
PM PT
Derek Fisher
is a pretty serious guy, particularly when it comes to people pointing out those (generally age related) deficiencies in his game. So it wasn't surprising, after
winning Wednesday's game against the Clippers
with a last second drive past rookie
Eric Bledsoe
, he poked one of the most prominent "Fisher sucks!" criticisms with a pointy, game-winning, hero stick.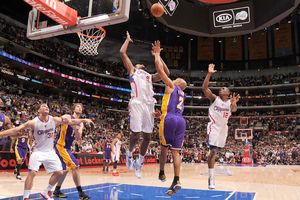 Noah Graham/Getty Images
You just can't keep Derek Fisher out of the paint.
"I've been in that situation before," he said,
interjecting into his own very well-detailed breakdown
of how the play developed. "Many of you have documented how easily guys get around me at the top of the floor. When you're in the middle of the floor, and a guy can go left or right regardless of what hand he is, it's a very tough spot to be in. I'm not as fast as they come, obviously, and I can get around a guy if I have the ball on the top of the floor, in the middle like that."
After every game, we get complaints about Fisher's inability to stay in front of "quick point guards," and how the quick ones consistently tie the Lakers in knots. But it's not really quick point guards who hurt the Lakers, but good ones, and most of the good ones are quick. The reason has less to do with Fisher's relative lack of agility than the team's shortcomings defending the pick and roll and in transition. (Fisher, it should be noted, is one of the team's more effective players at disrupting the opposition's break, whether by taking a charge or dropping to the right level to break up a pass.) I once asked
Aaron Brooks
, as quick as any player in the league, if he was quick enough to guard himself. He said no. Brooks can't guard Brooks,
Rajon Rondo
can't guard Rajon Rondo, and so on.
Many aren't quick enough to guard Fisher, especially off a screen, or even in the open floor, as Wednesday's final sequence demonstrated. He's not (last night's stunner notwithstanding) a quality finisher near the bucket, but the guy gets into the paint all the time. More than many fans would like. And he's almost certainly the slowest starting PG in the NBA.
The point isn't that Fisher is some all-world defender who just as strong on the ball as his strongest colleagues, just that this particular criticism is overblown. He has weaknesses defensively along with strengths, but it's as a collective where the Lakers succeed or fail keeping points off the board and Fisher's understanding of those mechanics are his greatest asset as a defender. If he were such a destructive force, there's no way the Lakers could have posted such strong defensive numbers over the last two seasons. In reality, when he hurts the team Fisher almost always does so on offense, whether with questionable attacks of the rack, the more than occasional P.U.J.I.T. (pull up jumper in transition), or what has over the course of his career been a low shooting percentage.
But he certainly makes big shots, no question. Nor is he afraid to stick up for himself, and did so Wednesday after a moment of strength and triumph, meaning he doesn't just have ice water in his veins, but an impeccable sense of timing. Maybe his inspirational speeches aren't the only reason teammates believe he could have a career in higher office?
December, 8, 2010
12/08/10
2:20
PM PT
There's a certain redundancy in calling the Clippers a bad team. Almost without exception, the red, white, and blue have been so down for so long, the "bad" part is assumed. Like a Xerox is a photocopy, or Kleenex is tissue. "Clippers," at least in non-barber circles, could be its own term for failure.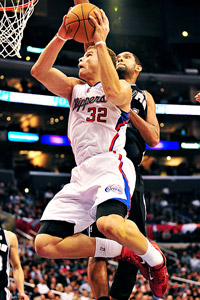 Gary A. Vasquez/US Presswire
Blake Griffin has shown himself to be something of a force of nature, one of the most unique players the league has seen in a long time.
To some degree, there was optimism heading into this season, as
Blake Griffin
was added to a lineup featuring
Eric Gordon
,
Chris Kaman
, and
Baron Davis
, along with some decent role players like
Ryan Gomes
and
Craig Smith
. Certainly they'd improve over their 29 win season last year, and if everything broke right, might even contend for a playoff spot (or at least a .500 record). Not saying I bought it, but the sentiment was out there, at least among some.
Instead, things turned sour fast. Davis was hurt early- shocker, I know- as was Kaman, and the Clipper ship took on water, despite incredibly exciting play from Griffin, and the continued ascendancy of Gordon. It was so bad, late in November on our Saturday radio show, when the Clips were about to fall to 1-13 that night against the Knicks, I openly wondered if the franchise had reached a sort of rock bottom. Which is saying something, since rock bottom seems to happen all the time.
But while the season is most certainly lost in terms of postseason hopes, to their credit the Clippers have found some stability of late, winning four of eight including home victories over New Orleans and San Antonio, and a narrow loss on the road in Denver. They'd like nothing more than to slay one more giant tonight when the Lakers switch benches and don their purple road unis at Staples.
To get a better perspective on the game, I hit up
ClipperBlog's Breene Murphy
for some insight...
1. The Clippers are starting a rookie point guard, instead of B.D. What's the difference on the floor between a Baron-led Clippers offense, and the Eric Bledsoe version?
The Clips are still operating within a pretty simple
Vinny Del Negro
pick and roll offense but there are acute differences between the offense when Baron or Bledsoe are on the floor.
Truthfully, it's more of a difference between a Bledsoe-Gordon led offense and a Baron led offense. When Bledsoe is in the game, VDN lets Gordon handle the ball a lot, which is one of the reasons for Gordon's spike in assists this year. I think this has had an adverse effect on Gordon's three point shot but has also been an impetus for him to go to the rim more (9.3 FTA).
That said, Bledsoe does a nice job running the offense, especially for a 19 year old rookie that didn't play point guard in his lone season in college (due to the presence of
John Wall
). He is at his best on the fast break, he'll give any player a run for their money on speed with the ball and he's an above average finisher. Even in the half-court, he uses his speed to blow by opponents and get open looks for his teammates, although he has to learn to use his speed so he doesn't just probe and dribble out. He's cutting down on unforced turnovers from over-penetration (still has significant problems) but the probing often forces the Clippers into re-initiating the offense with 12-14 seconds. This is not enough time to run the offense and the Clips will look for a bail out play from Blake, Gordon or Bledsoe instead of really passing the ball.