Los Angeles Lakers:

Eric Maynor
December, 7, 2012
12/07/12
9:22
AM PT
When the Oklahoma City Thunder shocked the world by trading James Harden just days before the season opener, many wondered whether the franchise was prioritizing the bottom line ahead of winning. On and off the court, Harden's been a critical factor in the Thunder's steady rise since 2010, and his do-it-all skill set was
often the grease for the dual engines of Kevin Durant and Russell Westbrook
. Kevin Martin may be a talented scorer, but he's not the same player, and a shorter financial commitment doesn't change that. Clearly, OKC couldn't be written off without Harden, but last season's Western Conference champions appeared poised for a slow start while adjusting to a new dynamic.
That lull lasted precisely three games.
After a 1-2 start, the 15-4 Thunder have lost just two games. They're riding a six-game winning streak, and have put up 100-plus in 10 consecutive contests. Fourth quarters still present times when the reigning sixth man of the year might come in handy, but overall, OKC has moved forward in strong fashion. A game in Oklahoma City always represents a tough challenge, and this one doesn't figure to buck any trends.
For more perspective on OKC, I conducted an IM conversation with Royce Young, who covers the team for
the True Hoop network's Daily Thunder blog
. Below is the transcript.
Andy Kamenetzky:
On the surface, it appears the post-Harden era has commenced without a hitch. Has it been that smooth?
Royce Young:
Honestly, it has. I recently looked over the schedule and the only game I thought the Thunder probably would've won with Harden around was the opener against the Spurs. They clearly hadn't adjusted to not having him -- that was only about four days after the trade -- and they didn't close well. Otherwise, by pretty much any metric, not only are the Thunder winning, they're winning better this season. Bigger margin of victory. Better offensive efficiency. Better assist rate. Better defensive efficiency. I guess that's not all that difficult when Russell Westbrook and Kevin Durant are still on your team.
AK:
We've seen Harden serve as an important bridge between Durant and Westbrook in the fourth quarter. How do they operate down the stretch of close games without him?
RY:
Basically it's all Westbrook and Durant, all the time. Like you said, Harden was an extremely valuable late-game player. When "Bad Russell" was in the building and playing wild and reckless, the Thunder could just take the ball away from him and let Harden run point and create. And don't get me wrong. There's still a very real fear about crunch-time situations in the postseason. Kevin Martin has fit in extremely well, except during late-game situations. Serge Ibaka is a bit more involved, but it's mostly all Durant and Westbrook. So far, it's worked pretty well. But that doesn't mean it's a lock to work smoothly in May.
This is off the wall, but I'd love to hear your thoughts. In OKC recently, there's been a discussion over who's better: Serge Ibaka or Pau Gasol. Who would you rather have?
AK:
Ibaka. He's got two good knees (to the best of my knowledge) which makes him more immediately valuable than Pau. He's also nearly 10 years younger, a huge plus for the long term. And while Ibaka may not be as versatile, he seems like an incredibly hard worker intent on improving weaknesses. (Witness the improved jumper.) Plus, he and Howard would form an absolute wrecking-crew defensive frontcourt. Pau certainly has a better understanding of the game, and is light-years ahead at running an offense. But were Sam Presti to offer a straight swap, I'd say yes in a heartbeat.
You mentioned Martin's snug fit with the second unit, but how has Eric Maynor performed since returning from injury? I thought his absence flew under the radar last season.
March, 21, 2012
3/21/12
4:08
PM PT
From the moment the Lakers traded
Derek Fisher
to the Rockets, a buyout was heavily anticipated. The odds of Fisher remaining with an 8-ish seed for the remainder of a career in its severe twilight felt low. And even with
Kyle Lowry
sidelined, third-stringer
Jonny Flynn
traded to Portland, and the Rockets looking to make a playoff push, one never got the impression the front office was as interested in Fisher as the incoming first round pick. Thus, it was expected Fisher would eventually join a contender, and a decision didn't take long to materialize.
ESPN.com's Marc Stein is reporting that Fisher and the Thunder have agreed to terms
and the veteran will be paid with a portion of the team's mid-level exception.
Royce Young
from Daily Thunder
is reporting the old man (cheekily wearing "37") will be in uniform tonight against the Clippers
), and
Sam Amick
from SI
has a copy of Fish's statement
about joining a new club.
From minute one, the Thunder felt to me like the most logical destination. For starters, there's a need for his services.
Eric Maynor's
season-long absence has created a void at backup point guard yet to be productively filled by rookie
Reggie Jackson
or
Royal Ivey
. 10-15 minutes from Fisher could provide some utility and remove a ball-handling burden from
James Harden
in the second unit. The Thunder are a supremely talented team with a legitimate chance at a championship, but low on legitimate championship experience. Beyond
Kendrick Perkins
and
Nazr Mohammed,
both of whom have rings
,
nobody else has even been to the Finals. Fisher brings a serious helping of "been there, done that" to the table. And latching on with a Western Conference squad allows him a potential crack at the Lakers during the playoffs, and I'll go out on a limb and predict that prospect is mighty tantalizing to him.
Plus,
unlike my brother, I'm aware of Oklahoma's proximity to Arkansas
, where Fisher's from and his family resides.
February, 23, 2012
2/23/12
8:57
AM PT
It's the biggest game of the regular season for the Lakers to date, and by a long shot. Yes, they've gotten revenge twice in two tries against the Dallas Mavericks, which heals the wounds still being licked. But as far as measuring sticks go, the defending champs haven't sold many fans or pundits on their repeat odds. And yes, they've faced the the consensus Eastern Conference favorites Chicago Bulls and Miami Heat, both times coming up short. A potentially bad omen of their prospects in the Finals? Perhaps, but visualizing the Lakers there feels pretty "cart ahead of the horse" right now, anyway.
A win against the Thunder in their house, however, would generate some faith amongst the nonbelievers.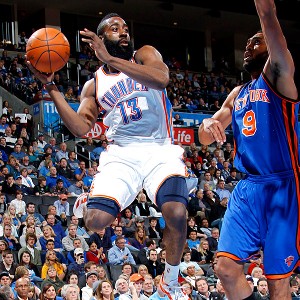 Layne Murdoch/NBAE/Getty Images
Harden brings way more to the table than just an epic beard.
The Thunder have rapidly matured since facing the Lakers in the first round of the 2010 playoffs, and they look every bit the part of a consensus favorite to win the Western Conference. The Lakers are working to establish their credentials as a team able to win on the road, much less win a title. Having said that, the Lakers are 9-4 against the Thunder (playoffs included) over the last two seasons, so in their own right, the upstarts have something prove against the veterans.
Still, it's hard not to think of Thursday's game as bigger for the visitors than the hosts.
For more perspective on OKC, we called upon
Royce Young
, who runs
Daily Thunder
for the True Hoop network. Below are his responses to five questions about
Kevin Durant
and the gang.
1. How much does James Harden's presence affect the Thunder?
Royce Young:
It's really hard to explain to people how important Harden is to the team. He's not just a great sixth man. He's like the mediator between Kevin Durant and
Russell Westbrook
. What he provides is just so necessary to the flow of the team. It's like he's a pressure-release valve so that Durant and Westbrook don't have to do everything. He scores, passes and operates a terrific two-man game with
Nick Collison
. He plays well with Durant and Westbrook and plays really well running the Thunder's second unit by himself. It's hard to say he's more valuable than Durant or Westbrook, but it's closer than you think.
May, 20, 2011
5/20/11
9:10
AM PT
By Ryan Gomes, special to ESPNLosAngeles.com
ESPNLosAngeles.com

With a highly entertaining Western Conference Finals between Dallas and Oklahoma City now in full swing, we asked Clippers forward
Ryan Gomes
, a six-year vet who has matched up with both
Dirk Nowitzki
and
Kevin Durant
, to break down the action for ESPNLA.com.
He looks at
Thursday's win in Game 2 for Oklahoma City
, and ahead towards Game 3. Here's an excerpt:
"...After Dirk Nowitzki's incredible Game 1, the Thunder did a nice job with their adjustments in Game 2, giving Dirk different looks compared to what they did in the other night. In Game 1 he was fouled a lot, but on the shots where he wasn't, Dirk had his areas down. He was catching, jabbing, and shooting over guys. He was comfortable. In Game 2, the Thunder ran a few double teams at him, and made him get rid of the ball. Dirk finished with five assists, but in the third quarter the Thunder were forcing turnovers because he and his teammates couldn't time when that double team was coming.

Oklahoma City did a nice job putting it in Dirk's mind that help could be coming at any point, and from different places. As a player, that makes you just a little less sure in your moves. Then as they built the lead, they didn't really want or need to double any more. The Thunder could play Dirk as straight and solid as possible, keeping other defenders on their shooters, knowing if he scored the Mavs still needed two or three more possessions in order to tie.

Dirk still had a great game, with 29 points on only 17 shots from the floor, but over the course of the night Oklahoma City did a nice job changing his rhythm.

Offensively, I thought Oklahoma City did a good job against Dallas' zone, putting Durant on the wing, but moving him around to the middle of the free throw line area. The Thunder tried to get him isolated right there against the guards at the top, so he could take those little mid-range shots or draw attention and kick to the opposite side of the floor. One time, he shot a pull up and missed it, but the Thunder earned the offensive rebound, and were able to capitalize with a nice lefty putback from Nick Collison. That's the thing about a zone- if you don't get that first defensive rebound, the opportunities for the offense to go in there and find holes are big.

That's what they'll need to keep doing in Game 3. Keep finding ways to get Durant to the middle, and have him make plays.
But even though Dirk and Durant were both good, the big key Thursday was with the other guys on the court..."
For the rest of Gomes' breakdown, including some great stuff on
James Harden
and the fourth quarter benching of
Russell Westbrook
,
click here
.