Los Angeles Lakers:

Erik Spoelstra
February, 10, 2013
2/10/13
3:24
PM PT

By Dave McMenamin
ESPNLosAngeles.com
Archive
MIAMI -- If Sunday's
Los Angeles Lakers
-
Miami Heat
matchup had any less meaning because of Los Angeles' sub-.500 record, nobody informed the teams that was the case.
Even though Miami came into the game winners of four in a row and owners of the best record in the Eastern Conference at 33-14, that didn't mean coach Erik Spoelstra was about to overlook the 24-27 Lakers.
"What you notice is that they have won seven out of their last nine despite everything that is circling around their team," Spoelstra said before the game. "They have found a way."
Spoelstra called it a way, Lakers coach Mike D'Antoni called it a route.
"I think they'll be back up," D'Antoni said of
Kobe Bryant
's assist totals that had dwindled to just 9 total against Boston, Brooklyn and Detroit before dropping 8 dimes on the Bobcats. "I think he's trying to get a feel, but obviously the right route is keep passing and trying to find open guys."
Bryant was back on the distribution wagon against Miami, doling out nine assists and putting his stamp on the game with 28 points and 6 rebounds, but as well as Bryant played, Miami had
LeBron James
on the other side of the ball.
James, who came into the game shooting 43-for-59 in his past four games (72.9 percent), was just as hot against L.A. After starting the game 4-for-4 for 12 points in the first half but having his playing time limited by three fouls, the three-time MVP exploded for 14 of his 32 points in the third quarter. He ended up shooting 12-for-18 from the floor.
"He's unbelievable," D'Antoni, who coached James in each of the past two Olympics, said of the Heat forward. "His work ethic, his energy -- when everybody is down in practice, he's the guy that gets it going, his love of the game. Besides winning the lottery gene pool that he won, besides all that, he takes it to a different level that I don't know if anybody can go there to be honest with you. He's unbelievable and he studies the game, there's just a lot of great things that he does."
Not so great if you're a Laker fan.
Sunday wasn't exactly a classic James-versus-Bryant battle. They were rarely matched up with one another and as brilliant as Bryant has been in his 17th season, he's no match for James steamrolling his way through the league in his 10th.
The bigger takeaway was that Bryant's teammates didn't have nearly the same impact as James' running mate
Dwyane Wade
(30 points on 12-for-18 shooting), who dominated right there with James.
L.A. got 15 points and 9 rebounds from
Dwight Howard
, but he also had 3 turnovers and 0 blocks.
Steve Nash
had 15 points but just 2 assists against 3 turnovers.
How it happened:
The Lakers led by one point after the first quarter and the game was tied up 53-53 at halftime as the Heat were able to erase an early 7-point deficit. James started to take over in the third, but L.A. kept plugging away and made it close thanks to a couple of early fourth quarter 3's by
Earl Clark
(18 points, 9 rebounds) and
Jodie Meeks
(six points on 2-for-3 shooting). But after just 7 team turnovers through the first three quarters, the Lakers coughed it up an additional 8 times in the fourth quarter alone, and Miami made them pay in transition to turn the close affair into a blowout.
What it means:
L.A. went 4-3 on its all-important Grammy trip. Not the end of the world, but at 24-28, they didn't do themselves any favors, especially with
Pau Gasol
out for the next 6-8 weeks. Blowing that sure win in Phoenix hurts even more now after they squandered the game in Miami.
Hits:
The Lakers had four players with 15 points or more and shot 50 percent as a team (35-for-70).
Misses:
The Heat outscored the Lakers 19-4 in fast-break points.
Miami outrebounded L.A. 38-29.
Stat of the night:
Metta World Peace
shot 3-for-11 from the field, extending his shooting slump to 13 straight games shooting less than 50 percent from the field. World Peace has been particularly bad as of late, going 22-for-82 in his past seven games.
What's next:
The Lakers return home for two games against the
Phoenix Suns
and
Los Angeles Clippers
before the All-Star break.
August, 21, 2012
8/21/12
9:48
AM PT
In the wake of their team's roster overhaul, there are matchups around the association of great interest to Lakers fans. The precocious (and still improving) reigning Western Conference champion
Oklahoma City Thunder
, for one.
San Antonio
, which won more regular-season games than anyone in the conference last year, for another.
Denver, among the "sub-elite-but-dangerous" teams
.
Heck, I'm sure there are people die-hard enough to want analysis on how their Big 4 and improved bench change things against Sacramento.
Then there are matchups of interest to everyone who loves, or likes, or even thinks he might one day show some interest in basketball. Ten months or so out, it's easily the sexiest of potential 2013 Finals -- Los Angeles vs. Miami. L.A.'s foursome of
Kobe Bryant
,
Dwight Howard
,
Pau Gasol
, and
Steve Nash
vs. the current champion and its Big Three of
LeBron James
,
Dwyane Wade
, and
Chris Bosh
, with the newly added
Ray Allen
now tossing in 3-pointers from around the arc.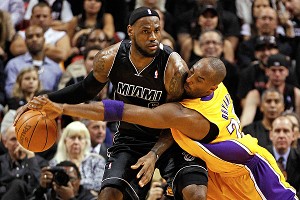 Mike Ehrmann/Getty Images
This year, Kobe Bryant will be reaching for more than the ball. With a juiced-up roster, a Finals matchup against LeBron James and the Heat is possible.
That the season series could be limited merely to a pair of regular-season games in January and February is a cryin' shame. But on the (not so) odd chance it isn't, we hit up
ESPN.com's Tom Haberstroh, frequent contributor to the Heat Index
, to break down how a series between the Lakers and Heat might look . . .
Brian Kamenetzky, Land O'Lakers:
What was the reaction in Miami to the Howard trade?
Tom Haberstroh:
I was talking to someone with the Heat staff this summer and they didn't think the Lakers saw eye-to-eye with the Heat, even with Nash. But that came with one qualification: "Unless they get Dwight."
Miami fans reacted like so: "Uh oh," but are still basking in the glory of the championship, so they aren't all that panicked. If the Heat DIDN'T win the title and the Lakers loaded up like this? I think they'd be calling for
Erik Spoelstra's
head first and then they'd be calling
David Stern's
cell phone "for basketball reasons."
BK:
Given that
Andrew Bynum
was pretty good already, why would they be that much more concerned about Dwight? (I mean, beyond the obvious reason -- that he's a better player and is among the league's truly dominant forces, particularly defensively.)
What specifically about the matchup doesn't the staff like?
Haberstroh:
Simple -- Steve Nash's pick-and-roll partner.
With a talent like Howard, you can't think of him as "just" an upgrade for Bynum. Baseball kind of works like that, but basketball doesn't. Because of the synergy between him and Nash, the Lakers' offense just got so much more dynamic. That is, if Kobe Bryant complies.
BK:
I think he will -- I've said/written a few times that if this roster doesn't meet expectations, Kobe's ego won't be a primary factor -- but obviously the personalities we're talking about here are very strong, so there are no guarantees, even if everyone wants to row in the same direction.
Tom, when LBJ and Wade hooked up there was obviously an adjustment, but from your perspective how much of it was based on finding a rhythm, and how much was based in that idea of compliance? That both had to be willing to let it work?
March, 20, 2012
3/20/12
12:23
PM PT
Via ESPN.com's Marc Stein:
"The Miami Heat and Oklahoma City Thunder have emerged as the early leaders in the race to sign veteran guard Derek Fisher after he clears waivers on Wednesday, according to sources close to the situation.

With the Chicago Bulls needing another big man more than another guard and the San Antonio Spurs still hopeful that they can complete the signing of guard Patrick Mills by week's end, sources told ESPN.com that Miami and Oklahoma City are the current frontrunners to land Fisher, who was formally waived Monday night by the Houston Rockets."
To help facilitate his buyout, Fisher reportedly dropped a $3.4 million player option for next season, kissing goodbye a significant amount of money -- no level of performance the rest of the way earns him anywhere near that next season -- to play for a contender now. The trade may have been a necessary second step following the acquisition of
Ramon Sessions
, but nonetheless instantly created the possibility of Fisher joining a high-end team the Lakers could meet down the stretch and into the playoffs.
Bad as he's been on the floor (and he's been bad), if some of the Tweets and emails we've received are any indication, the idea of getting down to crunch time and seeing Fisher in the other team's uni makes a lot of fans nervous. Particularly given how motivated he'd be to stick it to Lakers management.
So with that in mind, I ask
: Are you scared at all of Derek Fisher?
January, 19, 2012
1/19/12
8:33
AM PT
By the Kamenetzky brothers
ESPNLosAngeles.com
Archive
The first meeting between these teams last season was met with enough hype to make
P.T. Barnum
blush. (It was also met with enough purple and gold lethargy to make a Lakers fan lose his Christmas brunch.) One year -- and two similarly disappointing series against the Dallas Mavericks -- later, and the setting has changed. The Lakers are trying to prove that a championship pedigree still exists, while the Heat are trying to prove their pedigree is matched by a championship heart. A win in AmericanAirlines Arena would help re-establish the Lakers' credibility, and a win with
Dwyane Wade
possible in street clothes would be a meaningful one for the Heat.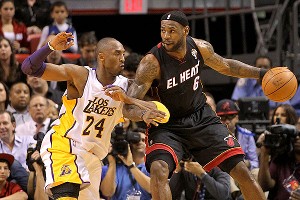 Mike Ehrmann/Getty Images
It's a shame this game doesn't feature much in the way of star power.
For a look inside Thursday's extravaganza, we talked some shop with
Tom Haberstroh
, who covers the Big Three & Co. for the
Heat Index
.
Brian Kamenetzky:
Is Wade going to play Thursday?
Tom Haberstroh:
I'd bet my authentic
Drazen Petrovic
jersey that Wade is not going to play. All the players at Wednesday's practice spoke as if he was already ruled out.
Erik Spoelstra
called him "day-to-day," which has been his status for a couple weeks now.
BK:
So what does that mean? They're like
Tim Tebow
without him. All they do is win. Or at least like pre-losing Tebow.
TH:
This is a great point. Maybe we have to look into this a little more, because LeBron made some Tebow comments before the game that Wade got hurt in ... Conspiracy! Wade being out means that LeBron James and
Chris Bosh
get to go back to their Cleveland and Toronto days, respectively. You saw the free-wheeling attitude Tuesday against the Spurs.
But I should add -- 4-0 does NOT mean that they're better without Wade. Bosh and LeBron are better without Wade, but
the Heat
are not better. Need to put this meme to bed.
Andy Kamenetzky:
Kinda like the meme people throw out whenever the Lakers happen to win a game without Kobe. Having said that, how much confusion still lingers between LeBron and Wade in terms of co-existence?
TH:
They're worlds better than they were Jan. 19, 2011, but they still have a way to go. I'm still clamoring for more Wade/LeBron pick-and-rolls, but something tells me Spoelstra is keeping that trick up his sleeve for the playoffs. But I think it's no secret that they need to create more actions where each of the Big Three are moving together, not just LeBron and Wade.
Of course, it makes it tough when Wade is in street clothes with a canary-yellow diamond in his ear weighing him down.
June, 14, 2011
6/14/11
2:31
PM PT
Last Sunday, as the Dallas Mavericks celebrated a championship in the same arena housing a pep rally last July to celebrate the union of
LeBron James
,
Dwyane Wade
and
Chris Bosh
, like all the analysts, Internet scribes and fans across Twitter, I pondered the standard talking points; LeBron's series-long disappearing act, a hesitance eventually shared by his teammates. The frustration that eventually did in Flash.
Dirk Nowitzki's
fourth quarter comeback.
Jason Terry's
clutch shooting. Depth overcoming talent. Teamwork overcoming flash. The nationwide pleasure taken in Team South Beach's wipe out.
But eventually, I also had a flashback to standing in the
TD Garden
visitor's locker room, watching various members of the 2008 Lakers talk about getting their asses handed to them in humiliating fashion.
And the title they won the following season.
And how similar the Lakers' and Heat's situations are.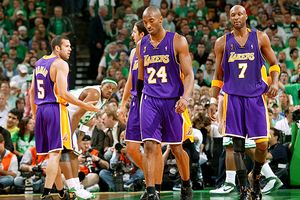 Jesse D. Garrabrant/NBAE/Getty Images
Before the back-to-back titles, Kobe and the Lakers absorbed the blows and ridicule.
Obviously, these aren't identical back stories. The Lakers, despite being considered (if memory serves) the consensus favorite in the Finals, nonetheless were riding an unexpected wave of greatness. The season began with
Kobe Bryant
wanting out and the franchise's future cloudier than a typical Seattle morning.
Yes,
Andrew Bynum's
shocking improvement, then the trade for
Pau Gasol
, transformed the 2007 seven-seeds into legitimate title contenders, but that's also no substitute for an entire season spent preparing for a Finals appearance. Not to mention, adversity conquered along the way.
As Derek Fisher put it, the Lakers kind of "waltzed (their) way" to the NBA Finals
before getting blindsided by the buzz saw that was Boston. Bynum available and
Trevor Ariza
fully functional perhaps would have offset that callowness. But at the end of the day, it was painfully obvious Boston had been the team spending every minute from training camp to their Game 6 blow out mentally readying for the moment they raised the O'Brien.
March, 10, 2011
3/10/11
11:40
AM PT
Today's game is guaranteed to attract a lot of eyeballs. Thus, we're providing a lot of analysis. In addition to
the exchange between Brian and ESPN.com's Tom Haberstroh
, we recorded a podkast with our buddy
Kevin Arnovitz
, who runs
the Heat Index
for ESPN.com. The conversation covered items like the Heat's current struggles, the matchup today vs. last Christmas and the on-court dynamics. Plus, the Wonder Twins, because that's just how we roll.
PODCAST
Ahead of Thursday's Lakers-Heat extravaganza, Andy and Brian talk with Heat Index editor Kevin Arnovitz about Miami's recent skid, whether Eric Spoelstra is the right coach and the matchups against the streaking champs. Plus, a tutorial on The Wonder Twins!

" Podcast

Also, while filling in for
John Ireland
on 710 ESPN's
Mason and Ireland
show, we were part of a conversation with ESPN.com's
Brian Windhorst
, who's part of the Index and has covered LeBron since his high school days. As always, Windy delivered some great details.
You can hear both conversations in their entirety by clicking on boxes to the right, but below are some excerpts:
Arnovitz, on what's going wrong for the Heat right now
:
"It's a pressure cooker. It's incredible, because even
Erik Spoelstra
, who's been sort of this paragon of poise throughout this whole thing, (after the Portland loss), he pretty much just came up to podium and said, "We don't have a lot of answers and all we can do is not... let... go... of... the... rope. And that's not my emphasis. That's actually his cadence. That rope is sort of slipping away.
"There are really two trains of thought. On one hand, and it's almost as if the shoe is on the other foot. I remember coming out to Los Angeles (around Christmas) and it was just catastrophic. The sky was falling. The Lakers had officially ceded their championship rings before New Years and the Heat were at the time, I think, (winning) about 19 out of 20.
Brian Windhorst, one of his favorite axioms is, "In the NBA, there's always time."
There's always time in a game to come back. There's always time in a regular season to come back. Even in the playoffs, there's always time. So one frame of thought is things really aren't that bad.
Luol Deng
misses a shot.
LeBron (James)
makes another drive, a shot against
Carmelo Anthony
he would normally make. We're talking about how they've lost three out of five, and things aren't that catastrophic.
"But there's just a microscope on this team that accentuates every problem."
PODCAST
ESPN.com Heat Index writer Brian Windhorst talks about the team's well-publicized frustrations of late. How are "the big three" and head coach Erik Spoelstra coping with recent failures and the ensuing mockery from fans and peers?

" Podcast

Arnovitz, on how much of these problems are the result of Spoelstra's coaching:
"I think very little of it. I tend to subscribe to the non-naysayer school of thought, which is that randomness happens in basketball. You shouldn't lose five in a row, four of which at home, but these are really close games, with the exception of San Antonio. We're talking about a possession or a possession and a half either way. I do think there is a butterfly effect.
"I'm not saying there aren't issues. I'm not saying there aren't problems. I'm certainly not saying they're playing up to their potential. But I documented on Heat Index a game against the Knicks where on the last seven possessions they supposedly melt down. I looked at these possessions and five of those seven were really good sets... You sort of go back and examine the tea leaves after a game and this isn't a poorly coached team.
"There's stuff that we obviously can't know. Is there this bubbling mutiny under the surface that we don't see at practice and media availability, that those guys have checked out. But this doesn't look like a team that's checked out. That's one thing that even those ridiculing the Heat can say. They're competing."
March, 9, 2011
3/09/11
11:53
PM PT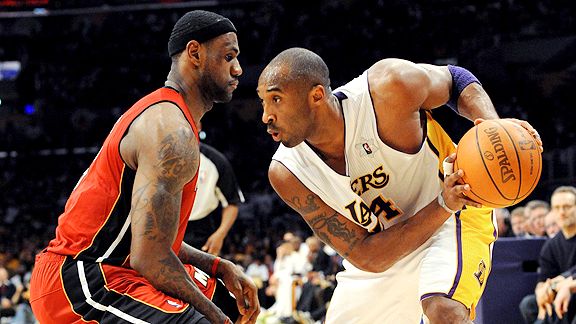 Jayne Kamin-Oncea/US Presswire
Christmas Day went to LeBron James and the Heat, but since the All-Star break Kobe Bryant and the Lakers have caught fire while Miami enters Thursday's game with a five-game losing streak.
The Lakers meet a suffering Miami team Thursday night, but while they won't be hosting any telethons in support, L.A. ought to recognize at least some of the negative energy currently burdening the Heat. Certainly the local media hasn't wanted for "What's wrong with the Lakers?" stories this year.
Both squads have seen their share of success, but as is often the case it's very possible to learn more about each team from the down moments. With that in mind, we joined up with
Tom Haberstroh
, contributor to
ESPN.com's Heat Index
(and the NBA page, generally) to compare and contrast each team's low points.
The natures of their struggles reveal a great deal about both the Lakers and Heat, their similarities and differences. I comment on L.A., Tom on Miami, looking at five different categories:
1. OFFENSE
HEAT:
On one hand, the Heat posted 96 points on 86 possessions – a very good rate -- against a vastly improved Blazers defense. On the other, it was a two-man effort with
LeBron James
and
Dwyane Wade
contributing 69 points. Depending on your viewpoint, the offense is either the least of the Heat's problems or an uneven trainwreck.
The Big Three will receive the headlines but the losing streak is a team-wide issue. Heat head honcho
Pat Riley
signed sharpshooters
James Jones
,
Eddie House
,
Mike Miller
and
Mike Bibby
to stretch the floor and sweeten Miami's three-pronged attack. During the losing streak, they've missed the mark from downtown, shooting 28.2 percent from downtown. It's particularly troublesome for the Heat considering the margin of error is slim for these specialists. They bring little else to the table.
With barbs being tossed around after Tuesday's post-game press conference, the Heat's offense may have reached a tipping point. We'll learn more on Thursday.
LAKERS:
In a lot of ways, the Lakers are the anti-Heat, thriving with balance.
March, 8, 2011
3/08/11
9:28
PM PT
It took a second try, but like the Lakers on the defensive end these days, we're persistent.
Among the topics covered Tuesday in the wake of
L.A.'s 101-87 win over the Hawks in Atlanta
, the team's eighth in eight tries since the All-Star break, include:
Another game-changing performance from Andrew Bynum. What he's doing is now abundantly clear. We throw around some theories as to how he's arrived at this point.
While Bynum anchored the middle, Ron Artest shut down Joe Johnson along the wing. With everyone else helping the helper, the Lakers are flat-out rough to score on these days.
Singing the praises of improved ball movement. Against a team like Atlanta who thrive on mistakes and in transition, the Lakers were able to maximize their defensive effort with good, clean work offensively.
Looking ahead to Miami on Thursday. How bad are things for the Heat? What's our take on CryGate?
Hope you enjoy it.
March, 7, 2011
3/07/11
8:11
PM PT
Life after the All-Star Break hasn't been particularly kind to
the Miami Heat, the Lakers' hosts this upcoming Thursday.
They're 4-6 in their last 10 games, with the most recent four losses coming in succession. More ominously, this streak features story lines stirring the pot even further. The Heat can't maintain big leads. The Heat can't close the deal in tight contests. The Heat have no crunch time offense.
And now,
the Heat cry after losses
.
After Sunday's down-to-the-wire loss to the Chicago Bulls, Heat Coach
Erik Spoelstra
let it be known a couple of players shed tears after the loss. No names were mentioned, leaving folks to speculate the weepy parties --
Chris Bosh
, who denied any water works,
was openly suspected by Amare Stoudemire
-- or simply picture the entire team passing around a Kleenex box. And predictably, the general reaction was along the lines of "what a bunch of (NSFW term for wimps)!"
Admittedly, I found the news quite surprising, but does it really constitute a crime against the unspoken "man" code? In my opinion, not nearly as much as the other violation in question.
Personally, I'm more of a "brood-and-drink-whiskey" type than a crier, but I'm also neither a caveman nor insecure with my masculinity. Thus, the notion of men crying doesn't automatically make me jeer "soft!!!" I'm not trying to "defend" whatever blubbering took place. I'm also not claiming crying is the ideal reaction -- we are talking about a regular season game played by professionals, after all-- nor one inspiring confidence. I just recognize that frustration sometimes boils over in ways you don't expect or can't control. NBA players aren't "warriors," "gladiators," or,
if you prefer LeBron's tweeted cliches, "soldiers."
They're human beings, and human beings sometimes allow emotion to win out.
December, 22, 2010
12/22/10
12:05
AM PT
(With the Lakers-Heat Christmas Day showdown still several days away, below is an early peek at one of the big issues shaping Saturday's game.)
Kobe Bryant
,
Pau Gasol
,
Lamar Odom
,
Andrew Bynum
,
LeBron James
,
Chris Bosh
,
Dwyane Wade
. When the Heat and Lakers take the floor Saturday afternoon at Staples Center, these will be the rock stars. The guys most likely to suck up camera time, be the focus of fancy graphics packages, and so on. They're also the guys for whom Christmas comes not just on Dec. 25, but every time a paycheck lands in their bank accounts. (Unless, of course, they insist on being handed a giant sack of cash on payday. Which, at least once, would actually be pretty cool.)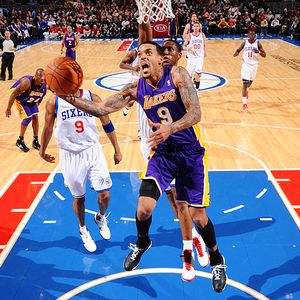 Jesse D. Garrabrandt/NBAE/Getty Images
Matt Barnes has been a monumental success at an even more monumental bargain for the Lakers this season.
Don't confuse money with influence. Each team's roster sports players in, at least by NBA standards, a different category financially, but could still make a major impact on the result of Saturday's game. Below are five guys, each earning $5 million or less, able to make or break all the work done by the headliners:

LAKERS
Matt Barnes ($1,765,000):
When he arrived in Los Angeles
after appearing to land in Toronto with a contract far richer
than the one he signed with the Lakers, I figured Barnes would provide some much-needed depth on the bench. Last season, for all intents and purposes,
Kobe Bryant
was the team's primary backup at small forward, something they couldn't afford to do again this season given the myriad physical problems Bryant fought a year ago. What I didn't have was a feel for how Barnes would fit in, or even how much he'd play.
Shows what I know.
While no player will likely ever step into
Phil Jackson's
offensive system in the way
Pau Gasol
did after arriving from Memphis, on a far smaller scale Barnes has done something similar, even while he learns the ins and outs of the offense. It works for Barnes because he never stops moving. "We don't have things set in stone. We play basketball. The idea is to always take the direct line in basketball which means if you're open you go to the basket," Jackson said after Friday's win in Philadelphia, in which Barnes scored 15 points in 28 minutes. "Matt's very efficient at doing that. There are some times we ask him why he didn't space [out the offense] but you can see why he does it, because his cuts are rewarded."
Miami, despite its struggles through November, remains an elite defensive team, capable of clogging up even the most talented offenses. When shots don't fall and clean looks become harder to create, Barnes' willingness to make hard cuts or crash the offensive glass becomes infinitely more valuable. In the latter category, Barnes has been particularly good,
grabbing the second most ORBs per game among small forwards
despite playing fewer minutes per game than every other SF in the top 20. On a per-minute basis,
no 3 in the league bests him on the glass
.
How he matches up defensively against Miami is a little tricky -- he doesn't have the strength to body up
LeBron James
in the same way
Ron Artest
can, and as far as I can tell the
two haven't played at the same time all season
-- but his activity level could be a boon for the Lakers on Saturday afternoon.
December, 4, 2010
12/04/10
8:08
PM PT
The Lakers entered Friday's game with the Sacramento Kings at Staples losers of four straight, a run of wrongness they hadn't seen since April of 2007. A fifth to a currently-wretched Kings squad might have brought rioting and skyward gazes in search of men on horseback.
PODCAST
Andy and Brian discuss the Lakers' losing streak, lament the decision not to add another big man, and hand out quarterpole awards. Plus, a "Smurfs or Lilliputians: Which are taller?" debate.

PODCAST

Fortunately, it didn't come to that, as the Lakers did what the Lakers should do-
overwhelmed a far weaker squad, particularly on the defensive end
. Sacramento's issues notwithstanding, the Lakers held them to 16, 19, and 17 points over the first three quarters. That's rock solid work, no matter the opponent.
Pau Gasol
and his injured left hamstring played only 27 minutes, ahead of a three day break before the Lakers host Washington Tuesday night. So blowy was the blowout,
Derrick Caracter
and
Devin Ebanks
were both able to accumulate career highs in minutes and points.
These are all good signs, but given the quality of the opponent,
it's hard to measure how much Friday's performance would translate against better competition
. There are still things to diagnose and repair, one of the major focuses (foci?) of our newest podcast (taped Friday afternoon, but in which we went out on a limb and assumed a win that night).
Among the high points, after answering questions about the relative size of
Smurfs
and
Lilliputians
...:
The anatomy of a losing streak. Where had the Lakers gone wrong over the four games in question, and what has changed for a team now 6-6 after an 8-0 start. There are numbers on both sides and with individual players seeming to play a major role in the slide. Andy notes how there were moments of concern last season (some coming much later than early December), while I express concern about L.A.'s D without Andrew Bynum... because there's certainly a reasonable chance he could miss time later in the year.
Does Gasol's barking hammy indicate the Lakers ought to have either played Caracter more earlier (with the understanding he might not play all that well) or signed a guy like Jake Voskuhl (whether the actual guy, or his equivalent)? Neither would elevate L.A.'s play, but if a few minutes of relief could be provided for the Spaniard, is his long term health more important than a couple games early in the season? Can a straight line be drawn from the heavy minutes to the bad leg?
Friday's game was the team's 20th, meaning a quarter of the season is gone. Who is the biggest surprise? Biggest disappointment? The MVP? We grade the players, and the team with an early report card.
LeBron James had a triumphant return to Cleveland. Reaction to the game, and we ask the question: Is this the game that could turn the Heat around? Should Lakers fans actually be rooting for it?
November, 24, 2010
11/24/10
2:27
PM PT
During Tuesday afternoon's edition of "The Waddle and Silvy Show" on ESPN 1000 in Chicago,
Phil Jackson
rather casually lobbed a volley towards South Beach, where (perhaps you heard?) the Heat are beat up and off to a sluggish 8-6 start. Should Miami continue struggling, it appears Jackson questions whether Miami coach Erik Spoelstra can hold on to his gig. If you missed Jackson's comments:
"The scenario that sits kind of behind the scene, is that eventually these guys that were recruited --
[Chris] Bosh
and
[LeBron] James
-- by [team president]
Pat Riley
and
Micky Arison
, the owner, are going to come in and say, 'We feel you [Riley] can do a better job coaching the team. We came here on the hopes that this would work,' and whatever, I don't know," he said. "That's kind of my take on it, is that eventually if things don't straighten out here soon, it could be the
Van Gundy
thing all over again."
The "Van Gundy thing," of course, references Miami's championship season of '05-'06, when 21 games into the season Stan Van Gundy stepped (or was shoved) aside, deciding (or being made to) spend more time with his family
while Riley took over on the sidelines.
SVG has always claimed he left of his own volition, which may be true, but nobody believes him.
Before Tuesday's game against the Bulls, Jackson softened his comments a little, noting patience is required before fully evaluating the Heat, and seemed to expand the time horizon before hands in the back might shove Spoelstra out the door. "I think eventually, if things don't turn around, I think eventually the weight's going to fall there where [without] the success they were hoping for, there will be a real drive for the players to have some kind of change," Jackson said. "It's easier to change coaches than to would be to change teams, after they made all those player adjustments.
"There's a chance for that, I would say. It would take a lot more losses like the ones we've seen."
Wednesday,
Spoelstra wisely laughed off Jackson's radio interview,
but Van Gundy said Jackson's comments revealed an ignorance of his situation in Miami. He found them "inappropriate," and noted "[Jackson didn't] know what the situation was and he doesn't know what the situation is [in Miami] now."