Los Angeles Lakers:

ESPNBoston.com
January, 29, 2011
1/29/11
7:11
PM PT
By The Kamenetzky Brothers
ESPNLosAngeles.com
Archive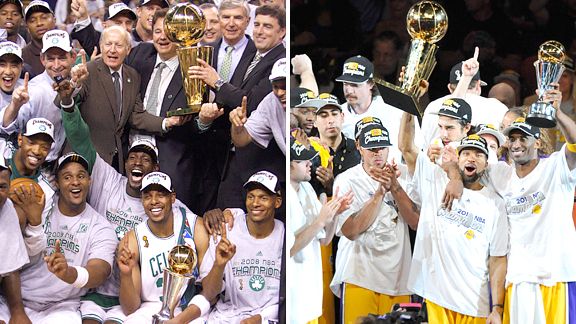 AP Photo/Getty Images
In '08, Boston celebrated at the expense of the Lakers. Last season, L.A. turned the tables. Is Sunday's game a precursor to a rubber match this June?
Earlier in the week, we
took a look back at last June's epic Finals Game 7
with
ESPNBoston's Chris Forsberg, host of the Boston Celtics Report
. (Really, it's just a fancy name for Celtics Blog. Typical Forsberg to try and come up with some sort of quasi-clever name for his site. We would NEVER do that sort of thing.)
That was then.
Sunday's game at Staples
, the first meeting since the Lakers clinched their second straight title, is now. So once again, we join forces with Forsberg, this time to preview the festivities.
First question goes to Chris...
How do you account for how well the Celtics have managed to play this season, despite a string of injuries and several players not getting any younger? Other than Paul Pierce and Ray Allen, there's been a fair amount of key guys in and out.
Forsberg:
If Games 6 and 7 of the Finals taught Boston anything, it's that they couldn't get by on the depth they had. Yes, it's hard to complain when you have a starting lineup featuring three surefire Hall of Famers, one of the game's best young point guards, and a still-underrated defense-first center, yet Boston's bench was frighteningly inconsistent last season (producing a Shrek & Donkey moment one night, then completely disappearing the next).
So Boston beefed up in the offseason, adding
Shaquille O'Neal
,
Jermaine O'Neal
, and
Delonte West
via free agency. Pay no mind to the fact they've missed roughly a season's worth of games between them, Boston has often been able to keep at least one O'Neal upright and, for those moments they're both in the shop, they brought over Turkish import
Semih Erden
, the Mr. Irrelevant of the 2008 draft who has exceeded all expectations while serving as a spot starter at times during his rookie campaign.
But more than anything, Boston's core five of
Rajon Rondo
, Allen, Pierce,
Kevin Garnett
, and
Glen Davis
have carried this team. Davis is in the conversation for Sixth Man of the Year, while playing starter-like minutes off the bench. Allen, Pierce, and Garnett (and Shaq, too) are flirting with posting career highs in field-goal percentage, and much of that can be traced to Rondo's distribution.
By avoiding big injuries to their biggest names (yes, Rondo and Garnett both missed sizable spans), Boston has been able to thrive. The whole "gotta get home-court advantage just in case we need it" is pushing them a bit, too, after how last season ended.
For you guys: The Lakers have 13 losses, but they seem to be coming in bunches. Anything to that? It seemed like Los Angeles also beefed up in the offseason, so any concern about not being the most dominant team in the West thus far?
Brian Kamenetzky:
The clusters of losses were concerning in part because they were unprecedented in the
Pau Gasol
era. To see a three- and four-game losing streak -- particularly the set against Milwaukee, Miami, and San Antonio where they didn't just lose, but were totally obliterated -- was disturbing. Championship teams just don't do that sort of thing. (Literally. If memory serves, we got a stat in our inbox noting how one title winning team, the '77-'78 Washington Bullets, ever had a bad run like it, losing three straight by 15-plus. If the details are off, suffice to say it doesn't happen often.)