Los Angeles Lakers:

ESPNDallas
January, 19, 2011
1/19/11
12:38
PM PT
It was just a few weeks ago Laker fans were worrying about a spiral into the abyss, but a six-game winning streak coupled with Sunday's win over the Thunder has allowed folks to breathe easier. And with the two-defending champs currently trending northward, another Western Conference elite has taken their places as the worrisome squad du jour.
PODCAST
Andy Kamenetzky talks with ESPNDallas.com's Tim MacMahon about the Dallas Mavericks' recent tailspin and what to expect in Wednesday's game against the Lakers.

Podcast

The Dallas Mavericks, at one time second best team in the West, is in free fall mode, entering Wednesday's contest against the Lakers on a six-game losing streak. True, there were extenuating circumstances to the bad run.
Dirk Nowitzki
missed nine games with a sprained knee (and was ejected in his return against Memphis).
Tyson Chandler
a pair with an illness. And
Caron Butler
is out for the season after undergoing knee surgery. But as the losses pile up, so do the reports of
hustle lacking and a fragile mentality permeating throughout a franchise
with an established pattern of melting in adversity.
To get an idea of what's ailing Mark Cuban's team and the game, I caught up with
Tim McMahon, who covers the team for ESPNDallas
. You can hear the entire interview by clicking the module in the box to the right, but below are some choice excerpts from our conversation. As you'll see, MacMahon doesn't pull many punches.
"It's one thing to play poorly," says the scribe about the Motown loss. "It's another thing to absolutely play with no heart or no effort. The stench of
quit
, we could smell it from Dallas when they were all the way up in Detroit."
MacMahon, on what's gone wrong during the bad stretch:
"They've had some medical woes, without a doubt, but I think what's really happening is this team is starting to feel sorry for itself. They're bad without Dirk. They're worse without Caron Butler. And you add the Chandler thing into the mix and I think you've got a team that right now feels helpless, like they aren't good enough to win. And that's pathetic for a team that started out 24-5. But you know what? Forget the 24-5 start. This team has lost six straight games.
"It's disturbing. There's no question about the fact that this is disturbing."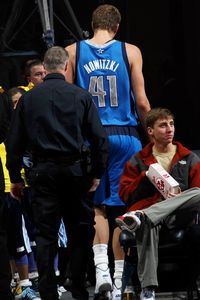 AP Photo/Nikki Boertman
Frustration led to Dirk getting tossed against the Griz.
MacMahon, on whether someone can step up in Butler's absence:
"It's not a position fit, (but the injured)
Roddy Beaubois
is the one guy who can really at least fill the scoring void that Butler had. But again, we're talking about a guy that hasn't even been through a practice this season. Just started shooting jump shots. Just starting to run a little bit. Still, And oh, by the way, as Dirk Nowitzki pointed out (Tuesday), this isn't a kid who averaged 18 or 20 points a game last year. This is a guy who had a handful of flashes of brilliance. He was a fringe rotation player last year. He's still only 22 years old. What he really is is an undersized shooting guard. But there is a
ton
of pressure on this kid to come in and really perform at a high level, because they've got (only) two proven scorers on this team.
"But honestly, their biggest problem right now is the deterioration of their defense. They were a very good defensive team at the beginning of the season and that's completely gone away lately."
MacMahon, on the cause of the bad defense:
"
Tyson Chandler
is clearly the key to this team from a defensive perspective, but even going back last year, for the first month and a half of the season, they were a pretty good defensive team. They had some injuries, specifically
Erick Dampier
. People can laugh at this, but Erick Dampier's knee starting acting up and suddenly the Mavericks morphed into a horrendous defensive team. A Nellie-ball kind of defensive team.