Los Angeles Lakers:

Ettore Messina
May, 11, 2014
May 11
12:30
PM PT

By Dave McMenamin
ESPNLosAngeles.com
Archive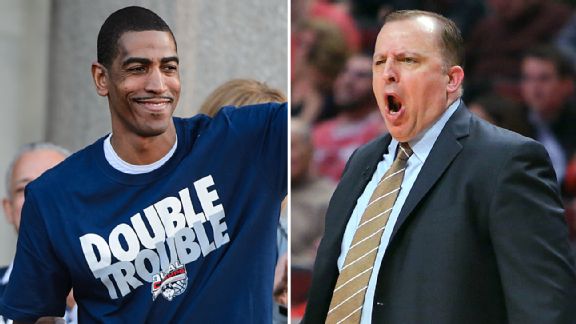 AP ImagesKevin Ollie might fit a rebuilding Lakers squad; a reloaded team needs a Tom Thibodeau.
The
Los Angeles Lakers
are in the market to hire the 25th head coach in franchise history, and now, several weeks after the job became available, it seems as if there are 25 candidates to fill the position.
The Lakers have still not reached out to any of the names they are considering, according to a team source familiar with the coaching search. They are expected to commence a preliminary round of phone interviews soon, but will not schedule any sit-down sessions until later in the month.
As the clock keeps ticking since Mike D'Antoni resigned April 30, three pertinent questions spring to mind:
1. What should the Lakers be looking for in their next coach?
2. Who are the Lakers considering?
3. What is taking so long?
We'll start in reverse order.
While it's natural to assume the Lakers should have a sense of urgency about finding their coach -- particularly as other jobs open up around the league (Golden State, New York, Utah, Minnesota and, presumably, Detroit) -- the Lakers are in something resembling a high-stakes game of Texas hold 'em.
They know what cards they're holding: two aging future Hall of Famers in
Kobe Bryant
and
Steve Nash
under contract for close to $34 million for next season; a significant chunk of cap space beyond that; and, of course, the intangible asset of calling Southern California home -- plus a prestigious résumé as one of the most storied franchises in the league.
The draft lottery

What they're waiting for is the flop. In this case, the information that will determine how they play their hand will come May 20, when the NBA conducts the draft lottery in Times Square.

The Lakers' 27-55 record was sixth worst in the league this season, thus giving them a 43.9 percent chance of ending up with the No. 6 pick. But in the lottery system, it's a crapshoot. The Lakers have a 6.3 percent chance of ending up with the No. 1 pick and a 21.5 percent chance of ending up in the top three. Then again, they have a 34.6 percent chance of picking somewhere in the Nos. 7-9 range, worse than their finishing slot.

In a New York minute, everything can change, as they say. The Lakers are hoping for a little luck on their side when they send the last No. 1 overall pick in team history, James Worthy, to New York to represent them for the night.

Whichever draft tier they ultimately find themselves in -- picks Nos. 1-3, standing pat at No. 6 (they are ineligible to move up to 4-5 in the current system) or falling to 7-9 -- could lead the franchise in drastically different directions on its coaching quest.

Let's say they luck out and catapult into the top three. The Lakers will find themselves in a win-win situation. On one side of this coin, they believe that one of the top prospects -- Joel Embiid, Andrew Wiggins, Jabari Parker, etc. -- will be an immediate franchise-changer, a player they can bring into the program to learn from Bryant for a couple of seasons before he takes the reins alongside whichever max-level free agent they bring in over the next two summers. On the other, they find another team that believes there is transformative talent available at the top of this draft and trade the pick.

Both are enviable positions for the Lakers to find themselves in, but they are the starting points for vastly divergent paths. If they use their top pick on a player they think can lead the team for years, then the coaching hire will surely be expected to cater to that prospect's strengths as his top priority. While the sun and moon in the Lakers' universe have revolved around Bryant for nearly the past two decades, developing that young player would suddenly become an even more important task for the franchise than protecting Bryant's legacy as he plays out the final two years of his contract for $48.5 million.

If the Lakers trade the pick for an established veteran such as Minnesota's Kevin Love, for instance, it puts the franchise on a totally different trajectory. Suddenly, by pairing Bryant with another star in his prime, the Lakers are theoretically back to being a factor right away, even in the stacked Western Conference.

Let's say the pick ends up being worse than they were hoping for, in the Nos. 7-9 range. Maybe they fall in love with a prospect and take him at that spot, but maybe the pick is expendable. And while a selection that late in the draft surely wouldn't be enough to land a vet like Love, it might be enough to convince the Chicago Bulls to let Tom Thibodeau out of his contract to coach the Lakers.


The opt-out options

If the draft lotto is the flop, then seeing which players choose to opt out of their current contracts and test free agency come July 1 represents the turn in this big poker game.

Why hire a coach in June if it develops come July that LeBron James is looking to leave Miami? Why commit prematurely to a coach -- and, subsequently, a certain style of play -- and potentially shut yourself out from consideration by James, Carmelo Anthony, Chris Bosh and others when it comes time to decide on their futures?

That's another major variable the Lakers are weighing. When it comes to landing a marquee free agent, you want any edge you can garner over the other teams competing for his services. The Lakers could be in a position where they can tell James or whomever else they target, "Not only do we want you, but we want you so much we'll let you help pick who is going to be your coach." For some players, that could be a major incentive.

With all that in mind, it should offer some clarity as to why the Lakers' candidate pool is so deep at this point.

They have different coaches in mind who would be specific fits for every different direction they could end up heading in.

If they are going to be a rebuilding team, why not take a chance on a younger coach who can grow with those young players? It worked in Phoenix this season with first-time head coach Jeff Hornacek. Why not hire Kevin Ollie, fresh off taking Connecticut to a surprise NCAA title, to lead that transition and cut his teeth in the league without the pressure to win every night? Or maybe Atlanta Hawks assistant coach Quin Snyder becomes that guy. Or Derek Fisher should he retire from playing after the Oklahoma City Thunder finish their current playoff run.


[+] Enlarge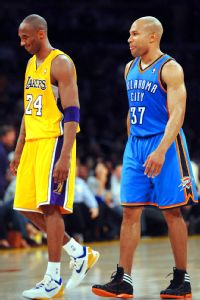 Kamin-Oncea/USA TODAY Sports Kobe Bryant and Derek Fisher came into the league together with the Lakers -- and that kind of relationship is not inconsequential.
If the Lakers are going to get a couple of big names this summer and find themselves back in win-now mode, the candidates they'll consider -- as well as the candidates who will consider them -- will shift.
Veteran coaches who are looking for work, like Lionel Hollins, George Karl and Mike Dunleavy, have all expressed interest, but they are at points where they have little leverage. They would take the Lakers job whether they end up with the No. 1 pick or the No. 9 pick; whether Los Angeles signed a big-name free agent or held onto its cap space for the summer of 2015; whether Nash and Bryant were healthy or they were going to continue to struggle with injuries.
But making moves to become a more veteran-laden squad could coax Jeff Van Gundy or Stan Van Gundy to leave their broadcast jobs. Equipping their team to be competitive right away next season could get Thibodeau to tell Chicago to listen to the Lakers' pitch. Bringing in guys who already know how to win could convince Mark Jackson to come on board. Going that route could get John Calipari to consider leaving his ready-made gig at Kentucky. It might even get Steve Kerr, who seems to have his pick between the Knicks and the Warriors at the moment, to want to don the purple and gold.
All of the names mentioned above have surely already been bandied about by the Lakers' front office. Throw in Byron Scott, Kurt Rambis, Ettore Messina, Roy Williams and Larry Brown. There are others, undoubtedly.
The Lakers just don't have enough information at this point to start eliminating any, nor do they really have enough to rank names properly, either.
Which brings us back to the first question: What should the Lakers be looking for in their next head coach?
There are three job requirements that he must be able to handle, no matter what happens in the lottery or in free agency. First and foremost, he must have a clear vision defensively. Seeing the video-game-like numbers opponents put up against the Lakers this season -- including that terrible stretch when they gave up an unthinkable 408 points over three non-overtime games -- convinced Lakers execs they have to go back to a coach who will make it a priority.
The Kobe factor

Second, the coach must be able to coexist with Bryant. The Bryant-D'Antoni relationship deteriorated to the point where the pair barely spoke by the end of their tenure together. Even in D'Antoni's first season in L.A., when the Lakers still managed to win 28 of their final 40 games to make the playoffs, there was conflict.

Bryant would often use the Lakers' shootaround time to receive treatment in the training room. When D'Antoni thought this was causing a disconnect between Bryant and his teammates, the coach asked the star guard to change his routine, according to a league source. As a compromise, Bryant still often used shootaround for treatment, only he had the training table brought out next to the practice court so he was physically present, technically, during the sessions. After playing such a long time at an elite level, it was understandable for Bryant to need extra time to get his body ready, but it led to occasions on the court where the team would be executing one way based on adjustments made during shootaround that morning -- and Bryant would be executing another.

With the financial commitment the Lakers have made to Bryant and the clout he has in both the locker room -- several of Bryant's younger teammates grew up idolizing him the way that he grew up idolizing Michael Jordan -- and with the fans in Los Angeles, to whom he has helped deliver five championships, the coach must have a rapport with Bryant if the team is going to have any chance at real success.

Bryant won't necessarily be best friends with whomever gets put on the sidelines next to him -- he even famously clashed with Phil Jackson at times -- but will buy in if he is convinced the coach is capable.


[+] Enlarge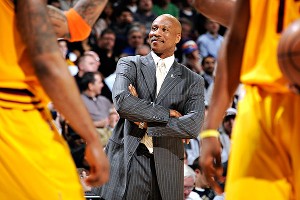 David Liam Kyle/Getty ImagesMight Byron Scott be able to convince a big-name star -- Kyrie Irving? -- to follow him to L.A.?
"Honestly, it's not really about whether the players like the coach or not," Bryant said as a guest on "Jimmy Kimmel Live" last week. "It's really about getting results. Liking somebody and those results don't necessarily go hand in hand."
So the fact that Bryant, as a rookie, was teammates with Scott and has been in contact with him in recent weeks, according to Chris Broussard of ESPN the Magazine, cannot be understated. Then again, he has relationships with many of the other coaches mentioned above, from Thibodeau (who was an assistant with Philadelphia when a high school-aged Bryant used to practice with the 76ers) to Rambis, Snyder and Messina (who all have coached him in L.A.) to Fisher, of course, a fellow rookie on that 1996 Lakers squad.
Third, the coach had better be just as astute at recruiting as he is with X's and O's. With the restrictive nature of the NBA's collective bargaining agreement preventing the Lakers from going over the luxury tax as willingly as they did in the past, having a coach who attracts top talent can be a workaround. The best players in basketball generally go on to win championships. Teams like the 2010-11
Dallas Mavericks
or 2003-04
Detroit Pistons
that win as a collective are much more rare than James and the Heat, or Bryant and the Lakers, or
Tim Duncan
and the
San Antonio Spurs
stacking titles because they have the best individual talent on the court.
With that said, if whomever the Lakers choose arrives with the promise of getting one of those top-tier players to join him in L.A. down the line, it makes that candidate all the more attractive. Scott is a nice coach and all, but Scott plus
Kyrie Irving
is a pretty package. Same goes for Calipari if he can leverage his relationship with James, or Ollie or Fisher if they can sway
Kevin Durant
to head West.
The chips are down in the Lakers' coaching search. The stakes are high. But don't expect to spot any tell signs until the draft lottery May 20. And even at that point, there could still be a lot more poker to play before the hand is decided.
March, 22, 2012
3/22/12
6:38
PM PT
Late this afternoon,
Kobe Bryant
(shooting guard, Los Angeles Lakers, used to wear a mask) appeared on 710 ESPN's
Mason and Ireland Show
--
click here for the full interview
-- and covered a lot of ground over about 12 minutes. He called the Lakers contenders, commented on his relationship with
Mike Brown
and the coaching staff, weighed in on the question of whether
Ramon Sessions
should start, and why the Lakers have struggled on the road.
The nugget likely to get the most attention came at the end,
when he was asked about Jim Buss
:
"We have a good relationship. People misunderstand that relationship. We've had good times. We've had dinner together, things like that. He's a great guy. He wants to do the right thing, he wants to help us win a championship. The biggest thing is, the same with his father who he's learned from, he's not going to make rushed decisions. He's going to be patient, he's going to take his time, and the one thing I will say about the Lakers organization is that this is one of those franchises that always seems to land on it's feet. Always seems to make the right choices, always seems to make the right decisions. Even the tough ones. He's a great guy."
Not that you'd expect Bryant to go Category 5 and blow up his boss on the radio, but his answer is still a lot nicer than many would guess, even if he's not being completely forthright. It doesn't make some of those things ticking Kobe off in recent months less real, but as a money quote could quell some of the whispers about major fractures in his relationship with the team. That's no small thing at a time where the Lakers are at a very uncertain place, caught between winning now and trying to prep for the future.
Among the other topics covered (arranged chronologically for your convenience)...
His thoughts on Brown and his staff. "We have coaches on staff who are very smart and understand the temp of the game. [Ettore] Messina in particular, who has a great deal of experience in coaching overseas and brings more of a European style of play, that's more fun to watch and involves more movement and things of that nature. Our coaching staff as a whole is very unselfish, and they don't mind other coaches sharing ideas and players sharing concepts."
How he can go shoot a combined 13-of-47 against Utah and Houston, then go 11-for-18 vs. Dallas.
On starting Sessions. "I don't really see it as a major issue or a big deal."
Why they struggle on the road, and how Sessions can help them improve.
Lamar Odom's struggles in Dallas. It's not just lingering disappointment from the trade, but his role as well. ""You have to feature him. He was a playmaker for us. He was a point forward for us. We ran our offense through him and allowed him to make decisions. It's tough to do that in Dallas, because they already have their structure."
His belief that this is a team capable of winning a title.
Finally, he was asked -- jokingly, of course -- if he and
Derek Fisher
would go easy on each other when the Thunder come to town next Thursday. ""The most disrespectful thing we could do to each other is take it easy on each other. That's not what we're about."
There will, he said, be elbows thrown and bruises inflicted.
January, 27, 2012
1/27/12
6:52
AM PT
Wednesday night, the Lakers
knocked off the Clippers
in what was their 19th game of a lockout-shortened 66-game campaign. For those not doing the math at home, one month in the Lakers have already completed 29 percent of their schedule.
A lot of time? No, but by this season's standard not a bad sample size, either.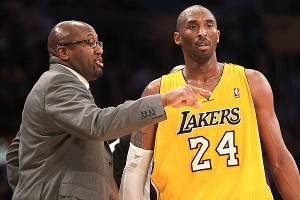 Jayne Kamin-Oncea/US Presswire
Kobe Bryant and Mike Brown have been like peas and carrots.
From a scheduling standpoint, Wednesday also marked a natural dividing line between the home-heavy start and what amounts to a national tour for the purple and gold, as 11 of their next 16 games come away from Staples Center. Put together, it makes for a natural moment to stop and assess what we know about this season's Lakers. When the lockout (tentatively) ended back on Nov. 26,
we published a list of 34 questions facing the team this year
in the wake of last spring's playoff disaster.
Why 34? Because 20 isn't enough when the league lets you sit around all summer thinking about stuff. Below is that list, each with some answers.
Strap in, people. We've got a lot of ground to cover.
1. Who wins the battle between the well-rested knee of Kobe Bryant (and his ankle, back, finger and general skeletal structure) and a compressed schedule?
Knee? What knee? I thought we were worried about his wrist. (Which, by the way, we're increasingly less worried about.) Meaning 19 games in,
the answer is Bryant in a walk
. He
leads the league in scoring
(30.2), a nearly five-point improvement over last season, while maintaining a solid shooting percentage (45 percent). Asked to carry an almost comical burden in the Lakers offense, at least as measured by his league-leading usage rate (35.9), Bryant has been outstanding. And spry. Very, very spry.
Basically, the man is a running, leaping billboard for German medical engineering.
2. Who wins the battle between the well-rested will of Bryant and the authority of Mike Brown?
The relationship between Kobe and Brown has been a success. Bryant has expressed nothing but admiration for his new coach, praising on multiple occasions Brown's work ethic and emphasis on defense, noting the team wants to win for him because they see how much Brown wants to win, too. They know he puts in the work.
Doesn't mean the questions about Bryant's shot selection, balance, or how he's used offensively have stopped, but those would be asked whether the coach was Brown,
Phil Jackson
,
Brian Shaw
or
Rick Adelman
. They are, in sports terms at least, eternal.
To this point, though, one major concern -- Brown's ability to "manage" Kobe, has been a non-issue.
3. What will Brown's system look like, and how quickly will the Lakers be able to pick it up?
Not totally sure, and not very.
November, 28, 2011
11/28/11
9:15
AM PT

By Andy Kamenetzky
ESPNLosAngeles.com
Archive
With the lockout now ended, we can actually examine questions beyond, "When will we see basketball again?" One topic, of course, is how the Lakers' offense will run under new coach
Mike Brown
. Since October 2005, we've seen this Lakers core run the triangle under
Phil Jackson
. Really, that system represents the Lakers' look since October 1999, save a brief period under
Rudy Tomjanovich
.
It's safe to say the aesthetics under Brown will be different.
How different, you ask?
Well, that's difficult to answer with real certainty. Since July 1, when the lockout began, access to Brown has been limited. When he has been available, league rules have prohibited him from speaking publicly about current players by name. Thus, specific details have been in short supply for quite some time. But we have been offered hints, along with some templates, to stoke our imaginations.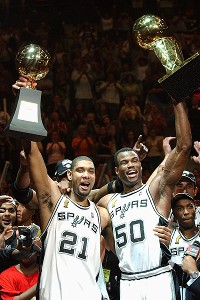 Jesse D. Garrabrant/NBAE/Getty Images
Did Timmy and The Admiral provide the foundation for similar success in L.A.?
During his introductory news conference
, which took place before lips were zipped, Brown downplayed the shadow of the triangle. "A lot of people run bits and pieces of the triangle offense," he insisted. "It's just basketball. It's spacing. It's reads. Even Cleveland, we had some bits and pieces of it within our offense." For that matter, he predicted his offense "will have bits and pieces of it that will be incorporated and will be based on the skill set and the comfort level of our players that will determine how much of it will be part of our offense."
Having said that, Brown also added, "We're not gonna run the triangle offense."
So there you have it.
As for what Brown actually will run, a small nugget was introduced that same afternoon:
"A lot that I'm gonna take offensively will stem from the time I was with San Antonio. ... We had two big, skilled 7-footers in
Tim Duncan
and
David Robinson
. So we'll do something similar to what they did with a little sprinkle of the triangle offense and a little sprinkle of what I want to bring to the table, also. We'll kinda combine it. But offensively, I think you have to tailor your offense to your personnel. You can't take our offense from team to team to team."
On draft day, amid the
Darius Morris/Andrew Goudelock
hoopla, Brown
expanded these details a bit, offering thoughts on the following:
The role of the point guard in what will presumably be a more traditional offense
"It will be an equal opportunity offense where the 1, the 2 or the 3 can bring the ball up. Because all the smalls are interchangeable. So it's not going to be too much different, because in the past here they had multiple guys, even including
Lamar
[
Odom
], bring the ball up. But the one thing we like to emphasize, we like to emphasize attacking the clock. We want to get the ball from the backcourt to the frontcourt within the first four seconds or so, so that we can get to a second, a third and sometimes a fourth option without our backs being up against the shot clock. So we'd like to get the ball up the floor a little quicker than what we've done in the past."
Whether Brown has an idea of how he wants to use Kobe Bryant
"Yes, I do. It fits into what I'm trying to do in our early offense. What I was saying is our early offense is going to be similar to what San Antonio did back when they had the two bigs in David and Tim. Again, there will be some bits and pieces of the triangle involved. But I think the triangle, it's a motion offense for the most part, and a lot of people have bits and pieces of that within their offense. It won't be any different for us, and we'll make sure Kobe's in his comfort zone, or his sweet spots out on the floor."
July, 8, 2011
7/08/11
5:43
PM PT
June, 7, 2011
6/07/11
8:59
AM PT
A quick roundup of news impacting
Mike Brown
as he looks to fill out his staff:
Chuck Person, the only realistic holdover candidate from last season's crop of assistants, met on consecutive days late last week with Brown, but as ESPNLA's Dave McMenamin reports, Person isn't putting his eggs in one basket. He's scheduled to interview with the Houston Rockets, hiring assistants to serve with new coach Kevin McHale.
Via multiple reports, including Yahoo! Sports' Adrian Wojnarowski, Mike Malone, who worked under Brown in Cleveland and was widely believed to be a serious candidate to join him in L.A., will instead be the lead assistant on Mark Jackson's new staff in Golden State. Malone is considered a top shelf defensive coach, helping transform the Hornets into a top tier team on that end of the floor this season. Should Malone do the same with the Warriors, he should bypass "next hot head coaching candidate" status and go straight to sainthood, because that would be a miracle.
John Kuester, the architect of Brown's more productive offenses in Cleveland and recently canned as head coach of the Pistons, is seen as a very strong possibility to come to Los Angeles.
If you haven't had a chance to
read the Q and A on Ettore Messina
, added to Brown's staff in a consulting capacity, it's well worth the time. I suspect he wasn't brought across the pond just to do light office work, so his influence could be very important.
June, 6, 2011
6/06/11
10:10
AM PT

By Andy Kamenetzky
ESPNLosAngeles.com
Archive
During his introductory presser
,
Mike Brown
acknowledged European coach
Ettore Messina
--
who most recently coached for Real Madrid and won Euroleague titles with Virtus Bologna and CSKA Moscow
-- would be among those considered for his coaching staff. Well,
according to ESPN The Magazine's Ric Bucher, Messina has been tabbed to join next season's staff
, though while he'll be listed as an assistant coach, Messina's job will be more of a consultant. Whether his duties are similar to
Tex Winter's
former role with the Lakers or the responsibilities are more expansive remains to be seen. Also, nothing is official yet, thus a Laker spokesperson when asked didn't confirm the report.
Either way, Lakers Nation has its collective eye on Messina, so I reached out to
Os Davis from BallinEurope.com
(TrueHoop network), who was kind enough to answer some questions. As luck would have it, Davis is equally familiar with the current incarnation of the Lakers as he is Messina's career overseas, making his perspective that much more valuable. Here's what Davis had to say about Messina.
Land O' Lakers: How would you describe Messina's offense/system? More half court or wide open? What's the tempo? Does it have any principles or characteristics of the triangle?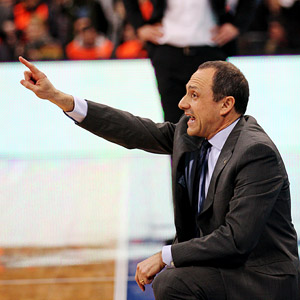 AP Photo/Darko Vojinovic
Can Messina's success overseas translate to a winning NBA coaching staff?
Os Davis
: Messina's teams tend to play quite a slow tempo relative to that of most European leagues, particularly in Spain's ACB, where Messina was for the past two seasons with Real Madrid and where the floor is
wide
open. Of course, there are exceptions to this. His 2005-06 CSKA Moscow squad could go into fourth gear early and run the court for the entire match. (Of note, too, is that this team was the ultimate fruit of
Mikhail Prokhorov's
business labor, that CSKA dominated defensively in both the Euroleague and Russian Super League, and that Messina was named Euroleague coach of the year.) But the general rule on a Messina team is a slow tempo, half-court game on both sides of the ball.
Probably one of the bigger disappointments in his career -- and surely a source of extreme pressure on Messina from club management -- was Real Madrid's inability over the past two seasons to get past rivals FC Barcelona. Despite the fact the seriously flexible system of player movement among top European clubs made the 2009-10 Madrid roster a revolving door throughout the season, Messina & Co. just couldn't find the right combination of quick big men to counter Barcelona's relentless attack and ability to open the floor at will.
In addition to his preference in the half-court, Laker fans will certainly be cheered by Messina's specialty of working with the post. Nobody in Europe, where frontcourts tend to be notably smaller but the bigs typically have the complete skill set in shooting, really employs anything like a triangle offense. But if Mike Brown was serious when he implied that some stuff with the triangle would remain in the playbook, you can bet that some of those
Gasol-Bynum
double post plays will have been tweaked/modified/perfected with Messina's input.
Messina is also known for his defensive schemes, but again, this might not necessarily be adaptable to NBA play, as European teams basically always run zones.
LO'L: Would the Lakers roster as constructed flourish in Messina's system? Are there areas where they might be lacking?
OD:
If only they could send
Derek Fisher
back in time a few years, he'd be the ideal Messina point guard -- thrives in the half-court, best at setting up plays there and starting them off, etc. It will be interesting to see what
Shannon Brown
might learn under Messina's tutelage.
Of course, one relationship that all will be watching is how Messina gets on with
Pau Gasol
. Can an All-Star get better? With his Continental resume and his most recent experience in Spain, Messina just might be the man to fully exploit all of Gasol's many (and from this perspective, distinctly European) skills.
Andrew Bynum
taking tips on defense and post play from Messina? That'll work. And as a big
Derrick Caracter
fan, I think he could be one to watch developing under Messina.
As for
Kobe
, Messina has coached some top stars, including
Theo Papaloukas
and some guy named
Manu Ginobili
, while employed in Europe and surely he has enough wisdom to handle the biggest name he'll have worked with.
Areas in which the Lakers are lacking, as you probably reckon too, are age and speed. I think any head coach, assistant coach or consultant might like to get a bit of help for these problems.
May, 27, 2011
5/27/11
12:09
PM PT

By Dave McMenamin
ESPNLosAngeles.com
Archive
LOS ANGELES -- The Los Angeles Lakers have done much more than simply shed their skin in anticipation of a new year this offseason. They've found a new head for their snake, as Mike Brown was quickly settled upon to become
Phil Jackson
's successor.
Now it's time for the team to determine what the snake's tail end will look like by filling out the rest of the coaches on Brown's bench.
[+] Enlarge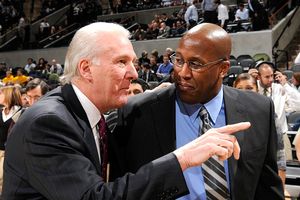 D. Clarke Evans/Getty ImagesMike Brown coach under Gregg Popovich in San Antonio.
Brown will be allowed to pick his own staff, however Lakers owner
Dr. Jerry Buss
, vice president of player personnel
Jim Buss
and general manager
Mitch Kupchak
reserve the right to veto any selection he makes, according to a source familiar with the Lakers' thinking.
He'll be starting with a nearly completely clean slate in which to deal with, after the team has cleared house in an effort to cut costs in anticipation of a potential lockout come July 1, while also having the intention of distancing itself from all things directly related to Jackson.
That means they'll be saying goodbye to longtime Jackson aides
Jim Cleamons
and
Frank Hamblen
, who were with him in both Chicago and L.A., when their contracts expire at the end of June the same way
Chip Schaefer
, Jackson's lead trainer since the early 1990's, was informed during the playoffs that he would not receive a contract extension. Hamblen told ESPNLosAngeles.com's
Ramona Shelburne
that he has already been contacted by an undisclosed team, while The Los Angeles Times reported that Cleamons will likely interview with the Phoenix Suns for a spot on their staff to coach defense.
Jackson's other full-time assistants, Brian Shaw and
Chuck Person
, who were in-house candidates considered for the head coaching vacancy are a different story.
Shaw was the only person other than Brown to receive an interview for Lakers head coach. Even though he is a respected member of the organization who won three championships as a player and was part of two more as an assistant coach, it is unlikely he'll remain as an assistant under Brown. He is still in the mix to become the next head coach of the Golden State Warriors, however, having interviewed there. Brown was considered to be the favorite for the Warriors job, but now that he is with the Lakers, the race in Golden State has opened up again.
Person, on the other hand, could very well stay with the team and occupy a spot on Brown's staff, similar to the way
Kurt Rambis
bridged the gap in the late '90s as an assistant for
Del Harris
and then Jackson. Person and Brown have a shared history, as they were both on Rick Carlisle's staff with the Indiana Pacers where they coached
Ron Artest
together. Person has the support of Lakers management based on the strides the team made on the defensive end during the second half of last season when Person became a more vocal teacher of defense in practice. He also has strong relationships with the players, including Artest,
Andrew Bynum
and
Kobe Bryant
.
The Revista Ufficiale NBA in Italy reported Brown has already been in contact with
Ettore Messina
for a position. Messina is a well-respected coach in Europe, having just finished a two-year contract with Real Madrid after completing a successful run at the helm of CSKA Moscow before that. Messina will have to weigh his desire to come assist with the Lakers offense and work with Bryant, who he is an admirer of, against his desire to make far more money as a head coach in Europe. Messina is a candidate to take over Olimpia Milano, owned by clothing designer
Giorgio Armani
, according to a source.