Los Angeles Lakers:

Europe
August, 11, 2011
8/11/11
6:53
PM PT
Just like there's more than one way to skin a proverbial cat -- actual cats should never be skinned, regardless of methodology-- there's more than one way for an overseas club to attempt luring an NBA player in the event of a lockout. For example, Besiktas, the Turkish squad hoping to land
Kobe Bryant
, has reportedly been brainstorming ways to secure enough cash to make an Istanbul jaunt worth The Mamba's while.
Similarly,
the Cheshire Cats over in merry ol' England are interested in securing the services of Ron Artest
, but a lavish salary isn't feasible. Thus, they've found another way to appeal to Ron Ron's sensibilities.
Per ESPN.com's Marc Stein:
Jets director Peter Hawkins told ESPN.com Thursday that his team, in an attempt to offset the monetary limitations it faces compared to clubs from bigger leagues in Europe, will try to get Artest prominent TV work in England, should he agree to join the Jets.
"You'll appreciate that we haven't got the means to entice someone of Ron's standing on financial grounds," Hawkins said. "Our commitment is to help raise Ron's profile in the UK in order to help him develop his music and movie career over here while playing basketball."
One possibility, according to a source with knowledge of the Jets' plans, is trying to find Artest a role on a British soap opera.
I've been on record several times with
my objections to Kobe playing for Besiktas, or any legitimate overseas squad
. A title with Besiktas adds roughly zilch to Kobe's resume and he couldn't possibly need the money that badly. (Even if he does, I have a feeling opportunities to earn cash will present themselves even without stepping on a court.) In the meantime, Kobe has recurring injuries, the mileage of nearly 19 NBA seasons when you include the playoffs, and a relatively short window as an indisputably elite NBA player. I just don't think such a low reward scenario is worth Kobe's time and energy.
Ron's potential venture in England also concerns me, but for different reasons. Obviously, the injury risks are the same for both players. However, Ron doesn't have nearly the same impact as Kobe on the Lakers' fortunes and quite frankly, even at peak health, Artest is one of maybe five NBA players whose hops don't make
Luke Walton
jealous. Most fans have deemed Ron in steep decline as it is. A major ailment notwithstanding, I'm not sure additional wear and tear would be markedly noticeable.
Instead, what concerns me more is Ron being theoretically enticed in large part by the opportunity to appear on British soap operas, among other projects. Artest's moth-to-flame relationship with the spotlight has never been a secret. The guy lives to entertain, whether through a music career, boxer-clad
Jimmy Kimmel
Show appearances or blowing kisses to the crowd. In the beginning, these impulses felt more quirky than problematic. "Ron being Ron," if you will. Plus, the Lakers were winning and Ron's desire couldn't be questioned.
However, when time in the limelight increases while stats simultaneously decrease, it becomes easier to wonder about Ron growing distracted. That basketball is being viewed as a means of celebrity, rather than celebrity being the byproduct of basketball. Obviously, it's not impossible to balance these worlds.
Lamar Odom
, certainly no stranger to questions about focus, had the best season of his career while filming a reality TV show with
Khloe Kardashian,
a PR machine who by all accounts has actually grounded LO. Stranger things have happened than mutual success in basketball and Hollywood.
However, should a lovable but flighty player actually choose a basketball squad because of the fit with his filming schedule, it raises eyebrows, if not red flags. Should the chance to build your brand among England's couch potatoes really be such an attraction? No doubt, a shot at the British equivalent of a Daytime Emmy is one heckuva lure, but considering the sub-par season Ron just endured, it would be reassuring if
basketball
appeared at least a consideration. Thus far, I haven't gotten that vibe. Even as someone who has often defended Artest's intentions, and even acknowledging we're a long way from a signed dotted line, something about this doesn't sit well for me.
To borrow a phrase made famous by TV, I hope Ron hasn't
jumped the shark
.
July, 30, 2011
7/30/11
8:07
AM PT
It's always fun when our buddy
Dave McMenamin
swings by. Among the talking points:
PODCAST
Andy and Brian talk with ESPNLA.com's Dave McMenamin about CBA matters, Kobe's knee and whether the Players Association is weakened by superstars going overseas.

Podcast

- We discuss
Derek Fisher's most recent comments about the lockout
. For now,
Fish doesn't anticipate the union decertifying
, which is good for those who'd prefer this process not get bogged down even further by court battles and legal red tape. Plus, the players know decertification would allow owners to void contracts, which could leave many players vulnerable. Frankly,
Jerry Buss
might be tempted to take action. The Lakers have a fair amount of contracts, whether
Luke Walton
or
Ron Artest
or
Pau Gasol
or even
Kobe Bryant,
hamstringing payroll flexibility. As I joked, they may decide to go scorched Earth, then build around
Devin Ebanks
and his dirt-cheap contract.
- Fisher also shared an update on Kobe's health. According to the veteran point guard, The Mamba's knee is resembling the version from a few seasons ago. Is there any chance
a recent PRP procedure
will allow Kobe to turn back the clock on his body? I'll more than happily eat a seven-course meal of crow if wrong, but I'm skeptical. However terrific his knee may feel
now
, I doubt it's a reliable indicator of how it'll feel deep into the rigors of an NBA season. After all, Kobe's mileage is the equivalent of almost 19 seasons and these injuries have nagged for a while. One way or another, Father Time typically wins these battles, however valiant the soldier.
Mind you, even with these issues, Kobe's an elite player and at times, still looks like the NBA's best player. But on a day-in/day-out basis, he's grown slightly less effective and this trend will likely continue. However,
whether or not he's better at nearly 33 than a still-in-his prime Dwyane Wade
isn't particularly important. What matters is a credible debate remains possible, and that's a credit to Bryant's greatness.
- Does players heading overseas crank up the pressure on the owners, a common school of thought? Or does an exodus, particularly involving elite players, actually create the appearance of a weak front where the rank and file get thrown to the wolves? And in the court of public opinion, is a willingness to play overseas for far less money the equivalent of noses cut to spite faces?
- Finally, we attempt to do "the math" with
Wilt
. Talk about having to "carry the one."
June, 6, 2011
6/06/11
10:10
AM PT
During his introductory presser
,
Mike Brown
acknowledged European coach
Ettore Messina
--
who most recently coached for Real Madrid and won Euroleague titles with Virtus Bologna and CSKA Moscow
-- would be among those considered for his coaching staff. Well,
according to ESPN The Magazine's Ric Bucher, Messina has been tabbed to join next season's staff
, though while he'll be listed as an assistant coach, Messina's job will be more of a consultant. Whether his duties are similar to
Tex Winter's
former role with the Lakers or the responsibilities are more expansive remains to be seen. Also, nothing is official yet, thus a Laker spokesperson when asked didn't confirm the report.
Either way, Lakers Nation has its collective eye on Messina, so I reached out to
Os Davis from BallinEurope.com
(TrueHoop network), who was kind enough to answer some questions. As luck would have it, Davis is equally familiar with the current incarnation of the Lakers as he is Messina's career overseas, making his perspective that much more valuable. Here's what Davis had to say about Messina.
Land O' Lakers: How would you describe Messina's offense/system? More half court or wide open? What's the tempo? Does it have any principles or characteristics of the triangle?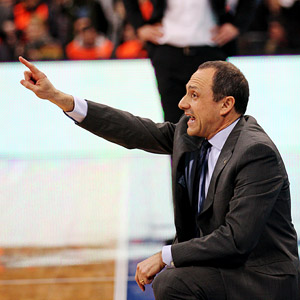 AP Photo/Darko Vojinovic
Can Messina's success overseas translate to a winning NBA coaching staff?
Os Davis
: Messina's teams tend to play quite a slow tempo relative to that of most European leagues, particularly in Spain's ACB, where Messina was for the past two seasons with Real Madrid and where the floor is
wide
open. Of course, there are exceptions to this. His 2005-06 CSKA Moscow squad could go into fourth gear early and run the court for the entire match. (Of note, too, is that this team was the ultimate fruit of
Mikhail Prokhorov's
business labor, that CSKA dominated defensively in both the Euroleague and Russian Super League, and that Messina was named Euroleague coach of the year.) But the general rule on a Messina team is a slow tempo, half-court game on both sides of the ball.
Probably one of the bigger disappointments in his career -- and surely a source of extreme pressure on Messina from club management -- was Real Madrid's inability over the past two seasons to get past rivals FC Barcelona. Despite the fact the seriously flexible system of player movement among top European clubs made the 2009-10 Madrid roster a revolving door throughout the season, Messina & Co. just couldn't find the right combination of quick big men to counter Barcelona's relentless attack and ability to open the floor at will.
In addition to his preference in the half-court, Laker fans will certainly be cheered by Messina's specialty of working with the post. Nobody in Europe, where frontcourts tend to be notably smaller but the bigs typically have the complete skill set in shooting, really employs anything like a triangle offense. But if Mike Brown was serious when he implied that some stuff with the triangle would remain in the playbook, you can bet that some of those
Gasol-Bynum
double post plays will have been tweaked/modified/perfected with Messina's input.
Messina is also known for his defensive schemes, but again, this might not necessarily be adaptable to NBA play, as European teams basically always run zones.
LO'L: Would the Lakers roster as constructed flourish in Messina's system? Are there areas where they might be lacking?
OD:
If only they could send
Derek Fisher
back in time a few years, he'd be the ideal Messina point guard -- thrives in the half-court, best at setting up plays there and starting them off, etc. It will be interesting to see what
Shannon Brown
might learn under Messina's tutelage.
Of course, one relationship that all will be watching is how Messina gets on with
Pau Gasol
. Can an All-Star get better? With his Continental resume and his most recent experience in Spain, Messina just might be the man to fully exploit all of Gasol's many (and from this perspective, distinctly European) skills.
Andrew Bynum
taking tips on defense and post play from Messina? That'll work. And as a big
Derrick Caracter
fan, I think he could be one to watch developing under Messina.
As for
Kobe
, Messina has coached some top stars, including
Theo Papaloukas
and some guy named
Manu Ginobili
, while employed in Europe and surely he has enough wisdom to handle the biggest name he'll have worked with.
Areas in which the Lakers are lacking, as you probably reckon too, are age and speed. I think any head coach, assistant coach or consultant might like to get a bit of help for these problems.
October, 1, 2010
10/01/10
4:07
PM PT
ESPNLA.com Lakers beat writer
Dave McMenamin
is traveling
with the Lakers during their European (working) vacation
. He'll be sending a series of videos with the latest purple and gold skinny, but as you can see from this first installment, his journey thus far has mostly consisted of watching movies, avoiding rain and fixing typos.
He also passed along the following note:
Phil Jackson already dubbed training camp a "bust" because of the unwanted interruptions that injuries and a league-mandated European vacation caused on the opening chapter on his fourth bid at a three-peat.
I'll just say that the first day of the Lakers participation in Europe Live was a "wash" because it rained. All day. Thankfully it let up late in the day. I saw Picadilly Circus (London's Times Square) and also West India Quay (across the river from where the Lakers will play in all its splendor, the 'Pin cushion,' aka the O2 Arena.)
Between now and Tuesday, I want to find out just how much sports (especially basketball) matters in their lives.
By the way, I know you're all thinking it, so I'll just say it. Dave McMenamin in HD: Dreamy!