Los Angeles Lakers:

European leagues
August, 17, 2011
8/17/11
9:00
AM PT
By the Kamenetzky Brothers
ESPNLosAngeles.com
Archive
Kobe Bryant dropped 43 points in a Drew League game Tuesday afternoon
, the final two coming on a jumper over OKC's
James Harden
to win it, so it's no surprise his health was a topic of conversation in today's Land O'Lakers chat. Can fans read anything into a string of healthy looking summer moments for 24?
Also kicked around: The impact of a hard cap on the Lakers in a new CBA, what the Lakers can do to goose production at small forward, some obligatory
Andrew Bynum
-for-
Dwight Howard
talk, how
Mike Brown
might handle
Derek Fisher
, and more.
Click here for the full transcript.
July, 18, 2011
7/18/11
3:05
PM PT

By Brian Kamenetzky
ESPNLosAngeles.com
Archive
Heading into the weekend, former Lakers shooting guard
Sasha Vujacic
, a free agent at the end of the 2011 season,
signed a deal to play in Turkey
. There appears to be
some question as to whether or not the deal includes an out
clause allowing Vujacic a return to the NBA when the lockout ends, but there's certainly a chance it doesn't, particularly since the contract contains an option for a second season.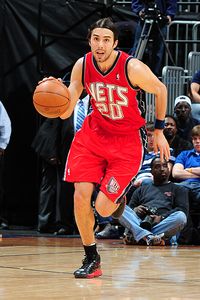 Scott Cunningham/NBAE via Getty Images
Former Lakers guard Sasha Vujacic is heading to Istanbul (not Constantinople).
Should that be the case, it would be bad news for the Lakers. Not because they lost out on a guy they badly want -- despite needing a shooter, I doubt seriously the Lakers would bring Vujacic back, though you might be surprised how many notes we get hoping they would (apparently absence makes the heart, if not grow fonder, at the very least forget all the things that used to tick it off) -- but because of what it might represent. No matter how the new CBA is constructed, the Lakers will have limited flexibility financially to address a variety of needs.
In the backcourt, and particularly at the point, the free-agent pool is thin. Losing players like Vujacic, in the tier of of player the Lakers can likely afford, only further weakens the class, driving up demand/price on a smaller pool of remaining options.
Speaking Sunday to a free agent with NBA experience but a long track record playing overseas and no guarantee of a roster spot in the Association, he said the temptation to jump on an offer in Europe or Asia and lock in a paycheck is strong. Out clauses are ideal, but can't always be had, and for many players business considerations could at some point trump the preference to stay stateside.
For all the talk of big name players following the
Deron Williams
model, assuming no Lakers join him, there's no practical impact for L.A.'s 2011-12 roster. (Unless someone backs the EuroBrinks truck up to
Kobe Bryant's
front door with an offer substantive enough to offset the costs of the insurance required to protect the $85 million or so remaining on his contract, I don't think he'll go.) But if more lower-level, lower-income players fear a potentially protracted work stoppage and accept deals overseas sans out clauses, it'll squeeze the less glamorous portion of the eventual free-agent market.
Otherwise known as where the Lakers will do most of their shopping.
October, 2, 2010
10/02/10
6:02
PM PT

By Andy Kamenetzky
ESPNLosAngeles.com
Archive
I wanted to pass along a few notes from
Dave McMenamin
as he continues his European journey with the Lakers. Most interestingly,
Ron Artest has called into question the limit on non-European players certain overseas teams can carry per season
. For example, the Spanish and Greek leagues allow just two non-European players per team, and in the U.K., the max is three. I actually had no idea this was the case, and it doesn't sit will for
the recently outspoken small forward:
"They need to let more Americans play in the European leagues," Artest said. "There are only like two [Americans] to a team while Europeans can come to America [and play in the NBA] like the whole San Antonio Spurs team -- a whole American team can be full of Europeans. Europe has to be a little more fair to the American players.
"You see a lot of foreign players come over to America to play in the NBA. It's not fair that a lot of American players can't come to China or can't come to Europe to play with as many players as they want, so there's no balance ... They should just make it more even."
Artest raises a valid point about America (i.e., the NBA) opening its metaphorical doors for overseas players and the expectations of reciprocation. It would be poorly received, not just around the world but in the U.S. as well, if the Association put a cap on dudes allowed beyond the 50 (for those who count Alaska and Hawaii). The NBA theoretically represents the best basketball has to offer, and it's to the league's credit they've been so accepting of an international influence to help elevate the bar. I'm not naive enough not to see the marketing opportunities this creates, but either way, the NBA is doing whatever it takes to prove their reported standard.
This gets to the other reason any limit rubs me the wrong way.