Los Angeles Lakers:

Exit Interviews
April, 29, 2013
4/29/13
7:28
PM PT

By Dave McMenamin
ESPNLosAngeles.com
Archive
EL SEGUNDO, Calif. -- The light bulbs on the scoreboard showing the
Los Angeles Lakers
' 103-82 season-ending loss to the
San Antonio Spurs
had barely cooled down before they got together one last time to sort through the rubble of their disappointing 2012-13 campaign before saying goodbye for the summer.
The Lakers conducted exit interviews for nine of their 15 players on Monday, with the rest to come on Tuesday.
Here's a recap of what each player had to say to the media, in chronological order, after meeting with Lakers general manager Mitch Kupchak on Monday.
CHRIS DUHON
Synopsis:
Duhon finished with 11 points and seven assists, playing a whopping (and game-high) 43 minutes in Game 4 against San Antonio because of how depleted the Lakers' roster was after not receiving consistent playing time since January.
Lakers future:
Duhon is set to make $3.9 million next season if L.A. keeps him around. The more likely scenario is the Lakers buy him out for the $1.5 million that's partially guaranteed in his contract and go their separate ways. "We're going to talk," Duhon said. "I'll be here all summer. I'll be engaged. I have until June 30 for them to pick up my option. We talked about it, and that's what it is. It's talk. I'll be here, we'll be in contact and whatever decision they make, we're going to make that decision and go from there."
On Dwight Howard:
"I think he's learned from Orlando, like I've always told him, 'Do what's best for you.' Do what's best for you and your family, whatever makes you happy and keep that to yourself. He's always been a people-pleaser, always trying to go out into the media and get the media on his side, [but] for him, it's about him and his family. What makes Dwight happy, that's what he needs to do. Whatever makes Dwight happy. … He can be happy here in L.A. Why not? This is a great city, a great town. Obviously, it's an organization with a great tradition and pride, and he should be one of those guys that eventually will get a statue here."
Best quote:
On why the Lakers had trouble establishing an identity
-- "Injuries, two coaches in one year, not a training camp, injuries, injuries again, another injury. … I mean, I think probably every member on this team has been injured and missed a game this year. I've never experienced that in my nine years in this league. I think we had five guys have major surgeries. This has been a wacky year."
METTA WORLD PEACE
Synopsis:
World Peace limped into the practice facility after missing the second half of Game 3 and all of Game 4 after getting a cyst in his left leg drained. He was generally in good spirits, even wearing a Cookie Monster T-Shirt in an ode to a
bizarre off-court incident
that happened back in February.
Lakers future:
World Peace has a player option for $7.7 million. If he exercises it, he could become an easy target for the Lakers' amnesty clause. "You never know, anything could happen," World Peace said. He added he "definitely" wants to be a Laker in 2013-14. "I'm very competitive, so when you lose with a team, you want to win with that team," he said. "The only thing on my mind is winning, and winning here."
On Dwight Howard:
"It took me a bit to get used to his personality, but once I was around him a lot -- we sat together on the plane -– once I got the chance to know him a little bit, it was an easy adjustment. He played hard. His personality was just different than everybody was used to.
"He's just different. He's always happy for the most part. In games, he's really serious; not all the time, sometimes. But when it's like crunch time, he's very serious. Pregame, the locker room is very at ease. So you got to get used to a franchise player like that."
Injury outlook:
World Peace returned to the lineup just 12 days after left knee surgery, but still needs the summer to get back to 100 percent. "As of right now, I'll just take six weeks and heal up," World Peace said, citing the original time frame of play he was expected to miss.
Best quote:
On Washington Wizards center Jason Collins' decision to announce that he is gay
-- "You should be free to act and do what you want to do as long as it's not violent, no matter what it is. I came here in a Cookie Monster shirt because I wanted to. And I was going to wear the pants, but I thought you guys were going to judge me. And I was going to wear the hat too, but I figured you guys were going to judge me and I didn't want Mitch to judge me. So that's why I didn't wear the hat and the pants, but I should have wore it. You should be free to do and act how you want to act.
"When you can feel comfortable with yourself, not only does it make you a better person, it's unnecessary stress. As we all know, if you're holding things in it can create unnecessary stress to your heart, to your mind and when you can release it and talk about it, you feel better. That's how it should be with anything. Not just coming out if you're gay or if you have a mental issue, or whatever other issue or stigma you have out there, you feel better."
STEVE NASH
Synopsis:
The season was a nightmare for Nash, bookended by a broken leg and a bothersome hip and hamstring, but he still appreciated the Lakers life after being on the other side for so long as a rival. "It was an amazing experience to play for this franchise and for this fan base," Nash said. "I think that's the one thing that burns me right now, that it didn't go the way I envisioned. I really wanted to have a huge impact on the team and really make this an incredible year and experience for the fans, players and everybody involved. So, great experience for me, I'm really thrilled to be a part of the franchise and just hope that next year we can repay everybody for their loyalty and their enthusiasm."
Lakers future:
Nash has two years and $19 million remaining on his contract with the Lakers. He's set to play seasons Nos. 18 and 19 of his career in L.A.
Injury outlook:
Nash missed the final two games of the playoffs with a right hip injury and nerve damage in his right hamstring, which required four epidural injections and a cortisone shot in the last two weeks. But the 39-year-old is already on the mend. "I'm not going to take any time off," Nash said. "I'm going to start rehabbing right away and try to get right." Nash estimated it would take a month to get back to 100 percent and added, "I don't have any concern and I haven't gotten wind from anyone on the medical staff that there's concern for long-term issues or for next season to be in jeopardy. But I still have a little bit of work to do to get right."
Best quote:
On the team camaraderie, or lack thereof
-- "In the big picture, I think relationships were formed, relationships were kept and developed that were really positive. I think that's the only reason we didn't sputter out of control and find ourselves out of the playoffs."
More to come. For more on the day,
read this story
featuring World Peace and Nash's thoughts on Howard.
May, 23, 2012
5/23/12
2:09
PM PT
MORE EXIT INTERVIEWS:
Second year forward
Devin Ebanks
began the year as the starting small forward, playing 81 minutes in the first four games before
Mike Brown
replaced him in the first five with
Matt Barnes
.
Over the next 52 games, Ebanks logged a total of 73 minutes
before a shin injury to
Kobe Bryant
and
Metta World Peace's
suspension put him back in the starting lineup for the last 10 regular season games and the first six against Denver in the opening round of the playoffs. In the first five games after World Peace's return, Ebanks played a total of four minutes. Monday night in Game 5, Ebanks served as the backup 3 over a slumping Barnes, playing 16 minutes.
Fair to say Ebanks rode the playing time roller coaster this year, a difficult thing for young players.
May, 11, 2011
5/11/11
8:12
AM PT
I come not to praise
Pau Gasol
, but I'm not here to bury him, either.
He was completely, unequivocally, and unacceptably bad throughout the postseason for the Lakers, not simply in a statistical sense, but in his ability to impact games, grease the offense, contribute on the defensive side, and more. In nine games, Gasol failed even once to meet his season scoring average, and shot an unbelievably un-Pauian 42 percent from the floor. Gasol is a four-time All-Star, a two-time champion, and a guy working towards a Hall of Fame career. It demeans him not to expect more than what he gave over the 10 playoff games the Lakers played this season.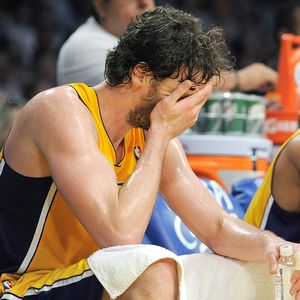 AP Photo/Chris Pizzello
The postseason for Pau Gasol was tough to watch. Even for him.
It's certainly nothing he doesn't understand, and why
he knows the storm is here
.
"With the player that I am and that I consider myself to be, there's going to come a lot of expectations, a lot of demands, and once those expectations are not exceeded or achieved then there's going to be criticism," he said Tuesday in El Segundo during his exit interview. It's also not his primary concern. "The thing that makes me the angriest is me not playing at my best. Me not being able to help my team accomplish its goals. That's what makes me the angriest."
Apparently not angrier than the torch and pitchfork crowd, clearly ready to storm the castle. At ESPNLA.com Tuesday afternoon, our "Hot Button" poll question asked, "Should the Lakers trade Pau Gasol?" Should. Sans qualifiers. No "If the perfect deal comes along, should..." or anything. Just "should," as in it ought to be done.
About 50 percent say yes
.
Wow.
I realize "Bust it up!" fever combined with still-molten anger over Game 4 and the Dallas series, plus legitimate disappointment with Gasol's playoffs skews the numbers, but still, half think he should go? Keep in mind, Gasol is a player who, in his most inconsistent, confounding season as a Laker still averaged 18.8 points, 10.2 rebounds, 3.3 assists and 1.6 blocks per game. He is a guy who, as
Luke Walton
told me Tuesday, busts out moves so quality guys watching from the bench have "Holy s--- this guy is good" moments with regularity.
A bad postseason undoes all the good work he's done for the Lakers?
Tuesday afternoon,
Gasol delivered the most vehement denial of circulated girl-trouble rumors
. He and his girlfriend are fine, and certainly haven't broken up thanks to
Vanessa Bryant
, he said. She's been with him, she's been at games. The pervasiveness of the rumors upset his girlfriend, stressing him in return, Gasol said Tuesday, but the stories, or at least The Story, aren't true. I believe him, while still believing through whatever combination of basketball and non-basketball related issues, he was mentally and physically fried following three straight seasons playing into June, on top of his international commitments, and the wear coming with it.
The signs were present almost from the start. One of the genuinely pleasant and genial people you'll meet anywhere, Gasol seemed for most of the season to be more distant and impatient. He felt deep into the grind long before guys usually get "that look." Much of this, though, misses the point. In the last 48 hours or so, we've spent far too much time trying to figure out why it happened- the gossipy theory serving not only to embarrass and weaken Gasol, but also promoting the concept of a badly fractured locker room- instead of trying to determine if he's capable of recovering.
To that end, we've all been here before.
May, 10, 2011
5/10/11
10:16
PM PT

By Andy Kamenetzky
ESPNLosAngeles.com
Archive
In the time I've spent around Steve Blake this season, the word I'd best use to describe him would not be "chatty." He's a pretty quiet fellow, not one inclined to attract a reporter circle after every game or even just make small talk. Thus, I anticipated his meet and greet wouldn't be much of a gabfest.

Just a slight understatement.

Blake's time in front of the gathered media lasted less than three minutes. And that's including the time allotted for our questions, plus the awkward silence before the interview was deemed concluded. He clearly wasn't in the mood to talk, in particular about the details of his meeting with Phil Jackson and Mitch Kupchak. His obvious inability to discover a comfort throughout the season was acknowledged, but Blake felt his familiarity with teammates would help next year, regardless of whether or not the triangle remained the offense du jour.


May, 10, 2011
5/10/11
12:40
PM PT
Before he took questions from the media Monday morning following his exit interview in El Segundo,
Andrew Bynum
felt compelled to make a statement:
"Number one, I want to apologize
for my actions at the start of the fourth quarter
in Dallas on Game 4. They don't represent me, my upbringing, this franchise, or any of the Lakers fans out there that want to watch us and want us to succeed. Furthermore, and more importantly, I want to actually apologize to
J.J. Barea
for doing that. I'm just glad that he wasn't seriously injured in the event. All I can say is that I've looked at it, it's terrible, and definitely won't be happening again."
Following Sunday's loss, Bynum was hardly the face of repentance, something a little time and video fixed.
"I saw it. I went and I watched it, and it was terrible," he said. "The whole sequence, taking off the shirt and everything. Sometimes you have to man up and own it. That's what happened."
He's right, of course. The play was among the more dangerous and totally bush league moves I've seen in sports. Given the frustration felt by the team over the course of the playoffs and certainly following the Mother's Day Mauling (I'm open to other nicknames), I'm willing to excuse his postgame comments. Had he come today, with time and space to think about it, and said the same thing? Yikes.
Bynum expects to hear from the league office. "I believe I will be suspended," he said. "I don't want to be suspended."
He will, and the punishment could be very, very stiff.
June, 23, 2010
6/23/10
7:21
PM PT
You've heard by now the news out of El Segundo this afternoon:
Phil Jackson
, speaking to the media after the Lakers completed their exit interview process with the players,
said he hadn't yet decided if he'll return next season but is currently "leaning towards" retirement.
I
pulled a few choice quotes here
, but in the few hours since his press conference ended I've been asked on the radio, via Twitter, and email if I think this is a matter of Jackson trying to best leverage his position against a lowball offer from
Dr. Buss
. I don't believe it is. First, the poker game, so to speak, is over. Phil won by winning another title. If there was any inclination of trying to force his hand or even making him an offer he couldn't possibly accept (like
Joe Torre
before he left New York, for example), it went away with the Game 7 win over Boston.
Jackson said it wasn't a question of money,
Mitch Kupchak
said today he didn't believe dollars would be a problem should PJ decide he's got another year in him (
CLICK HERE for Kupchak's full exit interview
, in which he talks about Jackson, Derek Fisher, free agency, and more).
Jim Buss
has expressed a desire to have Jackson back. To a man, the players want it. But more importantly, watching the videos below, Jackson is thoughtful and introspective. He speaks with the tone of a proud father when talking about this year's team and is open about the health issues at stake- not just regarding the demands of coaching, but his ability to participate fully in life as he gets older.
"I think it's an inner feeling where you assess the price of what it takes to do and how much time you have left to live and live a life that you want to lead and also, for myself, try and get in better health than I am now so I can lead an even better life," Jackson said. "Those are all things that I have to weigh. This career has been wonderful, but [it's also about] making the next one or the next phase in my life as meaningful as this has been."
I don't know if he'll retire or not, but if Jackson isn't being genuine about the possibility, he's picked up a few tricks from the giants of Hollywood lining the court at home games. I didn't find anyone in the room who believed today's interview was some sort of act.
So now we'll wait. The good news for the Lakers and their fans is Jackson has no intention of turning this into a Favre-ian "will-he-or-won't-he" ordeal. Jackson made a point of noting how unfair it would be to his players, and particularly the coaches on his staff who have shown him so much loyalty, to drag things out. But to reiterate, none of this strikes me as part of a negotiation, but rather the feelings of a guy who has been through the grind for a long time, and just doesn't know if he can get up for another run.
June, 23, 2010
6/23/10
11:33
AM PT
It's not unusual for the guys deeper in the rotation to deliver the most interesting exit interviews. Such was the case with
D.J. Mbenga
Tuesday morning, when the normal talk of summer plans and personal development was interrupted by some serious discussion of Mbenga's desire to make a difference in his home country of Congo.
Mbenga said he'd love to be president of that nation one day, and (as he's done before) spoke eloquently regarding the problems of Africa, and how hard it is to promote positive change. It's easy to forget how much some guys have going on in different parts of their lives. Mbenga's background
is fascinating
.
The clip opens with Mbenga poking fun at Lakers PR chief
John Black
, and gets more serious from there.
More from Mbenga below the jump...