Los Angeles Lakers:

experience
May, 8, 2012
5/08/12
12:37
PM PT

By Andy Kamenetzky
ESPNLosAngeles.com
Archive
Throughout April and the playoffs,
Mike Brown
has periodically employed a backcourt of
Ramon Sessions
and
Steve Blake
, with the latter at the two and almost inevitably overwhelmed by his defensive assignment. The most recent example came in the first half of Game 4, where
Andre Miller
continually bullied Blake while matched against him. It's not Blake's fault he struggles in these situations. He's simply giving up a lot of size. All the while,
Devin Ebanks,
who proved himself capable at the spot while filling in for
Kobe Bryant
, sits on the bench watching. Land O' Lakers regulars are well aware of my recurrent frustration at Brown's unwillingness to use the bigger/longer Ebanks in these scenarios whenever possible.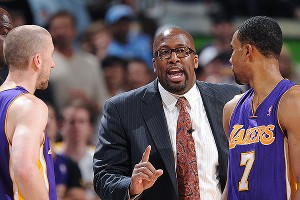 Garrett W. Ellwood/NBAE/Getty Images
Coaches often operate through trust, and these two have Mike Brown's.
In the grand scheme of things, this is hardly the worst move Brown could make as a coach, but it's one I've nonetheless found curious. Thus, after Monday's practice in El Segundo, Brian and I got Brown's perspective on the matter. Below is a transcript of the conversation:
Land O' Lakers
: What's the thinking behind keeping Sessions and Blake together, because it seems like, more defensively, it causes some problems? Andre Miller, for example, has been pushing Steve around, although he pushes a lot of people around.
Mike Brown:
Yeah, he has. Steve has actually fought him fairly well. He's fought better than Sesh, to a certain degree. But we do that because [it's] more ball handling, more ball skilled guys out on the floor. If you look at last year's NBA champions, the Dallas Mavericks, they played with even two smaller guards in
J.J. Barea
and
Jason Terry
. So to have two ball-skilled guys out there, especially with the second unit at times, is good for us.
Part of it, too, is because we know Denver is doubling often and when they double right now, Steve is shooting a little bit better than
Matt (Barnes)
and/or Ebanks. So that is another reason we do it, because we don't feel like we drop dramatically on the defensive end when we have Steve on the floor instead of Ebanks or Matt.
LO'L:
Even in those situations where someone like Miller has that size advantage?
MB:
Well, he hasn't done a good enough job to -- knock on wood -- hurt us down the stretch for it to be effective. He hit a couple of buckets [Sunday night] that I thought were extremely tough. Like the one he drove and kind of threw up the play.
LO'L:
Sure. Down the stretch, it was much different than during the first half.
MB
: Correct. But the first half, stuff's gonna happen over the course of the game. We watched [film] today with the team, if we would have doubled [Miller] the correct way or at least helped out on him the correct way in the first half like we did in second half, then he wouldn't have had the first half that he had. Our first half defense, and in particular our first quarter defense, was not good. That was one of the things I talked with our guys about. Guys didn't do what they were supposed to do defensively in guarding the pick-and-roll, the post-up and pin-downs. We kind of made up our own coverages at times and we paid the price. That's why it was 28-26 in the first quarter, but if you watch the game, every quarter we got better and better, because we got tighter with our coverages and we did it without fouling.
(
Editor's note:
Later, Brown actually led Brian and I onto the court, and walked us through situations where doubles didn't arrive. He also noted how doubling off a non-scoring big like
Kenneth Faried
was an option often available, and how generally uncomplicated the approach was.)