Los Angeles Lakers:

extension
August, 27, 2012
8/27/12
9:13
AM PT
Hey Dwight:
How's it going? We haven't formally met, yet, but I'm Andy Kamenetzky. You'll be seeing a lot of me, as I cover the Lakers for ESPN LA and 710 ESPN. And I'm looking forward to you being part of the Lakers. Not only will your presence improve the defense, offense and collective psyche of a fan base newly electrified at the legitimate prospect of a title next season, but you also can improve the long-term health of the franchise as the guy slated to receive the baton from Kobe Bryant as the franchise's next face.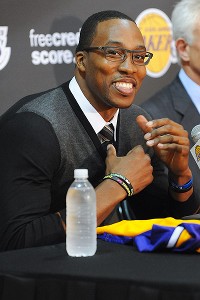 Noah Graham/NBAE/Getty Images
Nip it in the bud, Dwight.
Of course, "slated" isn't the same thing as "set," and therein lies the sum of all fears for Lakers fans. Let's be blunt, Dwight. Your exit from Orlando was steeped in chaos and drama, in no small part because Superman handled the situation rather poorly. Let's be honest, you waffled like a politician trying to win re-election, and the general consensus is you warmed to the prospect of purple and gold only after other options (namely playing alongside Deron Williams in Brooklyn) dried up. That's
not to say you didn't seem genuinely happy
at your introductory press conference, nor do I have any doubts about you remaining a Laker. Frankly, I'd be pretty surprised if you left.
However, the possibility of an exit will linger until an extension is signed, and it seems unlikely that you'll sign early, for a variety of reasons. Thus, we're left with fans not just worried about the possibility of you bolting, but also with the possibility of a three-ring circus in the process. You deflected this topic during that presser, but it will undoubtedly resurface the next time you step in front of a microphone. And then the next time. And the time after that. No doubt, this could become a tedious, consuming, never-ending storyline, unless you take control of the situation. And this is where I'd like to help!
Below is a prepared statement I've created for the first moment when one of us in the media asks about your future. These thoughts will help calm fans' nerves and diffuse a potentially messy situation. (And a word of advice: This may be a prepared statement, but the trick is making the words feel like they're coming naturally from the gut and heart. Therefore, you'll need to not only practice reciting the statement, but I'd even recommend memorization. It'll require extra work but will be worth the time.)
At any rate, here's what you'd say:
I'm actually glad you asked that question about my contract, because it allows me to address a big concern of mine heading into this season. I'm well aware my situation could easily take on a life bigger than the Lakers' season itself, and that's something I'd like to prevent. Therefore, I'd like to make the following point crystal clear, without any hesitation or qualifiers.
From this point forward until the end of this season, I will not answer any questions about my future with the Lakers. I will not answer any questions about free agency. I will not answer any questions about a contract extension. When we're on the road, I will not answer any questions about whether I could picture myself playing for "Team X" hosting the Lakers that particular night.
In a nutshell, I will not answer any questions even tangentially related to my future as a Laker.
Why? Because I don't want to say anything that might contribute to a season-long distraction as we make a serious run at a title.
June, 24, 2012
6/24/12
2:09
PM PT
It's not the craziest of talk to suggest the recent Finals between the Miami Heat and Oklahoma City could be a preview of many championship matchups to come. Both teams are clearly the best in their divisions. Both feature a trio of stars in their primes or (in the case of the Thunder, scarily) a few years away. And both clearly carry the potential to get even better. Miami (and in particular,
LeBron James
) may now exhale with a championship, and the byplay between LBJ and
Dwyane Wade
can only improve. And there's reason to doubt OKC's steady evolution since 2010 will suddenly screech to a halt.
Not to say either team is bullet-proof. The Heat's supporting cast, the Finals notwithstanding, hasn't been a beacon of reliability, and the same can be said about Wade's health. And some have wondered whether the Thunder's core will ultimately fall apart over money.
James Harden
and
Serge Ibaka
are eligible for extensions this offseason, and both, particularly Harden, could command a pretty penny. Could the Thunder get priced out in their bid to build a powerhouse?
Well, based on the reports from Saturday's exit interviews over at Daily Thunder, the mood is optimistic.
Royce Young has the details
:
Extending Harden is probably the first order of business and by the way he spoke Saturday, it doesn't seem to be a concern.
"I'm just leaving it up to my agent and Sam," Harden said. "They'll do a pretty good job of working it out. I'm focused on several other things right now. But when the time is [right], they'll figure it out and it'll be done."
He did say he loves playing in Oklahoma City about 20 times, so that's something. And also this: "This is something special here," he said. "A dynasty is being built here. So we're winning, we're having fun and we're brothers. The other stuff, you can't buy it."
March, 26, 2010
3/26/10
5:26
PM PT
Mind you,
Phil Jackson never told NBA.com he will return
. Nothing has been decided, nor will it be until after the season ends. But with
the speculation game in overdrive of late
, it will undoubtedly reassure many to hear a statement congruent with
Jerry Buss' to
Steve Springer,
along with
Jeannie Buss' statements to Brian and me
.
Silence often breeds imaginations running wild, whether you're talking about a media member reading between perceived lines or a Lakers fan adopting a diet of fingernails.
Jackson's comments should go a long way toward calming the nerves of either party, but in my long-standing opinion, there never was much reason for worrying to begin with. Not that PJ calling it a career after this season is entirely out of the question, but the"warning signs" have often been sweated absent of logic and careful thought.