Los Angeles Lakers:

fatigue
December, 27, 2011
12/27/11
11:58
AM PT

By Andy Kamenetzky
ESPNLosAngeles.com
Archive
Should the Lakers drop Tuesday's game against Utah,
it will result in their first 0-3 start since Oct. 17, 1978
. To put in perspective just how long ago that was,
Jimmy Carter
was president,
Andy Gibb's "Shadow Dancing"
was the year's
chart topping-est single
and
Kobe Bryant
was barely two months old.
In other words, it's been a while, and for a franchise as proud and successful as the Lakers, that's not by accident. Safe to say everybody would prefer to keep that little piece of history tucked firmly away in the vault. To avoid a trip down Bad Memory Lane, the Utah Jazz must be dispatched. Here are four items to watch for as the Lakers try to get off the schneid.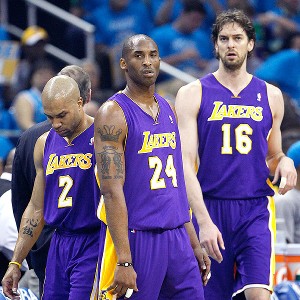 AP Photo/Patrick Semansky
Three among several lakers not built for back-to-back-to-back action.

1) Fatigue
Back-to-back games can be tough in a normal season for young NBA players at the peak of NBA conditioning. Following this logic,
three
consecutive games by definition becomes that much more of a chore, especially for a team filled with veterans and still working themselves into game shape after an extended lockout and a blink-and-you'll-miss-it training camp. As somebody who didn't travel to Sacramento, I can't say with absolute certainty fatigue was a driving force behind Monday's largely sloppy and unfocused effort, but this much I know: Against a considerably less seasoned Kings squad blessed with younger, bouncier legs (and no game on Sunday to boot), the Lakers often struggled to keep up.
Like the Kings, the Utah Jazz are a team pegged by few to make the postseason. They're rebuilding and
by point guard Devin Harris' admission, completely devoid of identity
(i.e., the kind of opponent a Lakers squad desirous of re-establishing its championship pedigree should destroy, especially at Staples). However, like Sacto, the Jazz open the season against the purple and gold, so energy shouldn't be an issue whatsoever. And while not quite as young as the Kings, Utah's roster is nonetheless chock full of dudes under 30, with nobody past that milestone expected to be more than a supporting player. In other words, they're the bizarro-Lakers, and could very well be the beneficiaries of their hosts sucking wind.
Ever since the compressed schedule was announced, I've been of the decided opinion that getting the Lakers' lone back-to-back-to-back series immediately out of the way was a major blessing, even without
Andrew Bynum
for this rough opening stretch. Even with the possibility of 0-3 staring down the team, I stand by that assessment. Even in a compressed season in which the importance of wins and losses is highlighted, what matters most for this team is what's in the tank come playoff time. When the upside is a veteran team not having to endure a trio of consecutive games in March or April, when it is most susceptible to injury or just passing out, this struck me as a worthy deal with the devil.
But just the same, I'll take 1-2 over 0-3.
August, 8, 2011
8/08/11
2:36
PM PT

By Andy Kamenetzky
ESPNLosAngeles.com
Archive
Pau Gasol will help the Spanish National team defend the European Championship
. Considering El Spaniard looked muy cansado throughout most of the regular season, not to mention a disastrous playoffs, do you have a problem with him not relaxing this summer? Will the confidence of cynical Laker fans be restored if Pau kills it for Spain? And what does it mean if, heaven forbid, his performance feels like round three of the 2011 playoffs?
The K Bros and
Ramona Shelburne
tackle all these questions.