Los Angeles Lakers:

football
September, 22, 2012
9/22/12
9:34
AM PT

By Andy Kamenetzky
ESPNLosAngeles.com
Archive
Over the last few years, there has been a heightened awareness about concussions, brain injuries and the long-term risks potentially faced by athletes as the result of playing contact sports (and even sports commonly designated as "non-contact.") It's at the forefront of the NFL landscape, whether you're talking Bountygate, lawsuits or new penalties assessed for helmet-to-helmet hits. And as Lakers fans are well aware,
even the Mamba-est of NBA superstars are susceptible
.
The more learned about the subject, the more serious it must be regarded.
With that in mind, we were joined by
documentary filmmaker Steve James
, best known for the seminal, groundbreaking
"Hoop Dreams."
(If you haven't seen the movie, correct this immediately. It's a unique, emotionally gripping, and important film.) He also directed
"No Crossover: The Trial of Allen Iverson"
as part of ESPN's outstanding "30 for 30" series. His latest movie,
"Head Games,"
sparked by the same-titled book from former Harvard defensive lineman and ex-WWE wrestler Chris Nowinski, examines the issue of concussions in sports and the widespread effects.
Click on the module to hear the show, and a breakdown of talking points can be found below:



- (1:25):
James explains how he grew interested in this issue, and why meeting various athletes who'd suffered these injuries amplified its importance.
- (5:40):
Regarding concussions and brain injury, what have we learned and what remains a mystery?
- (9:40):
As more former NFL players (
Junior Seau
and
Dave Duerson
, among others) have taken their own lives, research on the brains of such athletes to better understand any link between these tragedies and brain injuries has increased. For a more complete study, notes James, scientists must also study the brains of NFL players with no outward signs of depression or similar problems.
- (11:50):
Whether because of heads willfully planted in the sand or a genuine lack of information, across all walks of the sports world some remain in denial about the prevalence of brain injuries. James notes as well the dilemma suffered by parents torn between awareness of the risks and the joy their kids experience from these sports. What's "too young" when it comes to playing contact sports? How safe are these sports at the grade school and high school levels?
- (18:22):
James shares thoughts on Bountygate.
- (21:00):
Beyond the potential tie between brain injuries and depression, what problems are created by the lifestyle change for athletes upon retirement from contact sports? Suddenly, a career centered on some degree of violence ends, taking the outlet for aggression with it. For that matter, a life spent as a modern day gladiator -- along with the accompanying accolades and limelight -- also concludes. Could this also trigger drastic mood swings?
- (24:00):
James' children are now grown, but if he faced the choice today, would he allow them to play football or hockey?
- (26:45):
It has been nearly 20 years since the release of "Hoop Dreams" in 1994, a time when reality TV basically consisted of "The Real World" still in its infancy, documentary projects were considered largely niche and the Internet, relatively speaking, barely existed. Since then, reality TV is everywhere, sports specials like "Hard Knocks" offer insane access, and we broadcast our lives on YouTube. From the perspective of a documentarian, what does James think of the world as we currently know it?
November, 11, 2011
11/11/11
4:02
PM PT

By Andy Kamenetzky
ESPNLosAngeles.com
Archive
It's one thing to talk sports with actors, musicians and entertainers, which we often do. It's another to talk with an actor who actually played sports at a big-time college.
Joel McHale,
the hilarious star of
"Community"
and
"The Soup,"
is among the rare Hollywood guests who fits such a bill.
With USC battling Washington on Saturday
, it felt like a perfect time for McHale to join us for a conversation about his two seasons as a walk-on tight end for the Huskies. From there, we also talked about Hollywood, reality TV, and professional sports in Seattle.
The entire show can be heard here,
or you can jump to specific parts by clicking the links in the breakdown below: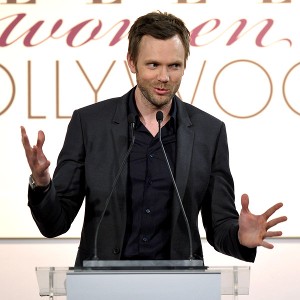 John Shearer/Getty Images
McHale can make you laugh with stories about football or Snooki.
(2:31) -
McHale relives his days as a walk-on tight end for the University of Washington
, which basically translates to "glorified tackling dummy." He labeled himself only marginally talented, but considering he also only played one year of high school football, that he made the team even as a practice player is pretty impressive. Either way, it beats rowing crew and being surrounded by a bunch of hair pillows. (You heard that right: Hair pillows.)
(5:34) -
McHale describes getting hit by
legendarily brutal Huskies linebacker Dave Hoffman
, who was tough enough to join the secret service after college. Every bit as fun as it sounds.
(10:43) -
"Community" has been a breakout vehicle for McHale as an actor
, but for co-star
Chevy Chase
, it's been a career resuscitator after some extreme highs followed by rock bottom lows. Arguably the premiere comedic actor in Hollywood throughout much of the 80's, bad projects and a reportedly even worse attitude derailed him. McHale says Chase doesn't shy away from the less flattering parts of his past.
(13:50) -
McHale describes the art of ensemble comedy and praises NBC's patience with quirky, critically acclaimed shows that don't necessarily rule the ratings. Of course, it also helps that McHale is a focus group bully.
(18:12) - What's even sadder than the way
stars of "The Jersey Shore," "The Bad Girls Club" and the like humiliate themselves? That said C-Listers actually
want
McHale to insult them on "The Soup," because it helps extend their 15 minutes of fame. Oh, the humanity!!!
(20:26) -
McHale explains how the nature of comedy and what's funny to him has changed after being on "The Soup" and "Community."
(24:36) -
Growing up in Seattle, McHale rooted Seahawks and Sonics.
He assesses
Pete Carroll's
performance coaching the former team and the laments the absence of the latter.