Los Angeles Lakers:

forward
December, 13, 2011
12/13/11
6:58
PM PT

By Andy Kamenetzky
ESPNLosAngeles.com
Archive
With all the talk about
Dwight Howard
,
Chris Paul
or some other elite player destined (fans hope) to don purple and gold, it's easy to forget how important it is for the Lakers to fortify the bench. The Mavericks were a testament to what can be accomplished with quality depth, and conversely, the Lakers proved what unfortunately happens when an entire bench lays an egg at once. Talent wins titles, but supporting players often ensure the stars' efforts don't go to waste. Along these lines,
the Lakers have inked power forward Josh McRoberts to a two year, $6 million dea
l to help strengthen the bench
.

Given how they're both 6'10" and one arrived to play off the bench as the other exited, some fans will be inclined to see McRoberts as
Lamar Odom's
"replacement," and thus grade him against LO as an acquisition. This would be a mistake, despite some similarities. They're both left-handed. They're both big men capable of making plays for others.
McRoberts' 2.1 assists per game -- in just 22 minutes --
ranked him
16th among power forwards
, and over
48 minutes, he'd average 4.5
. (The latter figure tied for fourth, by the way, with none other than Lamar Odom.) McRoberts sees the floor well, and should mesh well on a Lakers team with no shortage of quality passers.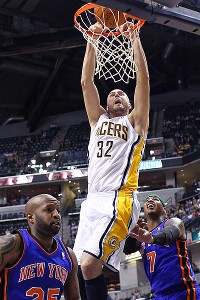 Michael Hickey/US Presswire
McRoberts has limits, but can be useful, especially around the rim.
Oh, and for Laker fans who actually liked "Khloe and Lamar," McRoberts
reportedly enjoyed a brief dalliance with "Hills" starlet Lauren Conrad
. So there's that.
However, there are considerably more differences, most notably that LO is All-Star caliber, while McRoberts is a role player still developing after three seasons of limited minutes. For more on where "McBob" -- as the kids often call him -- currently stands as a player,
Tim Donahue
from the True Hoop Network's Pacer blog
8 Points, Nine Seconds
was kind enough to provide us with a scouting report:
Josh is an athletic, but smallish big man that is best suited to play the 4, but can play a little 5 in a pinch. He was a part-time starter for the Pacers last year, but he's only played a little under 2,500 minutes in his four-year career.
Offensively, he's very limited. Basically, his scoring moves consist of fastbreak dunk, alley oop dunk, garbage bucket, and the occasional set shot three-pointer. He has no post game, to speak of, and should generally be considered to be the fourth or fifth option of any fivesome. However, he's a low-usage guy who can fit pretty well when there are other hungry mouths on the floor. While his scoring options are limited, he helps his cause by being well aware of this. His efficiency numbers were fantastic last year, with an eFG% of .576 and a TS% of .608. McRoberts also sees the floor relatively well in general, and passes well for a big man, which are pluses.
February, 11, 2010
2/11/10
3:36
PM PT

By Andrew Kamenetzky
ESPNLosAngeles.com
Archive
For all the talk about
Shannon Brown's
hops, springiness making him a YouTube fixture, asking others about him inevitably leads to mention of his hands.
Sam Forencich/NBAE via Getty Images
This has become a familiar sight for Lakers fans.
"He's got big hands. Extremely big hands," marvels former Charlotte Bobcats teammate
Raymond Felton,
who played against Brown in the 2005 Final Four.
"He's blessed with great hands," praises Bobcats assistant coach
Jeff Capel,
who grew close with Brown during the guard's half-season with Charlotte.
"I wish I had those hands," says Nuggets guard
J.R. Smith
, former dunk contestant (and sick athlete in his own right) who's known Brown since their AAU days. "If you get a set of mitts like that, it's hard to stop."
"They're pretty big," admits Brown with a chuckle as he sits on a medicine ball after Lakers practice in El Segundo.
In a nutshell, dude's hands are ginormous.
Combined with elevation capable of making a trampoline jealous, they're a Godsend for dunking a basketball, a skill Brown will be showing off at the Slam Dunk Contest during the All-Star Weekend. But during Brown's time as a professional, those same hands weren't just used to smother a Spalding. They were gripping onto an NBA life, and just barely at times.
January, 22, 2010
1/22/10
4:21
PM PT
Andrew D. Bernstein/NBAE via Getty Images
Should Chris Kaman get an invite to Dallas?
In particular, as a center. And
really i
n particular, over
Pau Gasol.
On the heels of
the announcement for the All-Star starters
,
Chris Kaman
, omitted from the ballot altogether in what ultimately proved a glaring mistake, was asked if he'd be upset if El Spaniard,
currently fourth among Western Conference forwards
, was named a reserve via the "slide over to center" treatment. As NBA Fanhouse's
Chris Tomasson
reports,
nary a bush was beaten around with Kaman's response
:
"I don't think Gasol should be in it at all,'' Kaman said when asked if he would be disappointed if Gasol, who starts at power forward for the Lakers, is slid over to be the backup center when West coaches vote for All-Star reserves. "He's only played like 20 games (he played Thursday in his 25th out of 42 Lakers games) this year. I think there should be a number of games you should play. I think you should have to play like 80 percent of the games.

"It shouldn't be 50 percent (of games a player has logged) over a guy who plays 90 percent and who has better numbers. Not just me. Zach Randolph, a power forward, he has better numbers (than Gasol). But he's not on the Lakers.''