Los Angeles Lakers:

free agent
August, 16, 2012
8/16/12
3:58
PM PT
Among other deficiencies last season, the Lakers lacked a legitimate backup shooting guard behind Kobe Bryant, reliable outside shooting, reliable bench bench scoring and young legs attached to a reasonably NBA-seasoned player. By agreeing to terms with Jodie Meeks, the Lakers have simultaneously addressed all four areas. Obviously, his presence pales by comparison to that of fellow newbies Dwight Howard, Steve Nash, and Antawn Jamison, but as Shane Battier, Mario Chalmers and Mike Miller demonstrated during the 2012 Finals, the players around the edges of a roster often push a championship quest over the top. Hopefully, Meeks can follow suit for the Lakers.
The show can be heard by clicking on the module, and below is a breakdown of talking points.

- (:55): Meeks explains why he chose the Lakers over other options. For many young players still establishing themselves, starting for a lesser team would feel more practical than coming off the bench in a title chase, but in this case, it wasn't a sticking point.
- (2:40): Having spent the first four seasons of his career guarding Kobe, Meeks now looks forward to learning from The Mamba as a teammate.
- (4:28): Meeks believes he's a better defender than his reputation. For that matter, he considers himself a more generally well-rounded player than his image as primarily a spot-up shooter.
- (8:50): The Lakers are a fairly brainy crew, which means Meeks, a former SEC All-American at Kentucky, should fit right in. The guard places a high value on keeping his brain active, but draws the line at Sudoko puzzles.
- (10:15): Seriously, Jodie. It's time to update your personal website.
-(10: 48): Meeks has a "shoe fetish." His words, not ours.
- (12:15): With Meeks gone, we break down his potential effect on the Lakers.
December, 13, 2011
12/13/11
6:58
PM PT
With all the talk about
Dwight Howard
,
Chris Paul
or some other elite player destined (fans hope) to don purple and gold, it's easy to forget how important it is for the Lakers to fortify the bench. The Mavericks were a testament to what can be accomplished with quality depth, and conversely, the Lakers proved what unfortunately happens when an entire bench lays an egg at once. Talent wins titles, but supporting players often ensure the stars' efforts don't go to waste. Along these lines,
the Lakers have inked power forward Josh McRoberts to a two year, $6 million dea
l to help strengthen the bench
.

Given how they're both 6'10" and one arrived to play off the bench as the other exited, some fans will be inclined to see McRoberts as
Lamar Odom's
"replacement," and thus grade him against LO as an acquisition. This would be a mistake, despite some similarities. They're both left-handed. They're both big men capable of making plays for others.
McRoberts' 2.1 assists per game -- in just 22 minutes --
ranked him
16th among power forwards
, and over
48 minutes, he'd average 4.5
. (The latter figure tied for fourth, by the way, with none other than Lamar Odom.) McRoberts sees the floor well, and should mesh well on a Lakers team with no shortage of quality passers.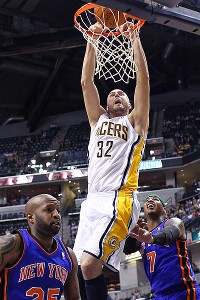 Michael Hickey/US Presswire
McRoberts has limits, but can be useful, especially around the rim.
Oh, and for Laker fans who actually liked "Khloe and Lamar," McRoberts
reportedly enjoyed a brief dalliance with "Hills" starlet Lauren Conrad
. So there's that.
However, there are considerably more differences, most notably that LO is All-Star caliber, while McRoberts is a role player still developing after three seasons of limited minutes. For more on where "McBob" -- as the kids often call him -- currently stands as a player,
Tim Donahue
from the True Hoop Network's Pacer blog
8 Points, Nine Seconds
was kind enough to provide us with a scouting report:
Josh is an athletic, but smallish big man that is best suited to play the 4, but can play a little 5 in a pinch. He was a part-time starter for the Pacers last year, but he's only played a little under 2,500 minutes in his four-year career.
Offensively, he's very limited. Basically, his scoring moves consist of fastbreak dunk, alley oop dunk, garbage bucket, and the occasional set shot three-pointer. He has no post game, to speak of, and should generally be considered to be the fourth or fifth option of any fivesome. However, he's a low-usage guy who can fit pretty well when there are other hungry mouths on the floor. While his scoring options are limited, he helps his cause by being well aware of this. His efficiency numbers were fantastic last year, with an eFG% of .576 and a TS% of .608. McRoberts also sees the floor relatively well in general, and passes well for a big man, which are pluses.
June, 14, 2011
6/14/11
5:00
AM PT
Chief among the needs identified in our
"offseason needs
" series is
outside shooting
. In the most recent edition of The Triangle, we,
along with
Dave McMenamin
, discuss ways to improve this glaringly big problem.
August, 11, 2010
8/11/10
10:06
PM PT
Highlights from Shannon Brown's brief meet and greet with the media in El Segundo...
- At the top of the video, the "false" reports referenced were the web chatter about competing offers coming in at $4-5 million per season. The misinformation didn't particularly bother Shannon, who's coming to realize this is just part of the free agency game.
- Brown is now part of a second unit featuring
Matt Barnes,
Steve Blake
,
Lamar Odom
and (at times)
Theo Ratliff
, which I (among other media types) consider an upgrade over last season's version. No argument from Shannon, who noted the importance of the bench playing with more consistency than in 2010. "That's a major part of winning," said the shooting guard. "Our bench has to come out and be able to produce and continue to make the team better when the starters on our the bench."
-
Kobe Bryant
's commonly recognized nickname is Black Mamba, but I'm starting to think we should start calling him "Don Corleone." Dude apparently knows how to make an offer people can't refuse. Having enjoyed previous success this offseason getting into the ears of
Phil Jackson
,
Derek Fisher
, and Barnes, you can add Shannon to the list of those recruited/influenced by KB24.
"He definitely told me if I was to come back, that I was gonna have a major role in helping the bench," relayed Brown. "To help the starters and helping the team was a major thing. And little individual things I had to do get better on the court and help the team."
(Along these lines, I'm curious to see if
Raja Bell
wakes up with a horse head in his bed at some point this season, him being the one guy who refused Bryant a favor.)
- Shannon's offseason work has focused on refining his game. As he put it, "solidifying myself as a basketball player instead of an athlete."
- Free agency options are a relatively new luxury for Shannon,
whose career was filled with rocky patches not too long ago
. As the saying goes, the enemy of "good" is often "better," and variety on your plate can sometimes complicate matters. But Shannon weighed all those options carefully, and in the end, still recognized how the Lakers offered the most of what he wanted. "This has been the best fit, the best spot, the best everything for me," explained Brown. "From the money to the team to my potential role on the team and all of that. This has been at the top, number one on the list."
- Shannon's injured right thumb/hand has "healed up pretty well" over the summer and surgery won't be necessary.
- The high fly act has no illusions about the challenge ahead in trying to three-peat. "It's definitely gonna be a difficult task," admitted Brown. "To do it two times in a row is difficult, but I know the third is gonna be even more tough. But we have guys on the team that have done it already, coaches that have done it already. We have a lot of things to look back at and to build on for this season. I think everybody is looking forward to the challenge."
The video of Shannon's presser can be viewed below the jump:
August, 6, 2010
8/06/10
8:13
AM PT
According to Elias Sports Bureau, since the 1998 season, there is only one player who's won two or more NBA titles without logging even one second of court time during a Finals game. It's the same player, by the way, who led the nation in scoring (28.1 ppg) just four years ago as a junior in college, a campaign among the more compelling in recent memory.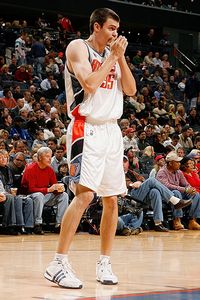 Brock Williams-Smith/NBAE/Getty Images
It's never fun getting picked by Michael Jordan.
Adam Morrison
.
Since entering the nation's consciousness, Morrison has been described in many ways. A scoring machine. A long haired, mustachioed flake. Diabetes conqueror. A can't miss NBA prospect. An NBA failure waiting to happen. The next
Larry Bird
. The next
Kwame Brown.
An enigma. A scrub. An expiring contract.
Jimmy Kimmel's favorite target
.
He is most concerned, however, about his current label: Unemployed.
"It's tough mentally to try to stay positive," admitted the small forward when I spoke to him in July. Morrison entered last season with the mindset of a guy facing the prospect of falling out the league. It has remained on his brain all season, and his Laker teammates made a point of picking up his spirits. "Adam is hard on himself," noted
Lamar Odom
shortly before the regular season ended. "I don't think he's fighting to stay in the league... His time will come. Everybody here knows what he can do.
"He is one of the best scorers in the league, even though he hasn't been playing a lot."
Morrison's agent reassures him of interest around the league, and the client says his rep has never misled him. Still, proof comes with a dotted line for the self-described pessimist. "I don't believe it until I sign with somebody," he insists.
This difficult time mirrors Morrison's entire career, four seasons worth of choppy sailing. He underachieved in Charlotte, whether measured against a bar elevated beyond his grasp, or simply his own standards. He encountered rotten luck after a devastating knee injury during the 2008 preseason -- ironically, against the Lakers -- stole his entire sophomore campaign, plus much of the athleticism he could hardly afford to spare in the first place. (Morrison says he no longer feels the effects of the ACL tear, save the occasional soreness standard for any athlete.) He became a 13th man with the Lakers after a 2009 midseason trade,
appearing in just 49 games for a grand total of 285 minutes
.
His career has also invoked its share of irony, reminders of how elusive balance can be.
August, 5, 2010
8/05/10
2:00
PM PT
As reported earlier by Ramona Shelburne
, the Lakers will not go wanting for elevation next season.
Shannon Brown
has decided to remain a Laker, agreeing on a deal worth $4.6 million over two years, the second one a player option. I spoke with his agent
Mark Bartelstein
, who confirmed the report and added some thoughts on Shannon's mindset:
"It took a lot of mulling over in his mind on what to do, but he came to a feeling this is where he wanted to be and kind of followed his heart."
In breaking down Shannon's reported options last week,
his decision-making process struck me as a one where playing time, contract and aesthetics were weighed. With that in mind, from where I'm sitting, YouTube came out pretty well in this setup.
Monetarily, Bartelstein says his client passed up more lucrative offers, but Shannon nonetheless earned a raise of about $400,000 from the reported terms of his last deal with the Lakers, and can always opt out again if he thinks greener pastures (pun intended) are on the horizon. Of course, with an expected lockout approaching, it's nice to know you're safeguarded from being left high and dry. Shannon may not have earned a huge contract yet by NBA standards, but when seven figure salaries continue to roll in, security increasingly follows.