July, 10, 2012
7/10/12
5:38
PM PT

By Andy Kamenetzky
ESPNLosAngeles.com
Archive
As far as livings go, "professional athlete" isn't the worst by which to make your money. For starters, said money is often ludicrously good for stars and even generous for those along the fringes. On top of that wealth, your world becomes an oyster filled with swag, per diems, and comped meals and drinks, allowing the rich to get richer. Life on the road consists of private jets and swanky hotels. Adulation, worship and -- for those into this sort of thing -- "companionship" often come with the territory. Plus, the whole "playing a game you love for a living" thing is pretty sweet.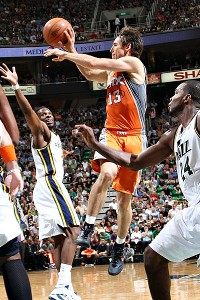 Melissa Majchrzak/Getty Images
Whoever was on the receiving end of this pass was likely smiling.
But that's not to say there's no downside whatsoever. Professional athletics are physically and mentally taxing, and 24-hour news cycles and social media crank up the throttle on a traditionally pressure-cooked existence. Not that most jobs don't carry inherent pressure, of course, but it's certainly different sweating as a public figure. Scrutiny gets breathed in like oxygen. Privacy is often nonexistent. You can be relocated at the drop of a hat.
Plus, the dirty little secret. Being a professional athlete isn't
always
fun.
Sports may be fun to play, but once they put food on the table, they become a job. Period. And there's no such thing as a job foolproof against feeling like a pain sometimes. It doesn't matter what the gig is or how passionate you are about it.
Nobody
feels like punching that clock every day.
How do I know this? Because I've spent the past two seasons covering the Los Angeles Lakers, and as noted by BK and me on several occasions, these campaigns have been low on joy and fun. An enthusiastic 2011 three-peat quest turned quickly into a definitive slog. The core players were visibly exhausted and burned out, while
Phil Jackson
grew disconnected with a team he had to talk himself into coaching an additional season. Still, this was a party compared with 2012, between
the scuttled CP3 deal
,
Lamar Odom's
exit,
the awkward adjustment
to life under
Mike Brown
,
Pau Gasol's limbo
, and the second consecutive conference semifinals bounce. Scattered smiles emerged, whether after a few signature-ish wins (against the Clippers, Celtics, Mavericks, Heat and Thunder in double OT), during Month 1 of the
Ramon Sessions
"era," or in reaction to a choice
Metta World Peace
quip. But those instances were certainly exceptions proving the rule.
By and large, the Lakers have been little fun to watch over the past two seasons. They've been little fun to cover. And judging by demeanor and body language, the players themselves have been experiencing just as little fun. You won't convince me this hasn't played a role in weighing the team down like an anchor. The time to abandon any hope of trudging toward banner No. 17 has long since passed.
Enter
Steve Nash,
gatekeeper of all things fun and joy in basketball.