August, 30, 2012
8/30/12
10:05
AM PT

By Andy Kamenetzky
ESPNLosAngeles.com
Archive
Aug. 23, otherwise known as "the day Kobe Bryant turned 34," recently came and went with NBA TV airing a slew of games featuring #24. Among those chosen was Lakers-Thunder, Game 4 of the 2012 Western Conference semifinals, the second of two games in that series marred by epic Lakers collapses down the stretch. (This odd way of celebrating The Mamba's birthday undoubtedly will serve to Kobe zealots as Example No. 1,374,810 of the world conspiring against him.)
This particular game saw
the Lakers up nine points to begin the fourth quarter
, 13 with 8:02 remaining, then back down to nine with half of the quarter to go. The bottom eventually fell out with a series of clumsy and/or empty possessions, capped by the mother of all unforced turnovers from Pau Gasol.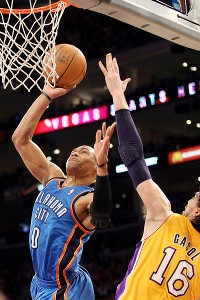 Stephen Dunn/Getty Images
Westbrook shredded the Lakers as they fell apart down the stretch.

I was able to DVR only the final seven minutes of the loss, but during that time noted plenty of occasions where Steve Nash, Dwight Howard, Antawn Jamison and even Jodie Meeks could have contributed to possibly prevent a loss. In a general sense, all four could have improved the collective scoring punch.
Nash and Howard are among the best pick-and-roll players in the league, which could have provided cohesion desperately missing during this stretch. Beyond his proven resume at getting buckets, Jamison can create his own shot, a skill set in short supply last season. And while the odds of Meeks on the floor down the stretch are dicier, there were a few occasions where a credible outside shooter was glaringly absent.
More specifically, here are some possessions where Nash and Howard especially seemed capable of making a difference.
6:31:
Russell Westbrook uses a screen to reach the right elbow, is met with a hesitant challenge from Andrew Bynum, then drains a jumper before Steve Blake recovers. Nash might not have defended the possession any better, but Westbrook took over this game down the stretch, in part because less energy is sapped checking Blake or Ramon Sessions than Nash. Granted, Westbrook's elbow J is often deadly, but who knows how much gas would have been left in the tank after guarding Nash all game?
(LAL 92, OKC 85)
6:03:
This point above is ironically demonstrated as Blake (of all people) takes the ball to the rim for a layup. Blake was able to take Westbrook off the dribble because the Lakers point went completely ignored on a backdoor baseline cut, then Russ got caught on his heels in scramble mode. For that matter,
Blake's game-winning 3-ball attempt in Game 2
came after Westbrook fell asleep guarding him. Call me crazy, but I don't think he'd treat Nash with the same ambivalence.
(LAL 94, OKC 85)