Los Angeles Lakers:

Game 5
May, 9, 2012
5/09/12
1:57
PM PT
Inside the Lakers locker room, the lone wall not lined with stalls has in the center a large flatscreen used for watching video flanked by two whiteboards. Before the tip, coaches use the space for notes on the evening's game plan and opponent. After, the one on the right always has the next day's plan. Some days it announces practice times, or when players are required to come in for physical therapy.
Following Tuesday night's
Game 5 zombie walk against Denver
, it read simply, "Flight, 3:00 pm. Pack for 3 games."
With that, you have one of the more significant practical implications the loss.
The Lakers now head to this afternoon to Denver for a Game 6 either propelling them into the second round or back to Staples for Game 7 Saturday night. The Lakers robbed themselves of an opportunity to eliminate the Nuggets, simultaneously blowing a chance for multiple days off ahead of a potential second round tussle with the Oklahoma City Thunder. As the whiteboard scrawl implies, should the Lakers win Game 6, they won't travel home, but instead straight to OKC, likely kicking off the series either Saturday or Sunday.
(UPDATE: The NBA has released Saturday's playoff scenarios, and no matter what, the Lakers will be playing Saturday. Either Game 7 vs. Denver at Staples, or Game 1 in Oklahoma City.)
May, 8, 2012
5/08/12
11:57
PM PT
By the Kamenetzky Brothers
ESPNLosAngeles.com
Archive
The Nuggets played Game 5 like their season depended on it (can't imagine why) and the Lakers played like they wanted one more view of the Rocky Mountains before next season.
As a result, there will be a Game 6 Thursday night in Denver.
Lakers lose, 102-99 Tuesday at Staples Center
.
On tonight's edition of Lakers Late Night, we get into a very disappointing loss, starting with ...
A befuddling lack of intensity early in the game.
Poor perimeter shooting, allowing Denver to collapse consistently on L.A.'s bigs in the paint and help take them out of the game. Which, in turn, seemed to take Andrew Bynum out of the game defensively.
A huge fourth quarter for Kobe Bryant, who found himself short on support.
The practical implications of losing Tuesday's game. Fair to say the Lakers did themselves no favors.
Click below for postgame video from Bryant,
Mike Brown
, Bynum, Gasol,
Jordan Hill
, and more:
May, 8, 2012
5/08/12
7:41
AM PT

By Andy Kamenetzky
ESPNLosAngeles.com
Archive
"Closeout games are actually kinda easy. Teams tend to fold if you come out and play hard in the beginning. So we wanna come out and establish an early lead and protect it."
This was
Andrew Bynum's
response when asked about the inherent difficulty of closeout game
s. And to some degree, Drew's correct. I've seen many a team on the ropes fall behind in an elimination game, then exhibit body language that reeks of fate acknowledged and summer plans being imagined. On the other hand, if an opponent starts out hot or at least able to trade blows, they may become less amenable to the notion of fading quietly into the night. The Lakers would be best served to treat Denver as a squad desperate to remain alive, then upon tangible signs of the towel being thrown in, continue pummeling them in case an elaborate game of possum is being played.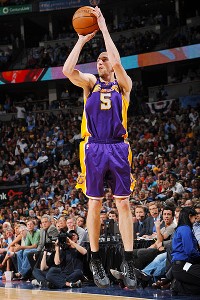 Garrett W. Ellwood/NBAE/Getty Images
The Lakers hung tough, and guys like Blake helped seal the deal.
For thoughts on what could be the final game of this series, I had an IM conversation with
Kalen Deremo
of the True Hoop network's
Roundball Mining Company
. Below is the transcript.
Andy Kamenetzky:
Well, that was a very strange Game 3. No flow. No consistency from the refs. The refs at times let fouls go that would be called inside Rikers Island, then whistled the tickiest of tack.
Andrew Bynum
called for traveling with
JaVale McGee
over his back was...
interesting
. Plus, stalkers on the court! An entertaining game, but odd nonetheless. And I actually thought Denver would win for much of it.
KD:
They led for the first three quarters, but it was so obvious L.A. had them trapped from the get go. That pace proved deadly. Nuggets played with fire... and got burned... bad. They've known from the very start they had to speed up the game to win. In Game 3 they finally managed to get out on the break more, and as a result they won in convincing fashion. The Nuggets thrive off energy. On Sunday, the Lakers looked like they were sleepwalking for much of the game and instead of countering with energy, the nuggets emulated the Lakers, and paid the price.
As we saw on Sunday, even if the Lakers aren't playing up to their potential they'll still win as long as they can entice the Nuggets to play a slow, half-court game. Give the Lakers credit for good defense, too.
AK:
Yeah, they clamped down when it mattered most, and managed to keep Denver off the offensive glass in the second half. That's been a huge weapon for the Nuggets all series.
June, 14, 2010
6/14/10
11:28
AM PT
My recommendation to Lakers fans between now and Tuesday night: Lay off the caffeine. You don't need it, and it will only make the hours between now and Tuesday's tip more jitterytastic than is healthy. For that matter, the Lakers themselves may want to go with herbal teas and fruit juices as well, because they too need to settle down.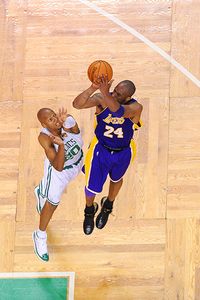 Noah Graham/NBAE via Getty Images
Kobe Bryant elevated in Game 5. Can the Lakers as a team elevate in Game 6?
In the meantime, I have prepared a Lakers list of things to do in order to win Game 6.
Word of caution: It's not a short list; a series that seemed so promising after Game 3 has gone south. Fast.
1. RESTORE MOTION TO THE OFFENSE
I know the Celtics are a high-quality defensive team, but too often the Lakers are helping them out, giving up on possessions and working one-on-one in an effort to get a shot.
At moments during Game 4, and throughout Game 5, even when the Lakers have scored it has come with a high degree of difficulty. And the reason is simple: There has been a total lack of meaningful, pressuring ball movement and player movement.
Even in Sunday night's 26-point,
Kobe Bryant
-fueled third quarter (easily L.A.'s most productive on the night) nothing fundamentally changed.
Consider the third quarter, and the number and destination of the Lakers' passes on each possession:
June, 13, 2010
6/13/10
8:16
PM PT
Kobe Bryant
is a tough man to keep down.
Even in 2008, when Boston made his task so difficult even
Sisyphus
himself would have looked at him and thought, "Man, that's hard," Bryant still went off for a 36 point, 12-for-20 effort in Game 3. Through four games of this year's Finals, Bryant has hardly been invisible, but also not the otherworldly figure we saw through the first three rounds of the postseason.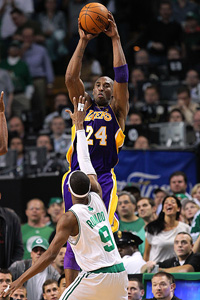 Ronald Martinez/Getty Images
Kobe Bryant rose up with 19 points in the third quarter, but collectively, the Lakers' offense was stuck in the mud during Game 5.
Coming out of the half in Game 5, with his team down six, he was apparently ready for his closeup.
At the 10:42 mark of the third quarter, Bryant drilled a tough 15-footer for his first two points of the second half. Over the next 5:50, he'd add another 17, almost entirely off a dizzying array of jumpers. He nailed a spectacular runner, driving off the left hand, shooting back to his right. There was a three from somewhere in New Hampshire. Another with
Ray Allen
in his face, and a catch-and-shoot at the elbow with Allen on his hip. After struggling in the first half, hitting only four of his 12 attempts, Bryant was seven-for-nine in the third, the 19 points representing a high for any player in the 2010 Finals. In fact, Bryant scored 23 consecutive for the Lakers, dipping back into the end of the second quarter.
Dwyane Wade
was picked up by the sideline camera, shaking his head in disbelief. It was classic Mamba. Except for one thing: The Lakers, down by 11 when Bryant began his assault, were still down by 11 just one possession after it ended. Despite all of Kobe's fireworks, the Lakers were giving up points in bunches at the other end. And in a completely appropriate contrast, Boston's points were decidedly easier to come by.