Los Angeles Lakers:

Game 6
May, 10, 2012
5/10/12
10:39
PM PT
By the Kamenetzky Brothers
ESPNLosAngeles.com
Archive
These closeout games ain't looking so easy, huh?
There will be a Game 7 after the Lakers drop -- and we do mean drop -- Thursday's Game 6 in Denver. Ugliness all around, save a great night from
Kobe Bryant
, who went for 31 despite battling a nasty stomach bug leaving him dehydrated enough to require two halftime IV's.
As for everything else, here was the agenda for tonight's show...
A huge night for Denver's shooters, who were due for a breakout.
A wretched night for Pau Gasol, who is now due for a breakout. One field goal, one dime, three rebounds.
How did Andrew Bynum respond after the controversial Game 5?
Will the Lakers win Game 7? We get into what has to change, the odds those things will happen, and what Metta World Peace brings to the table for Saturday.
May, 9, 2012
5/09/12
1:57
PM PT
Inside the Lakers locker room, the lone wall not lined with stalls has in the center a large flatscreen used for watching video flanked by two whiteboards. Before the tip, coaches use the space for notes on the evening's game plan and opponent. After, the one on the right always has the next day's plan. Some days it announces practice times, or when players are required to come in for physical therapy.
Following Tuesday night's
Game 5 zombie walk against Denver
, it read simply, "Flight, 3:00 pm. Pack for 3 games."
With that, you have one of the more significant practical implications the loss.
The Lakers now head to this afternoon to Denver for a Game 6 either propelling them into the second round or back to Staples for Game 7 Saturday night. The Lakers robbed themselves of an opportunity to eliminate the Nuggets, simultaneously blowing a chance for multiple days off ahead of a potential second round tussle with the Oklahoma City Thunder. As the whiteboard scrawl implies, should the Lakers win Game 6, they won't travel home, but instead straight to OKC, likely kicking off the series either Saturday or Sunday.
(UPDATE: The NBA has released Saturday's playoff scenarios, and no matter what, the Lakers will be playing Saturday. Either Game 7 vs. Denver at Staples, or Game 1 in Oklahoma City.)
April, 28, 2011
4/28/11
11:13
PM PT
By the Kamenetzky Brothers
ESPNLosAngeles.com
Archive
The Lakers polished off the Hornets in New Orleans Thursday night with a
98-80 win in Game 6
, meaning they're yet to lose a playoff series since we started broadcasting Lakers Late Night. So click on us whether you like it or not, because who knows what happens if they ever pull the plug on this thing.
Among the highlights touched on in the show:
Defense. Man alive, did the Lakers play some, controlling the glass and Chris Paul with equal effectiveness.
Andrew Bynum. Carries the Lakers through the first half. If this is his level, the champs are in very good shape.
Pau Gasol. Strong finish Thursday, good Game 5... is it reasonable to take the fingers off the panic button?
Looking ahead to the next series. As we shot, we weren't sure of an opponent, but fortunately spent most of our time talking about the Mavs, showing some faith they wouldn't blow their lead.
Plus, questions about Andy's fashion sense, and devastating mongoose attacks. Hope you enjoy it.
April, 28, 2011
4/28/11
7:58
PM PT
It took at least a game more than most people expected, but the Lakers finally polished off the Hornets Thursday night in New Orleans, winning Game 6 98-80.
Here's how it broke down.
HIGHLIGHTS
1. Defense.
Before the game, I wrote about the need for
Chris Paul
not just to play well, but at a level approaching the upper edges of elite (as he was in Games 1 and 4) for the Hornets to have a chance. Fair to say he didn't get there. For the first time in the series, the Lakers almost completely eliminated Paul as a factor. CP3 finished the first half with only one field goal, four assists, and two turnovers as the Lakers crowded him on the ball, and when he gave it up L.A. did a great job denying him opportunities to get it back. The third quarter wasn't particularly kind, either, as Paul had more turnovers (two) than buckets (one).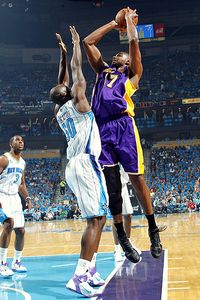 Layne Murdoch/NBAE/Getty Images
Andrew Bynum carried the Lakers through the first half Thursday in Game 6.

He'd finish with 10 points on 4-of-9 from the floor, and while he had 11 assists also turned the ball over five times, a ratio the Lakers could more than live with.
All series long, Paul has been called the head of the snake. Take it off, and the whole thing dies. Thursday, the Lakers not only decapitated the slithery reptile, but turned the skin into a boots and barbecued the meat. L.A. was very strong inside, pressuring nearly everything near the bucket (six blocks), forced most of New Orleans' possessions deep into the clock, and successfully executed their plan to keep the Hornets operating away from the paint and at mid-range.
Perhaps most importantly, the Lakers absolutely shut off the glass on that side of the ball. Despite shooting only 43 percent from the floor and bricking 40 attempts, New Orleans had only seven offensive boards, and a mere four at the end of the third.
The Lakers limited the Hornets to only 34 points in the first half, and in the fourth quarter when it was time to drop the hammer, held New Orleans to six points over the first six minutes. By the time the Hornets rallied, the game was well in hand. Even accounting for the relatively limited collective skill of New Orleans' offense and a couple off shooting nights, the Lakers were outstanding. When they defend like this, beating them is a very tall order.
2. Andrew Bynum.
Any defensive effort from the Lakers this good obviously features strong work from Bynum. At this point, too, it's really no surprise to watch him get on the glass. In Game 6, Bynum put the whole package together, carrying the Lakers offensively through what was an otherwise woeful start for the Lakers. At about the six minute mark of the second quarter, Bynum was 6-0f-9 from the floor. Everyone else in purple combined to shoot 6-of-23.
Needless to say, Bynum was better. And it included not simply putbacks on offensive rebounds, but moves in the post and face up jumpers. He had 12 points and seven rebounds at halftime, en route to 18 and 12, plus the two blocks and a steal. This in a very modest 30 minutes of work.
3. Pau Gasol (Second Half).
Early on, Gasol tried to be active, working his way to a few decent looks, but nothing went down. He finished the first half with a pair of assists and four rebounds, but without a field goal and only two points as Bynum produced inside in a very sluggish offensive performance for the Lakers.
April, 28, 2011
4/28/11
10:39
AM PT
By the time a playoff series reaches Game 6, few secrets remain. Coaches have some set plays left in the tool box, generally saved for use out of timeouts or sideline/baseline restarts, but while important and potentially influential, those are single moments. One possession in a game with well over a hundred. As for big picture stuff, the options are more limited.
Phil Jackson
won't make sweeping rotation changes. Tonight won't be the one where
Monty Williams
busts out his trump card, using
D.J. Mbenga
, with heretofore unknown ball handling skills honed through top secret late night workouts at the Hornets' facility, as a second point guard of massive proportions.
(Though I wish that one was possible, because it would be
awesome
.)
There are adjustments here and there, but the formulas for each team are pretty clear. If the Lakers can successfully press their advantage in the post and control the glass, they'll win. If they can turn Chris Paul into a passer or a scorer, but keep him from doing both at the same time, they'll likely win. If New Orleans gets big performances from their bench and other secondary performers, they have a chance. If they can't force the Lakers into turnovers and earn some easy points on the move, it'll be tough sledding.
With that in mind, here are five reasons the Lakers are likely to close out the series Thursday night in Game 6...

Landry
1. History.
The Lakers, for all their periodic lapses in execution and/or focus, have a near-pristine track record in games like this. Two years ago, they went into Denver and finished off in a highly charged Western Conference Finals (the series known by Nuggets fans as "The One Where We Couldn't Inbound the Ball") in Game 6. Those Lakers went on to win the title in a Game 5 at Amway Arena in Orlando. Last season, L.A. polished off all three of its W.C. playoff series on the road, eliminating Oklahoma City, Utah, and Phoenix in their respective buildings.
Past performance doesn't guarantee future returns, and none of this means they'll win in a walk (last season, the Lakers were one
Pau Gasol
putback from a Game 7 vs. the Thunder), but save Game 6 against Houston in '09, the Lakers have a shown themselves a very solid bet in closeout games away from Staples Center.

Gasol
2. Popeye Gasol.
Early in Game 5, it appeared Gasol finally had enough of
Carl Landry
and
Emeka Okafor
sticking body parts- particularly legs and knees- in places etiquette (and basketball rules) say they shouldn't go. Instead of again tolerating it, Gasol went (for him), a little Popeye. It was all he could stands, and he couldn't stands no more. "You have to play through it, and you have to fight back. You're gonna get bumped, and pushed and shoved. You have to push and shove back," he said. "I established myself better. I was able to absorb and deliver contact throughout the game better [than the first four games]."
Gasol still operated within the offense, waiting patiently to read the defense, feel out double teams, and make decision- shoot or pass- demanded by the play, but he was also aggressive, put the ball on the floor and created far more forward motion than in Games 1-4. Tuesday was easily his most consistent effort over 48 minutes, and having slowly built towards it following an awful series opener, I'm less inclined to think he'll backslide.
June, 15, 2010
6/15/10
2:46
PM PT
I have no idea what's coming
tonight
. None whatsoever.
As I
wrote this morning
, it's easy to picture the Lakers pulling together as they have for so many big games over the past two seasons, cracking the Boston defense, stifling their offense, and recording a resounding win. Like a lot of people, I believe if the Lakers can get to Game 7, they'll win it. But it also wouldn't surprise to see them continue struggling with ball movement, leaving
Kobe Bryant
and
Pau Gasol
on an island while the Celtics run a layup drill at the other end.
PODCAST
The season hangs in the balance heading into Tuesday's Game 6. How will the Lakers respond? Andy and Brian preview the action.


PODCAST

Anything seems possible.
Of course, the context takes normal Finals anxiety and cranks it up to the
n
'th degree. It's the Celtics, an opportunity to avenge the loss in '08. This is the series fans- and in more honest moments, players- wanted. To win two straight after the ragged performances of Games 4 and 5, earning Kobe's fifth ring and Phil Jackson's 11th? Against Boston? It would give L.A. its 16th title as a franchise, and easily rank among the best. For the generation of Lakers fans who didn't quite experience the Showtime Era (or earlier), it would likely be
the
best.
Or it's another in a series of crushing losses to Boston, made worse by the fact Lakers fans would have to watch the Celtics celebrate on the Staples floor.
On one level or another, we're looking at an epic week for Lakers basketball. Epic failure, or epic victory. There is no middle ground.
But- and here's the Question of the Day- isn't this why as sports fans we invest so much in our teams? This is the bargain, right? Wouldn't you risk the disappointment to have a shot at the joy?
June, 14, 2010
6/14/10
11:28
AM PT
My recommendation to Lakers fans between now and Tuesday night: Lay off the caffeine. You don't need it, and it will only make the hours between now and Tuesday's tip more jitterytastic than is healthy. For that matter, the Lakers themselves may want to go with herbal teas and fruit juices as well, because they too need to settle down.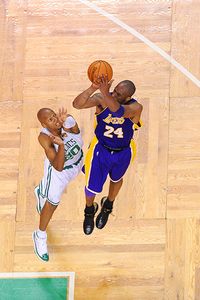 Noah Graham/NBAE via Getty Images
Kobe Bryant elevated in Game 5. Can the Lakers as a team elevate in Game 6?
In the meantime, I have prepared a Lakers list of things to do in order to win Game 6.
Word of caution: It's not a short list; a series that seemed so promising after Game 3 has gone south. Fast.
1. RESTORE MOTION TO THE OFFENSE
I know the Celtics are a high-quality defensive team, but too often the Lakers are helping them out, giving up on possessions and working one-on-one in an effort to get a shot.
At moments during Game 4, and throughout Game 5, even when the Lakers have scored it has come with a high degree of difficulty. And the reason is simple: There has been a total lack of meaningful, pressuring ball movement and player movement.
Even in Sunday night's 26-point,
Kobe Bryant
-fueled third quarter (easily L.A.'s most productive on the night) nothing fundamentally changed.
Consider the third quarter, and the number and destination of the Lakers' passes on each possession:
May, 29, 2010
5/29/10
12:24
AM PT
By the time a series reaches Game 6, the chips are basically on the table. Sure, there are adjustments still to be made, maybe some rabbits still lingering at the bottoms of hats, but everyone basically knows what has to happen for one team to beat the other. Particularly these days, when no number goes undiscovered. (I'm sure someone somewhere has computed
Alvin Gentry's
PER in courtside vomiting after Game 5.)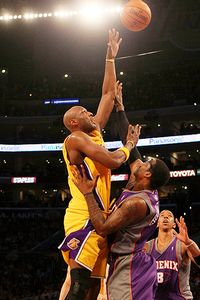 Jeff Gross/Getty Images Lamar Odom has been called an x-factor so many times, it might as well be added to his birth certificate.
You know the Lakers need to control the boards, get the ball in the seam of the zone, aggressively defend the pick and roll, and keep
Amare Stoudemire
off the line (among other things). So will they do it?
Here are five true/false propositions to occupy your time before tonight's tip...
1. True or false: The Lakers will get more than 12.5/8/2.5 and 37 percent shooting from Lamar Odom.
These were his major-stat averages in Games 3 and 4 in L.A.'s first visit to Phoenix, compared to home averages of 17.67/14.33/3.67 on nearly 64 percent from the floor. The guy has been called an X-factor so often, X-factors on other teams are just called "Lamar." But there's no question Odom is a barometer for the rest of the group. They can (and often do) win when Odom isn't active, but rarely it seems they lose when he goes off. If Odom doesn't settle for jumpers, his ability to run the floor, handle the ball, and get inside via the post, pass, and off-ball movement makes him a great zone-busting weapon.
Game 3 was easily Odom's worst of the series. He was discombobulated and in foul trouble. While Game 4 wasn't bad (15 points, 10 boards), it wasn't high impact. But what should encourage Lakers fans are his 12 attempts a night on the road, three more than he averaged during the regular season. It's easy to live an off night from Odom as long as he's at least trying to find offensive opportunities. It's those five FGA nights the Lakers can't afford.
VERDICT
: True. Odom will improve on the 37 percent mark from Games 3 and 4, and earn a solid double-double.
May, 11, 2010
5/11/10
10:43
PM PT
It's one of the most iconic moments in NBA Playoff lore, let alone Lakers history. On May 16, 1980, with
Kareem Abdul-Jabbar
laid up with an ankle injury and Spencer Haywood suspended,
Magic Johnson was asked to take the opening jump at center in Game 6 of the NBA Finals against the Philadelphia 76ers
.
Magic went on to play every position on the floor. He scored 42 points, snagged 15 boards, and handed out seven assists. Dude was flat out incredible as the Lakers downed the Sixers 123-107 and clinched a title.
Sunday marks the 30th anniversary of that historic moment, and we want to hear from you. What was your experience with the game? It was in Philly, but were you there? Did you watch on TV? What are your memories of it? Was it part of your video collection growing up? We'll take stories, pictures, whatever. Contact us
through our mailbag
, the
Land O'Lakers Twitter account
, the comments section below, or at espnlandolakers@gmail.com.