Los Angeles Lakers:

Game analysis
May, 29, 2010
5/29/10
12:24
AM PT

By Brian Kamenetzky
ESPNLosAngeles.com
Archive
By the time a series reaches Game 6, the chips are basically on the table. Sure, there are adjustments still to be made, maybe some rabbits still lingering at the bottoms of hats, but everyone basically knows what has to happen for one team to beat the other. Particularly these days, when no number goes undiscovered. (I'm sure someone somewhere has computed
Alvin Gentry's
PER in courtside vomiting after Game 5.)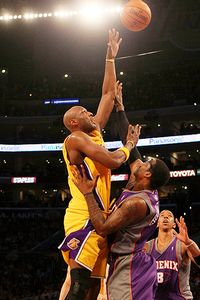 Jeff Gross/Getty Images Lamar Odom has been called an x-factor so many times, it might as well be added to his birth certificate.
You know the Lakers need to control the boards, get the ball in the seam of the zone, aggressively defend the pick and roll, and keep
Amare Stoudemire
off the line (among other things). So will they do it?
Here are five true/false propositions to occupy your time before tonight's tip...
1. True or false: The Lakers will get more than 12.5/8/2.5 and 37 percent shooting from Lamar Odom.
These were his major-stat averages in Games 3 and 4 in L.A.'s first visit to Phoenix, compared to home averages of 17.67/14.33/3.67 on nearly 64 percent from the floor. The guy has been called an X-factor so often, X-factors on other teams are just called "Lamar." But there's no question Odom is a barometer for the rest of the group. They can (and often do) win when Odom isn't active, but rarely it seems they lose when he goes off. If Odom doesn't settle for jumpers, his ability to run the floor, handle the ball, and get inside via the post, pass, and off-ball movement makes him a great zone-busting weapon.
Game 3 was easily Odom's worst of the series. He was discombobulated and in foul trouble. While Game 4 wasn't bad (15 points, 10 boards), it wasn't high impact. But what should encourage Lakers fans are his 12 attempts a night on the road, three more than he averaged during the regular season. It's easy to live an off night from Odom as long as he's at least trying to find offensive opportunities. It's those five FGA nights the Lakers can't afford.
VERDICT
: True. Odom will improve on the 37 percent mark from Games 3 and 4, and earn a solid double-double.